Does Under-Eye Filler Hurt?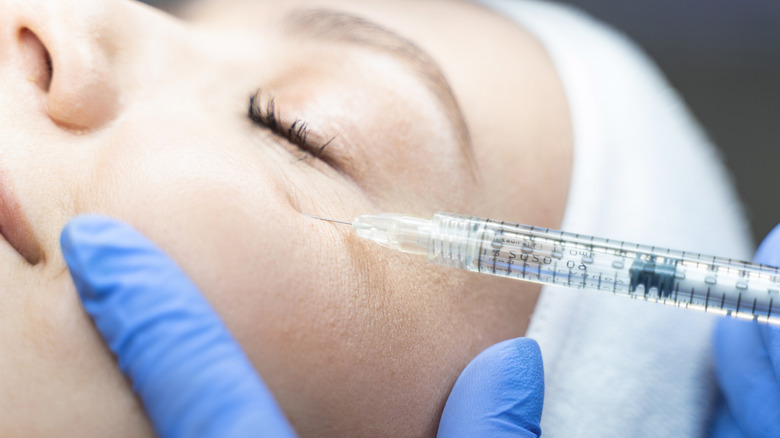 YAKOBCHUK VIACHESLAV/Shutterstock
While some of us wouldn't mind having the luxury of being able to undergo certain cosmetic procedures and plastic surgery, the idea of needles scares off many people. That being said, it's no secret that fillers have become a must for several Hollywood stars looking to achieve a certain appearance — and they're not all able to evade the dreaded needle. If you want a specific type of filler, such as those injected under the eye, you may have to endure the needle, just like your favorite celebrities.
The American Society of Plastic Surgeons revealed that, in 2020, nearly 3.4 million soft tissue filler procedures were performed. Additionally, more than 4 million people received Botox fillers. Although this minimally invasive procedure primarily provides cosmetic benefits, it has yet to die down in terms of popularity. This may be because of the end results — smoother, tighter skin with fewer fine lines and signs of aging.
Under-eye fillers, in particular, can immediately restore any lost volume under your eyes and eliminate dark circles, per Insider. They also have the potential to eliminate wrinkles, balance the appearance of your face, and give you a more youthful look. The typical cost of under-eye filler averages out around $1,000, and if the price is not a constraint, you may be ready to sign up — unless, of course, you have a low pain tolerance. Here is what you need to know about the pain associated with this filler.
Does it hurt when you receive under-eye filler injections?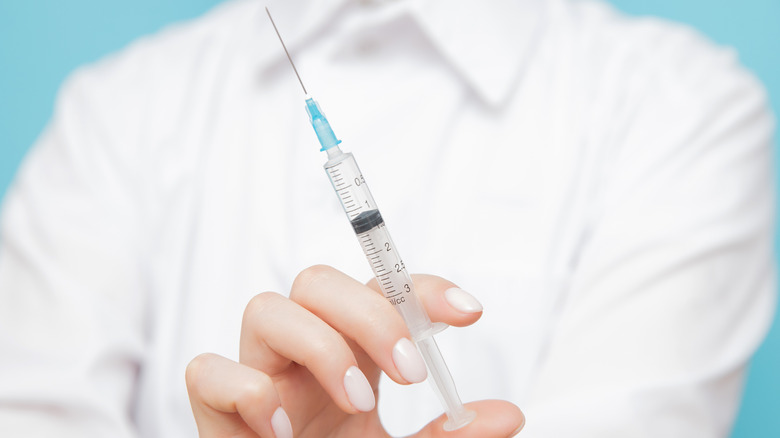 Parilov/Shutterstock
The U.S. Food & Drug Administration has not approved the use of needle-free products for the injection of any dermal fillers as of 2021. This means that you will likely be subjected to a needle (and some pain) if you receive under-eye filler. However, Healthline notes that the pain of the procedure is typically manageable. Furthermore, it usually only lasts for a few minutes.
Before you receive the injection, your doctor will analyze your skin to determine what type of filler is best for you. Hyaluronic acid is commonly used for its ability to add volume around the eyes while reducing fine lines. However, other ingredients may be used in your specific case. After a syringe has been prepared with the filler, it is injected underneath each of your lower eyelids. Once the needle is removed from beneath your skin, your doctor will massage under your eyes to spread the filler.
While you might have considered the pain of the actual needle, you may have forgotten about aftercare. As it turns out, you can expect some swelling, bruising, and redness after receiving your injections. However, these side effects often go away on their own after two to three days. Applying ice under your eyes and gently massaging the areas can help relieve some of these effects. Don't hesitate to contact your doctor if you notice symptoms such as vision changes and/or numbness.
Needle-free alternatives to under-eye fillers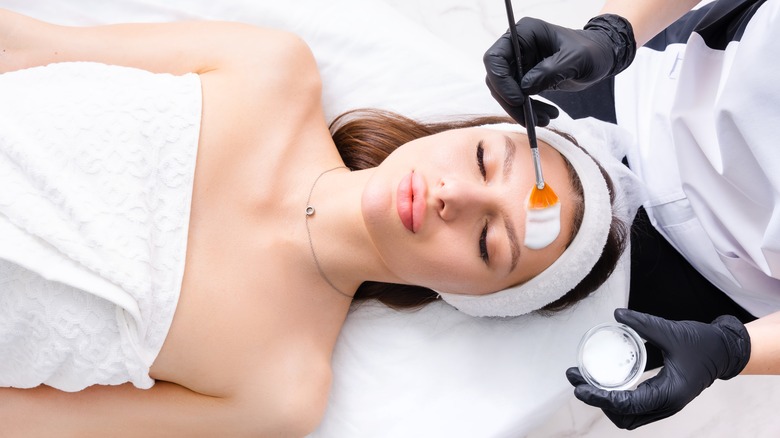 Varavin88/Shutterstock
There are plenty of reasons to avoid under-eye filler, and the potential pain of the procedure and aftercare are just a couple of them. Although the risk of experiencing long-term side effects when receiving hyaluronic acid filler is low, Healthline notes that there is still a possibility. Some of these may include skin discoloration, headache, infection, and edema. Regardless of why you want to avoid under-eye fillers, there are many alternatives to addressing your skin concerns sans needles.
Healthline further notes that retinol is one option you may want to consider. While it may take longer to see results, over-the-counter retinol can help you reduce the appearance of fine lines. Best of all, it's more affordable than undergoing an under-eye filler procedure. You can also consider undergoing a chemical peel from a professional aesthetician. This involves eliminating the top layer of your skin, which leaves you with a smoother, glowing look. However, this may come with slight discomfort and skin sensitivity after the procedure. Remember to ask your aesthetician about the risks and aftercare steps post-appointment.
Because they're minimally invasive, filler procedures are tempting, especially if you can afford them. Just don't forget to assess the risks, and understand the process if you're willing to undergo the needle.