How To Determine If Dewy Or Matte Foundation Will Work Best For Your Skin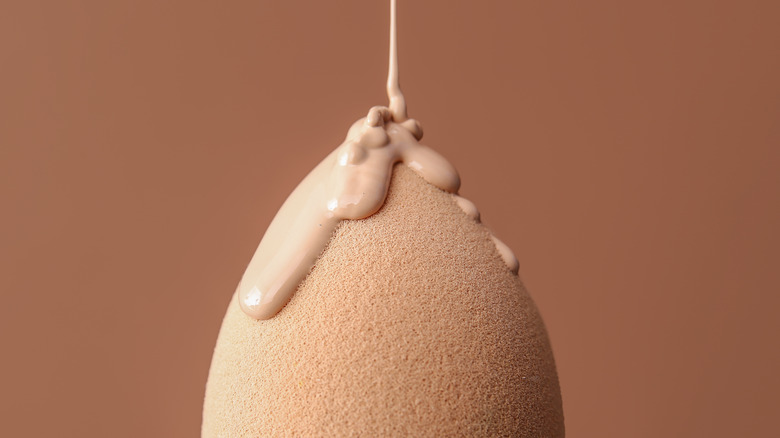 Pixel-Shot/Shutterstock
We may receive a commission on purchases made from links.
The wrong foundation base can make or break your makeup look, regardless of whether you are aiming for full glam or natural. If you want to have a flawless base for your makeup, then using the right type of foundation is where you need to start. Choosing between dewy or matte foundations can be confusing, with each formulation having its own set of pros and cons. Generally, dewy foundations can be described as having more lightweight coverage and they will leave a glossy finish to your skin. Meanwhile, matte foundations are known for providing full coverage while giving your skin a smooth, airbrushed look.
To understand which type of foundation will give you the makeup base that you're looking for, there are two factors to consider: your individual skin type and your desired makeup look. Here are several tips to keep in mind when selecting the perfect foundation for your skin.
When to use dewy foundation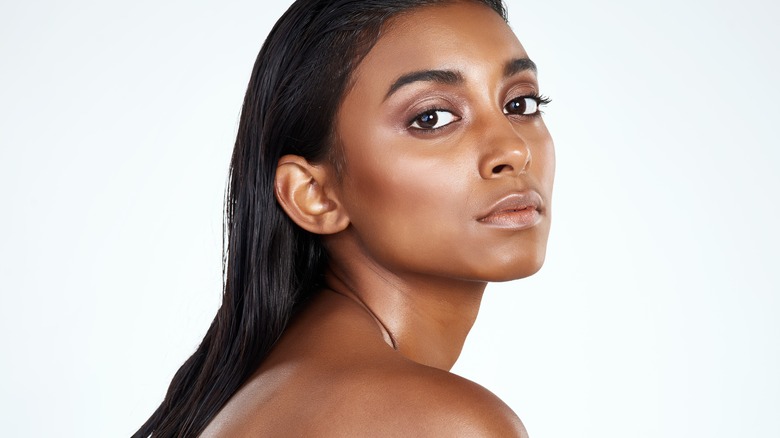 PeopleImages.com - Yuri A/Shutterstock
Dewy foundation is perfect if you're a fan of the trendy wet makeup look or if you want your skin to both look and feel hydrated. While many assume that dewy foundations lack decent coverage due to the sheer and glossy finish, dewy foundations are, in fact, buildable so they are perfect if you prefer medium-coverage foundations. Dewy foundations also tend to be great for your skin as they are usually formulated with hydrating skincare ingredients such as oils and humectants.
For this reason, dewy foundation is perfect if your skin type is anywhere between dry to combination skin, especially if you are prone to dry patches or flaking. Radiant finish foundations contain nourishing ingredients, such as Josie Maran's Vibrancy Argan Oil Foundation. If you have oily or acne-prone skin, then you might want to stay clear of dewy formulas. Dewy foundations are not recommended for those who break out easily, as oily and acne-prone skin already tend to produce more sebum than dryer skin types. According to Leslie Baumann, M.D., the rich ingredients and plant oils in dewy formulas can lead to greasy skin, clogged pores, and breakouts.
When to use matte foundation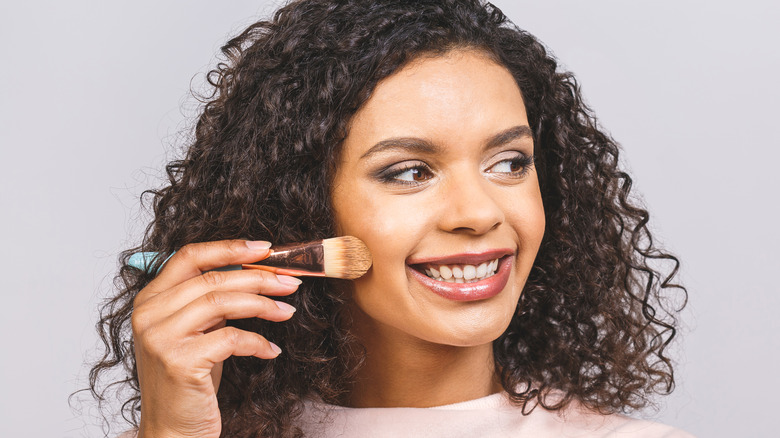 Denis_vermenko/Getty Images
Matte foundations have been used for the everyday beauty look for a reason, and they are available in different formulation options, including powders, creams, and liquid foundations. Today, liquid foundations such as Estee Lauder's Double Wear Stay-in-Place Foundation have become the go-to thanks to the seamless finish and buildable coverage. The buildability and long-lasting formula of matte foundation also work well to conceal textured skin and oversized pores.
And while dewy foundations are a perfect match for dry or mature skin types, matte foundations are best used on normal or oily skin types. Matte finish foundations are a great option for combination to oily skin as they reduce excess sebum production, which contributes to oily skin and acne breakouts, per Medical News Today.
Thankfully, you can still use liquid matte foundations even if you do have dry or combination skin, as long as you choose foundations that contain hyaluronic acid to prevent the skin from drying out, such as the NARS Soft Matte Complete Foundation. The same applies to dewy foundations; you can still use dewy foundation with combination skin, but you may want to apply a matte finishing powder on oily areas to compensate.