40 Fun Things To Do On Valentine's Day If You're Single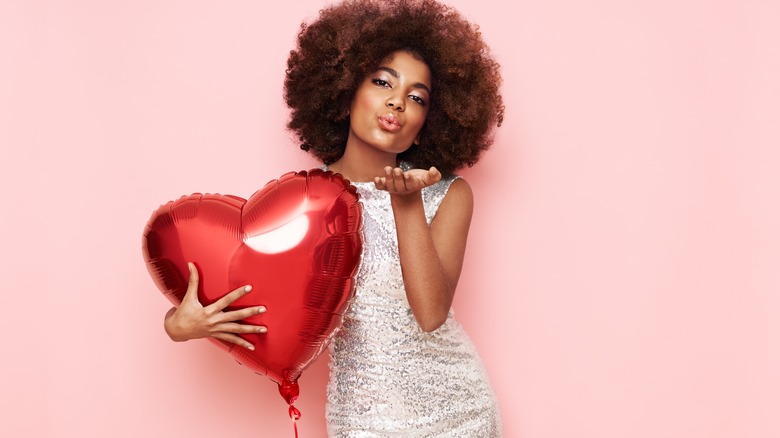 Oleg Gekman/Shutterstock
Ah, Valentine's Day. The one day of the year when it's totally okay to buy three boxes of chocolate and no one would look at you sideways. The air is filled with romance and good vibes, and couples everywhere feel more comfortable showing off some serious PDA in public spaces. Stores are decorated in white and red, and social media ads keep encouraging you to get the perfect gift for that special someone.
If reading all this makes you want to barf, we'd like you to know that we empathize. There's nothing worse than having to endure Valentine's Day shortly after a breakup or having to deal with all the romance in the air when you're single and totally not ready to mingle.
First of all, we want you to know that there is nothing wrong with being single. Being single is, in fact, awesome because you can do whatever you want whenever you want — even on Valentine's Day. You can even take a page out of Emma Watson's book and refer to yourself as being "self-partnered" (via Time Magazine). After all, the most important relationship is the one you have with yourself, and you deserve to be treated like the queen you are on V-Day.
If you're single, we've got a few ideas to make this the best Valentine's Day yet. We compiled a list of 40 incredibly fun things you can do to spoil yourself. From indulging in some good wine to hosting an anti-Valentine's Day party, we've got you covered.
Invite some of your single friends over for Galentine's Day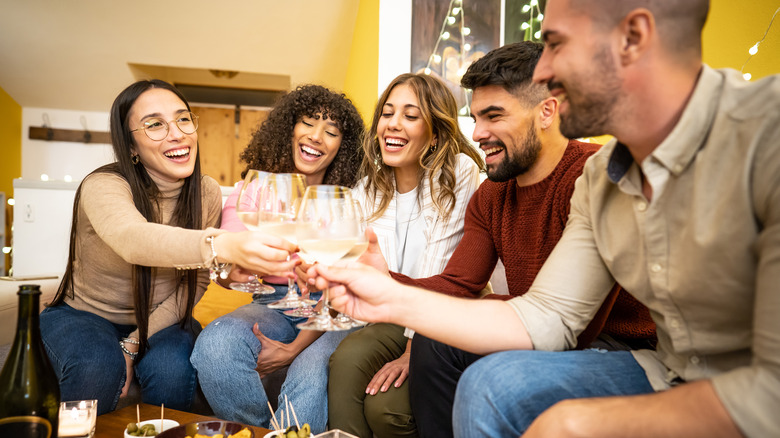 Robby Fontanesi/Shutterstock
Being single on Valentine's Day doesn't mean you have to spend it alone, so why not invite all your single friends over and have the best Galentine's Day ever? You can ask everyone who comes to bring their favorite snack, homemade meal, or a nice bottle of wine.
If you're not feeling the at-home vibe, you can always arrange to meet your single friends at your favorite restaurant. You can even check for fun shows or activities in your area that you can all attend together. Whatever you choose, have fun!
See Valentine's Day as an excuse to spend the day doing absolutely nothing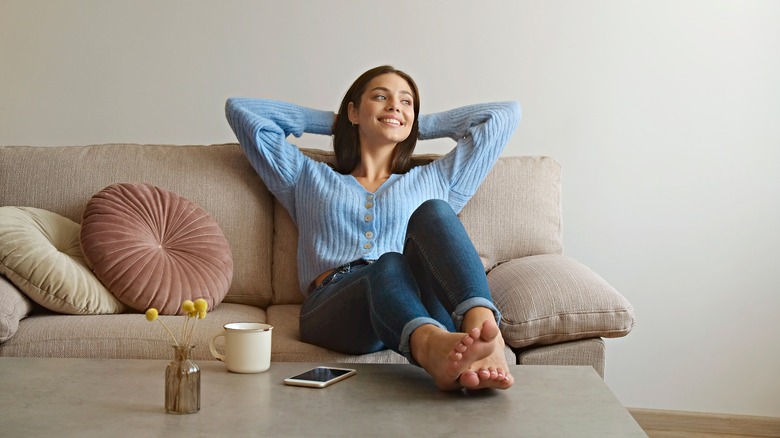 evrymmnt/Shutterstock
Many of us feel pretty guilty when we spend a whole day doing nothing, but if you're single on Valentine's Day, you should consider using the day as an excuse to do just that. No one says you have to celebrate V-Day, and if you're not feeling the vibe, don't force it. Slip into your comfiest clothes and stay at home all day. You can binge your favorite series, order some comfort food, and take frequent naps. What's not to love?
Try out some fun recipes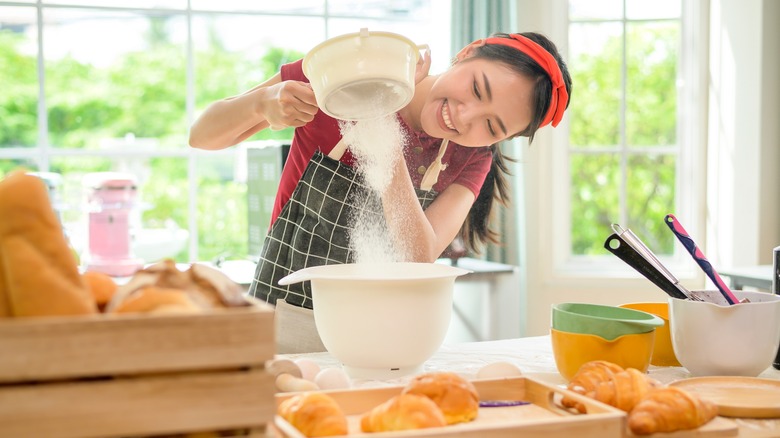 Thanakorn.P/Shutterstock
You know those fun recipes you've been checking out on TikTok but never get around to trying? Well, there's no better day to whip out your baking kit than Valentine's Day. We suggest you share your baked goods with friends and family — brightening their day with some treats will surely chase away any Valentine's Day blues you might be experiencing. You can also use this as an opportunity to experiment with some recipes. If you're baking cookies, go all out and decorate them in a funky way. (It doesn't even need to be Valentine's Day-themed if you're not feeling it.)
Splurge on some quality wine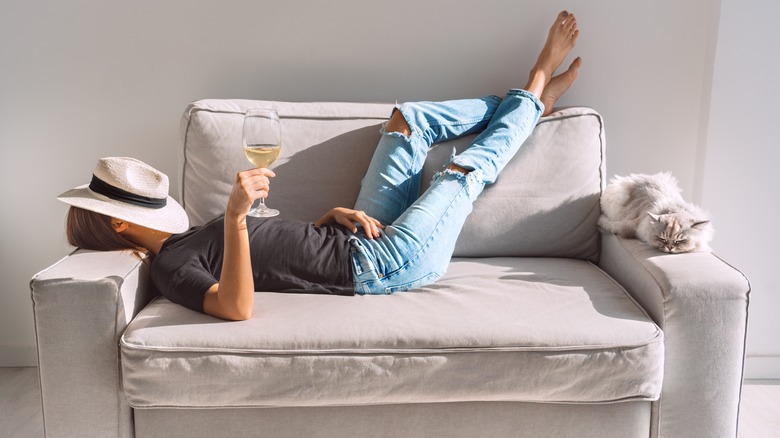 Creative Cat Studio/Shutterstock
If you're already envisioning yourself blasting Adele's "I Drink Wine" while drinking a bottle all by yourself on Valentine's Day, we're 100% behind that idea. And while we're on that topic, why don't you spoil yourself with the good stuff? Most of us have a certain wine we love to drink but can't always afford. So start saving up for a special bottle you can open on Valentine's Day. You deserve to treat yourself, and Valentine's Day only comes around once a year, after all.
Set out to learn something new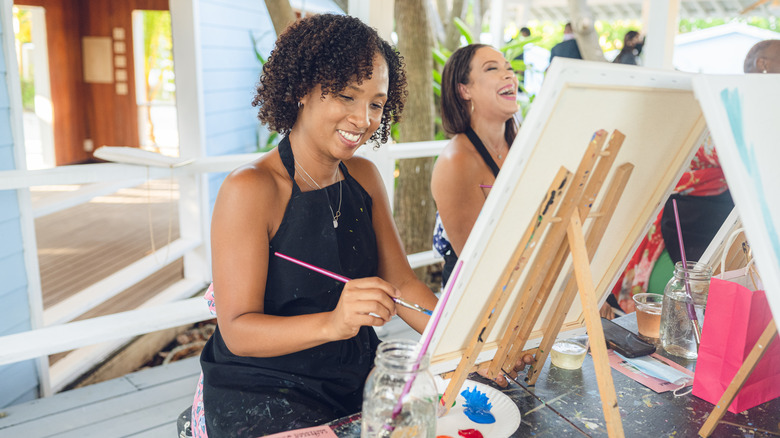 Trae Rollins/Shutterstock
One great perk about Valentine's Day is that there are many great discounts out there, and oftentimes they extend to courses and classes. The best part is that you don't have to prove you're in a relationship to qualify for these sales. We suggest you take advantage of this — take a cooking class or invest in a cake-decorating kit. Not a cook? Look for courses that are in your line of interest, whether it be learning how to code or signing up for a dance class.
See it as an opportunity to unplug from social media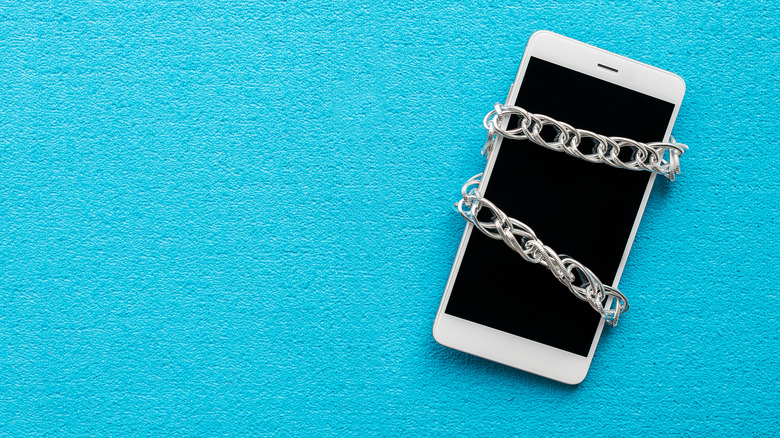 Iryna Imago/Shutterstock
Seeing all those romantic selfies on Instagram can cause some unwelcome jealousy pangs, so use this day as an excuse to completely unplug from social media. You'll be feeling much better mentally and have more time to spend on all the other fun things you have planned. Thank us later.
Do some arts and crafts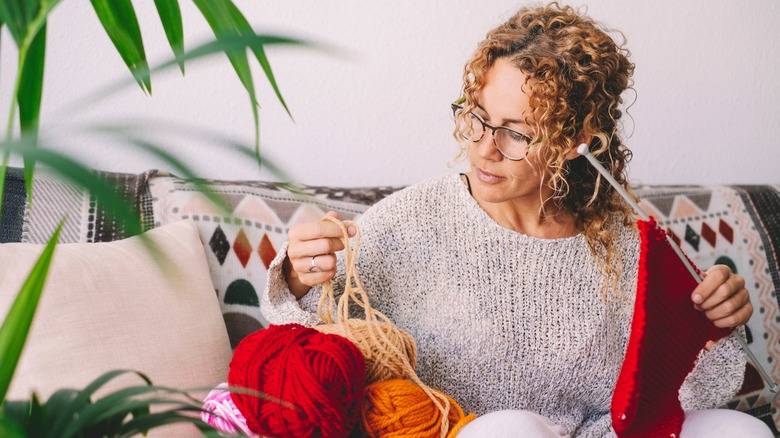 simona pilolla 2/Shutterstock
Here's an idea: Splurge on a crafting kit and spend your day creating something new. Even if you don't have a kit, you can look up some fun tutorials on YouTube or attend a Zoom class that shows you how to do crafts like cross-stitching, crocheting, or even painting. Whatever your interests are, there are bound to be tutorials on the internet that can help you out.
Use the extra time to meditate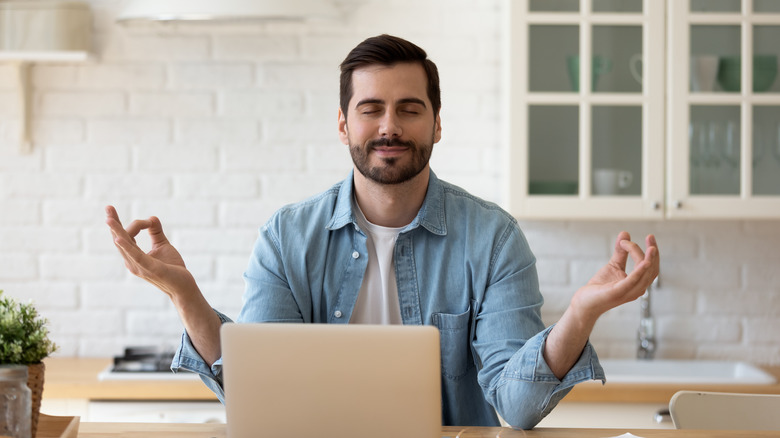 fizkes/Shutterstock
Why not give meditation a go? "Valentine's Day could be the day you discover meditation for yourself and realize that you want to incorporate it into your daily life," Jenni Skyler, Ph.D., told Women's Health. If this appeals to you, look for a meditation on Spotify or YouTube, buy some scented candles, and get ready to give your mental health some love. The benefits are so worth it!
Make time for a kickass workout to get those endorphins flowing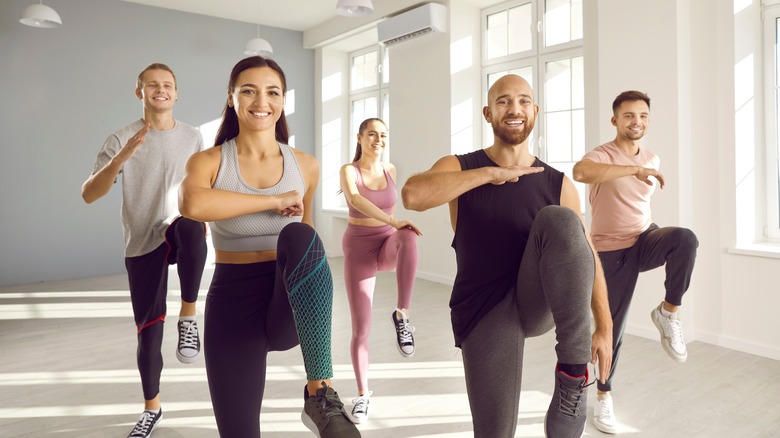 Studio Romantic/Shutterstock
There's no better Valentine's gift than some endorphins, so get out there and move your body, whether that means going for a quick walk, doing a yoga class on YouTube, or attending a class at a studio or gym for the first time. The major mood boost exercise provides will definitely brighten up the rest of your day.
Treat yourself to some flowers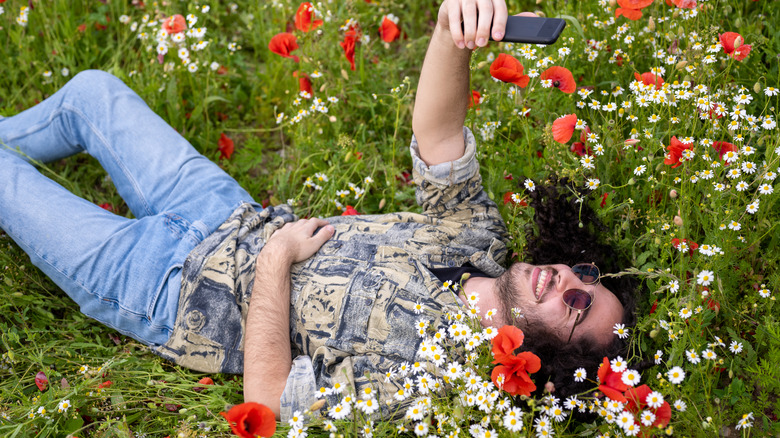 Andrea Migliarini/Getty Images
We would like to remind you that you are 100% allowed to buy yourself flowers on Valentine's Day, and we suggest you do it, too. "This is just a super nice gesture you can do for yourself," therapist Raina Wadhawan told Women's Health.
May we suggest that you order some flowers ahead of time and attach a love note to yourself? This is the ultimate form of self-care and self-love and will add a special touch to your day.
Use Valentine's Day as an excuse to catch up with someone you don't see often
Nuva Frames/Shutterstock
Valentine's Day is the perfect opportunity to call a friend or relative you typically don't get to see that often. Schedule a meeting with them and spend your Valentine's Day catching up. Thanks to the internet, you can connect with them no matter where they are in the world.
Use Valentine's Day to do the things you've been putting off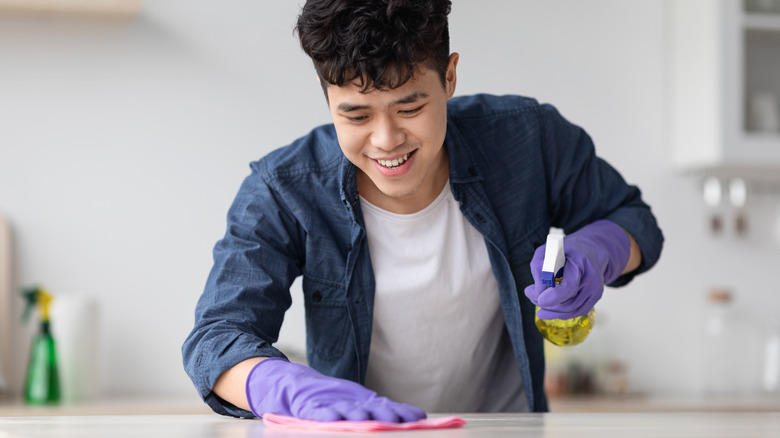 Prostock-studio/Shutterstock
Raise your hand if you're a major procrastinator. We all tend to put off things we want and sometimes need to do. So use Valentine's Day as an excuse to finally finish a project or task you've been postponing.
Kevin Gilliland, Psy.D., told Oprah Daily that finishing tasks you've been putting off can give you a major self-confidence boost, something all of us can use on Valentine's Day.
Spread some love by volunteering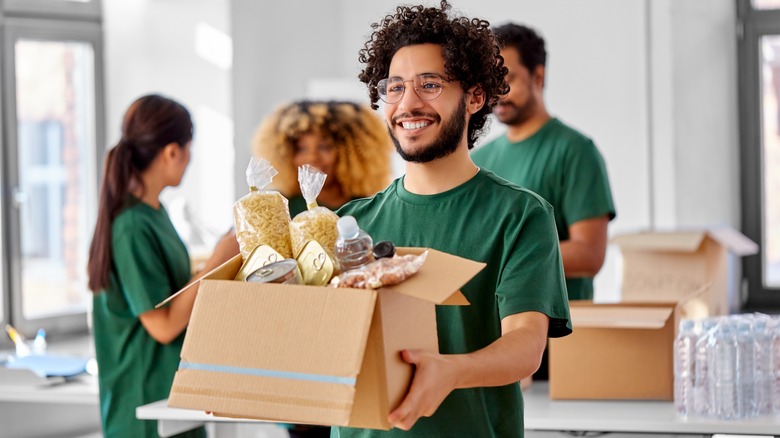 Ground Picture/Shutterstock
Spreading some love on Valentine's Day is a great way to lift your spirits. "If you value giving love, not just receiving love, then there are other ways to give love besides being in a relationship, like volunteering and helping others," Jennifer Taitz, Psy.D., told Good Housekeeping. You can find places to volunteer through local connections or online!
Wear a quirky T-shirt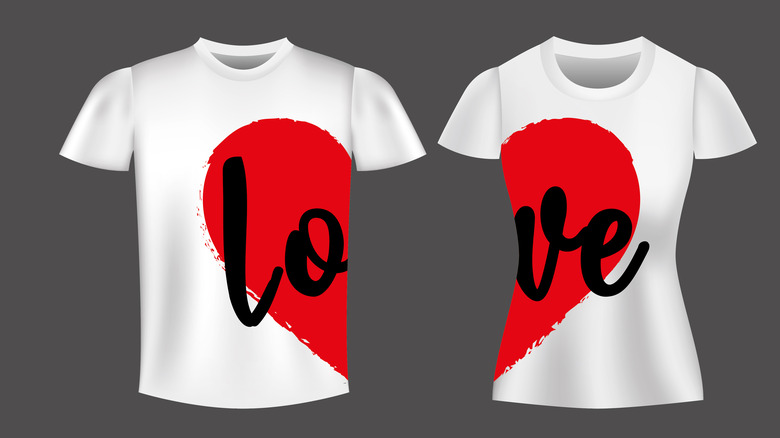 Creative Design 2017/Getty Images
There's no better time to make a fashion statement than Valentine's Day, and we suggest you do just that with a quirky T-shirt. You can shop for one online or order a custom-made one. T-Shirts that feature a checklist with the words "single," "taken," and "mentally dating X" are very popular, for instance. You can enter your favorite celeb or fictional character's name at the last check mark, letting everyone know that the only reason you're still single is that you have very high standards.
Host a movie marathon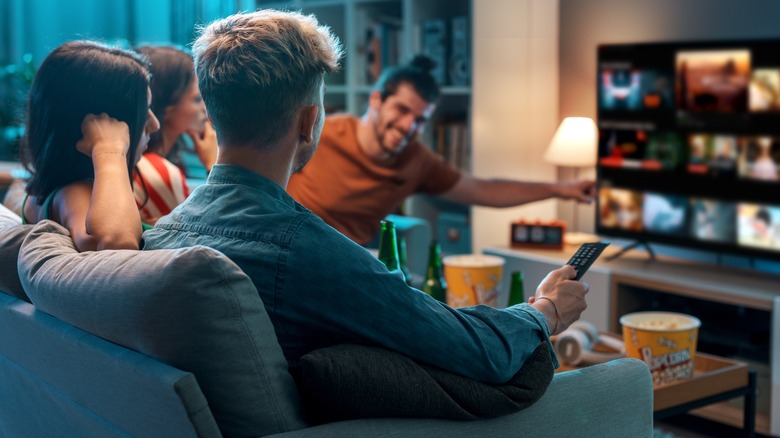 Stock-Asso/Shutterstock
There's nothing like a good movie marathon to take your mind off your ex (or just Valentine's Day in general). We suggest you opt for some comedies to lift your spirits. Another option is to watch movies starring your celebrity crush. Whatever you choose, it's bound to make your night a fun one. If you're in a binging mood, rewatch your favorite series. Whatever you decide, make sure there are plenty of snacks on hand.
Cook yourself a nice dinner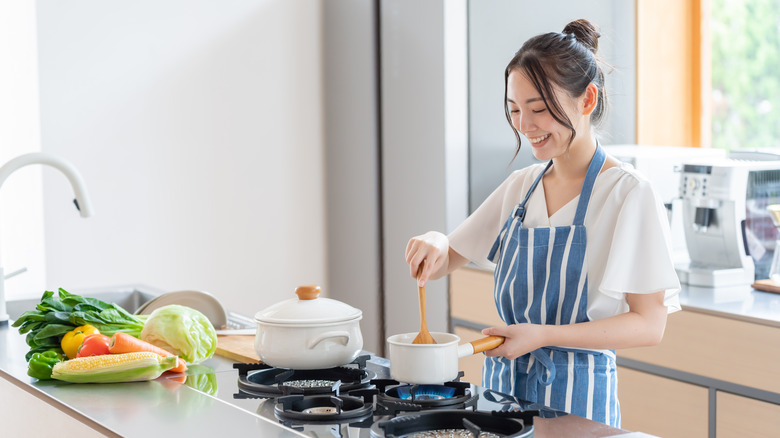 takayuki/Shutterstock
Romantic dinners aren't just reserved for couples, so if you are a wiz in the kitchen, consider cooking yourself a delicious three-course meal for Valentine's Day. "We think about romantic dinners as if they should have someone else there, but this is a nice reminder that this is about you," therapist Raina Wadhawan told Women's Health. So, whip out some candles and good music and enjoy a nice romantic dinner for one.
Treat yourself to a bubble bath and some good music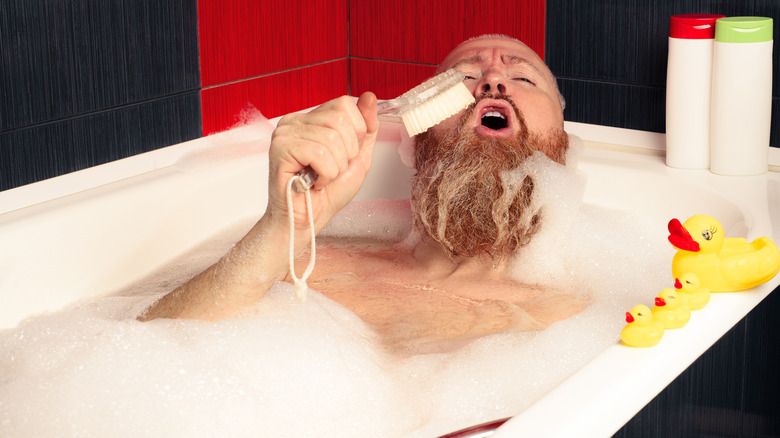 Volodymyr Zakharov/Shutterstock
This might seem like a pretty basic treat, but we all know a bubble bath can instantly lift your spirits. Light some candles and add a bath bomb to the water for good measure. Grab a nice book and put on some relaxing music, then enjoy some well-deserved me-time.
Host an anti-Valentine's Day party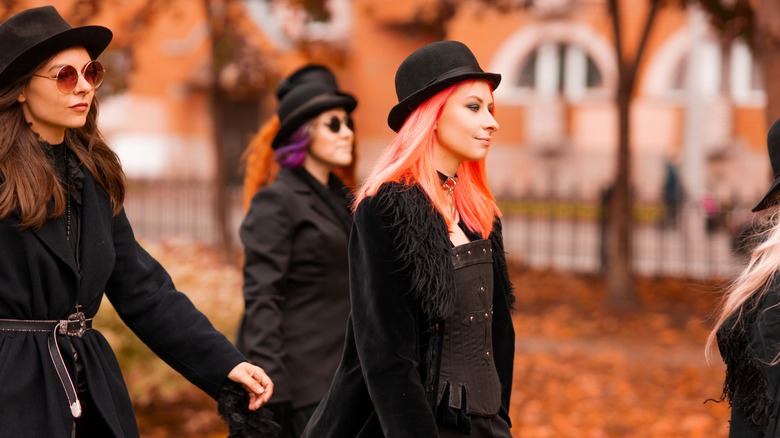 Trismegist san/Shutterstock
If you're nursing a broken heart and know that Valentine's Day might amplify your heartache, we recommend you throw an anti-Valentine's Day party and invite your best friends to spend the day with you. Choose a theme that contradicts the typical Valentine's Day colors and ban anything that resembles the shape of a heart entirely.
Plan a fun trip somewhere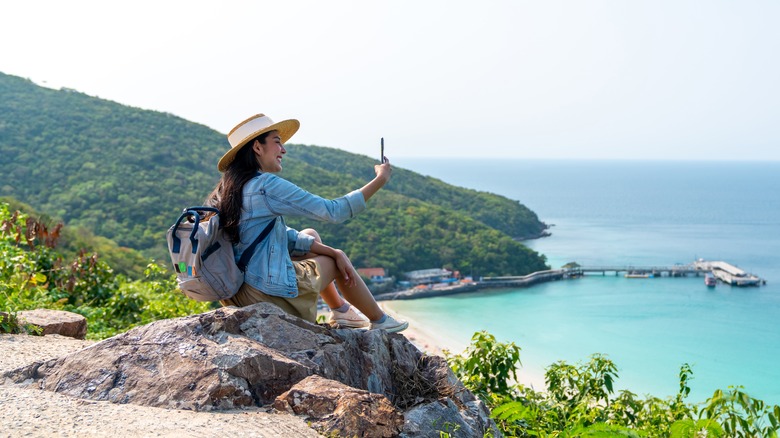 CandyRetriever/Shutterstock
If you've been meaning to plan a trip for ages, consider this your sign to do it. If you're dreading staying at home and thinking about your ex, a fun mini-vacation offers the perfect distraction. Remember, you might meet your soulmate at any moment, so there's no guarantee that you'll have another shot at spending Valentine's Day exploring your favorite town or city on your own. So go for it!
Spend some time in the great outdoors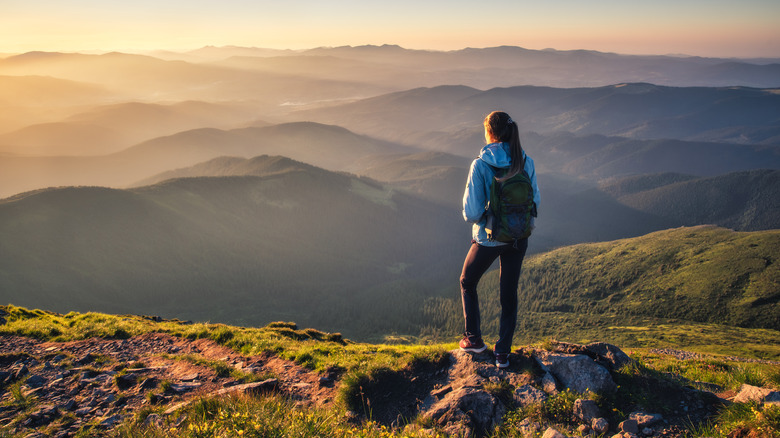 Denis Belitsky/Shutterstock
If you usually feel out of sorts on Valentine's Day, consider spending some time outdoors, whether that be taking your dog for a walk, riding your bicycle, or taking a fun hike. "There's a huge spiritual element to being in nature, and being outdoors can be powerful and healing for people," Jenni Skyler, Ph.D., told Women's Health. There you have it — Mother Nature provides the best medicine (but are we surprised?)!
See it as a chance to treat yourself as you would a partner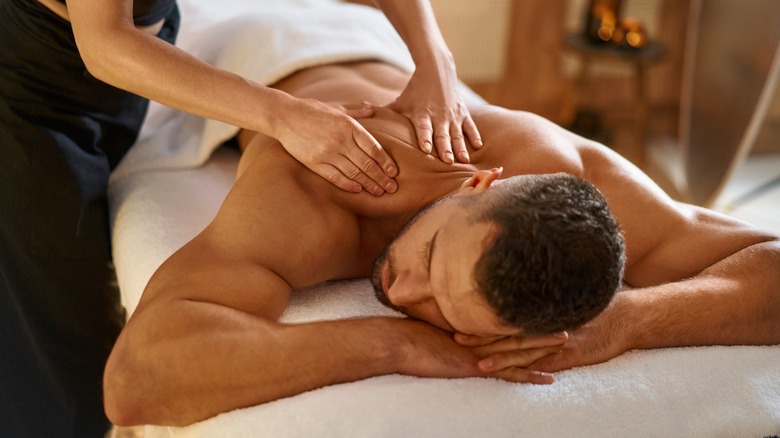 baranq/Shutterstock
If you had a date for Valentine's Day, you would go to a lot of trouble to make them feel special, right? So why not do the same for yourself? Take yourself on a killer date: go eat at your favorite restaurant, book a massage, or go watch the latest movie. You can also opt for some shopping and splurge on a few items you really love. The options are endless.
Figure out what your love language is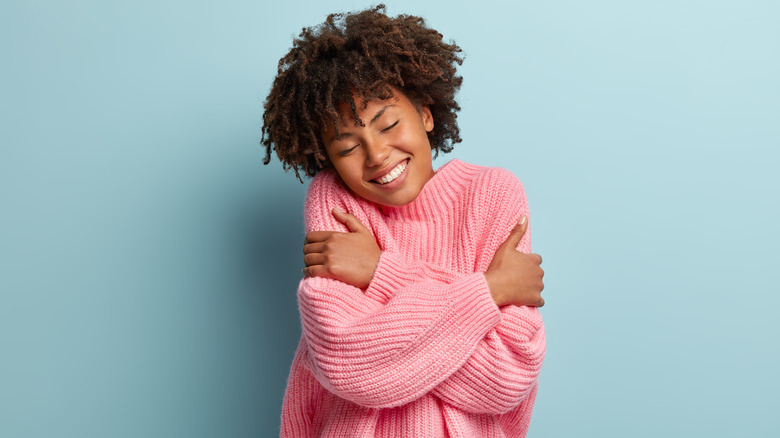 Cast Of Thousands/Shutterstock
Knowing what makes you feel loved can help you better communicate your needs to a partner and, in turn, make your relationship flourish. Even if you're single on Valentine's Day, it's the perfect opportunity to learn more about yourself. Jenni Skyler, Ph.D., told Women's Health that "The 5 Love Languages" by Gary Chapman is a great place to start.
Get lost in a good book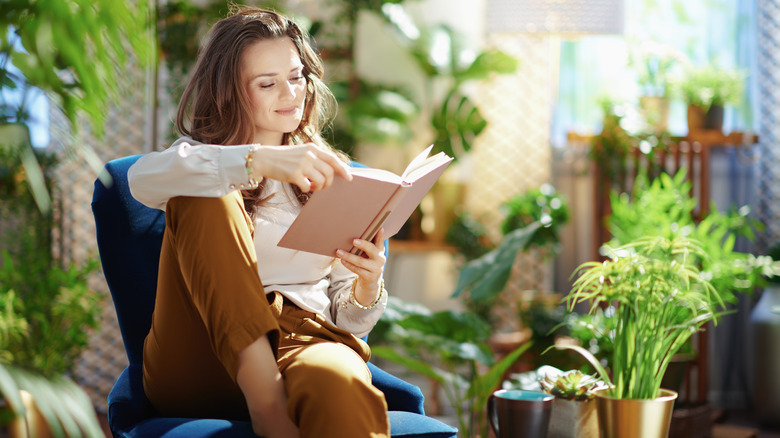 Alliance Images/Shutterstock
If you're a bookworm, you're going to love this idea. See Valentine's Day as an excuse to go to your favorite bookstore and splurge on a few novels, then spend your evening immersed in another world. You can opt for a romance novel or, if you're not up for that, treat yourself to a thriller or any other genre you find enjoyable. You'll soon forget that it's even Valentine's Day.
Make a playlist with some kickass songs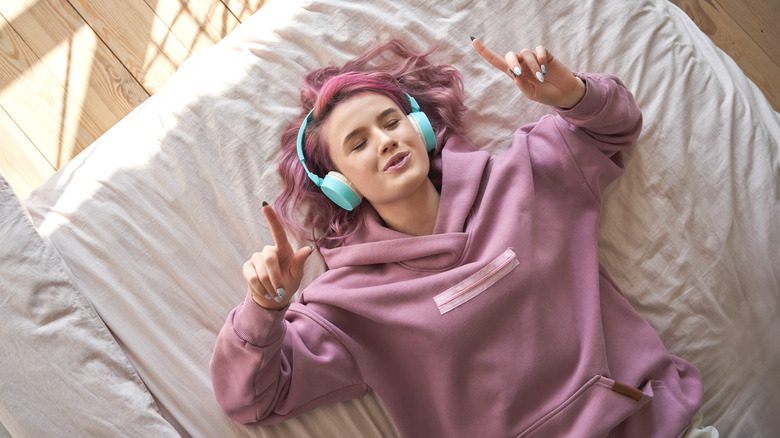 Ground Picture/Shutterstock
Who doesn't love a killer playlist? Spend Valentine's Day exploring Spotify, and add your favorite songs to a playlist. Choose songs that make you feel confident and happy and skip the soppy stuff unless you absolutely know it's going to make you feel better (no judgment here). In that case, blast it all day.
Treat yourself to all the things your ex hated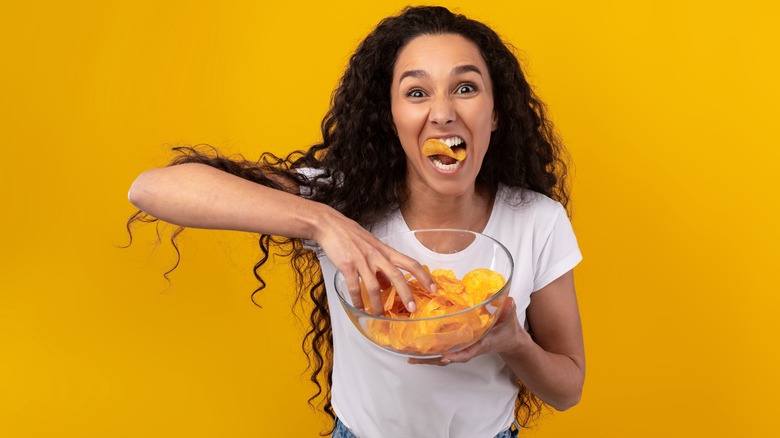 Prostock-studio/Shutterstock
If you had a messy breakup, you can use Valentine's Day to spite your ex without them even knowing it. If there's anything you couldn't do (or had to do less often) because your ex didn't like it, spend V-Day doing all those things. Order the food your ex never wanted to eat, watch the movie they loathed, or play their least-favorite artist on repeat. Make this your day of liberation.
Splurge on some delicious takeout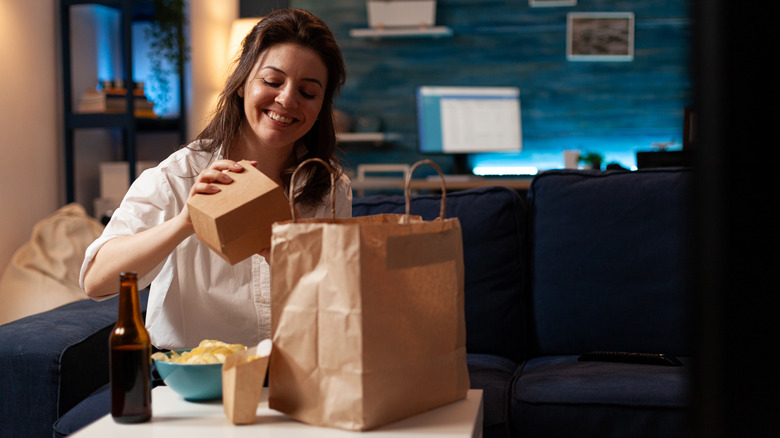 DC Studio/Shutterstock
If you're not someone who likes to cook or simply don't want to deal with dishes on Valentine's Day, order some takeout and go all out — we're talking a three-course meal here. For some extra fun, try out different restaurants. Order the starter and dessert from one place and the main course from another. Or choose a different restaurant for each one!
Host a game night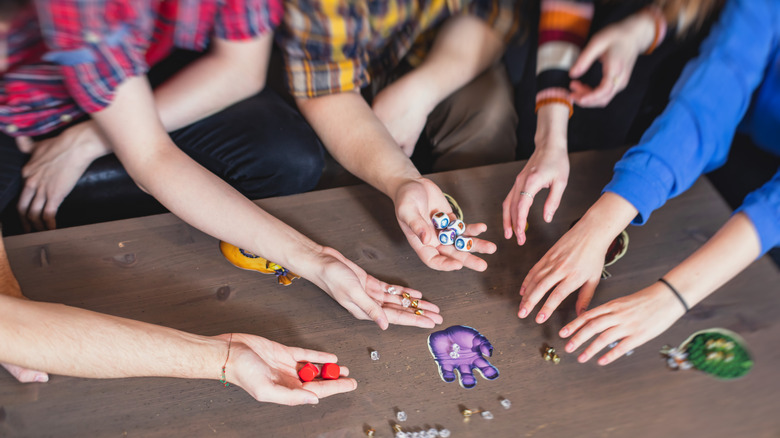 Tsuguliev/Shutterstock
If you have some single friends looking for refuge on Valentine's Day, invite them over for a game night. This is always fun and you can do it at home or visit your local pub. Games like "Things They Don't Teach You in School," "Friends Trivia," and "Jeopardy!" are all bound to create a good time. Ask everyone to bring snacks and their favorite playlist if you decide to host it at home, and get ready for a fun-filled night!
Sign up for a singles' subscription box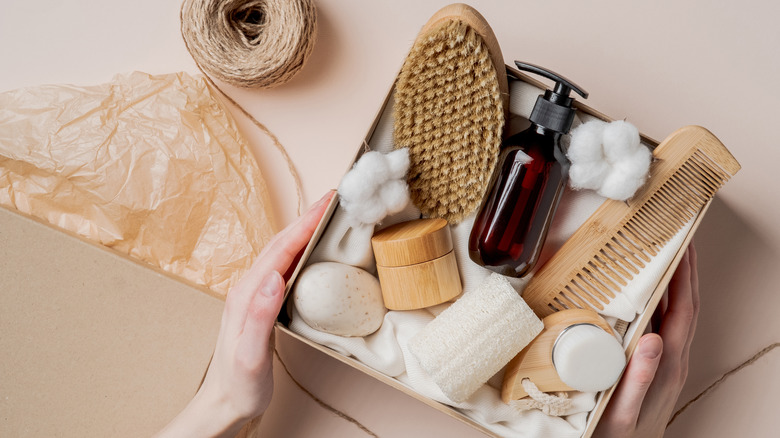 Savanevich Viktar/Shutterstock
Everyone loves getting gifts, so why not give yourself one on Valentine's Day? Opting for a subscription box is a great way to do just that and add that element of surprise. These days, they are readily available online, and you even get some that are custom-made for single people — sweet! A great one to try is Singles Swag. The brand's boxes include beauty products, books, and snacks — all perfect for a night in!
Use Valentine's Day as an opportunity to write yourself a love letter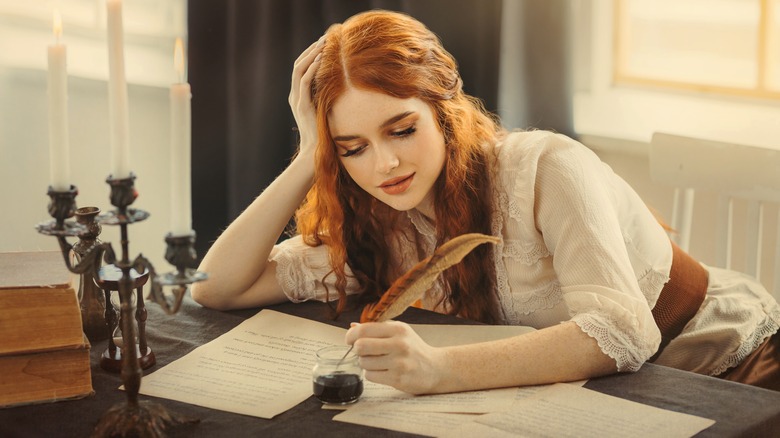 Ironika/Shutterstock
Most of us need to practice more self-love, and we think Valentine's Day is perfect for reflecting on all the things you love about yourself. Therapist Raina Wadhawan told Women's Health that writing yourself a love letter is a great way to rediscover all the things that make you amazing. You can write down things you do that make you happy, as well as your accomplishments.
Find a quote that can lift you up during the day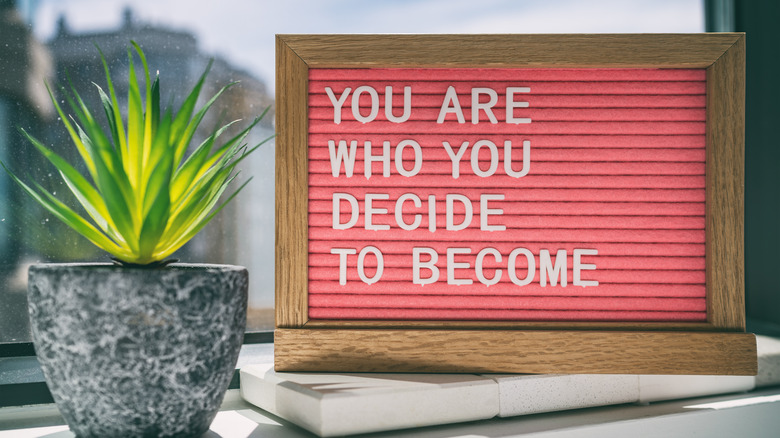 Maridav/Shutterstock
We don't know about you, but we love a good quote, and if you do too, consider choosing one you can reflect on during Valentine's Day. Find one that resonates with you and use it as your phone's screensaver. Alternatively, you can write it down on a post-it and stick it near your computer or on your mirror so you can be reminded of it all day.
Binge some reality TV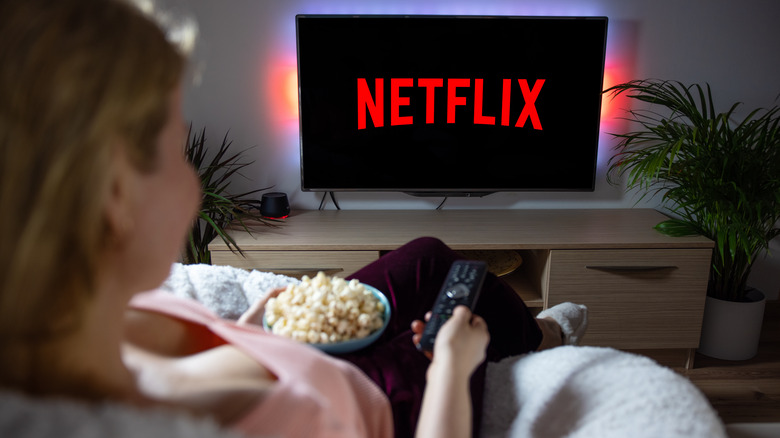 Kaspars Grinvalds/Shutterstock
There's nothing like a little bit of reality TV to make you forget your own problems for a while. Add it to your list of fun things to do on Valentine's Day if you're flying solo. If you're planning on doing a full-blown binge session, just make sure you still get up from time to time and move your body a bit so you don't get stiff.
Build a fun puzzle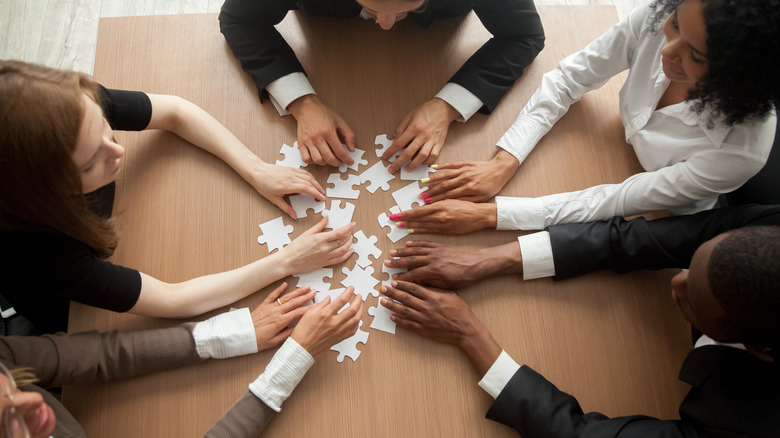 fizkes/Shutterstock
Puzzle building isn't just for kids; putting together a huge puzzle can be incredibly fun and keep your mind occupied for hours on end. Buy one that appeals to you (you can even opt for one that features characters from your favorite movies) and spend Valentine's Day building it. You can also invite some friends over to help you. Alternatively, you can ask them to bring their own puzzles and host a puzzle-building marathon.
Reorganize and tidy up your house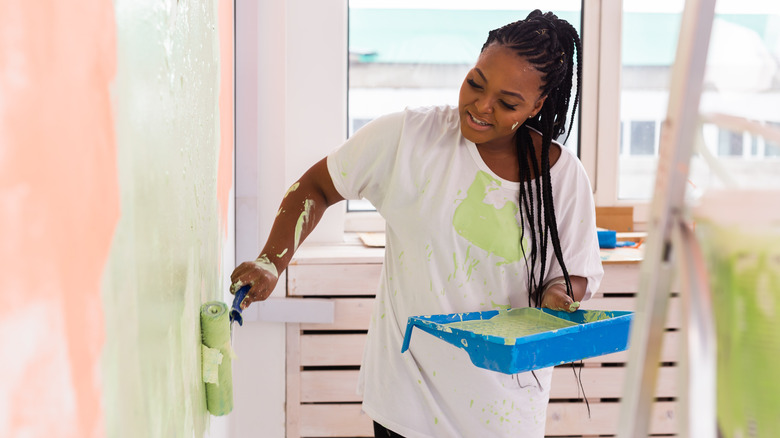 Best smile studio/Shutterstock
Valentine's Day is the perfect opportunity to give your house some love. Even the smallest changes can liven up your space. This can include splurging on some new throw pillows or simply rearranging the furniture in a room. You can also use your alone time to do some cleaning. After all, nothing feels quite as good as a clean, fresh home.
See Valentine's Day as an excuse to dig into your favorite snacks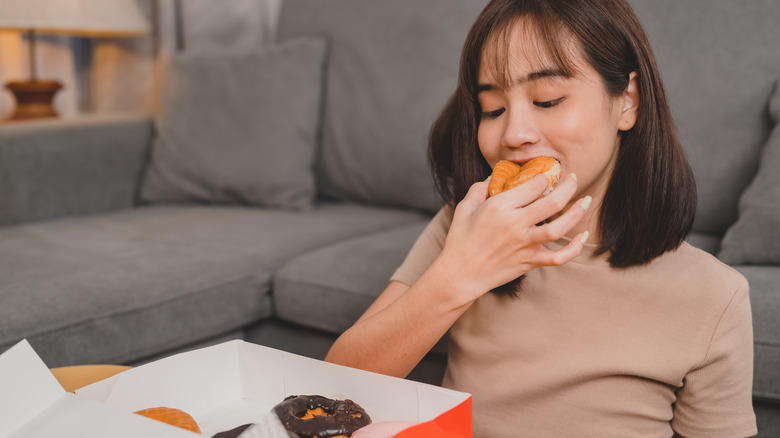 Theera Disayarat/Shutterstock
Most of us try to eat healthy on a daily basis, but we totally give you permission to dig into some chocolates on Valentine's Day. Treat yourself to your favorite snacks, especially those that hold fond memories from your childhood. This will surely give you a mood boost. You can even make a snack platter and invite over some friends to share in the deliciousness.
Dance it out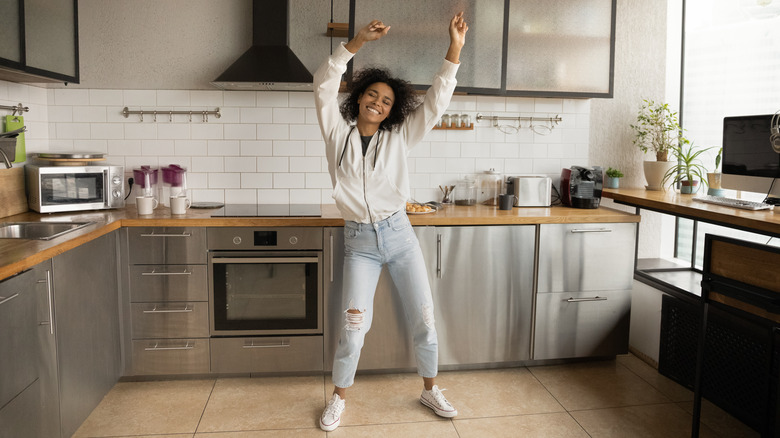 Fizkes/Getty Images
A dance party for one? Yes, please! If you already created a kickass playlist for Valentine's Day, put it on and turn up the volume. An impromptu at-home dance party means that you can pull out all your wild dance moves without the fear of any judgment since no one (except your pets) can see you. You'll also be amazed at how awesome you feel afterward.
Babysit and make some extra money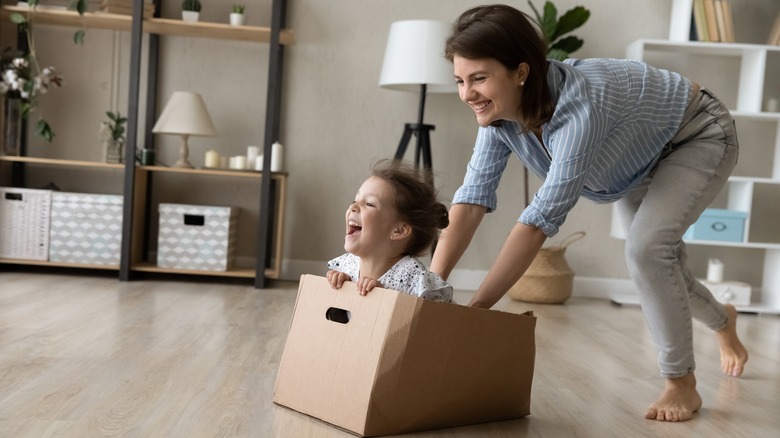 fizkes/Shutterstock
If you love kids, Valentine's Day is the perfect opportunity to do some babysitting for couples who want to go out. Not only will you get to do some fun activities with tiny humans, but you'll also be making some extra cash to spend on a treat at a later date. It's a win-win situation.
Get a new hairstyle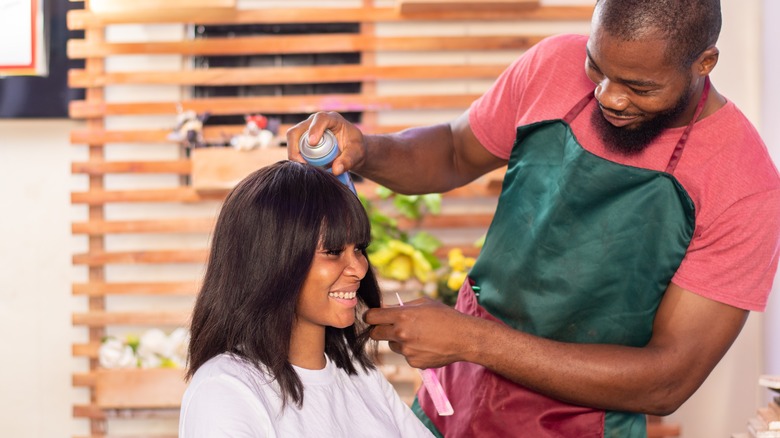 i_am_zews/Shutterstock
Coco Chanel said that "a woman who cuts her hair is about to change her life," and what better time to do just that than Valentine's Day? Schedule an appointment at your favorite salon and research some cool hairstyles. Not only will getting a new haircut give you something to look forward to, but a change in style will also give you a confidence boost and some fun new hairstyles to play with. It's the ultimate V-Day gift to yourself.
Use Valentine's Day as an excuse to start learning a new language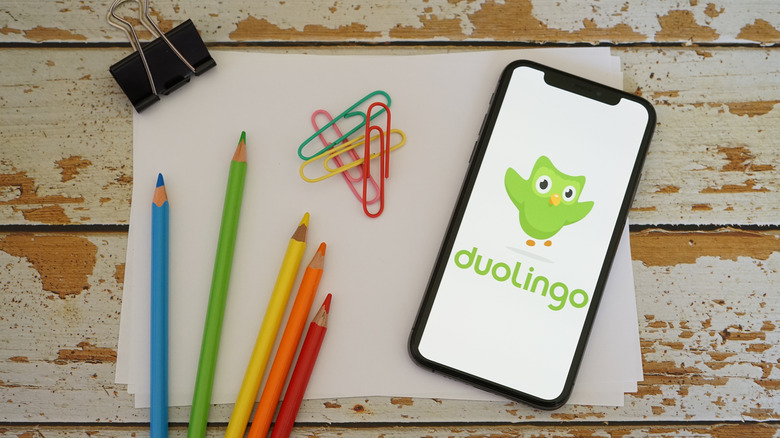 Sulastri Sulastri/Shutterstock
Learning a new language is like a workout for your brain, so why not give your brain some love on Valentine's Day? And let's just admit it: being able to speak multiple languages makes you look incredibly cool. Use this day as an opportunity to get started. There are plenty of apps to help you out, like Duolingo and Rosetta Stone.
Write Valentine's Day cards to your favorite people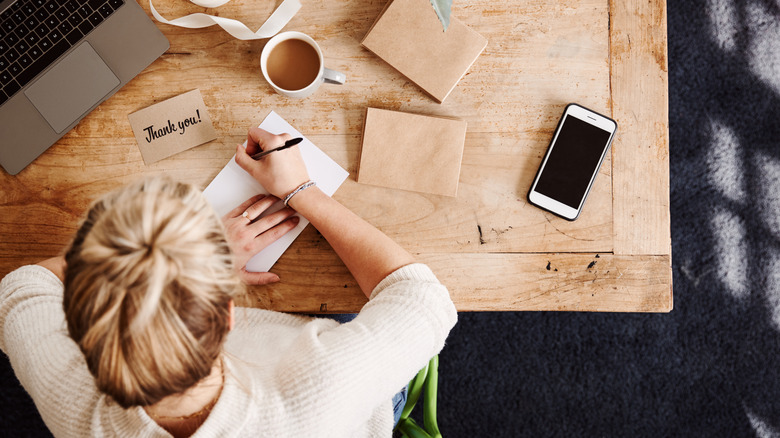 Monkey Business Images/Shutterstock
It's always nice to get a Valentine's Day card from someone, so why not write some to your favorite people? Use this day to let the people close to you know that you are thankful for them. This can even include some co-workers who have done you a favor or supported you during a tough time. Spread the love and watch how your mood improves.
Write your ex a letter and burn it to a crisp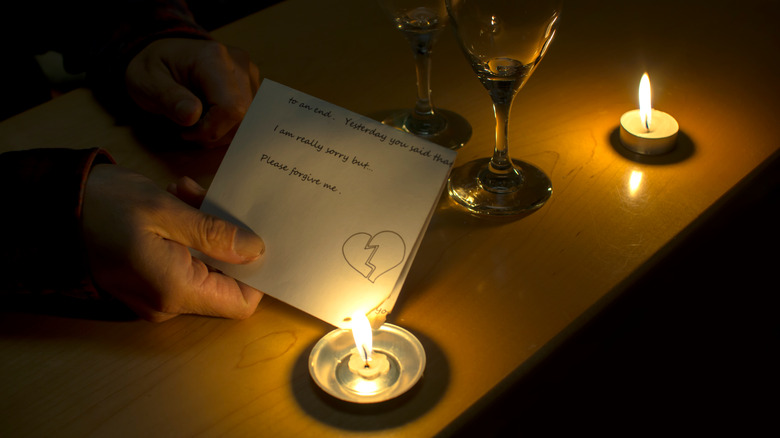 Eduardo Y/Shutterstock
There's nothing quite as cathartic as writing your ex a very honest letter and then setting it on fire. Yeah, we know it sounds a little dramatic, but we promise you're going to feel so much better. "Anything that helps you process or have closure about the end of a relationship is good," Jenni Skyler, Ph.D., told Women's Health. So, go on, write out those feelings and watch them go up in smoke.