Plush Velvet Is Having A Moment This Winter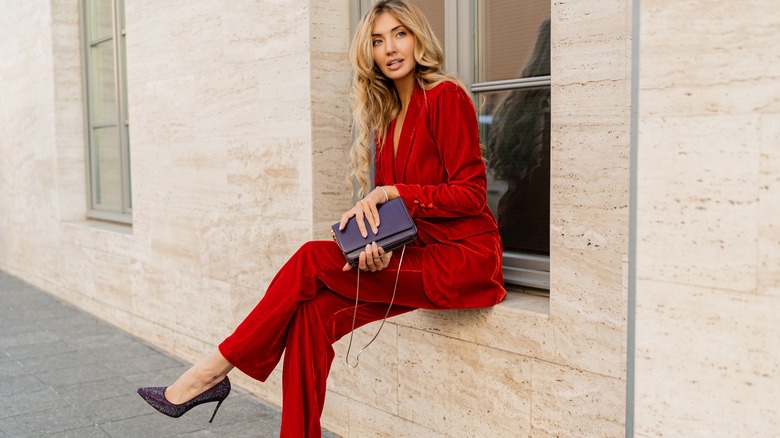 Svitlana Sokolova/Shutterstock
When it comes to dressing luxuriously, your choice of fabric and texture is essential to leveling up any look. While fabrics like satin and cashmere are historically expensive choices, other options can give you the same stylish look. Velvet, specifically plush velvet, remains one of the most affordable options for those looking to add fun and style to their wardrobe. In fact, Dr. Kimberly Chrisman-Campbell, a fashion historian, curator, and journalist, tells Marie Claire, "Velvet is traditionally made of silk and is a very complex, labor-intensive weave. Historically, it was very expensive and frequently was the target of sumptuary laws that banned middle- and lower-class people from wearing it. So it's not surprising that a visibly luxurious fabric like velvet has made a comeback."
Since plush velvet is a heavyweight fabric, this fabric is ideal for the colder months. Because it subtly adds texture and softness, plush velvet is quickly becoming a new favorite for winter. Unlike crushed velvet and regular velvet, plush velvet is softer and smoother, meaning it is easier and more comfortable for daily wear. Although velvet is no longer the exclusive fabric it once was, it's perfect for keeping you warm and stylish during winter. Because plush velvet is so versatile, there are plenty of ways you can add it to your closet.
Velvet dress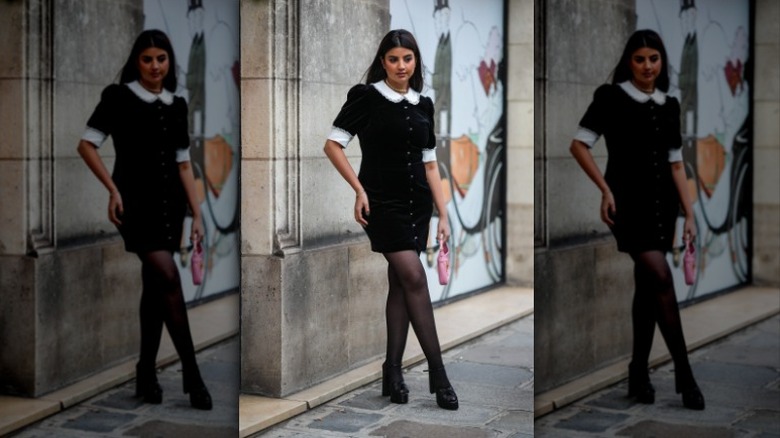 Edward Berthelot/Getty Images
The easiest way to pull off plush velvet this winter is by donning a velvet dress. While usually a favorite for party season, a plush velvet dress is one way to bring extravagance into your day-to-day. During Dior's Fall/Winter 2022 show, the brand showcased a black plush velvet dress as the staple fabric for the season. For added warmth, add a trench coat on top for a mix of luxury and casual pieces. You can also add a pair of tights underneath to add another layer for the cold weather.
Velvet tops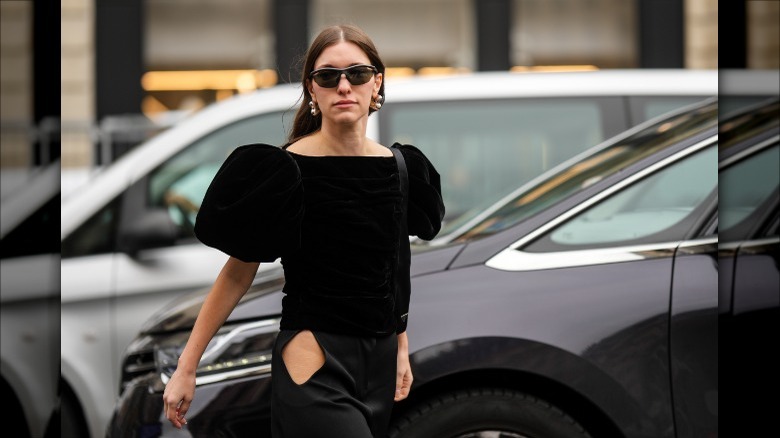 Edward Berthelot/Getty Images
To add plush velvet to your closet in a scaled-down version, reach for a plush velvet blouse. The beauty behind a plush velvet blouse is that you can easily style it with denim jeans for the perfect daily outfit. Incorporate a plush velvet blouse into your wardrobe like any other fabric for an upscale daytime outfit. Reach for a colored plush velvet blouse to add another statement punch to your look.
Velvet sets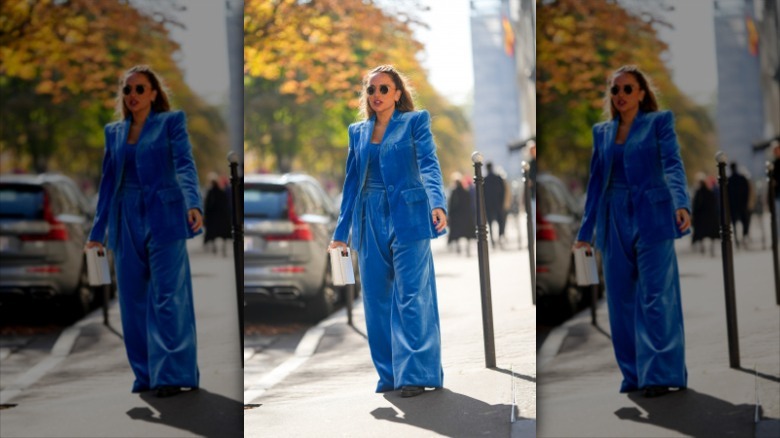 Edward Berthelot/Getty Images
The plush velvet trend is all about bringing extravagance into your daytime outfits. The best way to rock this trend to its fullest potential is by going for a matching set. Whether you like a matching blazer and pants combination, like shown during Gucci's Fall/Winter 2022 collection, or a top and skirt combination, a matching set will do the trick (via WWD). You can go as subtle or bold as you would like with a matching set by simply changing the color of your set.
Velvet pants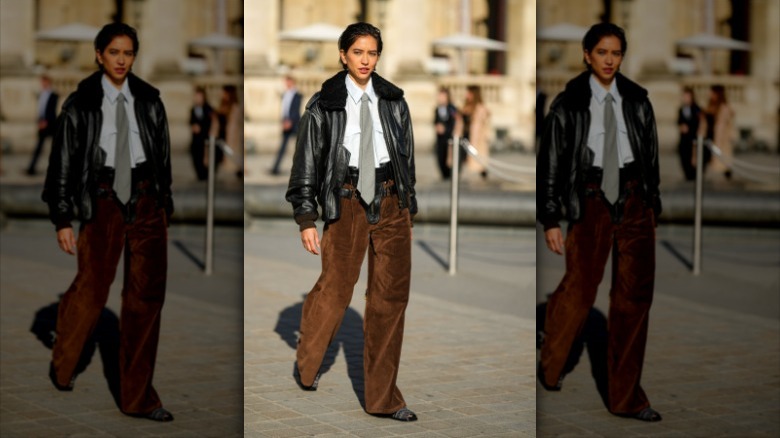 Edward Berthelot/Getty Images
Just like a plush velvet top, a pair of velvet pants is an easy way to incorporate velvet into your outfits. Because plush velvet is soft and easy to wear, you can style it with any blouse or t-shirt for a look you can simply put together. Opt for a pair of wide-leg or cropped plush velvet pants to easily style this fabric without having it look too bulky. If plush velvet is still overwhelming, go with darker-colored pants that still look casual but add a fun texture.
Velvet bags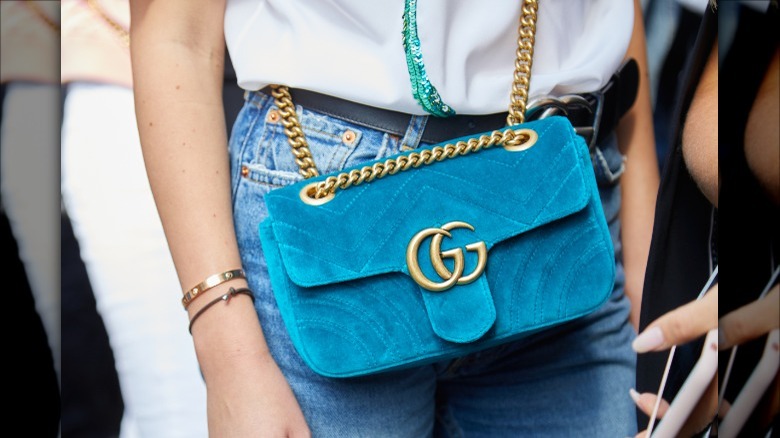 andersphoto/Shutterstock
Nothing beats reaching for an accessory to complete your look. Any bag is the perfect way to add a punch of color and texture to any outfit. As seen on the runway during Chanel's Fall/Winter 2022 Ready-to-Wear show, a velvet bag is essential to elevate your winter look. Keep your style as casual or elevated as you want, and finish the outfit with a velvet crossbody for that extra playful touch. A plush velvet bag is also the most affordable way of sporting this trend without redoing your entire wardrobe.
Velvet hair accessories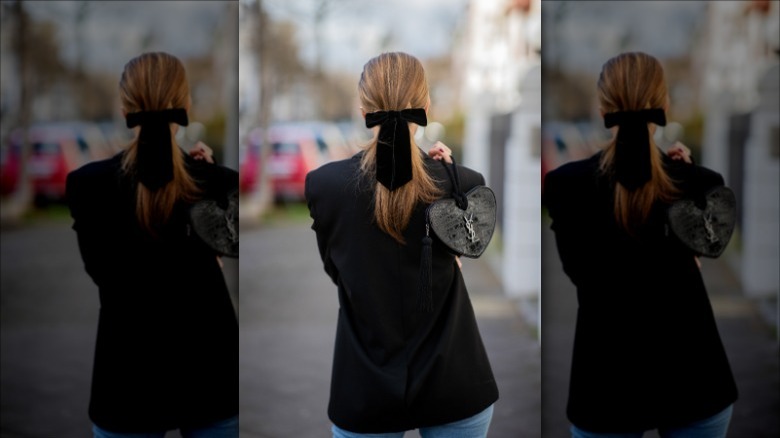 Christian Vierig/Getty Images
Recently, hair accessories have experienced a push in popularity. From hats to hair bows, hair accessories are everywhere nowadays. A velvet hair accessory is another way you can add another layer to your look without stealing away from your style. From a simple plush velvet hair bow or bucket hat, have fun with your hair accessories during the winter season. Plush velvet is about taking party season into the daytime, so bring out your fun velvet hair accessories to complete your looks.