Corsage-Inspired Fashion Is On The Rise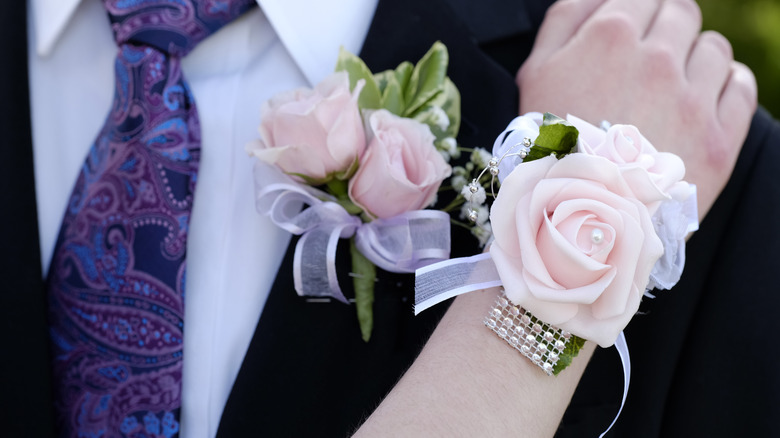 Eric1513/Getty Images
When you think of corsages, you may think of prom night circa 1990, not high fashion. However, Carrie Bradshaw suddenly made them cool when she flaunted giant blooms pinned to her clothing in "Sex and the City" Season 3. Her corsages weren't the dainty ones your grandmother wore either. They were big, colorful, and playful, much like her wardrobe.
Advertisement
Soon, high-end designers were adding corsages to their collections. In 2018, models strutted down the runway for Missoni's Spring/Summer fashion show with bright faux flowers attached to their clothing, with one wearing a lavender-colored corsage similar to Bradshaw's. The trend popped up again during the Chanel Spring/Summer 2020 show, this time in various places. One corsage was placed jauntily on the side of a model's hat, while another adorned a bright pink flower on her tweed jacket.
It looks like it's corsage year yet again, as many celebrities sported the flower trend at the 2023 Golden Globes. Many women were not shy about using flowers as a bold accent, and even some men had on bouquets as well. If you want to up your corsage game, take a look at these styles as inspiration.
Advertisement
Jenny Slate looks bold in green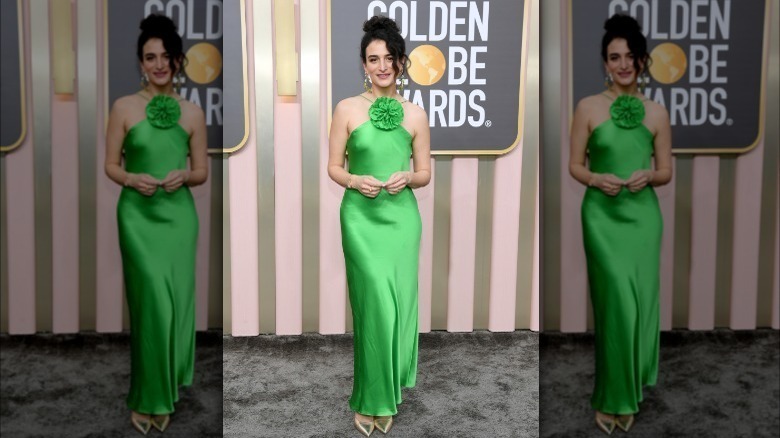 Jon Kopaloff/Getty Images
Jenny Slate came to the 2023 Golden Globes ready to make a statement. The actor wore a bright green, slinky Rodarte gown with a big statement flower at the center of her collarbone. Slate highlighted the dress with colorful, dangling earrings and a wavy updo, but her corsage dress took center stage.
Advertisement
Sigourney Weaver's corsage look was elegant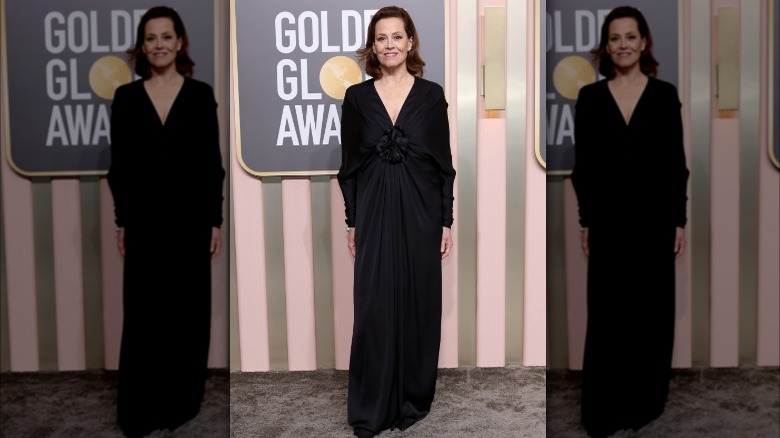 Amy Sussman/Getty Images
Sigourney Weaver chose a more subtle look for the 2023 Golden Globes, but her black dress still stood out due to its floral addition in the front. The inky floor length was designed by Saint Laurent and featured a dramatic corsage as the centerpiece. The leading lady opted to keep her decolletage bare of any jewelry, which added more drama to her statement dress.
Advertisement
Sepideh Moafi wowed fans with her corsage placement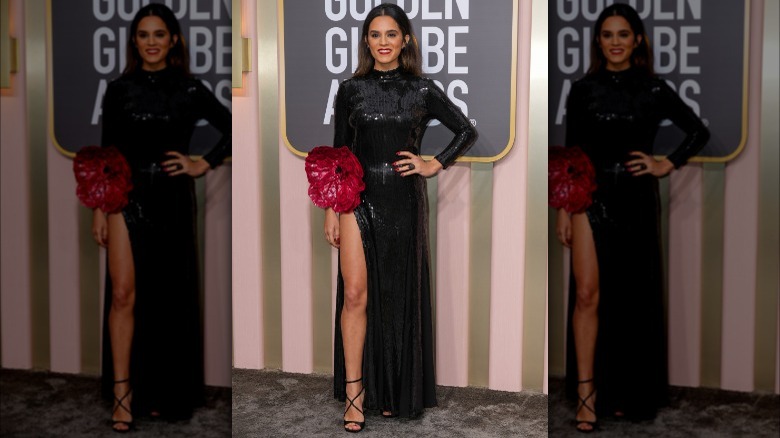 Kevin Mazur/Getty Images
Sometimes, it's all about the placement of the corsage. Sepideh Moafi went the untraditional route and came to slay the 2023 Golden Globes with a larger-than-life red statement piece on her right hip. The sequined black gown came with a thigh-high slit, which only added to her dramatic look. The actor wore a bold red lip to match the flower, and with a dress like that, all eyes must have been on her.
Advertisement
Bruna Marquezine took a feathery approach to her corsage fashion
Bruna Marquezine was spotted at the 2023 Prada fashion show looking very chic. The Brazilian actor wore a white Prada shirt under a gray jacket that might have been boring had it not been for some fun feathery additions to her outfit. The modern take on the traditional corsage was pinned to her upper arms as she walked into the show, no doubt with a place in the front row.
Advertisement
Devon Lee Carlson channeled her inner Carrie Bradshaw
Influencer Devon Lee Carlson showed up to the YSL 2023 spring/summer fashion show in Paris wearing a Carrie Bradshaw-esque adornment. The young fashionista must have known that floral appliques were trending and donned a large red and yellow one on her leather jacket. The dreamy, realistic-looking corsage softened her otherwise edgy look.
Advertisement
Take the corsage trend to your next vacation
If you want to be the best-dressed one on vacation, look no further than Blumarine. The brand's 2023 resort collection features many light and airy pieces featuring corsages. Pictured here is its satiny baby blue pantsuit that would look über chic while you're shopping the streets of Milan. The suit is anything but boring, and the jaunty corsage holding the jacket together is just enough sass to make you the trendiest person in 2023.
Advertisement
Eddie Redmayne was in on the floral trend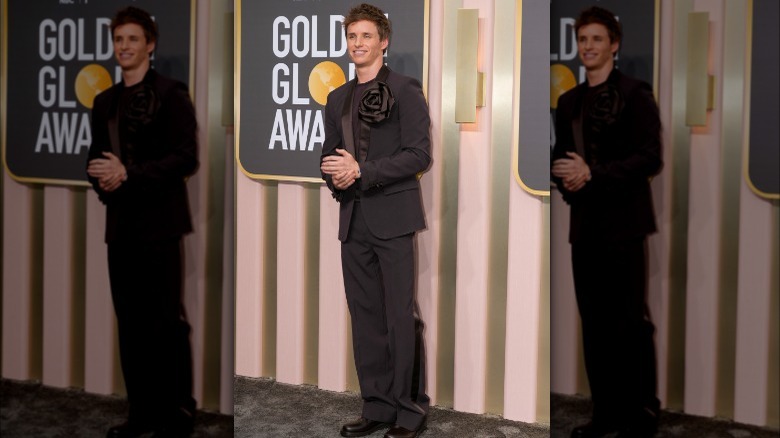 Kevin Mazur/Getty Images
Somehow, Eddie Redmayne knew that floral pieces were going to be trending during the 80th Golden Globe Awards. However, instead of a standard boutonniere, he opted for an impressive large corsage pinned to his lapel. The monochromatic look was courtesy of Valentino and definitely made him one of the best-dressed men of the event, but who said only men could wear a corsage-forward ensemble like this? Personally, we think it would be a beautiful power move if more women took a chance on this style.
Advertisement