Tips For Rocking Monogrammed Fashion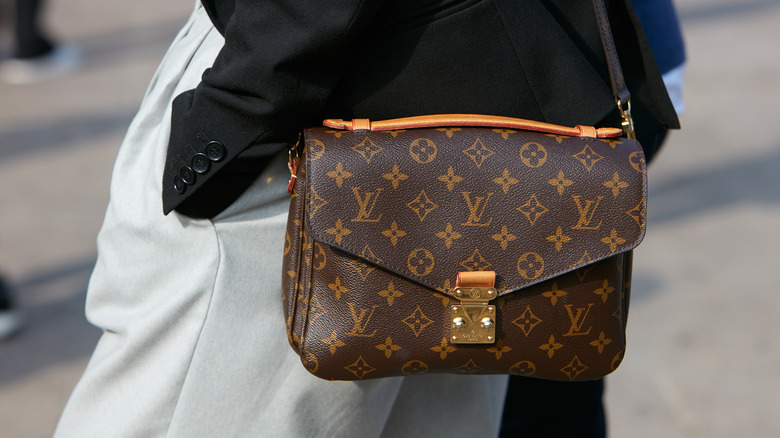 andersphoto/Shutterstock
If there's one trend that has never gone out of style, it's monogrammed fashion. While some may dislike this trend, there's no denying that monograms and logos have always had a place in our closets. Looking toward future fashion trends, monogrammed fashion will only get bigger and better. As more designers opt to make their mark with monograms and logos, the options for consumers are endless. On this,Dan Manioci, MCM's vice president of marketing and global digital, explains to The Zoe Report, "As people, we are programmed to migrate toward something that shows status, that has relevance. To me, logomania is not going anywhere anytime soon. Instead, it's a question about how this obsession will change with time. The brands that can stay ahead of the trends are the ones who will win out in the end."
Advertisement
Although how we wear them has changed, monogrammed clothing has always been the perfect way to make a statement. Depending on your style, monogrammed fashion can be as loud or subtle as you want. The best way to keep monogrammed pieces from looking old-fashioned or outdated is to style them to fit with the modern era.
Keep monograms on your accessories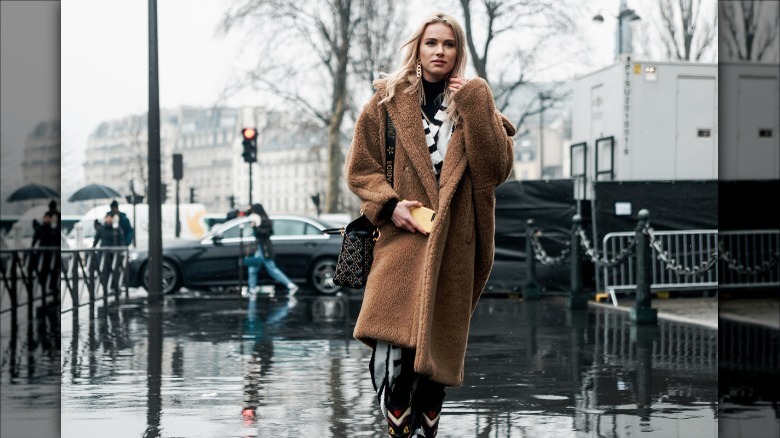 eversummerphoto/Shutterstock
The most popular way to sport a monogram piece is by sticking it in your accessories, mainly on your handbags. Monogrammed accessories have slowly become some of the most affordable ways to get your hands on a monogrammed piece. Instead of investing in a clothing piece that might go out of style, invest in a monogrammed handbag that will only go up in value as time passes. Brands like Louis Vuitton and MGM have become known for their monogrammed bags that last the test of time.
Advertisement
Modernize your monogram pieces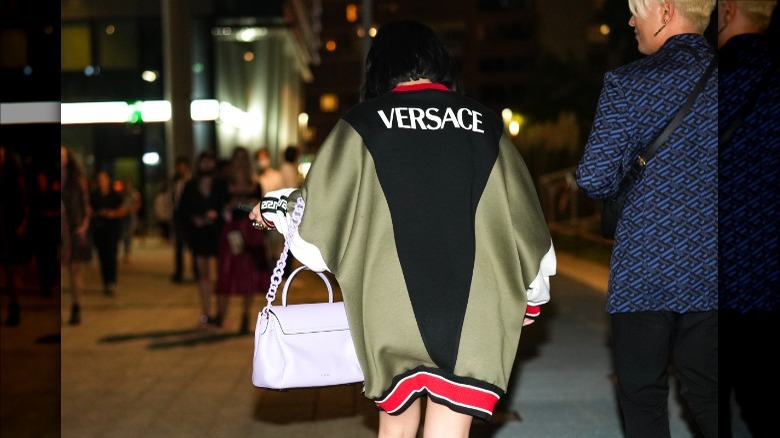 Edward Berthelot/Getty Images
Because many are not fans of a traditional monogram, brands have invented new ways of placing their logos onto the pieces that people love. Gucci recently shared via Instagram several of their new clothing pieces in collaboration with Adidas, which sported both of the companies' iconic logos. Placing monograms and logos onto chic street-style pieces such as sweatshirts and sweatpants is an easy way to rock monograms in today's world. Items like graphic t-shirts and hats that are easy to style have also become the newest ways to work the monogram trend.
Advertisement
Match your monograms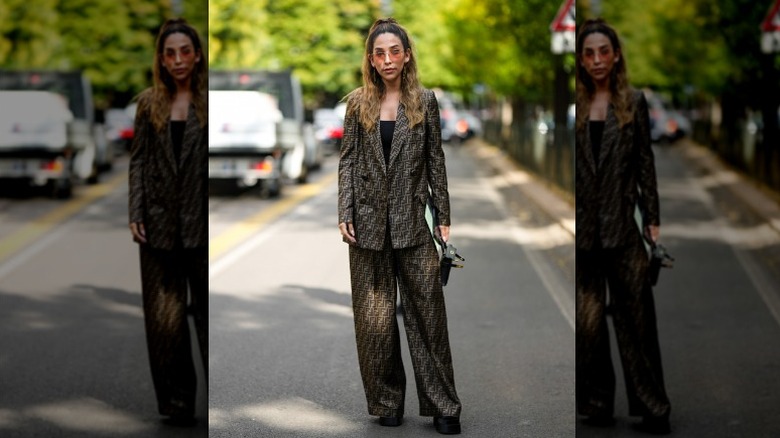 Edward Berthelot/Getty Images
For those who prefer a statement look, matching monogram sets are the perfect way of letting the world know your favorite brand. Since monograms come on every clothing piece nowadays, you can easily sport a matching blazer and pants set. Pair a matching set with an accompanying solid color for a balanced outfit. Another way you can match your monograms is by choosing accessories that only contain monograms or logos. Pair a monogrammed hat with tights for a simple, understated look.
Advertisement
Keep it subtle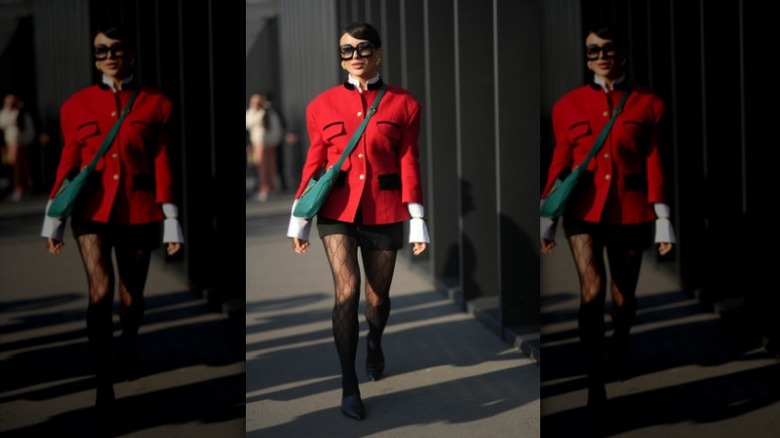 Edward Berthelot/Getty Images
Like any trend, there are ways to make it work for your style. While the monogrammed trends might be loud and bold in some cases, there are ways to make them subtle. Fashion content creator Audrey Lieutaud shared via Instagram how a simple pair of black Chanel tights can be more than enough to rock this trend. Keep the monogram to a minimum to subtly add a touch of luxury to your look.
Advertisement
Head-to-toe monograms
Just as you can make monograms subtle, you can also make them into a statement outfit. Wearing a head-to-toe monogram style might've once been controversial and divisive, but now it's a chic, street-style outfit. With more brands designing catsuits and head-to-toe pieces, it's easier than ever to rock a monogrammed outfit. Finish off your look with matching accessories like gloves and scarves for a fascinating fashion look.
Advertisement
Ditch the logos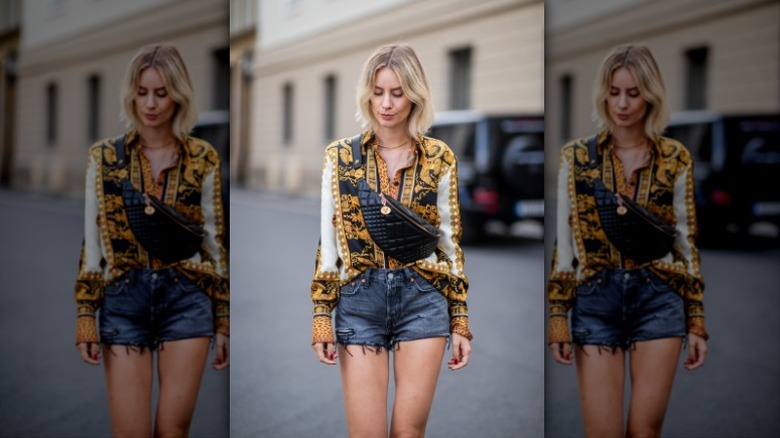 Christian Vierig/Getty Images
If a brand's logo is not your favorite design, opt instead for a printed piece. To differentiate themselves from the rest, more brands are creating prints and color combinations as part of their brands' monograms. While everyone is aware of Versace's iconic logo, the brand is also known for its specific prints and motifs. In a recent Instagram post, the brand showcased its Barocco print, which is as ornate and bold as the brand itself. Using prints instead of monograms and logos is a chic way to represent your favorite brand without the need for its name.
Advertisement