What Is A HydraFacial?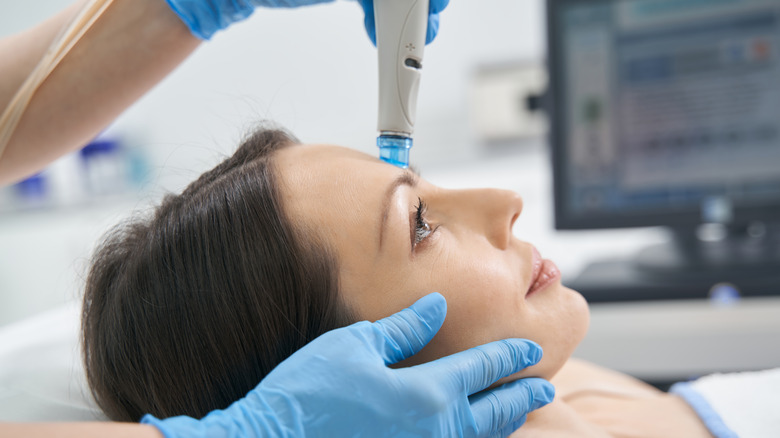 Svitlana Hulko/Getty Images
In the beauty world, there is always a new skin treatment emerging in popularity. According to Apotheco Pharmacy, some of these popular skin treatments include microdermabrasion, dermabrasion, chemical peels, laser resurfacing, Botox, and dermal fillers. Regardless of what they focus on, these skin treatments all attempt to help your skin looks its best. However, with the ever-changing landscape of beauty technology, a new skincare treatment is quickly becoming a crowd favorite: the HydraFacial.
Whenever you're trying a new skin treatment, take proper precautions before your appointment. Always ensure you seek a trained professional who's experienced in performing this skin treatment, and be are aware of any possible side effects. Like the other skin treatments, HydraFacial can be an beneficial to address certain skin issues. However, since HydraFacial are still relatively new to the beauty world, many are unaware of all the perks and components of a HydraFacial. Luckily, we're here to fill you in. A HydraFacial treatment might be your new favorite skin treatment you didn't know you needed.
What you need to know about a HydraFacial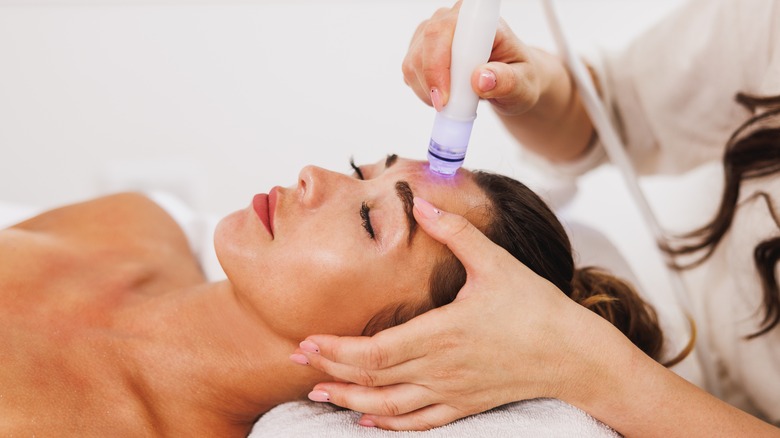 MilanMarkovic78/Shutterstock
The HydraFacial treatment is the newest combination of some of your favorite skin treatments. Cosmetic dermatologist Dr. Ariel Ostad tells Elle, "The HydraFacial is the only hydra-dermabrasion procedure that uses patented technology to cleanse, extract, and hydrate. HydraFacial uncovers a new layer of skin with gentle exfoliation and relaxing resurfacing. The Activ-4™ serum removes dead skin cells to reveal healthy skin and the GlySal™, a mixture of glycolic and salicylic acids, delivers the benefits of a peel without post-peel scaling." The HydraFacial is a quick four-step process that can help exfoliate and rehydrate the skin. Many salons and spas will market a treatment similar to a HydraFacial, however, only those who register under the HydraFacial brand will be able to claim to offer HydraFacial service.
Pure Medi Spa adds that the HydraFacial skin treatment helps to exfoliate, cleanse, and hydrate all at once with the use of a HydraFacial wand. Taking only around 30 minutes to complete, the HydraFacial treatment is ideal if you want to both remove impurities and add much-needed hydration to the skin.
Benefits of a HydraFacial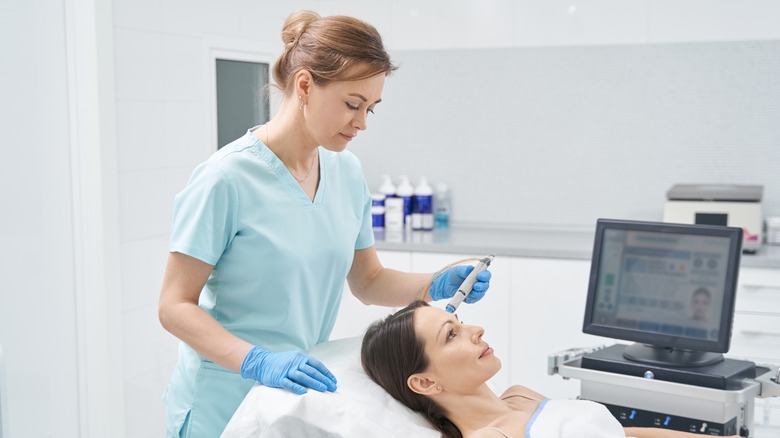 Svitlana Hulko/Shutterstock
Unlike other skin treatments, the HydraFacial treatment is optimal for all skin types. Because the entire process only involves cleansing and hydrating, there are minimal skin irritation or reaction risks. The gentleness of the HydraFacial treatment means it's one of the few treatments that those with sensitive skin can get. Prevention adds that the HydraFacial treatment can help minimize acne, improve skin texture, and unclog pores quickly, making this treatment ideal if you have an event. However, if you are pregnant, you should avoid this treatments, as it contains boosting serums that contain potentially harmful ingredients. 
Centre Spring MD explains that the HydraFacial treatment is quick and easy, meaning you don't need to have any rest period after the procedure. Depending on your skin's needs, you can customize your HydraFacial to exfoliate or hydrate your skin more. Unlike other skin treatments where you have to wait several weeks to see significant results, the HydraFacial treatment gives same-day results. Since it's produced and regulated by one brand, you can expect similar results regardless of where you get your procedure.