Ditch The Candles And Try Bringing Scent To Your Home With A Simmer Pot Instead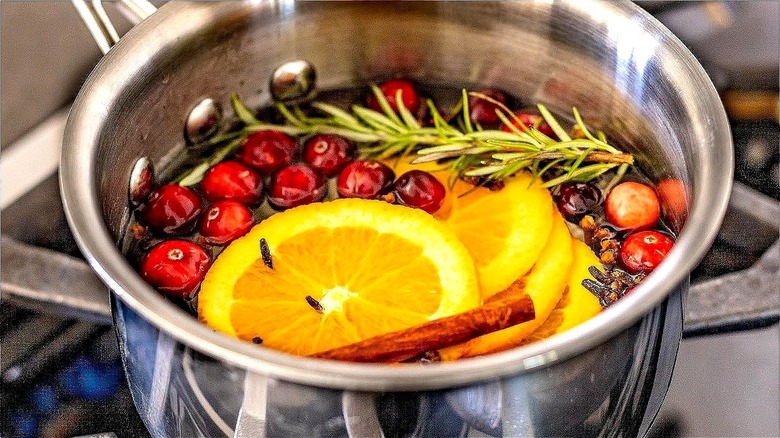 SharonJR/Shutterstock
Back in the olden days, candles were a matter of practicality. Before electric lighting, we needed all those candles to chase away shadows and keep things visible after sunset. But nowadays, candles have become a quintessential luxury item, not to mention nearly synonymous with relaxation and self-care. This is especially true of elegant scented candles, which tantalize several of our senses at once.
Advertisement
Unfortunately, being classified as a luxury item can sometimes mean that scented candles come with a luxury price tag. For instance, Yankee Candle sells some of the most popular scented candles on the market, but a large Lavender Vanilla jar candle might set you back more than $30. It's no wonder, then, that Vantage Market Research reports that the global candle market is on track to surpass a value of $9.9 billion by 2028 — driven by the popularity of scented offerings (via Global Newswire).
But what if you don't have space in your budget to accommodate those pricey but oh-so-tempting candles? Take heart, because being thrifty doesn't mean compromising the warm, comforting atmosphere in your home. Instead, savvy shoppers are saving cash by scenting their homes with a cheap, effective trick known as a simmer pot.
Advertisement
What is a simmer pot?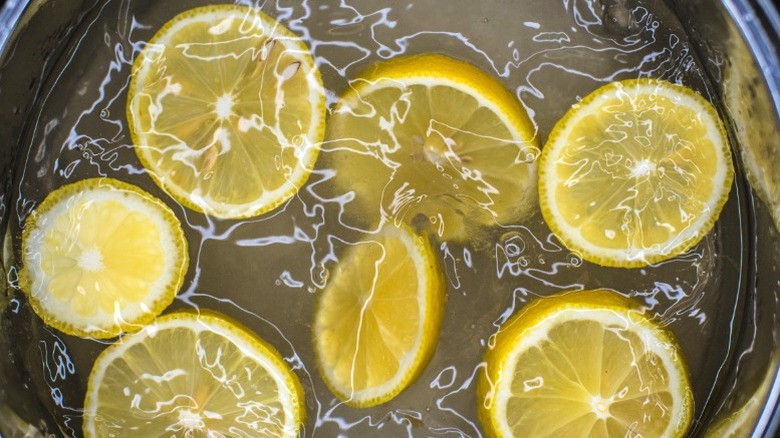 Photointoto/Shutterstock
Sometimes referred to as stovetop potpourri, simmer pots are a frugal, eco-friendly way to fill your home with a delicious fragrance. Essentially, creating a simmer pot involves boiling a pot of water that has been spiked with aromatic herbs, spices, and fruits. As the water boils and infuses, it releases the scent of its ingredients, naturally freshening the air (via The Real Food Dietitians).
Advertisement
Because they're so easy to throw together, simmer pots have several key benefits over buying scented candles. For one, they're obviously cheaper, making use of whatever you have to hand. Plus, they give you the chance to repurpose scraps like herb stems or fruit rinds that otherwise would have gone into the trash (per EatingWell).
If you're into clean living, it's also reassuring to note that simmer pots may provide a more natural way to scent your home than the synthetic fragrances found in some scented candles. While candle fragrances haven't been directly linked to any health issues, they are largely unregulated and may contain some ingredients that you'd find objectionable (via Healthline).
Advertisement
Way back in 2001, the Environmental Protection Agency even released a report analyzing the safety of burning candles indoors, stating that some candles produced dangerous emissions like acrolein, formaldehyde, and acetaldehyde. So even if the case against scented candles isn't conclusive, it's nice to know that simmer pots provide a cleaner, cheaper, and equally fragrant alternative.
How to make your own simmer pot at home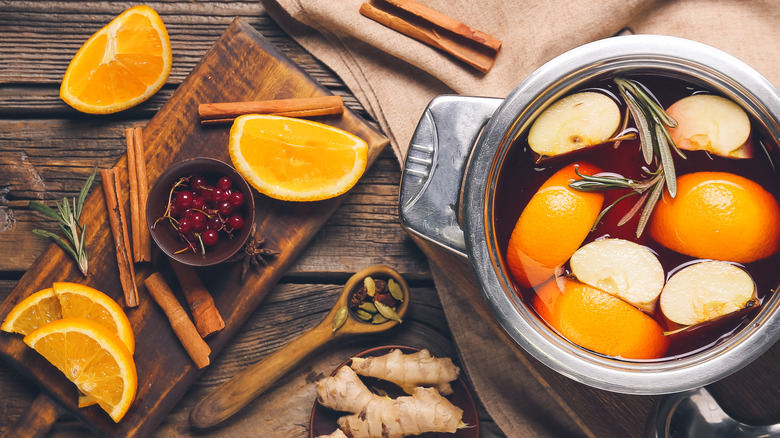 Pixel-Shot/Shutterstock
Putting together your simmer pot is simple. As The Outdoor Apothecary explains, begin with a small to medium-sized pot like a saucepan. Fill it with water, place it on the stove, and bring it to a boil. Then add your aromatic ingredients and turn the heat down to a simmer. Once every half hour or so, check whether it's boiled down too much and add some fresh water if necessary.
Advertisement
As for what ingredients to include, the only limit is your imagination! Eco-friendly blends are one of the major trends in the fragrance world right now, so don't be afraid to get creative with the things already around you. Repurpose fragrant food scraps like citrus peels, apple cores, or ginger scraps. Add warm spices from your spice rack, like a stick of cinnamon or a few cloves. You can even toss in clippings from your herb garden or things that you've foraged nearby, such as pine needles, mint leaves, or sprigs of rosemary. Fresh or dried flowers are also a perfect addition, and some blooms like lavender offer wellness benefits as well as a gorgeous scent.
When you're done with your simmer pot, simply let it cool and then strain out the solid ingredients. These can then be thrown out, composted, or — if they're still in good shape — stored in an airtight container for reuse the next day (per Going Zero Waste). With so many possible combinations, simmer pots are a surefire way to bring the fresh scents of nature into your home without relying on expensive, synthetically scented candles.
Advertisement