Mistakes You're Probably Making With Your Concealer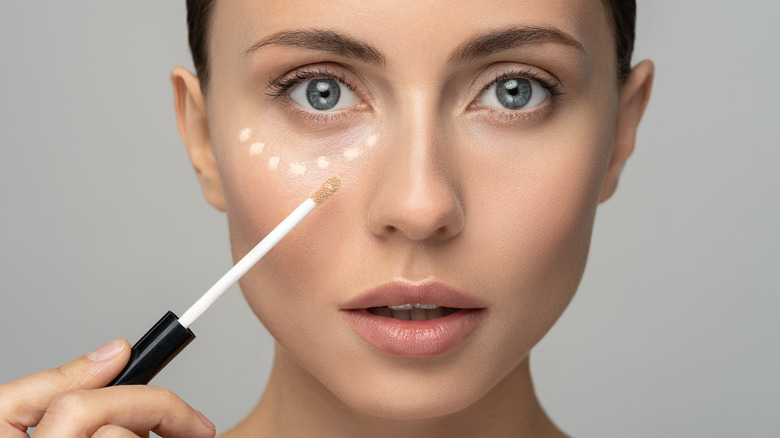 DimaBerlin/Shutterstock
For years, concealers have been an essential part of our beauty routines. They help brighten and redefine the eye area, not to mention camouflage all the little imperfections that annoy us when looking in the mirror. Therefore, it's a super-practical tool that saves us from a morning's gloomy complexion and erases even the most accentuated dark circles. Unlike foundation, concealer is lighter and can target specific flaws such as acne, pimples, dark circles, and redness. This is not even to mention the point of view of Selena Gomez's makeup artist, Melissa Murdick, who advises Insider that "foundation goes all over the skin to even it out and make it look healthy, concealer is for targeted imperfections." But that's not all: concealers are multi-functional as they help camouflage fine lines, act as a primer, give an unconditional glow, and can be used to create a light contour.
If you've noticed your concealer drying out your eye area, doesn't stay put, creeps into your fine lines, or looks cakey, it may be because you've lost sight of some meaningful steps in your beauty routine that would make your concealer much more effective. If you are not satisfied with your concealer, don't throw it away, as chances are you're making one of these 11 simple mistakes. Don't panic, though: we have the keys to help you become a true concealer pro.
Forgetting to prep your skin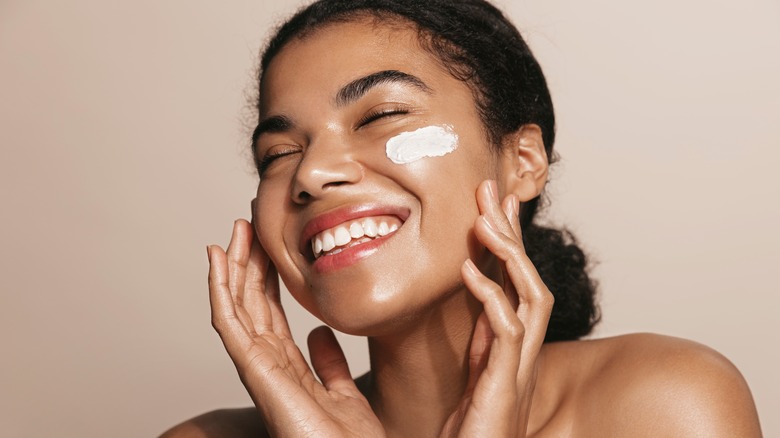 Lyubov Levitskaya/Shutterstock
We know you can't wait to grab some of your brushes and start applying your makeup, but don't be in a hurry. Don't rush to apply your concealer right away as it is essential to start a makeup look with clean skin. Wash it every morning to start your beauty makeover on a blank canvas. Then, the next step before doing any sort of makeup is to prepare your skin to receive all your products. Whether it's foundation, blush, or concealer, the skin must be moisturized to avoid non-desired cakey makeup, which is often the case with both foundation and concealer.
You don't want unsightly dandruff-like flakes on your skin, that is why it needs to be moisturized with a day cream. If you have oily skin, on the contrary, opt for a toner that will hydrate the skin and give your concealer a whole different aspect, and your skin will stay hydrated and dewy all day. To take the skin preparation one step further, you must incorporate an exfoliator into your routine. Once a week, exfoliate your face with it. It's an essential step for a perfect concealer application on smooth skin without clogged pores. The different elements that make up your beauty routine play a big role in the results of your concealer, after all.
Not priming your face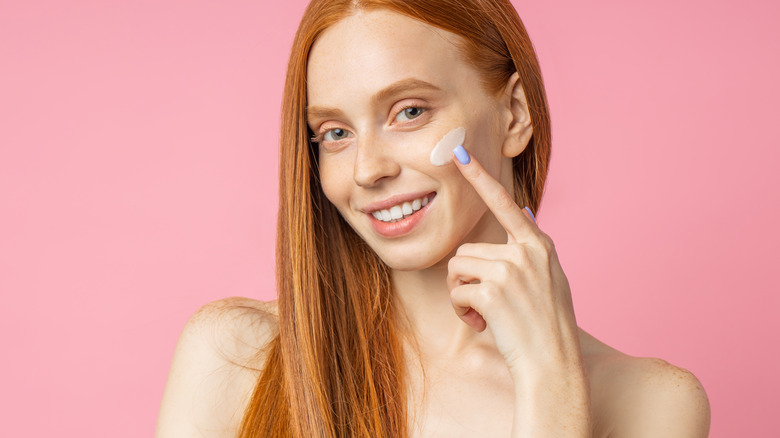 Stockshakir/Shutterstock
We tend to jump right into makeup, excited about getting that beautiful, fresh, and authentic look, but for that gorgeous beauty makeover to stay in place all day and look flawless, you'll need to add an essential ingredient to your recipe: a primer. This tinted moisturizer that smoothes skin, blurs pores, and sets makeup is exactly what you want for your concealer. A primer increases the effect of a concealer since it helps to smooth the skin, makes it look unblemished, and helps the concealer to stay longer. But that's not all: Grove adds that concealers can have SPF qualities despite not being actual SPF, though some products contain SPF. It can help prevent sun-induced fine lines and wrinkles. 
However, be careful not to apply it too early in your makeup routine: it should be used after prepping your skin with skincare products. Even if the primer has nourishing and moisturizing ingredients, it's still a makeup product, which is why it is important to note that it doesn't replace concealer. It's translucent and won't hide your imperfections, yet it will help your concealer stay in place from your morning work meeting to your date night.
Not using the right color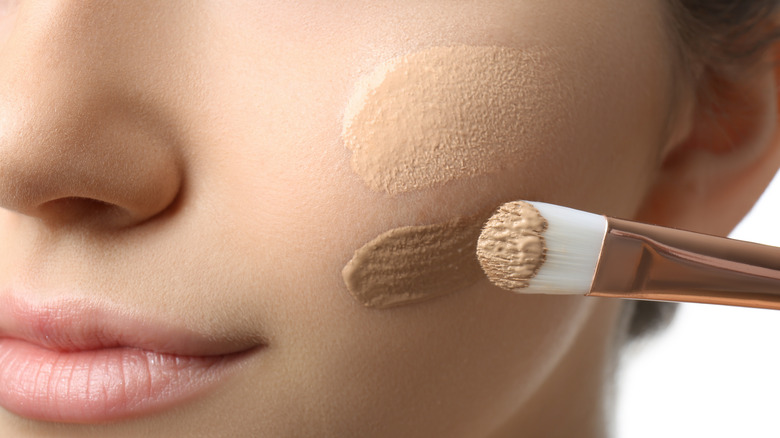 New Africa/Shutterstock
For greater inclusivity, more and more shades are available in stores to match all skin tones and undertones. If some makeup brands offer 50+ shades of foundation, the same goes for concealers. Among these dozens of shades, it can be hard to choose the one that suits you best, and yet finding the right shade can make your complexion look perfectly even with the rest of your body, as well as brighten your look.
Even if your skin tone changes with the seasons, makeup artists advise you not to take the exact same shade as your foundation for your concealer. Indeed, you should select "the same shade as your skin tone to cover anything on the face, and then go one or two shades lighter on the under-eye area," according to Jodi Urichuk, a L'Oréal Paris makeup artist and expert. But why is that? Simply applying a lighter shade under the eyes will open up the look, brighten it up, and erase any traces of fatigue, which is very handy when you've spent the evening at work finishing papers. So, go ahead and check your drawers to identify the shade of your foundation, and then don't be afraid to buy a lighter shade for your concealer.
Using too much product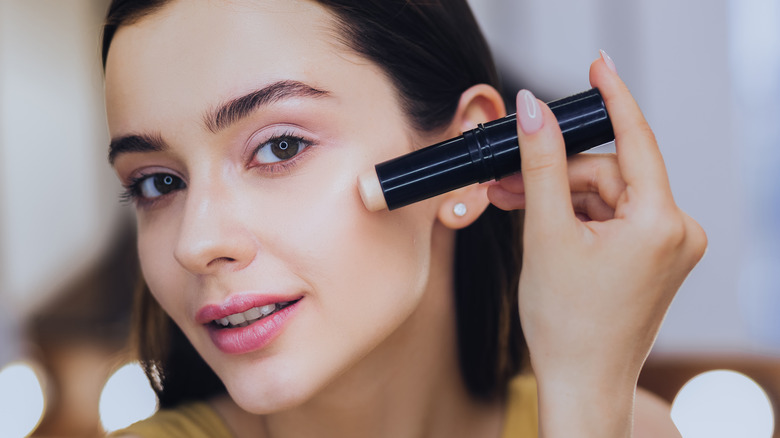 Dmytro Zinkevych/Shutterstock
When it comes to applying concealer, less is always more. "People tend to use too much product, which can cause unnecessary creasing," explains Scott Barnes, a celebrity makeup artist who has worked with the most prestigious names such as Jennifer Lopez, Gwen Stefani, and Beyoncé (via Reviewed). Applying a large amount of concealer under the eyes can make you look more tired, accentuate your fine lines, and make your skin appear dull. If you don't want to produce the opposite effect of the one intended by a concealer, it's best to opt for a light application. Even Gomez's makeup artist, Melissa Murdick, agrees with this idea, clarifying to Insider, "Being in control of the amount of concealer you're using, in my opinion, is paramount. That to me will fix the biggest mistakes."
And if you have applied a bit too much product, what to do about it? First of all, don't panic, as you can reduce the amount with a beauty blender or a makeup sponge that you've dampened beforehand. You can also use your fingers and dab the excess on other areas of the face that you desire to illuminate, including the bridge of the nose, the chin, the middle of the forehead, or any other area you desire.
Rubbing it in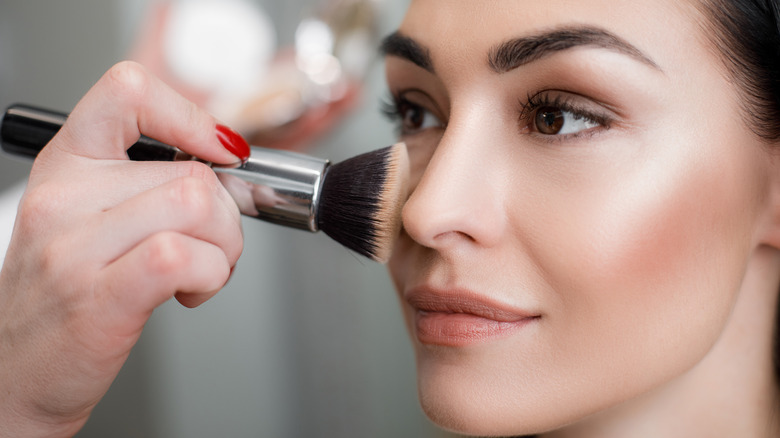 Olena Yakobchuk/Shutterstock
One of the main mistakes that you are probably making with your concealer is the way you apply it to your face. A brush is ideal for applying concealer, but it shouldn't be too fluffy. However, how you apply your concealer is also essential. Your first instinct is to sweep the concealer from right to left. Still, this technique leaves unpleasant marks on the skin and the product will only be placed on the surface of the skin rather than being absorbed by it to give this "second skin" effect that you're looking for. It's therefore recommended to dab the product with your brush or beauty blender for a natural and uniform finish.
And if you don't have brushes nearby, another option is to use your fingers to dab the concealer. This is what makeup artist Frey-ja Barker details for Savoir Flair, explaining, "Patting the concealer will hold the coverage and pigment and, to ensure a seamless blend into our foundation." Lightly dab the concealer from the inner corner of the eye until it is fully absorbed. To give that illusion that you didn't apply any concealer and your face is naturally illuminated, keep in mind that it's best to apply your product over a large area, not just the one you want to cover up.
Applying it the wrong way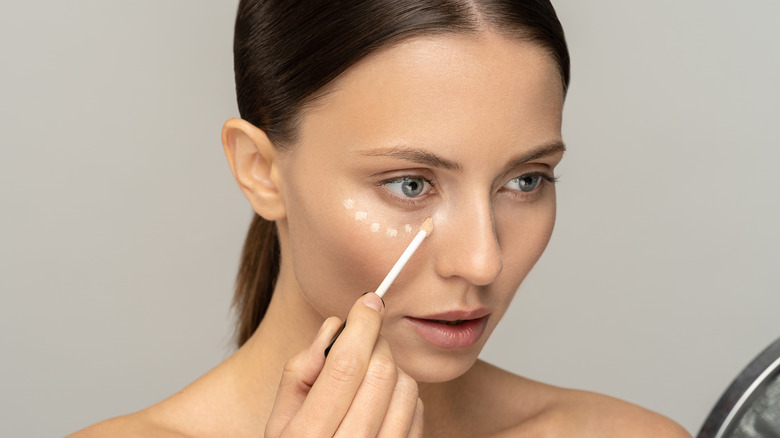 DimaBerlin/Shutterstock
If the beauty salon's specialists manage to dazzle you every time, it's because they know exactly where and how to apply concealer. With social media, new ways of applying concealer have appeared; users share their most hidden beauty secrets, and that's how many TikTok trends emerge. TikTok users have revealed multiple ways to apply concealer for a doe-eyed look, but are they all worth following?
It's now widely known that there are dozens of ways to apply concealer, including the dot technique, which allows light coverage. The well-placed lines of concealer dots permit you to recreate the siren-eye trend or the famed triangle technique. The important thing is to know which one to use according to your needs. We've all done it before, applying concealer by drawing a moon shape under the eye — rookie mistake! It's time to forget about this technique that only accentuates your desire to hide your dark circles. In order to conceal the entire surface of your dark circles and to give your face a little highlight at the same time, nothing beats the inverted triangle (per Good Housekeeping). 
To use this method, apply a thin layer of concealer from the inner corner to the outer corner of the eye and down to the tip of the nose. Your "I woke up like this" look is now ready to be shown off. Your concealer will be invisible thanks to a perfect application. Reminder: what you shouldn't do is apply it in patches and only on the area you want to conceal. It's essential to go beyond this area to avoid tiring the eyes.
Applying it before foundation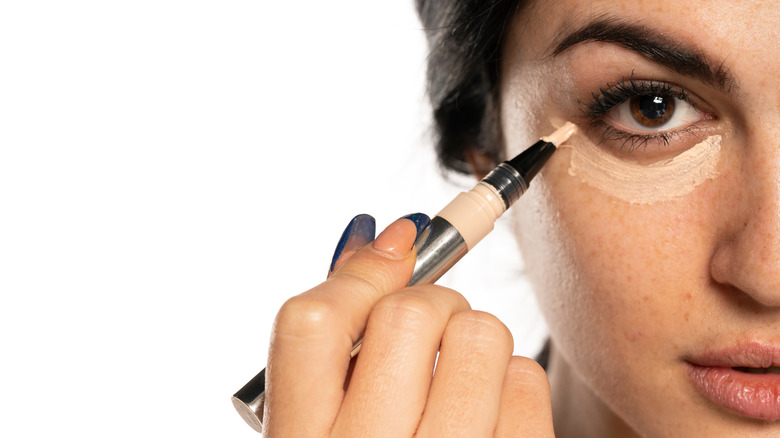 Vladimir Gjorgiev/Shutterstock
In the makeup world, everyone has their preferences. Some people opt for discreet makeup, while others dare to use bold colors. For concealer, it's pretty much the same: some people prefer to apply it before foundation. However, many makeup artists claim that this is a mistake. "As a pro artist, I prefer to apply foundation first so that when I blend my concealer into the foundation, it looks completely seamless," says the celebrity makeup artist Kim Baker for Real Simple.
Since your concealer should be a shade lighter, it's recommended to apply it after the foundation, which should have the same shade as your skin tone to match it perfectly. Concealer will clean up everything, even the powder residue left by your eyeshadow, and brighten your look, so it must be placed afterward but before your bronzer, blush, and highlighter. After you've applied your foundation, wait a few minutes for it to soak into the skin before moving on to the concealer step. As a bonus, you'll use less product, which is always a good way to save some money. Makeup isn't cheap!
Using the wrong tools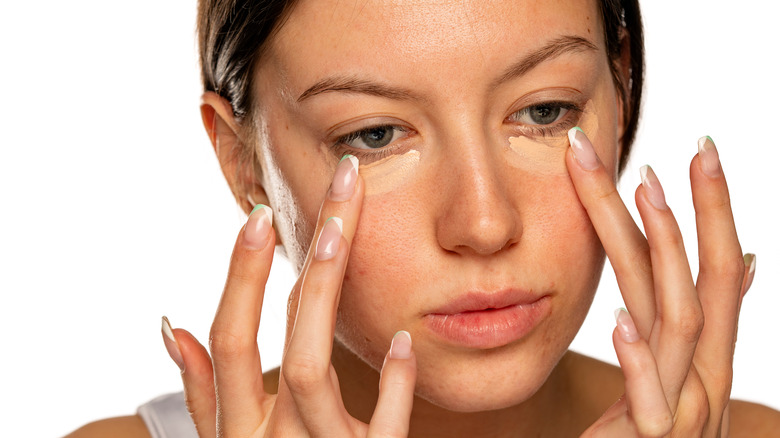 Vladimir Gjorgiev/Shutterstock
There are many forms of brushes, and they all have their purpose. Whether it's for powder, blush, or concealer, brushes make it possible to spread the product perfectly onto the skin. There are three possible choices for applying concealer: with your fingertips for a top-notch finish, with a concealer brush that allows you to smooth out the texture and blend it in, and with a beauty sponge to merge the product with the foundation and make it penetrate wrinkles or fine lines. If some brushes are multifunctional and can be used for several parts of the face, the concealer brush must be precise with a narrow tip. As a result, you'll be able to target small areas to camouflage and spread the product evenly. A brush that is too wide will create an unpleasant mark that's hard to later, well, conceal. 
Since concealer helps disguise little imperfections, you can use your fingers (clean, of course!), which will provide more coverage. If you're not a brush lover, you can always opt for a beauty sponge. Don't forget to dampen it to make the concealer blend perfectly onto your skin. Once applied, be sure not to spread the material but to dab it to make the product penetrate and not leave unsightly marks.
Not using the right formula for your skin type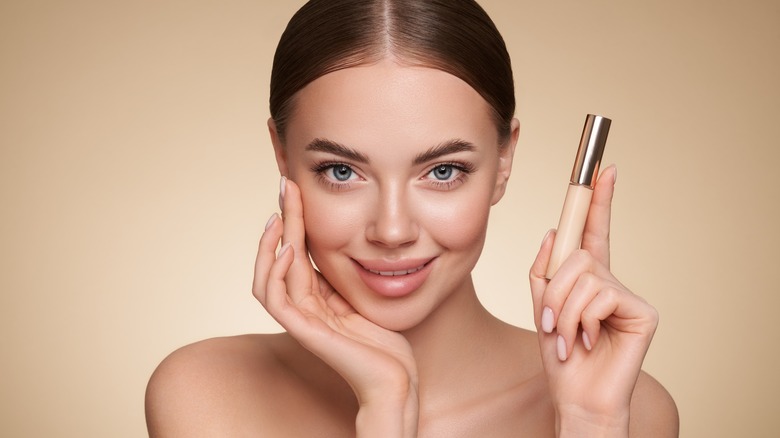 Oleg Gekman/Shutterstock
If you thought concealers could only come in one format, you'd be sorely mistaken. Indeed, concealers come in many variations. Liquid, cream, stick, pencil: everyone has a personal preference. Choosing the right formula according to your skin type, your desires, and your preferences is important, and it helps to find the appropriate product for a satisfying result.
Liquid concealer is the most used since it's suitable for all skin types, but it's particularly ideal for dry skin. Easy to apply, liquid concealers are also nourishing, as they have many ingredients that will make your eye area plump, luminous, and hydrated. However, if you have dry skin, using a liquid concealer that leaves a matte finish will only heighten the appearance of your dry skin. Ideal if you have panda-type of dark circles to hide, cream concealers have the perfect texture to cover up your small imperfections. It can be chosen by all skin types, however, be sure to pay extra attention to ingredient labels if you have sensitive skin. If you have oily or combination skin, look for something other than the stick. Indeed, this one can make your skin look shiner than it already is, defeating the purpose of using it. 
Skipping some areas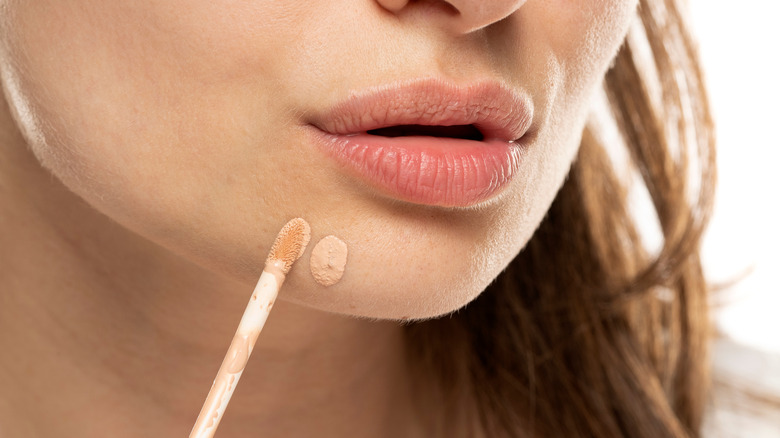 Vladimir Gjorgiev/Shutterstock
For years, concealer was applied only around dark circles; however, today, new techniques are emerging, mainly thanks to social media. While there are several techniques for applying concealer, they will only be effective if you don't ignore any area of the face to perfectly conceal all blemishes. 
For example, concealer should not only be applied under the eyes. If you want to conceal your dark circles, it is also important to apply them in the inner corner of the eye. This area tends to be very dark, which is why it's important to add a touch of concealer to the inner corner of the eye to open up and enlarge the look. You'll see an immediate difference! But that doesn't mean you should neglect the outer corner. It's equally important, so don't just stop below the eye. Do the same process to the temple to naturally lift your eye. For an even brighter look, don't forget to put a few dots on the T-zone: the bridge of the nose, between the eyebrows, and the middle of the chin. Then, add a few more dots of concealer on the corner of the mouth, around the nostrils, and even under the brows.
Forgetting to set the concealer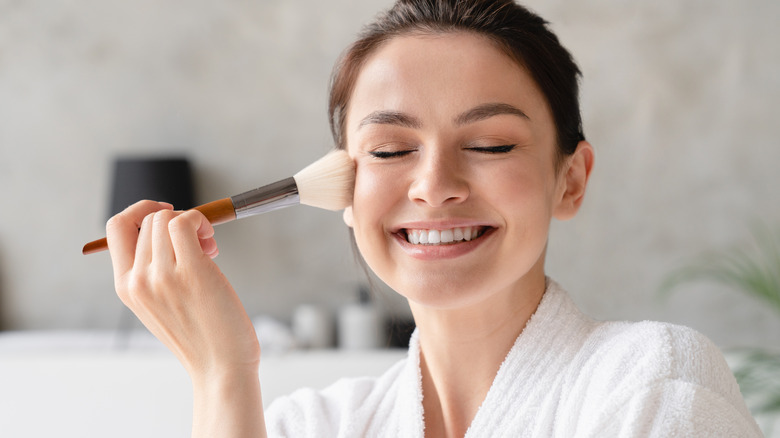 Inside Creative House/Shutterstock
A mistake you're probably making is skipping the last simple yet crucial step to make your concealer last all day: setting it. To make your under-eye area matte, blurred, and ready to start the day, powder is the one thing you don't want to skip after applying your concealer correctly. After all, you don't want to risk ruining the makeup you spent so long applying, right?
One of the fears you may have is that the concealer will go into the fine lines. To avoid this inconvenience, the powder will be your best ally. Once you're satisfied with the effect you've achieved, you can set your concealer to make it last with powder. As Spa City Glam details, pressed powder is far too thick for the delicate area under the eye, so nothing's better to use than loose powder. Conversely, compact powder might weigh down the eye contour and all the areas where you've applied it. Moreover, it's suitable for all skin types but is ideal for oily skin, as it will help absorb and manage any oil production throughout the day. Apply it with a very fluffy but precise powder brush to target the areas of concealer and not your entire face.
Now, are you ready to take your makeup routine to the next step with perfect concealer application?