7 Outerwear Trends That Will Keep You Cozy And Chic In 2023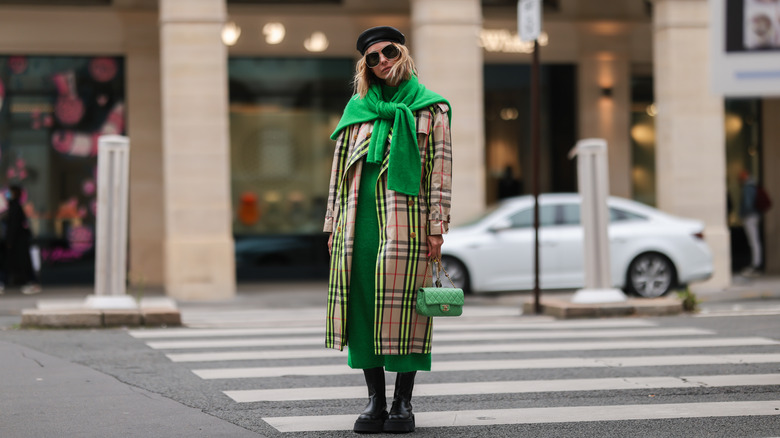 Jeremy Moeller/Getty Images
Anyone looking to build a complete and chic wardrobe in 2023 has to include a few go-to outerwear pieces. Not only is an outerwear piece essential for keeping you warm during cold weather, but it can transform a simple outfit into a statement ensemble. 
Advertisement
Whether you like blazers or coats, there are endless possibilities of outerwear pieces to pick from. Like other clothing pieces, outerwear trends have gravitated towards combining function and style. If the fashion industry learned anything in recent years, it's that consumers want to be able to look chic while being comfortable. Sæunn Huld Þórðardóttir, the designer of 66°North, explains this sentiment to The Zoe Report, saying, "A trend we've noticed in outerwear has been the emergence of techcore. We are seeing at cultural events such as major music festivals that people are opting for fleeces, hiking boots, and vests that are both functional yet stylish, no matter the season."
Keeping that in mind, here are some of the top outwear trends to try this season.
Advertisement
Puffer coats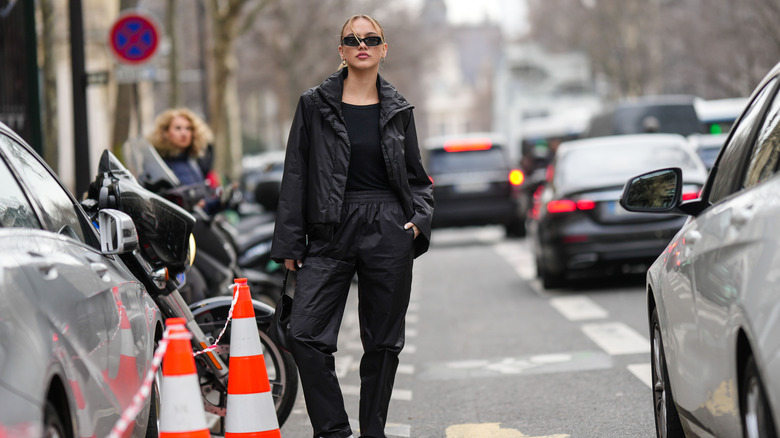 Edward Berthelot/Getty Images
While puffer jackets and coats are not new to the fashion world, they will gain even more popularity in 2023. Not only are these pieces useful from a practical standpoint, but they can give you the appearance of having just stepped off the slopes. This ski-inspired design is the perfect way to bring street style into your daily wardrobe without having to suffer in cold weather. Pair your puffer outerwear piece with a cozy shoe for a chic and comfortable look in 2023.
Advertisement
Faux leather trench coats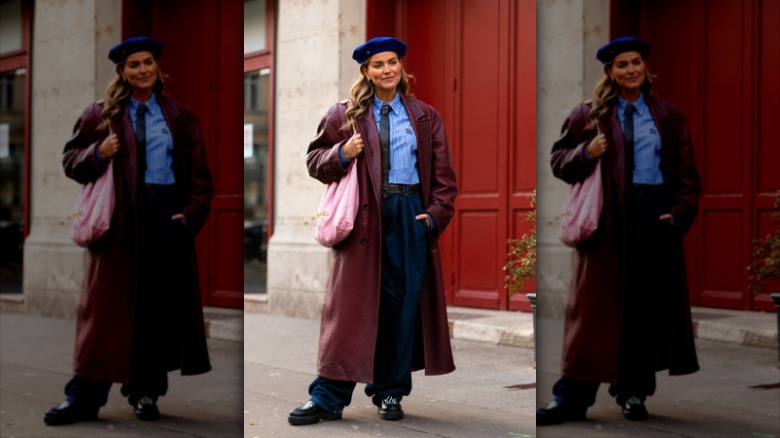 Claudio Lavenia/Getty Images
You can never go wrong with a good leather piece. For the last couple of winter seasons, leather trench coats have become more of a classic outerwear piece. In recent fashion shows, brands have also used this piece to add a touch of edgy elegance to their ensembles. During the Versace Spring/Summer 2023 collection, the brand showcased black leather trench coats as a chic alternative to your typical wool coats. Not only do these leather coats add sleekness to an outfit but they can add tons of personality when combined with color or print.
Advertisement
Blanket scarf coats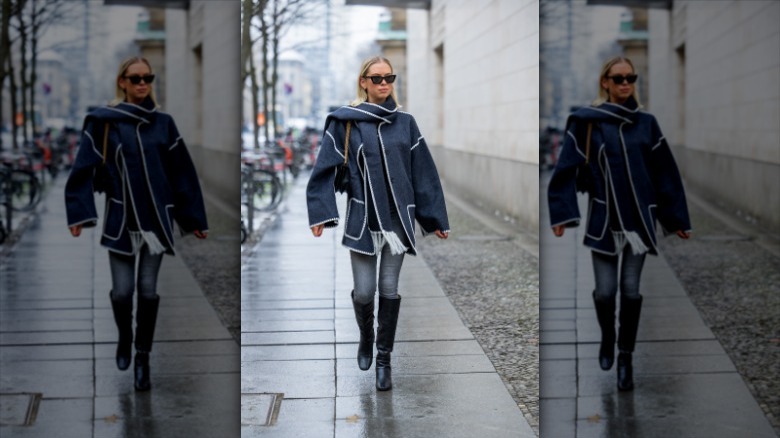 Christian Vierig/Getty Images
It's the combination that many fashion influencers are currently in love with, the blanket scarf and coat combination. Instead of making you purchase them separately, more brands are including a scarf with their coat designs, making it easier to style. Whether you add a scarf to your favorite coat, you end up with a combination that is perfect for the winter weather. Just like other recent fashion trends, the bigger the coat and scarf, the better. Go for an oversized coat and scarf combination for a chic and cozy mix.
Advertisement
Menswear-inspired coats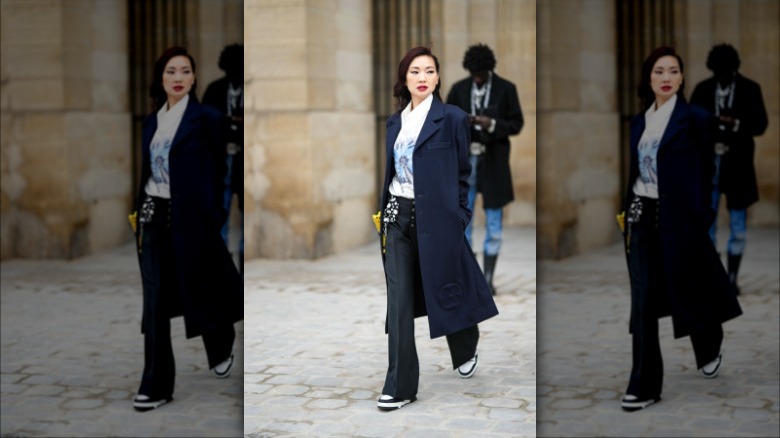 Edward Berthelot/Getty Images
Tailored menswear-inspired pieces have long become a staple in womenswear. While the concept of bringing menswear design to womenswear is not new, more brands are adopting the philosophy to suit the needs of their consumers. No more having to dig through the men's section, as oversized double-breasted coats are now an easy find at any store. The Alaïa Fall Ready-to-Wear 2022 show showcased this trend perfectly by sending models down the runway in oversized coats, reminiscent of typical menswear outerwear.
Advertisement
Maxi faux fur coats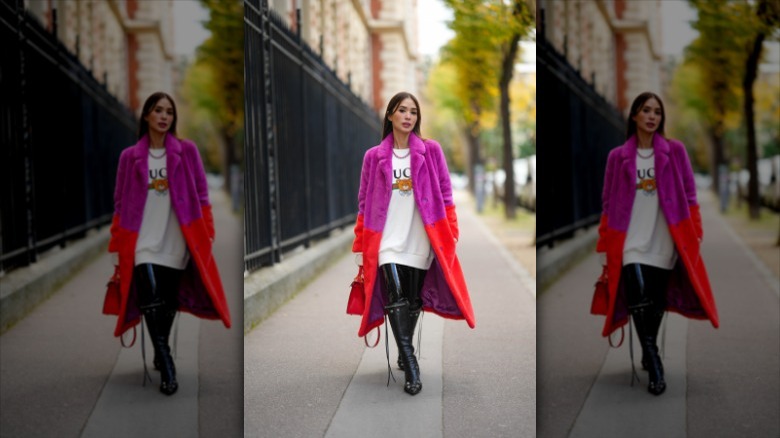 Edward Berthelot/Getty Images
Historically, fabrics like fur were reserved for only the wealthiest individuals in society. Nowadays, faux fur is much more accessible and obtainable to the masses. Expect more floor-sweeping faux fur coats that will take your outerwear look to the extremes. These classic and timeless pieces will not only add a touch of elegance and a regency-inspired feel to your looks but they will help keep you warm in any winter weather. Style your maxi faux fur coats with your casual outfits to make every day an event.
Advertisement
Shearling aviator jackets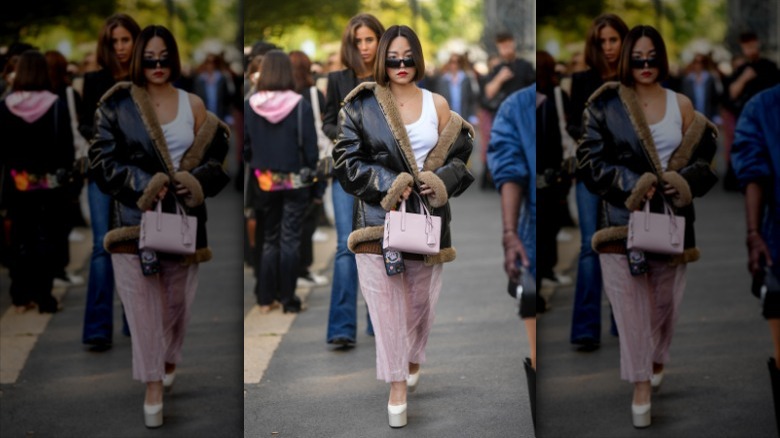 Edward Berthelot/Getty Images
Time to set aside the plain leather jacket, there's a new edgy style you'll love this year. The aviator jacket is not only the latest trend coming to the fashion world, but it's also getting remixed with a little bit of shearling. Shearling aviator jackets are the latest outerwear trend that most fashion influencers are already partaking in. Giving the look its seal of approval, Prada showcased shearling aviator jackets during the Fall/Winter 2022 collection, making the trend official. Make it brown or black, an aviator jacket with shearling is a must-have for 2023.
Advertisement
Brightly colored coats
Edward Berthelot/Getty Images
Thankfully, no rule says your outerwear needs to be dark or neutral-colored. Continuing the trend of dopamine dressing, 2023 will be the year of bright and bold outerwear pieces. Brighten up the gloomy skies with all things neon. Regardless of how many colors you like in your wardrobe, adding a colorful outerwear piece adds a fun twist to a classic wardrobe staple. From blazers to coats, you can expect to start seeing more of these timeless pieces in brightly saturated hues you typically didn't find before.
Advertisement