How To Contour Your Lips For A Fuller, More Seductive Look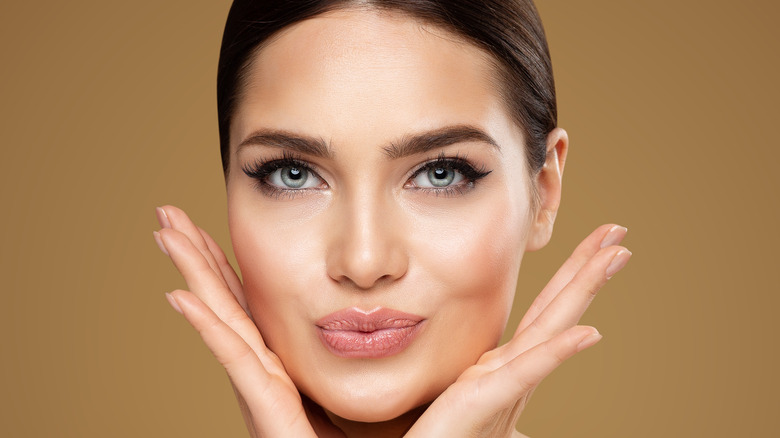 Inarik/Getty Images
All the way through recorded history, full lips have been associated with femininity and sensuality. The lips are one of the first things we look at when we talk to someone, and many find it hard to look away when presented with a perfect pout. As reported by the Daily Mail, men are known to stare at women's lips more when they're wearing lipstick, with red being the most eye-catching. Men tend to gravitate more toward fuller lips but a study cited by the website found that men were more attracted to thinner lips after some lip color. 
Advertisement
Full lips never seem to go out of style and have been a trend, from Marilyn Monroe's carefully drawn iconic red lipstick to Angelina Jolie's pillowy look. When lip fillers were made available to the public, many people flocked to their plastic surgeon's office to achieve dream puckers just like their favorite celebrities. However, injectables are expensive and can sometimes lead to undesirable results, such as asymmetry. The good news is an easier and more cost-efficient way to achieve fuller, sexier lips can be achieved with these makeup tricks.
Use liner to make your lips appear fuller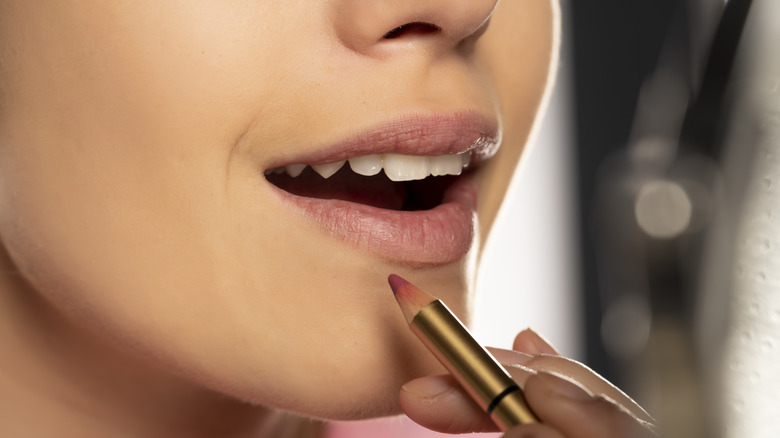 Vladimirfloyd/Getty Images
If you want fuller lips but are unsure about getting lip injections, you can simply use makeup for a fuller pout. While you may be familiar with contouring your face, many forget that you can also contour your lips as well. Using a lip liner that's a shade darker than your preferred lipstick color, draw slightly over your lipline, being careful not to veer too far from the natural shape. With a light hand, feather the color inwards towards the center of your mouth. This prevents a harsh line around your mouth, especially when your lipstick fades. To add more depth, draw a line down the middle of your bottom lip, which creates a pillowy look.
Advertisement
Next, add your lip color, making sure to blend it evenly with the lip liner. Use a brush for more accuracy and to ensure that you keep the contrast of the two colors visible. If you blend too much, you'll end up with one flat shade on your lips, which will take away from the plumping effect. For a more 3D look, add a second lighter shade just on the center of your bottom lip. To add even more oomph, you can play around with shadow and light using the following contouring tricks on the skin around your lips.
Contour and highlight your lips to make them pop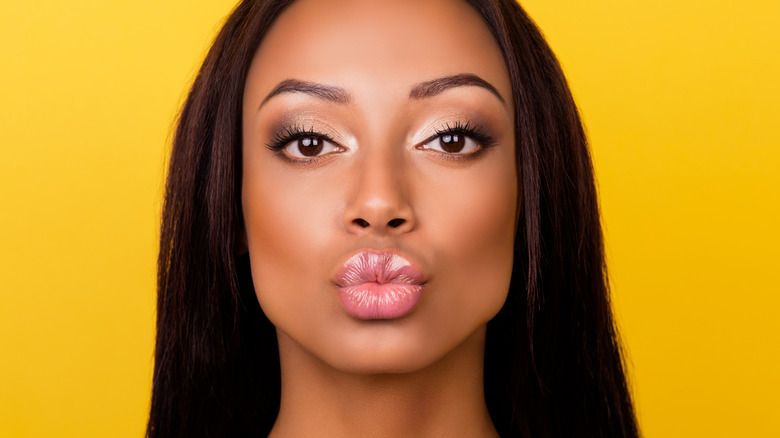 Deagreez/Getty Images
While you may be familiar with contouring and highlighting the planes of your face, it may not have occurred to you to highlight your lips. This method follows the same rules — use a darker shade to create shadows and a lighter one to draw an area out. After you've applied your lip color, take a powder or concealer a few shades darker than your skin tone and lightly spread it under the center of your bottom lip. This creates a shadow, making your lips appear fuller and sexier. Using a lighter concealer shade or a highlighting powder, apply it with a small brush in a V-shape right above your cupid's bow and on the center of your bottom lip. While lipgloss isn't necessary, you can dab some on if you want a shinier look, but be careful not to smudge your handiwork.
Advertisement
Contouring and highlighting also work sans lipstick. If you don't want to go through the steps of applying lip color, you can simply skip those steps and go right on to using concealer and highlighter to make your lips look plumper. Whichever method you choose, you'll be sure to seduce your crush with your delectable lips.