Your Guide To Packing Your Beauty Essentials In Your Carry-On Next Time You Travel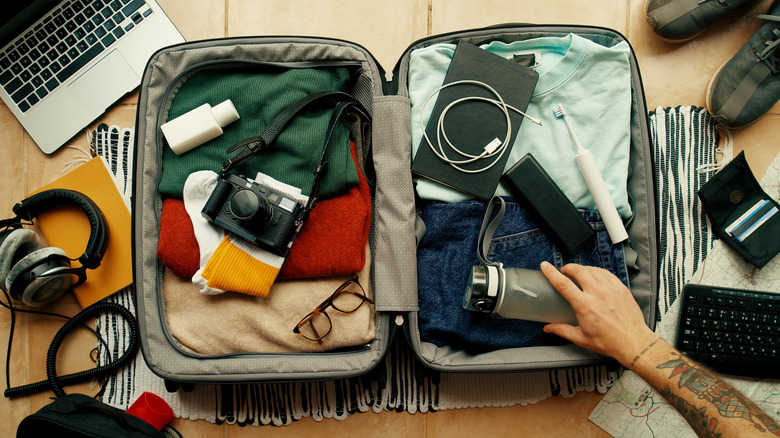 BublikHaus/Shutterstock
Going on vacation or traveling to a new place can be fun. Traveling is supposed to be exciting, relaxing, and even fulfilling. But sometimes, it can feel like a hassle, especially with all the packing and planning you need to do beforehand. And if you're not checking a bag — which saves money and is a particularly great option for smaller trips — trying to cram all of your outfits, extra shoes, makeup, and skincare into a carry-on can be a struggle. But it's possible to fit your whole life in your carry-on for a trip, including your most-beloved beauty essentials.
Most of these tips revolve around what's allowed in your carry-on, according to the TSA. While your favorite beauty products seem like must-haves, some strategies can either help you narrow down what you need to bring or find alternative products that work just as well and take up less room. So if you're going on a trip soon, whether for work or pleasure, make sure to use these tips to pack your beauty essentials in your carry-on bag.
Think about liquid limits before packing anything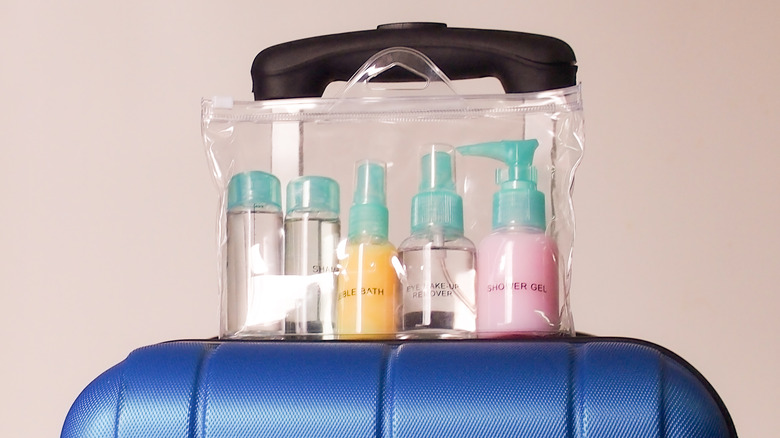 DUANGJAN J/Shutterstock
By now, we probably all know the official TSA rule: all liquids in your carry-on or personal item bags must be 3.4 oz or smaller and have to fit in a quart-sized bag. And "liquids" actually include "aerosols, gels, creams and pastes" as well. So that means you have to fit all your shampoos, lotions, creams, and toothpaste in one quart-sized bag. If you're checking a bag, you could always put items that would qualify as liquids in there, but you also want to ensure you have essentials on you in the event your checked bag gets lost.
So, whether you're traveling with only a carry-on or more oversized luggage, odds are you will need to utilize a quart–sized bag with tiny bottles of your products. You can use trial sizes of your essential liquid products or refillable tubes you can fill yourself (more on that later). Even if you're going for a weekend, fitting your haircare products, skincare items, and toiletries into one baggie is daunting. But, again, there are tricks to help you do it.
Look for solid-versions of your favorite products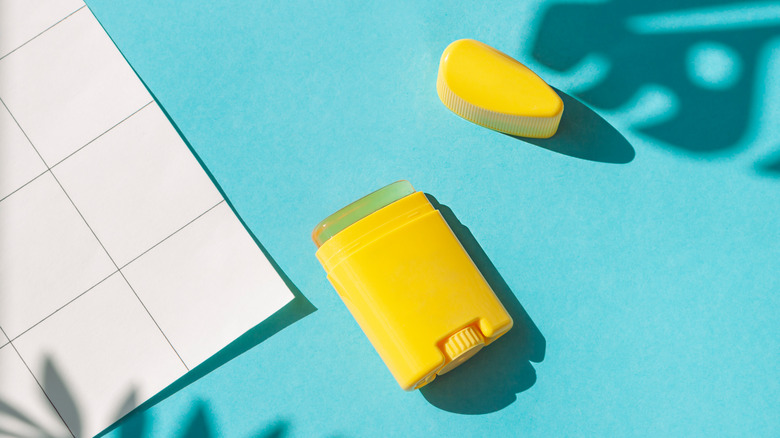 Maria Rom/Shutterstock
Before packing all your liquids in your baggie, figure out if any of them have a solid version, as Observer suggested. Many beauty essentials have solid versions, even if it's not the exact item you use. For example, you can use a facial or sensitive skin soap bar in place of your cleanser. Instead of a liquid foundation, look for a stick or mineral foundation. And swap out your sun lotion for a sunscreen stick. This is regardless of whether it is a tropical vacation since you should put sunscreen on daily. Observer recommended soaking pads or cotton rounds in your favorite toner or purchasing pre-made pads.
Many hotels will have shampoo and conditioner for your hair, so if you know your hair is fine with those, forget your shampoo at home. Or you can look into a shampoo bar from LUSH or another brand. If you're a perfume lover, look into perfume wipes or spray specific clothing with your perfume while packing. 
However, remember not to change anything, especially your skincare. If you have sensitive skin or know switching to a solid product risks a breakout or could cause your skin harm, don't do it.
You have to stick to essentials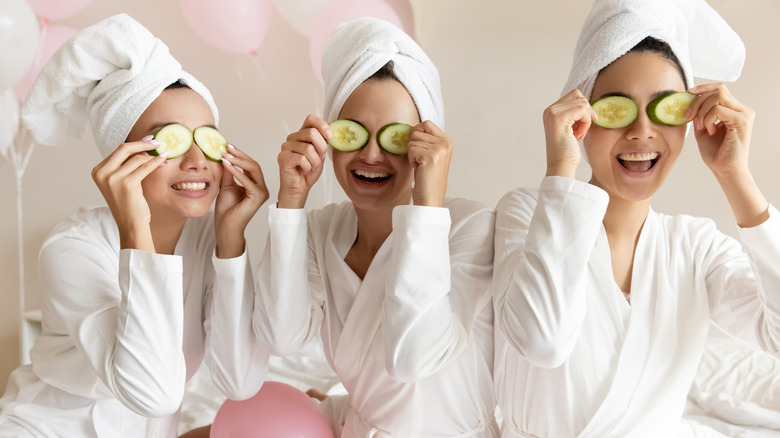 fizkes/Shutterstock
We all love our seven-step skincare routine that we do day and night. But when it comes to traveling, you must get to the bare bones of what is essential to your routine. Hopefully, if you can switch out liquids for solids in your skincare and makeup routine, you won't have to eliminate too much from your regular regimen to create a new travel skincare routine.
But sometimes, sacrifices must be made to fit all your quart-sized baggies and carry-on. So basically, think through your trip and what you absolutely need. For example, in your skincare regimen, you can get away with a cleanser, toner, and moisturizer. If it's a short trip, you might not even need a toner (depending on your skin). All those serums and humectants are fantastic; however, they clutter up your liquids baggie in your carry-on, and you can live without them for a short period. Make sure to bring a moisturizer that does the job well to compensate for those. And for makeup, can you live without lipstick or foundation? You can get away with a more natural look if it's a tropical, beachy vacation. Hair can be trickier since some people need specific products to keep their hair healthy. So if you know you need more in one area, try to skim a bit in others.
Go for reusable, refillable travel containers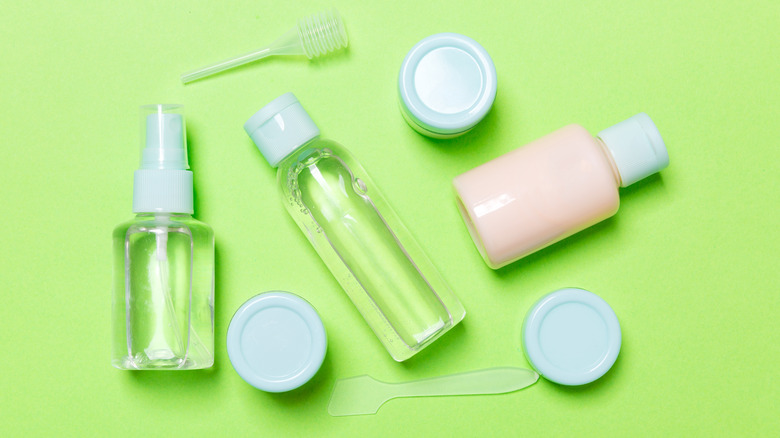 Mykola Sosiukin/Getty Images
As mentioned, you can't pack full-sized liquid products in a carry-on. Only products 3.4 oz or less are allowed, so you must find trial or travel sizes of your items or go the more sustainable route. You don't need to scramble about days before your trip, looking for your go-to shampoo or moisturizer travel sizes. As SELF reported, choosing reusable 3 oz bottles or containers is an excellent option for you to stick to the TSA-approved liquid rule. And it saves you money in the long run. You don't have to buy mini-mes of all your products, and you can pick and choose what you want to bring for each trip and switch it up based on the destination or occasion. Not to mention, you can reuse and refill these handy little bottles for every journey. So you purchase them once, and you're set for quite a while.
The Everygirl also gave a fantastic hack to use contact lens cases to store your makeup. They're flat, tiny, and can come in packs, so you have new containers to choose from without the bulk. These are great for makeup like foundation and lip gloss. This one isn't just for liquids; you can fit powders or other products in these and put them in your makeup or toiletry back, and they take up very little room.
Small palettes are great for creating flawless looks with just a carry on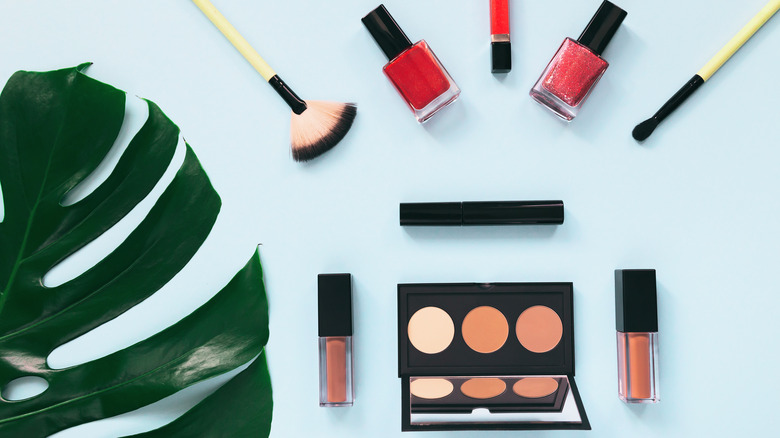 Androlia/Shutterstock
Speaking of makeup, it's going to be hard somehow to scrape eyeshadow or eyeliner gel into a contacts case, so this is when pre-made travel sizes come in handy. They sell all-in-one makeup pens, such as Pen Pal by Alleyoop. They look like those multi-color pens from grade school that dispensed a different color based on what side you clicked on. This way, you can have your eyeliner, lip liner, brow liner, and highlighter all in one pen. You can also try to find small travel palettes or cases that hold a small eyeshadow brush, so you don't have to take up room with multiple palettes, brushes, and eyeliner pencils.
Again, you want to utilize all the space you can, so if you can pick one palette or one tool for all the looks you want to do on your trip, that's the best option. SELF also suggested making sure you have a tiny emergency kit, a mini option full of remedies for nail mishaps, sewing issues, and more. It's small but includes anything you need in a beauty emergency. On that note, if you can fit it, having a handy first-aid kit is also always a good choice.
Compartmentalize your carry on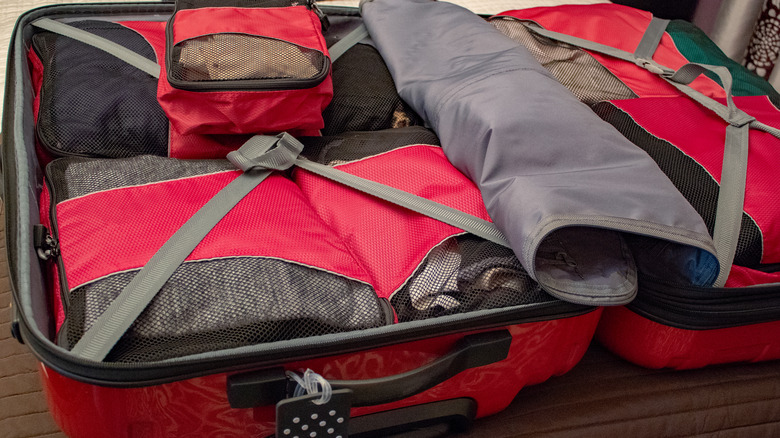 Rosamar/Shutterstock
Putting more items in your carry-on might seem counterintuitive to try to fit everything you need in a small suitcase. But using travel or suitcase cubes is a great way to maximize your space, especially when packing for multiple days in one carry-on. If you make compartments using these cubes (or little rectangle fabric bags), you can plan your outfits better and cram in more clothes and beauty products. You can set one compartment for sleepwear and underwear, another for nice outfit items, and another for more casual looks. Rolling each clothing item into each cube gives you more room and makes your carry-on easier to sort through if you need to open it at the airport or when you want to unpack.
Having compartments in your carry-on also allows you to designate a toiletry bag or makeup bag, which you probably should do anyway, to keep things organized and easier to access. If you maximize your space this way, you'll know how many beauty products you can pack and how they'll fit, like Tetris.
Use your personal item if you can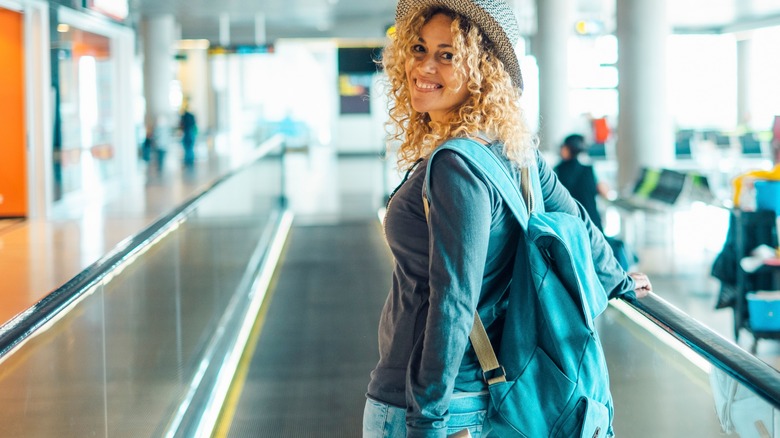 simona pilolla 2/Shutterstock
When packing, it can be easy to get bogged down by only having a carry-on and figuring out how to fit everything in it. Even a weekend trip can make your carry-on burst. However, a lot of airlines allow one carry-on and one personal item. The personal item can be any bag or item as long as it fits under the seat in front of you.
With this in mind, and if you're flying with an airline that allows this, it's an excellent idea to use a sturdy backpack as your personal item. This way, you have a place for all your plane essentials like your wallet, phone, tablet, laptop, and books. But you can also use it as another place to pack beauty items. It's sometimes best to put your beauty and toiletry items in your personal item instead. Having them in your backpack makes your liquids baggie more accessible for TSA check. You don't want to open your carry-on up in front of everyone and hold the line up. And when you have all of your makeup, hair care products, and toiletries in your personal item, it frees up space in your carry-on for everything else and gives you easy access on the plane.
Ask for help from your friends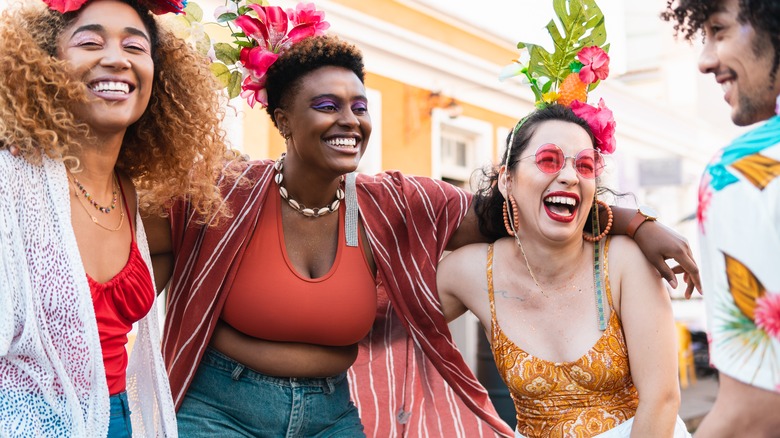 Vergani Fotografia/Shutterstock
A girls' trip or traveling with a partner is a fun travel opportunity. And these trips — where you have a travel companion — can make packing your beauty essentials easier. The Everygirl recommended "[coordinating] with your travelers," meaning talking to them about what beauty items you're all bringing. Especially if it's an event like a wedding or bachelorette party, you'll have more required beauty products, like curling irons, intensive makeup, or several accessory options. So, if one person has a great hairdryer or a solid curling iron, ask them if you can plan to use it. Or vice versa; if you use the same shampoo or cleanser, ask if you can pack one, and they pack the other, and you both use each others' products.
This method frees up room in your own liquids baggie and carry-on, making getting ready more manageable and fun. If you're traveling with a partner packing way lighter than you are, ask if you can use their extra space for some of your things. Don't expect them to say yes, however, and use the other hacks to work around if you only have your bags to pack in. But everything's better with friends, and if you can help each other maximize your space, it's worth a shot.