How To Incorporate Tulle Sleeves Into Your Looks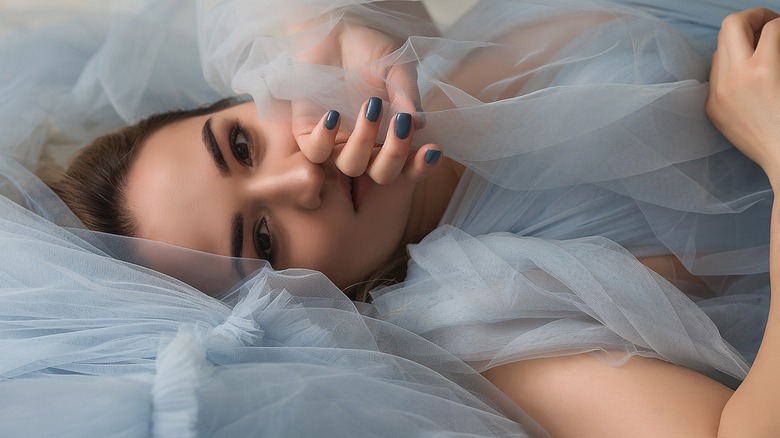 Anna Borovska/Shutterstock
2023 is an excellent time for people who enjoy ultra-girly, elegant looks. From the dramatic opera glove trend to the balletcore fashion aesthetic to the coquette fashion trend that's all over TikTok, 2023 seems to be about embracing everything flirty, playful, and feminine for a sweet and fun appearance. Another trend that fits right in with this dainty yet dramatic theme is tulle. "Tulle has been at the center of a lot of fashion trends for 2022 — balletcore, cottagecore, etc. — so it's no surprise that it's expected to be big for 2023," Glamour senior fashion editor Tchesmeni Leonard told Glamour. So, what exactly is tulle?
According to Merriam-Webster, tulle is "a sheer often stiffened silk, rayon, or nylon net used chiefly for veils or ballet costumes." Thus, tulle gives off a somewhat see-through and very princessy, poofy vibe, and you can expect to see it in many wedding gowns, accessories, and costumes this year. Tulle looks beautiful as sleeves, and tulle sleeves are excellent for anyone curious about this delicate, dramatic fashion trend.
Add a dramatic touch to a classic black dress
We can't think of anything as elegant and chic as a timeless black dress. Anyone hoping to keep that classy appearance and add a bold detail should think about buying a black dress with tulle sleeves. When wearing a black dress with tulle sleeves, you'll still be giving off sophisticated, chic energy but with a more dramatic, trendy touch for the sleeves. Tulle sleeves will look particularly stunning with body-hugging, unembellished dresses, as the sheer, puffy detail will add contrast and serve as the focal point of the outfit.
Rock tulle sleeves on your wedding day or night
If there's any perfect time to wear tulle, it's your wedding day — or night. Since tulle is so elegant, dramatic, and beautiful, the style is automatically ideal for wedding dresses. Brides who love tulle and are going for a princessy look often wear lots of tulle on their special day, and more minimalistic brides who prefer unembellished wedding dresses should still think about tulle sleeves as a beautiful bridal detail to complement their wedding dress.
Consider embellished tulle sleeves
Chances are, your tulle sleeves will never fail to make a fashion statement wherever you wear them because they're so naturally eye-catching and trendy. However, one way to make this already-dramatic look even bolder is to flaunt tulle sleeves with embellishments. For example, a top or dress with poofy tulle sleeves featuring a polka dot design will appear playful and trendy for various events. Why not explore tulle sleeves with floral patterns, sparkles, or even animal prints?
Add them to a strapless top
Yes, tulle is traditionally elegant and somewhat fancy, but that doesn't mean that tulle can't be sexy for a night out. So, if you want to add a dramatic detail to your sleeveless top for your next girls' night or hot date night, you should think about adding a pair of detachable sleeves to your ensemble. The sheer, poofy sleeves will add a more unique, trendy twist to your provocative look, and you can take them off if it gets too hot as long as they're detachable.
Consider contrasty colors
Color blocking is super fun when it comes to fashion. After all, what's bolder than mixing two completely different hues for one daring ensemble? So, why not go for an even more exciting contrast with tulle sleeves? Rocking tulle sleeves with two different colors will never fail to turn heads in any setting. Try mixing pink and yellow, blue and orange, black and white, or red and purple for contrast — the possibilities are endless, so don't be afraid to color block with tulle sleeves if you're going for an eccentric look.
Just a touch of tulle also works
Of course, tulle sleeves can be extremely dramatic. However, they don't have to be too bold if you opt for more traditional sleeves with a small tulle section instead of a full tulle look. Classic sleeves with a touch of tulle at the end can make any top or dress appear dressier and classier for a wide variety of events and occasions. Therefore, sleeves with a hint of tulle are excellent options for anyone who wants to ease into the trend.
Asymmetry is so much fun
We always see so many one-sleeved garments all over runways and in fashion magazines, as those asymmetrical details are effortlessly chic and dramatic. Thus, rocking a tulle sleeve on only one arm will make a fashion statement no matter the scenario. No, this look typically won't be practical for everyday office or errand outfits, but the style is perfect for special occasions. You'll look like you just jumped off the runway when wearing one tulle sleeve!