7 Ways To Embrace The Dramatic Opera Glove Trend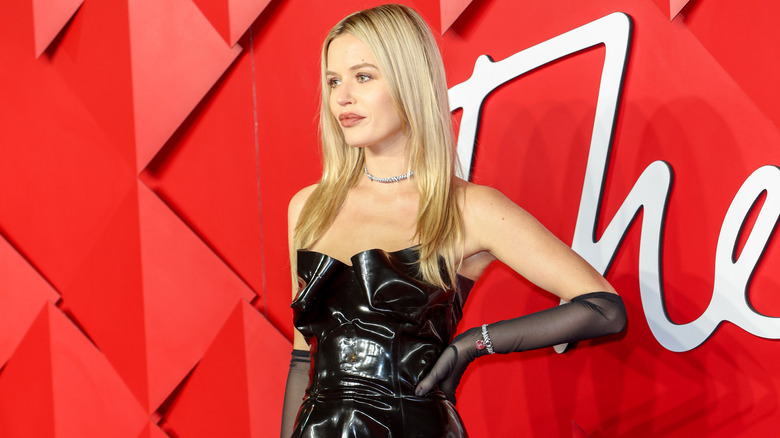 David M. Benett/Getty Images
There's no doubt that the 2020s have brought up a plethora of outlandish fashion and beauty trends. From the fact that one of fashion's biggest 2022 trends is all about dressing like a dad to the "dark mermaid" trend coming in 2023, quirkiness and drama are replacing minimalism. One trend that's on the more sophisticated, classy side of dramatic fashion is opera gloves. And no, you don't have to go to the opera to wear them. "Originally used by pretty much every Victorian woman, opera gloves were considered an etiquette must, but today they're used simply because they look great," Zoe Moderski of the Cornelia James glove company told The Zoe Report.
There are more than 15,000 posts dedicated to opera gloves on Instagram at the time of writing, proving that this dramatic look is resurging. They've come a long way since the Victorian era; while you can always opt for traditional, Victorian-style gloves, there are some newer, trendier twists, too. Whether you like a vintage style or an edgier look, everyone should give opera gloves a chance because there are many options to explore.
The classic opera gloves look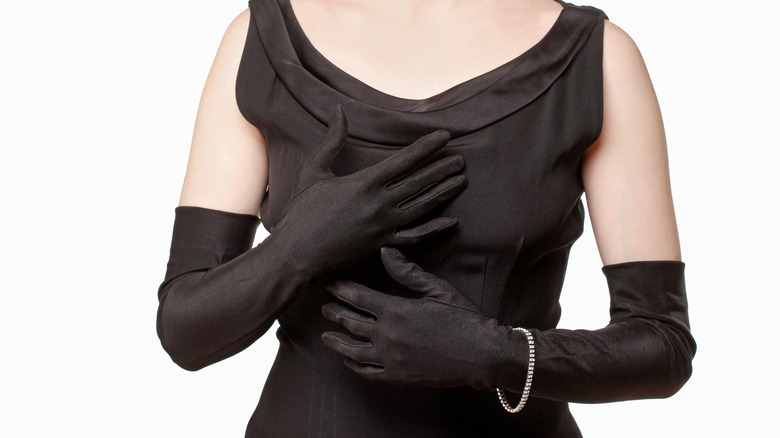 Agnes Kantaruk/Shutterstock
One of the most fashionable movies we can think of is "Breakfast at Tiffany's." In this beloved film, the beautiful Audrey Hepburn wears a classy yet sexy fitted black dress with matching black opera gloves, and it's arguably the most iconic outfit from any movie of all time. So, next time you attend an elegant event, try rocking a timeless Hepburn-inspired ensemble by pairing a little black dress with black opera gloves.
White for bridal beauty
We can't think of a better accessory for winter brides to wear on their wedding day than a beautiful pair of white opera gloves. You can find many examples of white opera gloves paired with wedding gowns on Instagram, from the simple and chic to sheer with embellishments. White opera gloves are a convenient option for winter weddings because they offer more flexibility than long sleeves. While the gloves will help keep you warm when you need them, you can take them off if you start feeling hot while dancing.
Explore your wild side with animal-print opera gloves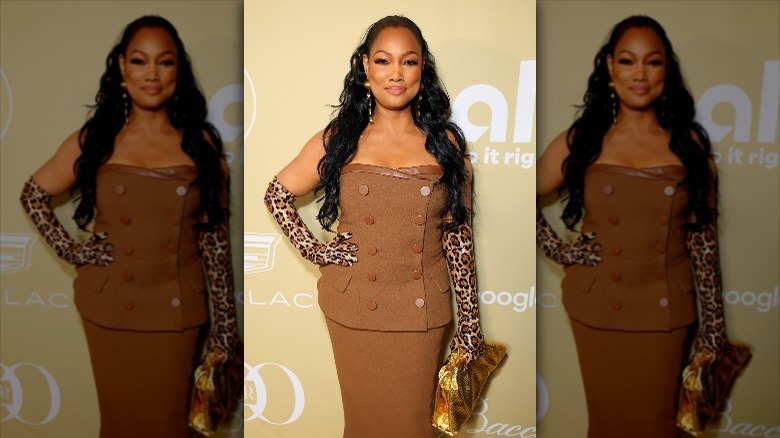 Leon Bennett/Getty Images
According to Who What Wear, animal print is trending in 2022. So, if you enjoy bold looks, you should experiment with animal print opera gloves. A daring pair can instantly transform a minimalistic, monochromatic outfit into a statement look. In particular, opera gloves with cheetah or zebra prints can elevate a boring all-black or white outfit to a trendy, head-turning ensemble.
Fishnet opera gloves for punk vibes
Punk music has been back with a bang in the 2020s, and netted pieces scream punk fashion. Yes, long fishnet gloves are kind of a stretch on the traditionally classy opera glove aesthetic, but styles evolve, and this edgy spin on the look is super fun and trendy. As seen on Instagram, the pop-punk icon Avril Lavigne often wears outfits with netted details, so why not channel your inner Lavigne with a pair of fishnet opera gloves?
Boost your mood with bright opera gloves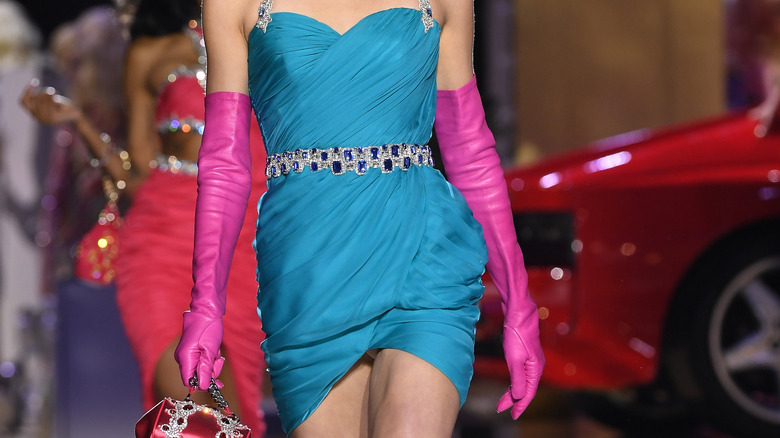 Daniele Venturelli/Getty Images
Neons are trending, as senior director of fashion for Thrilling Brittany Cohen told The Zoe Report, "... this year, we get to dress up our fall wardrobe with happy colors like bright pinks and turquoise blues, neon oranges, and yellows." Bright hues are still trending as people continue to embrace dopamine dressing with ultra-bright ensembles. Neon opera gloves are an excellent way to flaunt this trend, whether they're the same color as your outfit or the opposite hue for a color-blocking effect.
Get kinky with latex opera gloves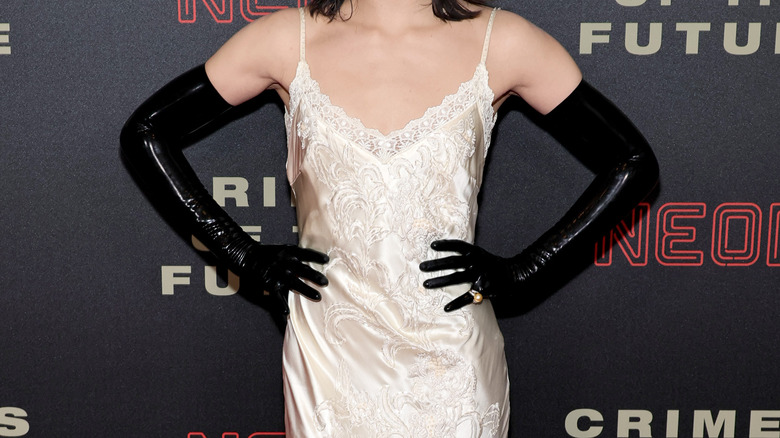 Theo Wargo/Getty Images
In the 2020s, opera gloves don't have to be wholesome. Latex opera gloves are a dark spin on the trend for a commanding, sexy vibe. The famously outlandish trendsetter Julia Fox rocked this style in 2022 and looked iconic, so you should let her be your muse as you experiment with the trend (via Instagram). Whether you wear black latex gloves to a nightclub for a wild night out or in the bedroom for a night of passion, you'll be making a dauntless statement.
Be romantic with lace opera gloves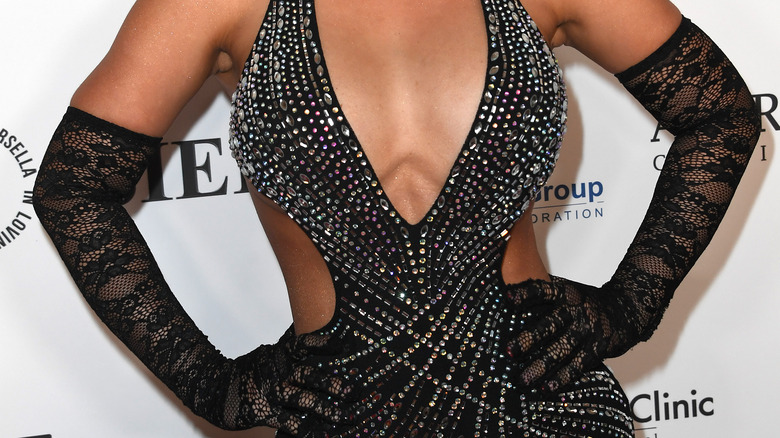 Albert L. Ortega/Getty Images
If you're looking for a romantic option, you can never go wrong with lace. Lacy garments are so lovey-dovey that many people associate the fancy fabric with weddings, but lacy pairs go beyond just weddings. Black lacy options are excellent for formal events, and pink, purple, and red opera gloves are sweet for date nights or Valentine's Day ensembles.