One Of Fashion's Biggest 2022 Trends Is All About Dressing Like A Dad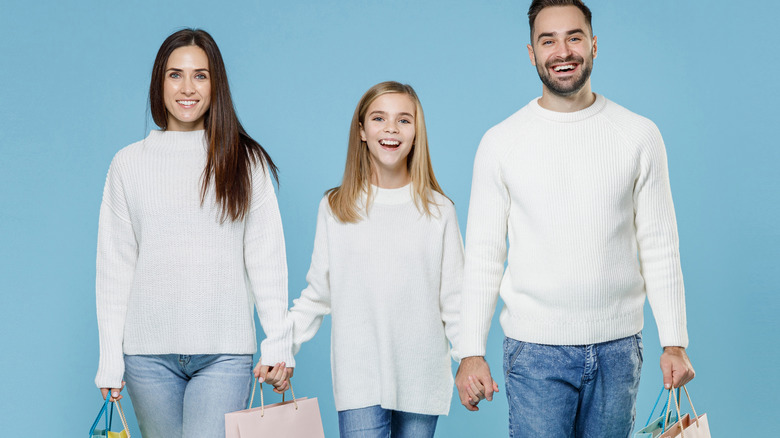 ViDI Studio/Shutterstock
Fashion has gone through some questionable phases, but 2022 brought forth a trend that many of us never expected: the "dad-ification" of fashion. While your dad's wardrobe was once considered corny and a fashion faux-pas, this year, fashion it-girls were selling out the most common pieces in their dad's closet. That means sweater vests, New Balance sneakers, and even Bermuda shorts were in high demand. This can only mean one thing: every cool girl is now dressing like a dad.
The dad aesthetic is all about making comfort cool. It is no surprise that dads need to dress comfortably to keep up with the kids all day or, in most cases, go out and stare at the grass for a few hours. What's more, many celebrities and fashion influencers have embraced the hot 2022 trend. Emma Chamberlain is an obvious fan of the trend, posting on Instagram in her favorite baggy shorts and t-shirt. The trend seems to be here to stay for the foreseeable future, but how did the trend even get on the fashion radar in the first place?
What started the dad fashion trend?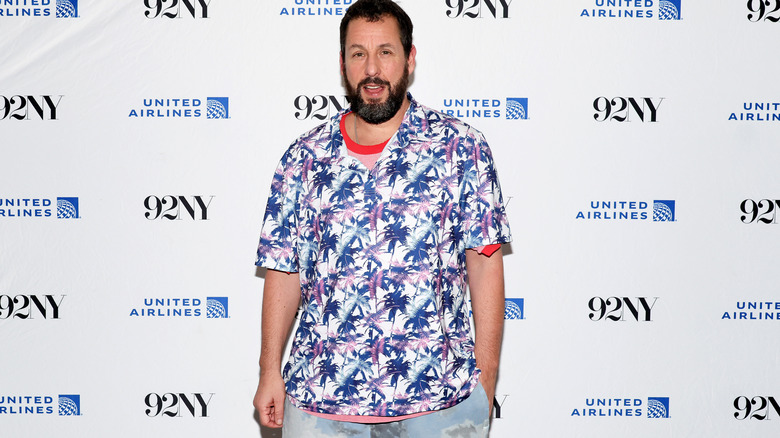 Dia Dipasupil/Getty Images
Celebrities know the power they have when it comes to fashion. Back in March, model Bella Hadid told Vogue, "I look outside and I see a hundred people dressed exactly like me, just because of what Instagram is." A celebrity that probably didn't see this power when it came to fashion was Adam Sandler. Sandler's comfy dad outfits have made a pop across social media over the past year. Dad fashion isn't exactly new, as pieces of your dad's wardrobe may have trickled into the fashion scene over the past several years. What is new is the fact that now all of these pieces are being worn at once, and everyone is styling like Sandler on TikTok.
What really caused the spike in dad fashion? Fashion psychologist Shakaila Forbes-Bell tells PureWow that "these pieces are an extension of the comfort dressing trend, which was born out of our increased time spent indoors at home [during the pandemic]." Our clothing choices affect how we feel, so if we want to feel comfortable, we need to dress for the occasion. The dad style allows us to wear comfortable clothing pieces that are also appropriate to leave the house in.
How to fit the trend into your wardrobe
If you are looking to fit the dad fashion trend into your wardrobe, you aren't alone! While it can seem overwhelming trying to style dad-like pieces without looking like an actual dad, it is simpler than it appears. Olivia Jade is another star that's hopping on the trend by incorporating baggy denim, a sweater vest, and a bucket hat into an outfit she posted on Instagram. The look is baggy, comfortable, and simple, and it works.
When looking to add dad pieces to your wardrobe, the thrift store is often the best place to shop. Comfortable vintage sweatshirts, baggy denim, retro t-shirts, baggy shorts, chunky sneakers, hats, and sweater vests are often the best pieces to grab. These pieces are easy to mix and match when creating a dad outfit. Think about what a '90s dad would wear when picking out new pieces. The pieces should be comfortable enough to relax in, but casual enough to wear out and about. Perhaps the most common outfit under the dad fashion trend is a pair of oversized shorts, a baggy t-shirt, sneakers, and a tote bag, as seen on Instagram through creator @heya.itsmar's outfit. With these few pieces, you, too, can create a look that is comfy and ever-so-cozily on-trend.