What's The Balletcore Fashion Aesthetic?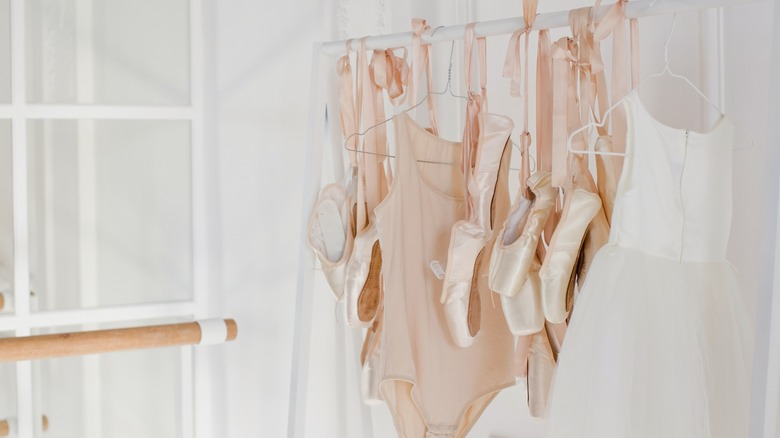 Ballerinas have been a peak fashion inspiration for decades. Seeing the ballerina aesthetic on the runway dates all the way back to the 1920s when features such as tulle and feathers began being featured on dresses (via the BBC). In 2022, designers are once again finding inspiration in the femininity of ballerina fashion.
TikTok has drawn light to this aesthetic, naming it "balletcore." Some of the most popular TikToks and Instagram posts under #balletcore include girls donned in feminine slip dresses, pinks, flat shoes, and bows. Some, but not all, of the participants are actually ballerinas. The other wearers of this aesthetic are simply appreciating and romanticizing the soft aesthetic of a ballerina.​​
Balletcore combats the traditional image of the ballerina, breaking barriers of what a ballerina should look like in society's eyes (via Nylon). All backgrounds, ethnicities, body shapes, and body sizes are celebrating the balletcore aesthetic. Lili Reinhart, Camila Mendes, and Lana Condor are some of the latest celebrities embracing the fashion aesthetic. But what exactly is it, and how can you wear it?
Inspiration behind the balletcore aesthetic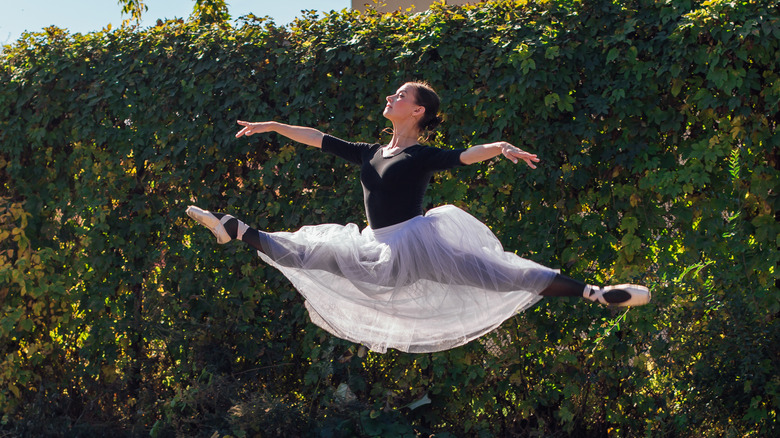 Ballerinas are known for softness in how they dress. From light layers of tulle to simple, flat shoes, ballerinas seem to have an effortless elegance. Everything from the colors to the texture of a ballerina's clothing is seemingly delicate (via Russh). This is ultimately translated in all the pieces worn for the balletcore fashion aesthetic at large.
There are a few common styles worn in balletcore that are also directly worn in traditional ballet (via The Cool Hour). Sleek low buns are sometimes worn in balletcore with both casual and elegant looks, this hairstyle is also worn in traditional ballet practices. Ballerina flats are worn by true ballerinas and balletcore fashion girls alike. Finally, tights, wrap tops, and bodysuits are worn by ballerinas to practice, while many people wearing the balletcore aesthetic also turn to these pieces styled with a slip skirt.
The wearers of this aesthetic love show that anyone of any background can be delicate and feminine. The draped fabrics, lightweight layers, and delicate pieces traditionally worn by ballerinas are inspiring an entire generation to ditch their jeans and turn to a more innocent and feminine look.
How to dress in balletcore fashion
If you're looking to try out the balletcore fashion trend, it's best to start out with a ballerina's feminine staples: ballet flats, a tulle skirt, a wrap top, and tights.
While you most likely aren't going to be practicing ballet, the balletcore fashion aesthetic revolves around the idea of looking like you are. According to InStyle, you probably already have balletcore fashion pieces in your closet without even knowing it. Wear your new wrap top with a slip skirt, tights, and ballet flats for an effortlessly feminine look. If you want something more casual, pair the wrap top with your favorite pair of leggings and a low bun for a "ballerina off-duty" look. Ballerinas also often accessorize with ribbons, pastel pink details, gloves, lace, and pearls (via Byrdie).
Balletcore is an easy aesthetic to make your own. Think delicate, romantic, and feminine with every piece you select. As long as you keep those traits in mind, you will achieve the balletcore fashion aesthetic.