How To Modernize Classic '60s Hairdos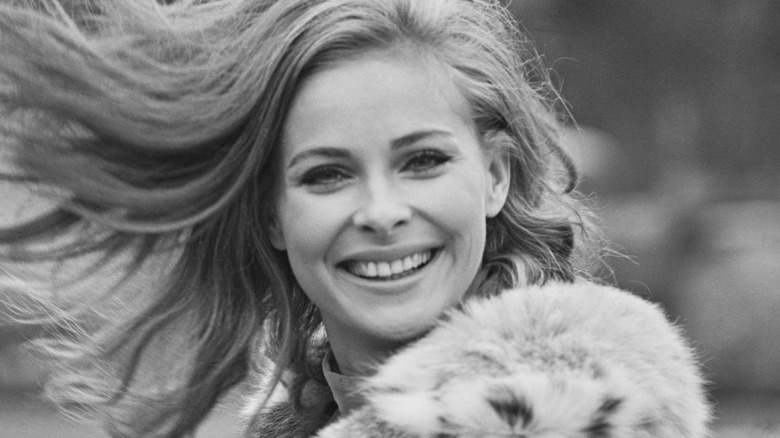 Evening Standard/Getty Images
The iconic decade responsible for Woodstock, the first moon landing, Rolling Stone, and The Beatles, the '60s was a tumultuous yet triumphant decade of counterculture and promise. Bell-bottom pants, peace signs, platform shoes, and Marilyn Monroe were the topic of many conversations, so it's safe to say the '60s were a groovy time dedicated to the revolution of pop culture and fashion.
And although many Gen Z-ers and millennials may instantly think of hippie men in beachy long locks when referencing the hairstyles of the time, the 'dos of the '60s leaned heavily into adding volume wherever possible. Sounds familiar! Since trendsetters have a habit of revitalizing looks from the past, it's no surprise we are seeing a rise in 60's styles today.
Ariana Grande, Hailey Bieber, Adele, and Zendaya are known to rock foxy quintessential 'dos of the '60s on the red carpet and arena stages today. From the beehive and bouffant to bangs and bobs, we're seeing it all with a modern, 21st-century twist. Now, if you want to get your groove on and recreate a '60s hairstyle yourself, we've got you covered on how to modernize the look.
Bombshell Bardot-inspired 'do
Brigitte Bardot was a fascinating "sex symbol" in the '60s, according to Britannica. She was known for her big, voluminous blond hair, with face-framing bangs (among other things). Her iconic half-up look was modernized in an Instagram reel posted by hairstylist @shaunaelizabethhair, where she used rollers to set the ends of her straightened hair. It's big and full with a sleek and fresh vibe.
The '60s inspired Ariana Grande, and she inspired us
In Ariana Grande's "Positions" music video, she channeled her inner Jackie Kennedy with sleek '60s hairstyles, prompting many influencers online to recreate the looks. One of these influencers is Melis Ekrem (@melisekrem), who set out to achieve the style in a TikTok video. Ekrem transforms her brunette bob into a chic, modern flip bob with a white headband and side part similar to Mrs. Kennedy.
Undercut curly pixie reminiscent of the 'Twiggy Cut'
Made famous by the one and only Twiggy, short pixie cuts were all the rage in the Swinging Sixties. This was especially true for low-maintenance styles that looked good without ample time spent perfecting them. With the rise of the undercut today, we're seeing a modern and fun twist where the head's back and sides are shaved. 
Play with ribbons and bows
The hairstyles of the '60s were adorned with scarves, bows, headbands, and hairpieces, and we're seeing trendsetters today play with fun accessories as well. With a silk ribbon tied in a bow at the top of her big modern bouffant, the look is nothing short of a '60s glam girl. There are several perfectly pretty ways to style your favorite hair bows, so don't be afraid to get creative! 
Sleek middle part with a subtle curl
Apart from the fluffy and voluminous tresses, the '60s also saw sleek looks with middle parts. We know the middle part perks the ears of every Gen Z fashionista since they've publicly announced the banishing of side parts in 2021 all over social media. Why not try a modern twist on a quintessential '60s 'do with soft curly ends and bangs slicked down and tucked behind the ear?
Modern beehive
If you're a fan of big, puffed-up hair, you probably emulated Snooki's poof at one time or another. The beehive is kind of like that with a chic and sophisticated touch. As seen above, trendy curtain bangs lie gently across the model's forehead, and the ends of her hair are wispy and tussled.
Sleek high pony + side part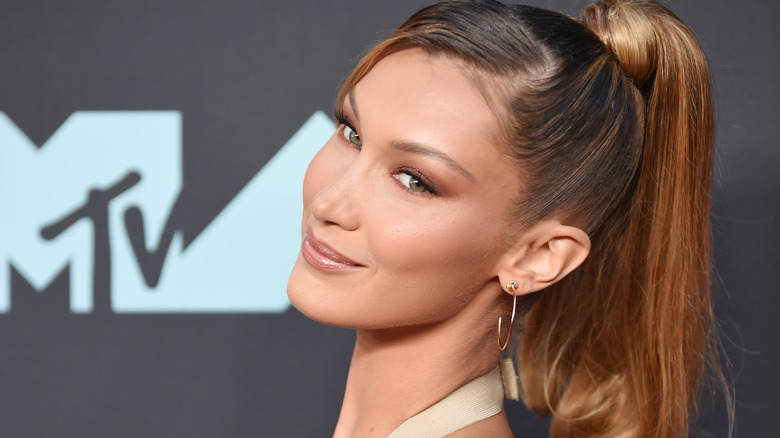 Dimitrios Kambouris/Getty Images
While American supermodel Bella Hadid (obviously) didn't invent any of the '60s-inspired hairstyles she's often seen rocking, she has been influential in bringing back many quintessential looks. And when she stepped out on the red carpet at the 2019 MTV Video Music Awards wearing a modern take on a classic '60s ponytail, everybody noticed. When an it-girl like Hadid brings back a retro trend, we know it's only a matter of time before the rest of the world follows suit.