Here's When To Use Your Ice Roller In Your Routine For Optimal Results
The uptick in face roller popularity over the last couple of years is impossible to ignore, and these beauty products have made a name for themselves as a household staple for good reason. The benefits associated with face rollers varies from helping to de-puff in the mornings to releasing stress and tension that has built up during the day. Lymphatic drainage is proven to help your body drop water being held in your tissues, according to Larrabee Center, and face rollers are known for inducing this process.
Understanding when and how to use these amazing products will ensure you get the most out of your routine. One of the biggest questions when it comes to face rollers is when to use them. Some people might only roll their complexions at night, while others might swear by rolling in the morning. So who is right, and what will benefit you the most? If you own an ice roller, the answer might surprise you, but it also means you get a lot more time with this relaxing tool — and that is a nice thought.
Use twice a day for the best results
Ice rollers are predominantly used to roll across the surface of your face and target the lymphatic system. By stimulating this, you can drain excess liquid from the tissues, helping to reduce the puffy appearance it can cause. Rolling also helps fight toxins that can build up, and fights red or irritated skin. Better blood flow and circulation are also to be expected after using this tool, especially if you incorporate it into your daily regime.
For optimal results, you want to use your ice roller both in the morning while you apply your skincare products for the day ahead, and in the evenings. Peaches & Blush points out that not only will a roller help de-puff when you wake up, which is when puffiness can be most aggressive, but it also helps your skin absorb all the goodies your serums and creams offer. Lymphatic drainage occurs as the ice roller evens out liquid that may have shifted to the lowest point in your face. This is caused by sleeping in certain positions, like on your side or on your stomach.
Product or roller: Which should you use first?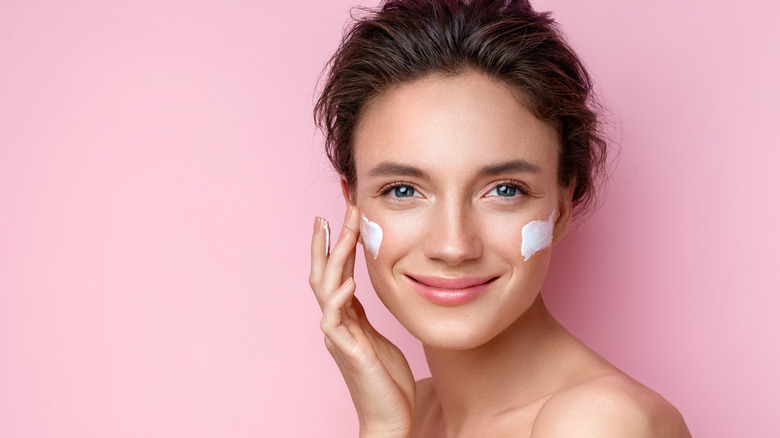 RomarioIen/Shutterstock
When setting your schedule for an ice roller, it's good to keep in mind the order of your skincare applications. Serums and creams can go before or after an ice roll, but the tool does help to push products into skin and even complexion as it goes. The main difference you'll notice is that your face will absorb liquids or moisturizers more quickly if you use the roller after applying them
For the best results, Gameela Skin recommends using the ice roller like you would a roller paint brush. For 10 to 15 minutes, push the cylinder across your face in zig-zagging patterns. Roll up from the bottom of your cheeks to the top, to help give lift. Bits + Bites recommends rolling outwards from the center of your face to help with lymphatic draining specifically. This will disperse trapped liquid from the tissue and leave your complexion looking refreshed, even, and de-puffed!