Here's When You Should Be Using Dry Conditioner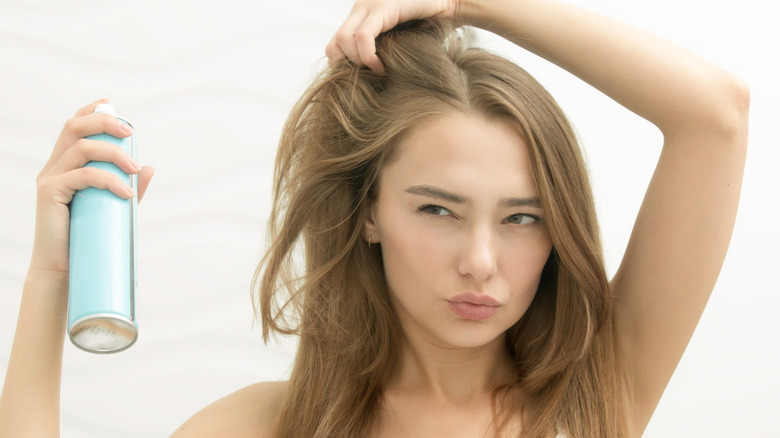 Fizkes/Getty Images
If you're a dry shampoo fan, it may be time to check out another waterless hair product: dry conditioner. Dry conditioner is exactly what it sounds like: a dry spray that helps to hydrate and detangle your hair. Unlike dry shampoo, which removes oil from your hair, dry conditioner provides your hair with a light coating of oil and other moisturizing ingredients, creating a silky sheen that gives the visual effect of clean, freshly styled hair.
Not only does dry conditioner make your hair look nice, but it can also help with your hair health. When your hair is properly moisturized, the strands have more elasticity, thus preventing split ends and breakage, explains Norris Ogario, founder of the haircare brand Ogario London, to Healthline. For this reason, dry conditioner is a convenient product to have on hand when you need to quickly smooth down frizz, add extra shine, or protect the ends of your hair. That said, how you use it can make the difference between gorgeous, hydrated locks and greasy hair.
When to use dry conditioner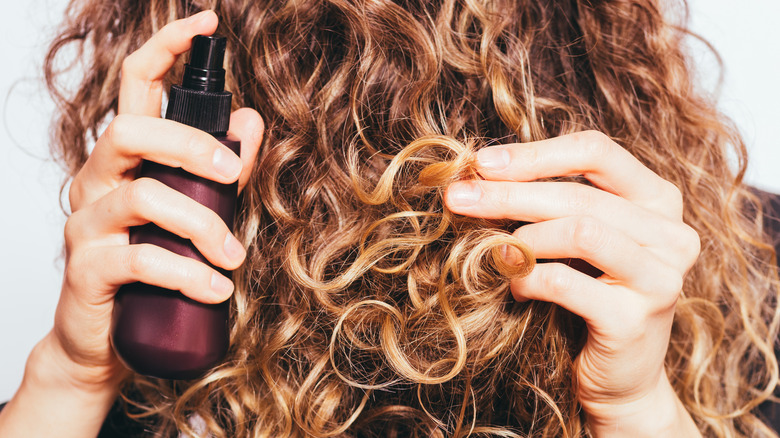 Iprogressman/Getty Images
In a bit of good news, you can use a dry conditioner any time your hair needs more shine. Professional stylist Michelle Cleveland recommends using dry conditioner between wash days when your hair really needs it, since adding extra oil to freshly conditioned hair will weigh down your tresses and result in a strange, overly glossy look (via Byrdie).
Typically, dry conditioner works best for preserving and enlivening heat-styled hair, such as blowouts. When you want to maintain your heat-styled hair, you can't get it wet with a water-based leave-in conditioner, making a dry conditioner the ideal alternative. Therefore, dry conditioner is a great way to stretch out the time between heat styling and minimize the damage to your hair. The American Academy of Dermatology says that the most often you can safely heat style your hair is every other day. Before you reach for the hair straightener or curling iron, try using a dry conditioner to refresh your current style.
Folks with naturally curly or textured hair may be tempted to reach for the dry conditioner as well. However, natural hair and dry conditioner aren't always a great match. Most dry conditioners contain ingredients such as oils or silicones, which can only seal in existing moisture. If your natural curls are too dehydrated, dry conditioner won't do much to bring back definition. However, if your textured hair is in relatively good shape, dry conditioner can still help with protecting your ends and adding shine.
How to use dry conditioner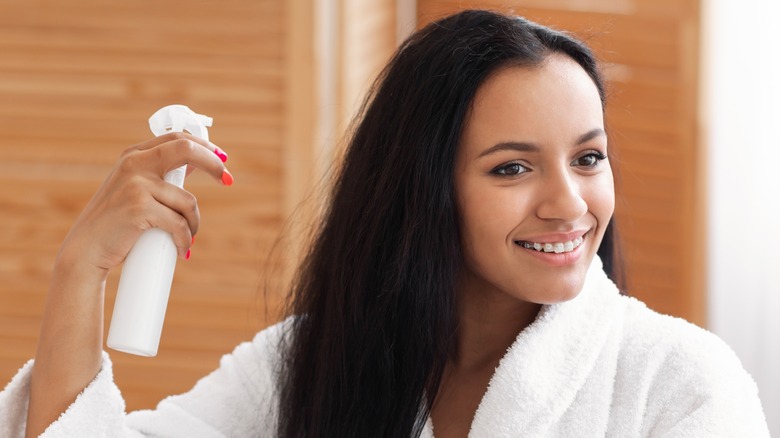 Prostock-studio/Shutterstock
Using dry conditioner is fairly simple. It's best to apply a dry conditioner after using a dry shampoo on your roots. Since dirty hair tends to be greasy, the dry shampoo will help to soak up oil from your scalp before you use the dry conditioner to add more oil to your ends. You should apply dry conditioner starting at the mid-length of your hair and working down to the ends. Focusing on the ends will help seal the cuticle and prevent the appearance of dry, damaged hair.
Although a dry conditioner is helpful for styling your hair, you shouldn't treat it as a substitute for a real hair conditioner. Dry conditioner doesn't strengthen damaged hair or provide moisture the way a real conditioner can, as cosmetic chemist Jim Hammer explained to Allure. You should continue to use a hair conditioner in your wash day routine, regardless of how often you use dry conditioner.