Romantic Looks To Inspire Your Valentine's Day 2023 Outfit Of The Day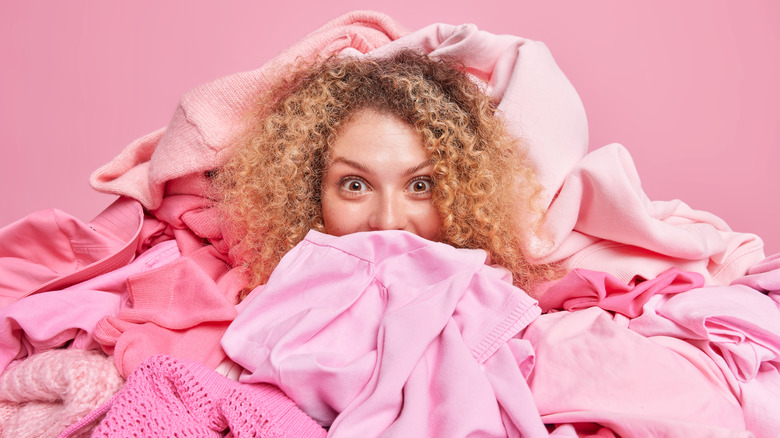 Cast Of Thousands/Shutterstock
Have you already narrowed down your glamorous Valentine's Day plans for 2023? You might have a hot date scheduled with your significant other at a fancy restaurant or upscale concert. It's possible you're celebrating Galentine's Day with your social circle by exchanging gifts or heading to a luxurious spa resort. Celebrating Valentine's Day totally solo isn't a problem either if you decide you want to binge-watch rom-coms, bake some cute cupcakes, or get crafty with a vision board to highlight the future of your love life. 
Advertisement
No matter your plans, it's essential to feel your best throughout the day since it only comes along once every year. Valentine's Day 2023 falls on a Tuesday, meaning many people will still have to go to work or school before they can start celebrating freely. Here's some outfit inspiration that will steer you in the right direction — that is, depending on your plans.
Low-cut white dress
Valentine's Day is the perfect time to dress a little edgier than you normally would. Now is your time to shine if you've already got a trendy low-cut dress in the color white somewhere in your closet. The best thing about wearing white is that even though it comes across as a basic color at first glance, it will always help you stand out in a crowd.
Advertisement
Red leather skirt with a black blouse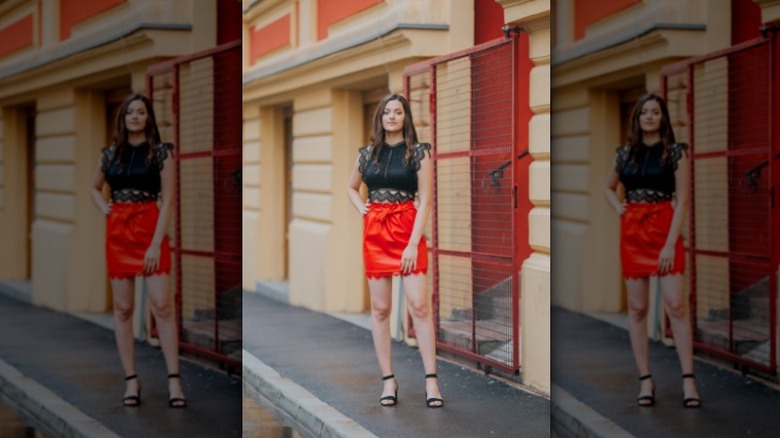 Wirestock/Getty Images
Whenever you think of a leather mini-skirt, you probably envision one in black. When it comes to Valentine's Day, it's the right time to rock a leather mini-skirt in a bright shade of red. Since a red leather miniskirt already makes such a bold statement, you don't have to go above and beyond with the rest of your outfit. A simple black blouse paired with black shoes and some jewelry will look fabulous.
Advertisement
Hot pink bodycon dress
The purpose of a bodycon dress is to show off all of your incredible curves. If you're the type of person who absolutely loves what you're working with physically, rocking a bodycon dress in a shade of hot pink will do you justice on a romantic holiday like Valentine's Day. After all, bodycon dresses allow you to exude confidence from head to toe.
Advertisement
Light pink babydoll dress
There's something very cutesy and innocent about wearing baby-doll style dresses. Babydoll dresses hug your chest tightly while spreading out more open and flowingly over your stomach and thighs. If you choose to wear a babydoll dress on Valentine's Day, it will look best in light pink. It'll be even better with cute puffy sleeves that make you look like a real-life doll.
Advertisement
Sleeveless floral jumpsuit
Since Valentine's Day takes place at the tail end of winter leading into the spring season, it makes a lot of sense that you might want to wear a gorgeous floral print jumpsuit. You'll get extra points on Valentine's Day if you opt for a floral print jumpsuit that's off the shoulders. Having your shoulders exposed provides the right amount of edge with a classy look.
Advertisement
Pink mini-skirt with a sleeveless top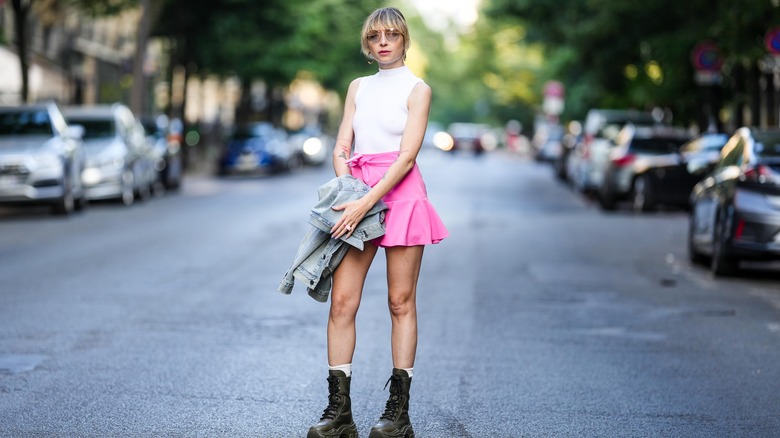 Edward Berthelot/Getty Images
For anyone who considers their legs to be their best asset, wearing a pink mini-skirt paired with a white, sleeveless top on Valentine's Day is a power move. Your top of choice doesn't have to be very revealing at all since your legs are the star of the show in such a short pink skirt. You can accessorize with a jean jacket and black ankle boots if you're aiming for a trendier result.
Advertisement
Red crop top with high-waisted jeans
Crop tops certainly aren't the move for everyone unless you're the type of person who feels beyond confident while wearing one. On Valentine's Day, the color of your crop top is an important detail to focus on. Red is the color that symbolizes passion and romance! A red crop top paired with some high-waisted denim jeans will have you looking absolutely ravishing.
Advertisement
Baby pink slip dress with a white fluffy jacket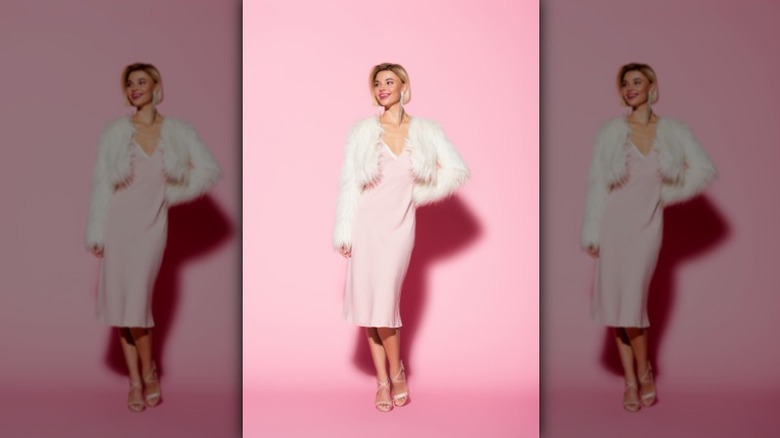 LightField Studios/Shutterstock
Depending on where you're planning to go on Valentine's Day, wearing a gorgeous slip dress in a shade of pink with a fluffy white jacket will have you looking stunning. Slip dresses are beyond classy, even though they've historically been used as underwear. If your slip dress is made of a silky material, it will look even chicer.
Advertisement
Lingerie dress
There's no need to reserve lingerie for intimate moments in the bedroom behind closed doors. Lingerie that doubles as a dress is all the rage these days. The easiest way to pull off a lingerie dress on Valentine's Day is to add a nice coat or cardigan over your shoulders to complete the look. You'll also want to make sure that your lingerie dress isn't completely sheer.
Advertisement
Shimmery silver dress
When you think of shimmery silver dresses, the first holiday that comes to mind is probably New Year's Eve. It's time to revamp that thinking and consider wearing shimmery silver dresses on Valentine's Day as well. After all, you deserve to sparkle on a day that's dedicated to true love and romance.
Advertisement
Little red dress
Fashionistas and style gurus collectively agree that everyone needs to have at least one little black dress in their closet. On Valentine's Day, though, it's essential to have a little red dress on deck instead. Red is a color that captivates the attention and affection of the people around you. If you're crushing on someone special, your little red dress will catch their eye.
Advertisement
Heart-print mini dress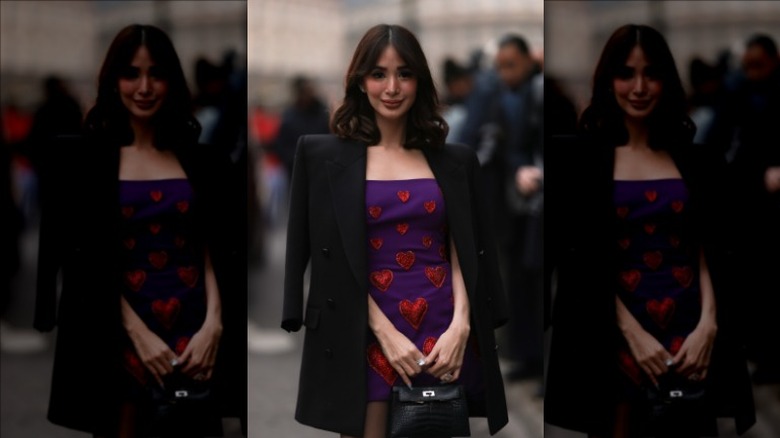 Jeremy Moeller/Getty Images
Wearing a dress covered in heart-shaped designs is delightful on Valentine's Day since hearts are the most common symbol to correspond with the holiday. Wearing a heart-print mini dress might possibly put you in the perfect mood to celebrate such a lovey-dovey occasion. You can accessorize your heart-print dress with coats, cardigans, tights, jewelry, purses, and more.
Advertisement
Floral sundress
It's obvious that you're willing to dress to impress if you choose to celebrate Valentine's Day in a lovely floral sundress. Flowers are a huge deal on Valentine's Day since they're given as gifts between people who love each other. Your gorgeous sundress covered in floral print will match that energy effortlessly.
Advertisement
Red and white polka dot dress
The old-school vibe of a red and white polka dot dress is marvelous on Valentine's Day for many reasons. Polka dot print dresses are classic and timeless, making you look as flawless as the fashionistas of the mid-19th century. What makes this look even better is that the combination of red and white is a grand color scheme to wear on such a loved-up holiday.
Advertisement
Pink lace two-piece dress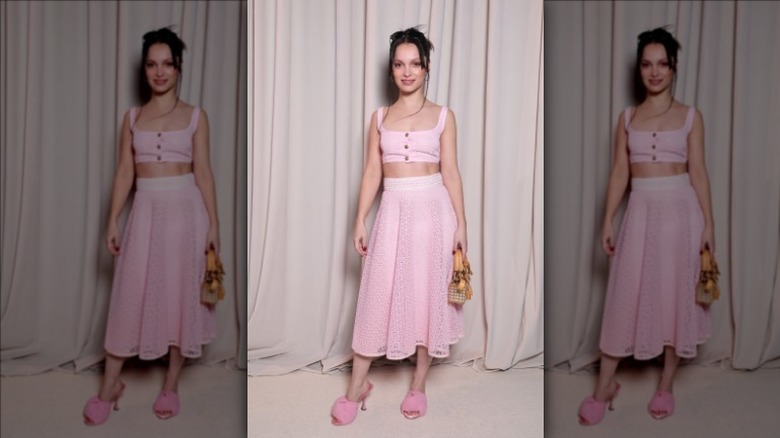 Pascal Le Segretain/Getty Images
You can have a lot of fun when it comes to wearing dresses made of lace. Lace dresses are feminine and delicate in all the right ways. On Valentine's Day, you might think about wearing a two-piece dress made of lace if you're comfortable showing off a few inches of skin around your midsection. You can ensure that your outfit comes together flawlessly with the right purse and heels.
Advertisement
Pink jeans with a cream sweater
Blue jeans are common enough to find just about anywhere, which is why wearing pink jeans on Valentine's Day is so much more enticing. Since pink jeans (and pink pants in general) are a little rarer to find, this is a look that will end up being completely unforgettable. Topping off your pink jeans with a cream-colored sweater will complete the look in a dazzling way.
Advertisement