How To Pick The Right Dress Shape For Your Body Type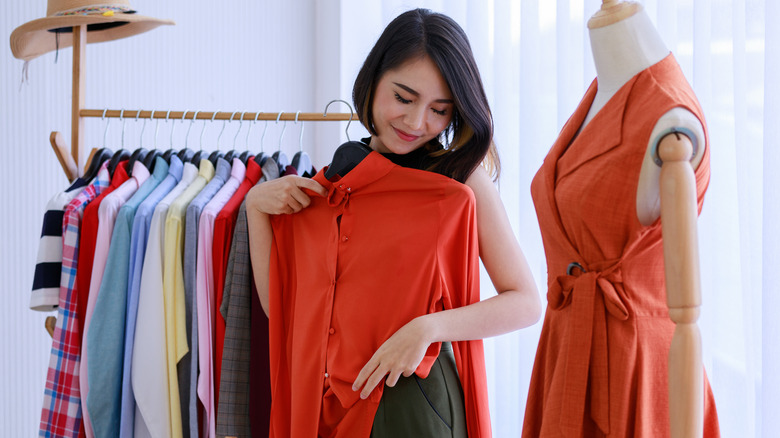 Bangkok Click Studio/Shutterstock
Anyone who's gone shopping with the goal of finding the perfect dress knows the struggle: After an hour of scrutinizing every bit of fabric in the building, you finally lay eyes on something that seems to fit every single criterion on your list. It's gorgeous, it's trendy, and you can already imagine how amazing you're going to look in it. Then you try it on, and while it may not be terrible, it's definitely not the one.
It may seem like a tragedy at the moment — after all, the dress looked stunning on the hanger — but such disappointments can be avoided in the future if you know your body type and learn how to choose the best dress shape for it. In the end, determining which styles work for you and which ones simply don't can save you hours' worth of time in the fitting room as well as an equal amount of frustration and disappointment. Here's everything you need to know about how to pick the right dress shape for your body type.
Embrace body positivity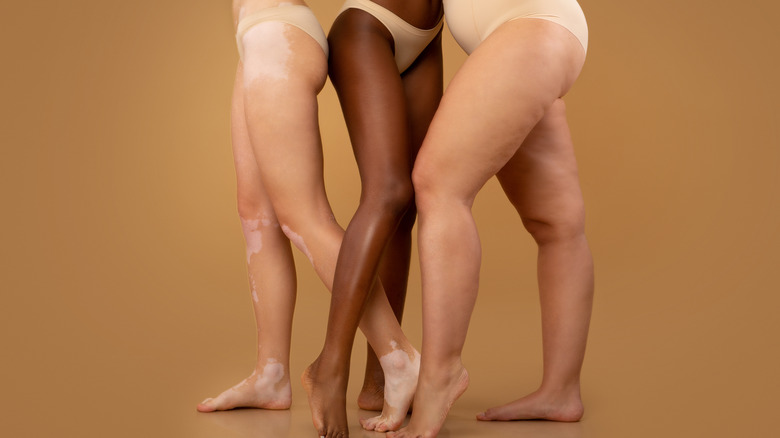 Prostock-studio/Shutterstock
Let's be clear: this doesn't mean that there is anything wrong with your body. Every body is unique and beautiful, and no one should ever conclude that something is wrong with theirs simply because they're not fond of the way a trending style looks on their body. Body types are as diverse as the clothes that we put on them, and simply put, certain outfits are just going to look better when they're tailored to you.
Now that we've established this, let's take a closer look at how to determine basic body types. According to Medical News Today, there are three basic body types, or somatotypes, based on an individual's weight distribution tendencies: ectomorph (a lean body type that often finds it difficult to gain weight), endomorph (a thicker body type that tends to gain weight more easily), and mesomorph (an athletic body type defined by low body fat and high muscle content). 
There is a misconception that these three body types apply only to males, but, in fact, all bodies fall under these fundamental body types. Beyond these basics, there are dozens of unique body subtypes, though some are more common than others. Determining yours (done easily with nothing more than a tape measure) and the dress shapes that best accentuate it can make all the difference in turning a stunning dress into the perfect dress.
Rectangles: create your own curves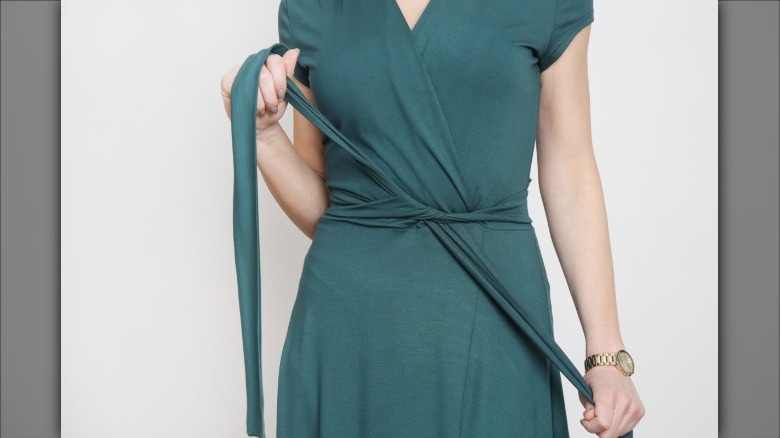 triocean/Shutterstock
According to Healthline, the "rectangle" (sometimes also called the "banana") shape is one of the most common body types. Using shapes, and even fruit, to describe body types developed as a sort of shorthand meant to simplify terms and make them easier to remember. For example, you could tell people that you have an endomorphic body type, or you could simply say that yours is an apple or round body type. How you label yourself and your body is entirely up to you, though one does sound less complicated than the other.
The rectangle body type is defined by shoulders and hips that have roughly the same measurements paired with a relatively straight waist, meaning that the waist has little to no definition. Use a measuring tape to take your shoulder, bust, waist, and hip measurements and compare accordingly.
When dressing a rectangle body shape, stylists usually opt for styles that create the illusion of curves and a defined waist. Styles like the empire waist, wrap, fit-and-flare (or A-line), and ruched waist dresses all achieve this effect by pulling focus in at the waist. It is perfectly all right, however, to embrace your natural shape with a shift dress, which will draw attention to those clean lines. In case you were wondering, celebrities with this body type include Kate Hudson, Kendall Jenner, and Natalie Portman.
Athletic: own your shoulders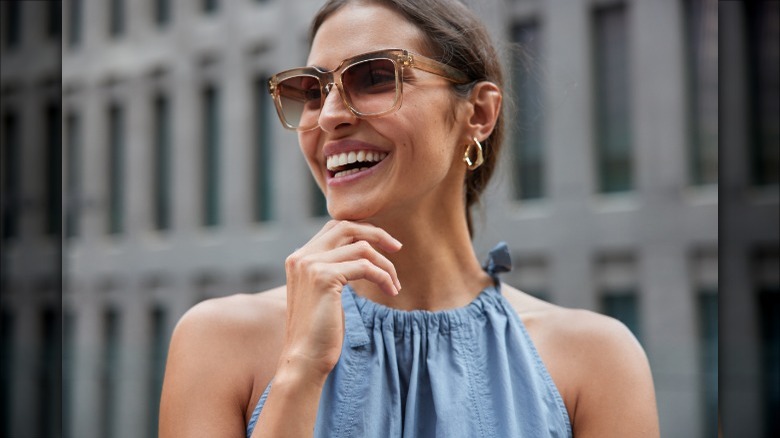 Cast Of Thousands/Shutterstock
Athletic body types are similar to rectangles in that they have similar measurements in the shoulders, waist, and hips. However, athletic types tend to be leaner overall and have slightly broader shoulders than rectangles. Because the shoulders are broad compared to other measurements, the wrong dress can make a person's overall frame appear uneven, placing most of the emphasis on the upper body while failing to take advantage of curves and other features.
To achieve a good overall balance of appearance, stylists typically recommend dresses that put emphasis on the lower body (like a fit-and-flare) or bold necklines that draw attention from the shoulders to the center of the body (like scoop- or V-necks). But if you're in the mood to show off that toned upper body you've worked so hard to achieve, opt for styles that put the arms and shoulders front and center, like halter, racerback, or strapless dresses.
Apple: play up your assets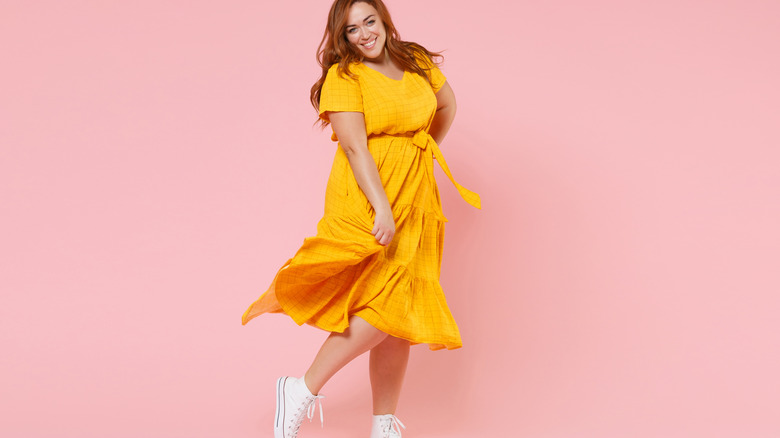 ViDI Studio/Shutterstock
Much like the shape of the real-life fruit, the apple (also called round) body type puts most of its emphasis on the midriff. It is defined by larger bust and shoulder measurements compared to relatively narrower hips. Apples also tend to have fuller tummies, with a common complaint being a lack of a defined waistline. If you often wear one size bigger in tops than you do in bottoms, chances are good that you fall into the apple category, along with celebrities like Mindy Kaling, Kate Winslet, and Adele.
When choosing a dress shape for this body type, waist definition is key, as is adding fullness to the lower body. Dress shapes like the fit-and-flare, empire waist, and wrap achieve this by drawing attention away from the midsection and to assets like the bust and legs. You can also play with perspective by using colors and patterns to your advantage; dark colors at the waist can add definition while vertical lines can elongate the midsection. However, keep in mind that details are meant to draw attention, so place your outfit's details where you want people's attention to go. Try to steer clear of styles that fit tightly over the hips, as this won't add volume to the lower body and can give the frame an uneven appearance.
Inverted triangle: add volume where it counts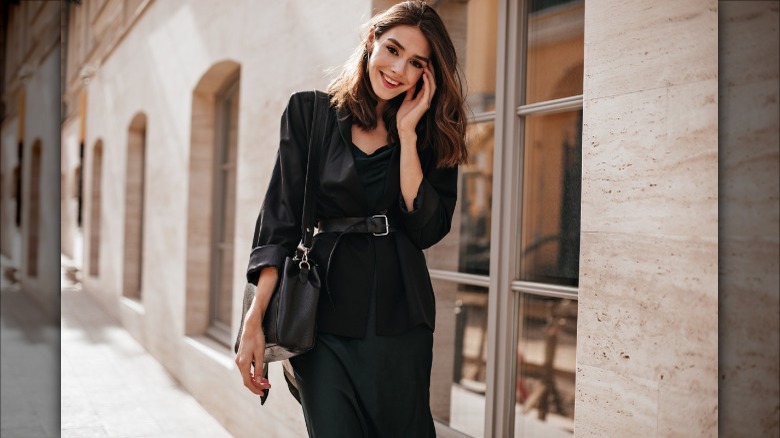 Look Studio/Shutterstock
The inverted triangle body type is a variation of the apple, with a few key differences. Inverted triangles are more about the shoulders (similar to athletic types). They typically have flatter stomachs than apples, but similarly narrow lower bodies and undefined waists. When determining this body type, inverted triangles will notice that their shoulder and bust measurements are significantly larger compared to their hip measurements.
When it comes to styling, this body type incorporates methods of both the apple and athletic types, with most stylists endeavoring to minimize the upper body while adding volume to the lower body. Dresses that flare from the waist or hips (think fit-and-flare) are going to be best for achieving this effect. Keep colors, details, and busier patterns on the lower part of the dress, as this will draw attention to the hips and away from broad shoulders. Nipped or belted dress styles can help emphasize the hips by adding definition to the waist.
But, of course, it's never a bad thing to embrace your shape and look to emphasize it, especially when you realize that you share a body type with Angelina Jolie. Dresses that boast clean, straight lines (think shift dresses) make a statement while classic strapless styles will show off those magnificent shoulders.
Hourglass: keep it balanced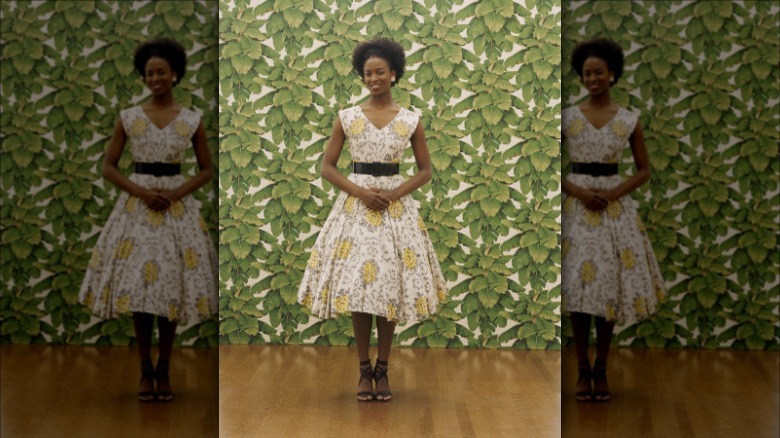 Jupiterimages/Getty Images
For better or worse, few body types over the years have been as idealized as the hourglass shape. (To be fair, iconic stars from Marilyn Monroe all the way to Scarlett Johansson are famous for rocking this body type.) However, it's relatively rare, according to the Vein & Skin Center of Hawaii, with less than 10% of women possessing a true hourglass body type. So, what does determine a true hourglass?
This body type is defined by nearly equal measurements in the shoulders and hips, paired with a narrower waist in between. It is naturally balanced, with weight gain typically distributed evenly throughout the body. Though many assume that an hourglass can wear any style or shape, that isn't necessarily true. The key is to maintain and accentuate the body's natural balance without throwing it off. To achieve this, opt for simple, classic dress styles that follow the body's natural silhouette. Fit-and-flare, wrap, and tulip dresses are all great options that will accentuate an hourglass without throwing it off-balance.
Be sure to steer clear of straight or boxy shapes, like shift dresses, as they will cover up rather than accentuate your curves. You can add even more curves to your outfit by including some embellishments or accessories such as ruffles, pockets, or belts.
Top hourglass: enhance your lower body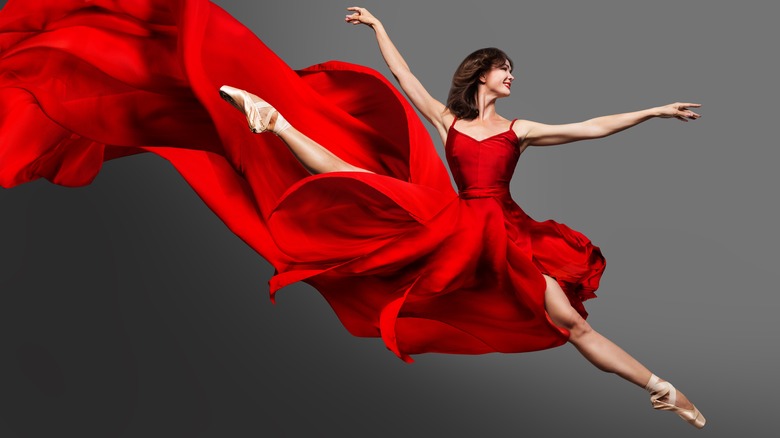 Inara Prusakova/Shutterstock
As with most body types, there are several different variations of the hourglass figure that warrant special attention when choosing the right dress. One of these is the top hourglass. People with this body type will find that their measurements are almost an hourglass, but not quite, as their bust measurement will be noticeably larger than their hip measurement. While only slightly off-balance, the top hourglass still falls under the classic hourglass category, thanks to a well-defined waist.
As with styling any hourglass body type, maintaining balance is the goal. In order to balance a top hourglass figure, look for dresses that enhance the lower body. Fit-and-flare options and dresses with full or voluminous skirts add volume to the hips, bringing both top and bottom measurements into balance. Keep it simple on the upper part of the dress, and make sure that any eye-catching details are located on the lower part of the dress. Styles to avoid include anything that takes volume away from the hips and adds it to the bust. This could include bold necklines and empire waist styles, as well as any dress that conceals the waist.
Bottom hourglass: accentuate your natural curves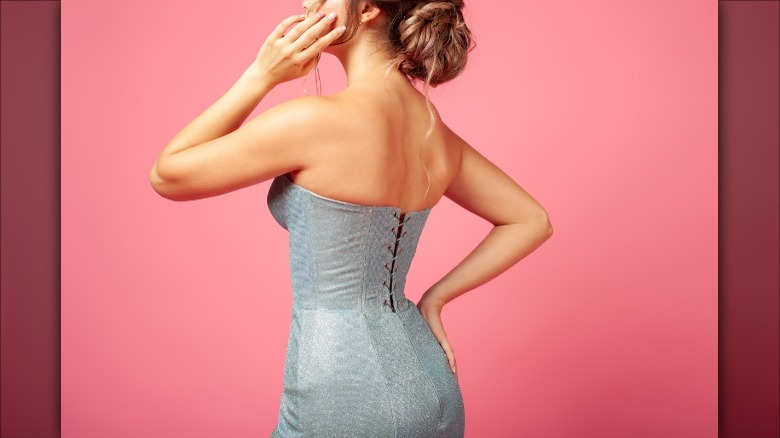 Lia_Russy/Shutterstock
Yet another variation of the classic hourglass, the bottom hourglass body type boasts a well-defined waist and similar measurements, but with a slightly larger hip measurement. This frame is further defined by its many natural curves, which will affect the types of dresses that look best on it.
To best accentuate those curves, look for dresses that have more of a form-fitting silhouette, like a sheath or pencil dress. Dresses with straighter shapes, like a shift dress, can also look amazing. Though, for straight styles, you'll want to be sure that the dress doesn't hide your waist entirely. This could result in an unflattering, boxy appearance. If you're feeling really bold, opt for a bodycon dress.
As for what to avoid, consider staying away from stiff fabrics that don't move easily with your body. Exaggerated details on the lower half of a dress can throw off a bottom hourglass' balance, so remember to use any such embellishments sparingly.
Pear: define your upper body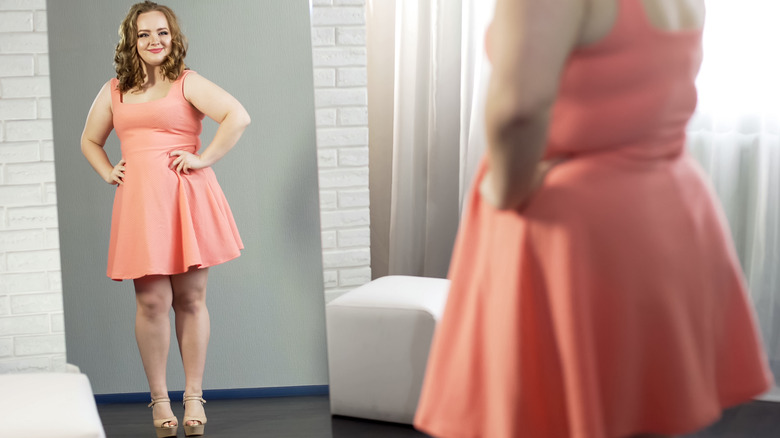 Motortion Films/Shutterstock
Though similar to the bottom hourglass, pear body types are characterized by a substantially larger hip measurement paired with relatively smaller shoulder and bust measurements. The waist can be subtle or well-defined. Most of this body type's volume is in the lower half, with visible weight gain first appearing around the hips, thighs, and lower midriff.
In order to balance out this body type's frame, look for styles that will define the upper body. Fit-and-flare and X-line styles will add volume to the shoulders and bust, as well as further define the waist. Though it may seem counterintuitive, dresses with a wider shape at the bottom actually work to conceal and tone down lower body volume, while also emphasizing the shoulders. Embellishments, patterns, and bright colors should be reserved for the upper part of the dress, drawing the eye up and away from the hips. Investing in a good push-up bra can also help to achieve this effect.
Styles to avoid include straight cuts and dropped waists, which can hide the waist and give the frame a heavy appearance. If you need inspiration, you can always look to style icons Beyoncé, Rihanna, or Jennifer Lopez, all of whom proudly sport a pear body shape.
Spoon: draw the eye where you want it to go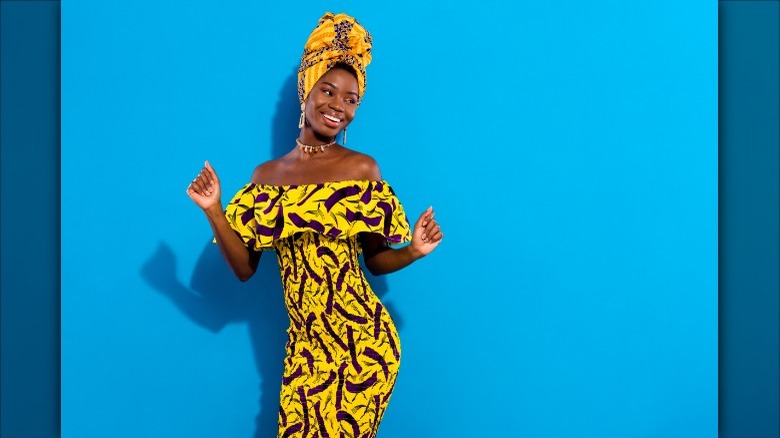 Roman Samborskyi/Shutterstock
Like the pear, the spoon body type is characterized by larger hips compared to smaller upper body measurements. The shoulders are typically narrow, the bust smaller, with most of the body's curves to be found in the lower half. A dramatically well-defined waist is what differentiates spoons from pears, with hips sometimes taking on an almost shelf-like appearance.
Styling goals for spoons usually involve broadening the shoulders and generally adding volume to the upper body to achieve a balanced silhouette. Playing with necklines and sleeves can be a fun way to achieve this. Strapless, off-the-shoulder, and scoop necklines add the illusion of broad shoulders, while detailed sleeves (like bell sleeves) add interest and enhance the bustline.
Empire-waist, princess-cut, and baby-doll dresses all perfectly balance the upper with the lower body, bringing out the waist and bust while de-emphasizing the hips. Try to steer clear of pencil dresses and any other style that hugs the lower body, as these add volume to the hips and can throw your silhouette back out of balance.
Diamond: use details to your advantage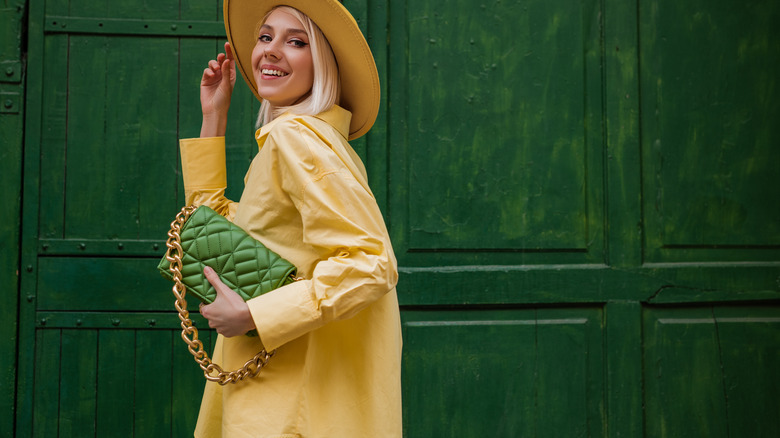 Victoria Chudinova/Shutterstock
Diamond body types, aside from being as gorgeous as their sparkly namesake, are typically characterized by a fuller waist, a narrow lower body, and similarly narrow shoulders and bust. In other words, your largest measurement is going to be around your midriff, while your other measurements are going to be comparatively smaller.
There are several things to keep in mind when choosing a dress for a diamond body type. In order to achieve a balanced silhouette, you'll need a cut that will add volume to the shoulders and hips, while at the same time defining the waist and using it to create the illusion of curves. By highlighting the shoulders and legs, as well as keeping things simple around the waist, you can effectively elongate your frame.
When dressing a diamond shape, stylists usually opt for dresses with a straight fit (think shift and shirt-style dresses) that skim over the midsection. Drapy or flowy fabrics can help to conceal problem areas, while uneven hems and small prints can add interest without large details that could draw unwanted attention to a single part of the frame.
Height: pay attention to your hemline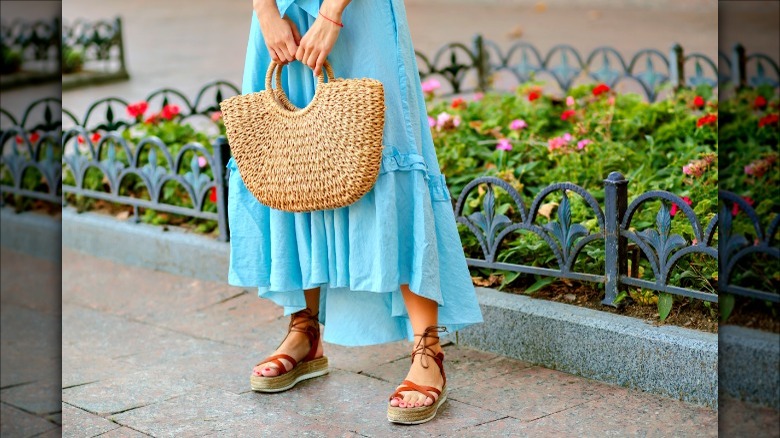 Ann Haritonenko/Shutterstock
Gone are the days of women perpetually wearing dresses past the ankles. Today, hemlines of all lengths are a fun, creative, and — let's face it — essential part of choosing the right outfit. However, just like body type, your height and the dress' length can make a huge difference in the way it appears on you. Body type does not necessarily correspond to height; therefore, it's important to know which dress lengths look best for your body.
Stylists typically choose midi- and knee-length styles for tall women, as it balances out the silhouette without making the lower part of the frame seem uneven. Shorter gals, on the other hand, would avoid longer styles (except for maxi dresses) that do nothing to elongate the legs' appearance. Styles that hit above the knee (like the beloved mini-dress) are the way to go if you're hoping to give the appearance of more height.
Of course, we have to give some love to maxi dresses, which are a great in-between for both heights, adding length for petite women and perfectly flattering taller women with an effortless and forgiving hemline.
Everyone: embrace the A-line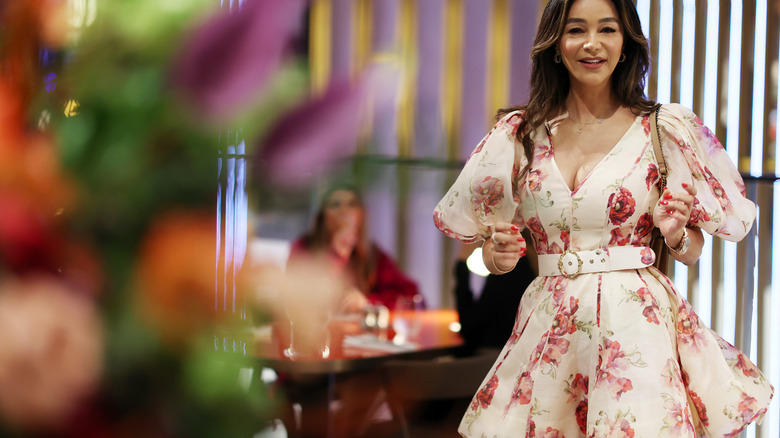 Francois Nel/Getty Images
Throughout your entire dress-shopping career, have you ever found yourself wishing that there was one universal style of dress that looked good on everyone, no matter the occasion and no matter the body type in question? Allow us to reintroduce you to the classic A-line! Also known as the fit-and-flare, this widely-adored style really does look amazing on everyone. It features a cinched waist with a skirt that gradually flares from the hips to the hem.
Those with larger lower body measurements love the A-line because it emphasizes the waist and draws the eye away from the hips, while less curvy women appreciate the illusion of curves created by the narrow waist and flared skirt. The shape is also extremely versatile, popping up on the red carpet and in weddings, as well as in everyday and work apparel. Ultimately, this dress shape looks good on everyone, so why not give it a try?