The Throwback Body Jewelry Trend Having A Major 2023 Comeback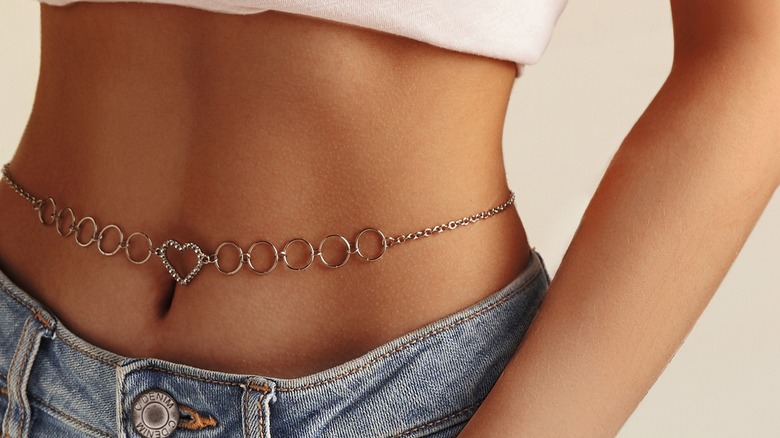 Redumbrella Europe/Shutterstock
Anyone who remembers fashion trends from the Y2K era knows that jewelry wasn't limited to only earrings, rings, and necklaces. They were accessories for your entire body. With many Y2K trends coming back for another round in recent years, it was only a matter of time before we saw body jewelry become popular again.
Advertisement
The appeal of body jewelry is that there are so many ways you can rock it to turn any outfit from simple to statement. From harnesses to waist chains, the possibilities are endless. Recently, more designers have noted this trend and incorporated it into their looks, so inspiration is everywhere."Body chains are a different way to wear jewelry than the classic popular spots, so adding a belly chain can spice up any look," Isabela Rangel Grutman, a jewelry expert and founder of ISA GRUTMAN, tells PureWow. "The low-rise denim era is coming up, so get excited to see this being a wardrobe staple next year."
Even though we've typically seen body jewelry mixed with other Y2K trends, there are plenty of ways to wear these pieces. Here are some of our favorites.
Advertisement
Rock a classic waist chain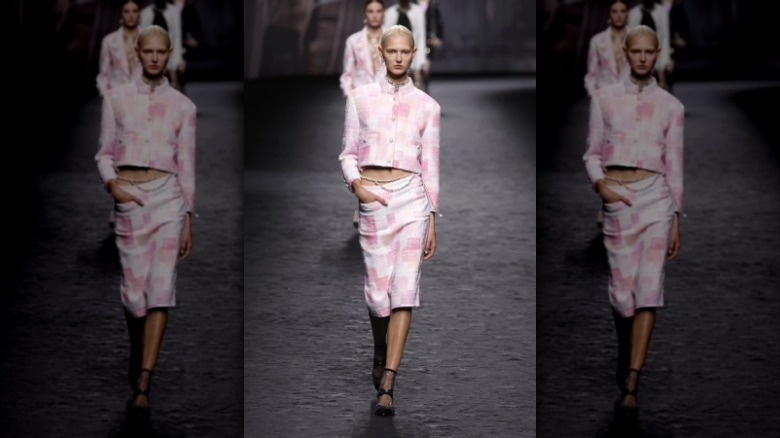 Estrop/Getty Images
Nothing says Y2K more than a waist chain. This classic piece is simple and easy to wear. While some may be nervous about the idea of exposing skin in order to wear a waist chain, it can actually be worn on top of your outfits, also. This chic piece can be as bold or delicate as you want and is the perfect alternative to a belt. For example, you can add a waist chain on top of an oversized item to add more definition to your waist.
Advertisement
Spice up a simple outfit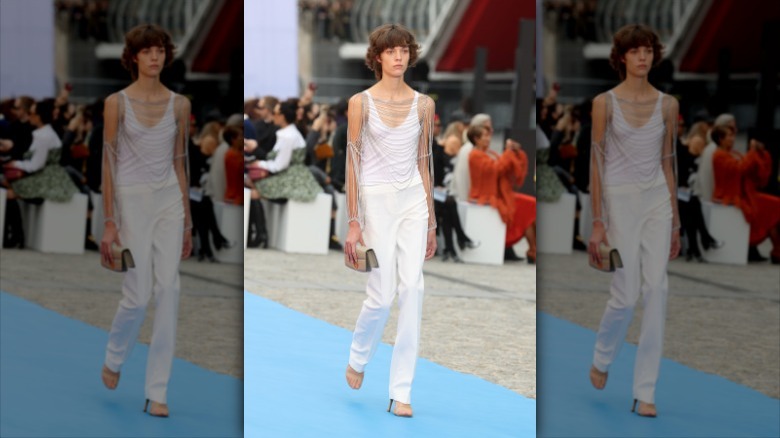 Pascal Le Segretain/Getty Images
Do you often find that your outfits are missing a little something extra? While dressing minimally is easy and chic, it can sometimes leave you feeling underwhelmed. Body jewelry is the perfect way to spice up your minimalist outfits without taking away from your style. During the Stella McCartney Spring Summer 2023 show, the designer showcased how a basic white tee and pant is the perfect base for body jewelry. Sticking with a similar cool silver tone for the body jewelry piece, this outfit is coherent and has a modern approach to minimalism.
Advertisement
Get tough with body jewelry armor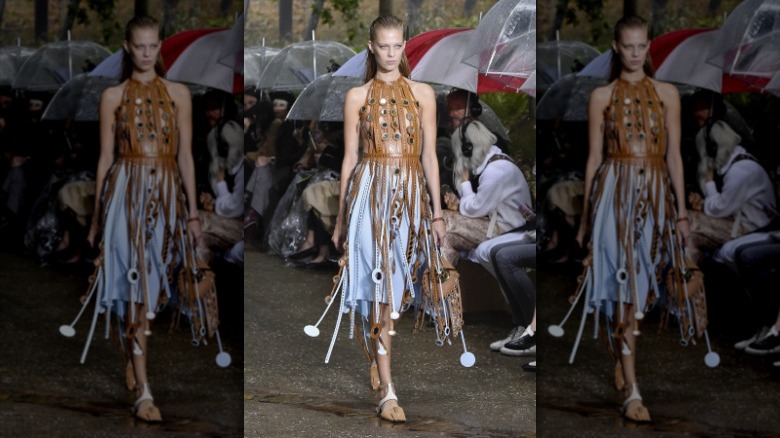 Peter White/Getty Images
Inspired by Greek and Roman history, the high fashion world is no stranger to body armor. Often the trend is showcased with leather to get a more authentic feel. However, if you want to make a statement, ditch the tough material and opt for some fancy jewelry instead. If you want to go over the top with your body chains, consider a complete body-armor-esque piece that covers you from your shoulders to your waist. No doubt a showstopper, this piece is the ultimate finishing touch for any look.
Advertisement
Embrace dainty simplicity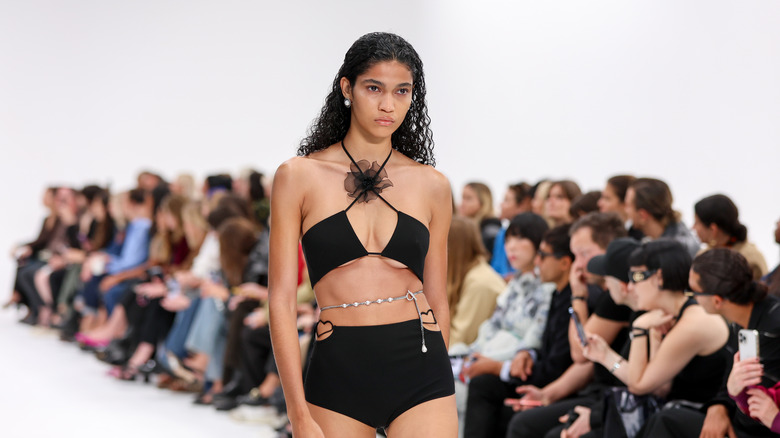 David M. Benett/Getty Images
Believe it or not, even statement trends can be done subtly. Although body chains are designed to turn heads, you can easily opt for a more delicate piece for a softer and more subtle look. An expert at making minimalism fun, the Jacquemus Fall 2020 Ready-to-Wear show showcased how a simple beaded waist chain is all you need to showcase this trend (via WWD). Opt for a single silver waist chain or body harness to accentuate your outfit without distracting from the rest of your look.
Advertisement
Go bold with bra-style body jewelry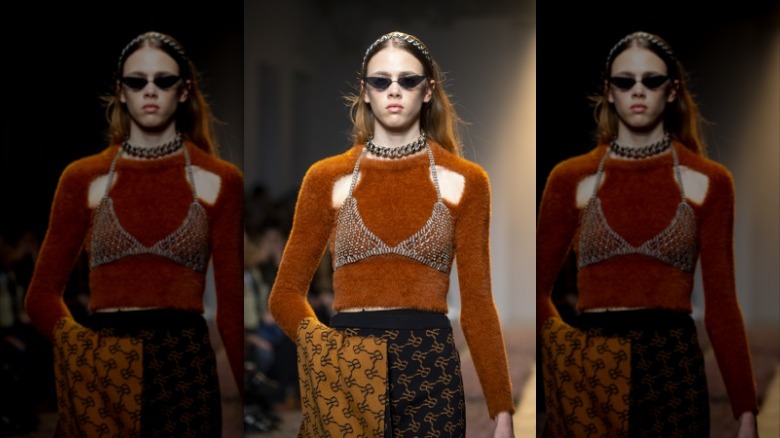 Kristy Sparow/Getty Images
Recently, bra-style pieces have become more popular because they are simple to style and chic to wear. You can easily pop a bra or bra-like top over any blouse and you are set to go. Take the look up a notch with bra-style body jewelry, which is an ideal piece to add interest to your nighttime going-out looks. A piece like this can also easily be worn during the day along with your favorite blazer or jacket for a bold and unexpected vibe.
Advertisement
Show off in low rises and belly chains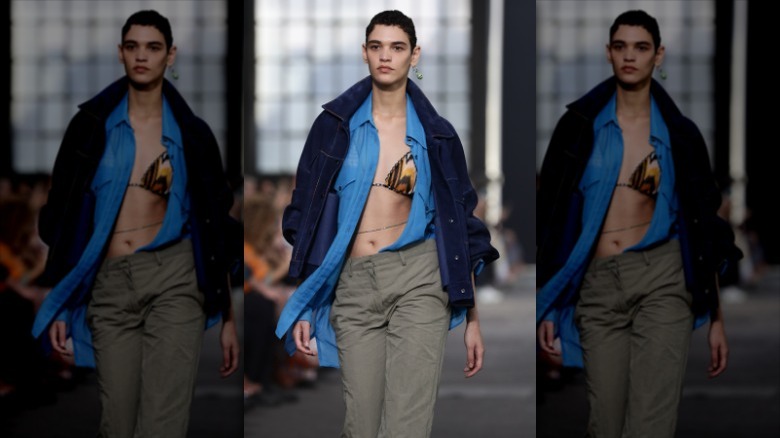 Vittorio Zunino Celotto/Getty Images
When speaking about belly chains you have to include low-rise bottoms in the conversation. Whether or not you are a fan of this trend, you have to admit that belly chains are the best styling partner for them. Whether you are wearing low-rise jeans or a skirt, the belly chain can be the perfect piece to add to your waist for the ultimate Y2K-inspired look. The Chanel Resort 2021 collection taught everyone that the low-rise jeans and belly chain combination can be done in a chic and modern way (via Tag Walk).
Advertisement
Add another layering piece
Thankfully for anyone looking to jump on board with this trend but is nervous about exposing too much skin, there are still plenty of ways to wear body chains. Just like any fashion trend, it's possible to make the trend fit your existing style. Like a belt or a necklace, body chains can be worn on top of your favorite looks year-round and act as your new go-to jewelry. All you need to do is add your body chain over your outerwear or blouse to create a brand-new chic look.
Advertisement