Embrace Colorblocking In Your Wardrobe With These Easy Outfit Inspos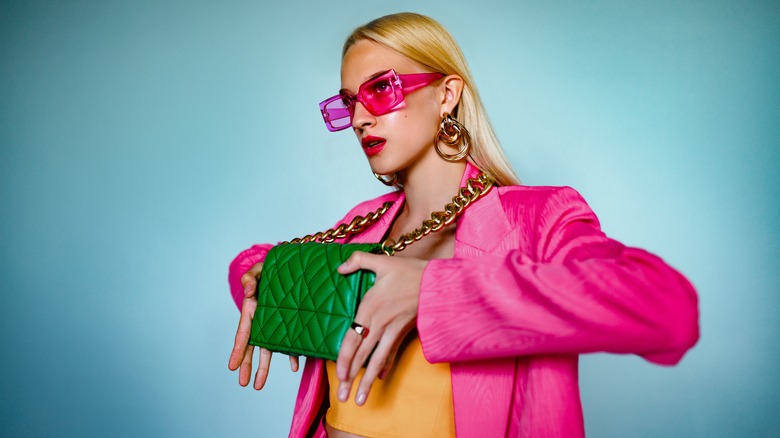 Victoria Chudinova/Shutterstock
Colorblocking is a trend that started in the 1940s by Yves St. Laurent and exploded during the height of 1960s Mod Fashion, per Color Block Cool. At the time, men and women mixed bright, bold colors and had fun incorporating geometric shapes into their outfits. The look was daring and they weren't afraid to mix and match several different colors and patterns.
Advertisement
Colorblocking continues to be in fashion, and you can take inspiration from the 1960s and be as bold and flashy as you want! Or, you can take a more subtle approach and add a splash of color to your neutrals. Accessorizing using color blocking is also a fun way to dip your toes into this trend. Add a contrasting color to your outfit with a belt or a scarf. Handbags and shoes can also be a fun way to add a punch of color. There are a plethora of ways you can rock this style and put your own modern twist into colorblocking.
Mix two secondary colors for a subtle look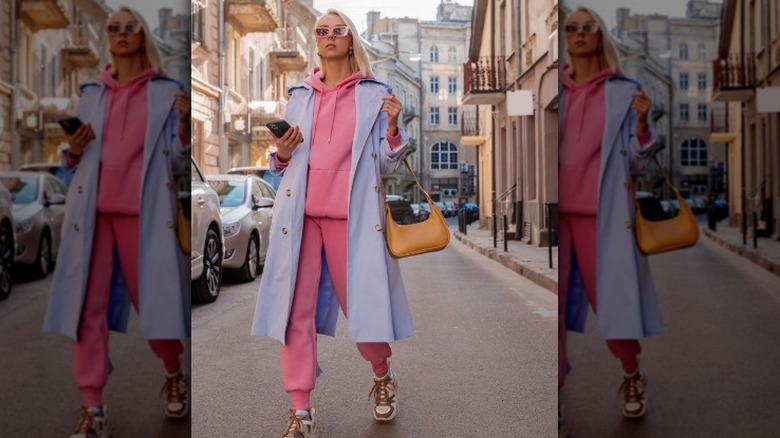 Victoria Chudinova/Shutterstock
While many use colorblocking as a bold fashion statement, you can be subtle with pastel shades. Use secondary hues in the same color family, such as pink and lilac. Keep things flowing by matching your top and bottom and then adding a coat of another color. This look is instantly soft and chic, without looking like an easter egg.
Advertisement
Colorblocking with primary colors makes a bold statement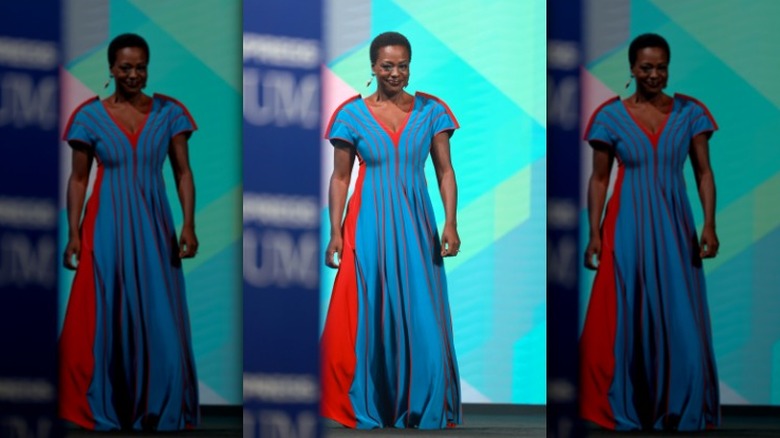 Matt Winkelmeyer/Getty Images
Primary colors are always a bold fashion statement, as it embodies power and authority. Combining red and blue will have a dynamic effect that won't allow people to look away from you. Follow Viola Davis' lead and go for drama with a long dress with two opposing colors. You won't even need an accessory with this look, as the outfit is complete on its own.
Advertisement
Wear all shades of the rainbow
If you really want to take colorblocking to the next level, don't stop at two or three colors. Throw in as many as five different shades to create a fun, pop-art look. The only rule to this is to stick with solids, as incorporating patterns will make the outfit look too busy. Try to keep the texture of the clothes in the same family as well.
Advertisement
Play around with different shades of the same color
Everyone has a favorite color so why not wear all shades of it? Many think of monochromatic as only one shade, but it can mean all the hues in one color family. If your wardrobe is filled with purple pieces, mix and match your clothes to create a color-blocked look. Be sure that the shades have enough contrast so that you don't look too matchy-matchy.
Advertisement
Add a splash of color to a neutral
If you don't want to wear several different colors, adding a bright piece to your outfit is a subtle way of colorblocking. Choose a neutral such as white, beige, gold, or silver, and add a fun splash of color. The great part about colorblocking with a neutral is that it looks sophisticated and elegant, while still being trendy. Match your accessories with your neutrals and only allow your choice of color to pop.
Advertisement