20 Last-Minute Valentine's Day Gifts That Won't Cost You A Dime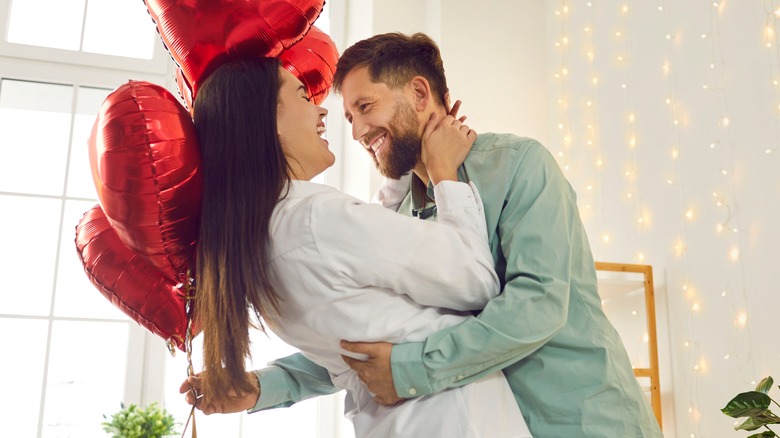 Studio Romantic/Shutterstock
Valentine's Day is a special holiday, as it's dedicated to true love, friendship, and romance. If you have a special someone in your life, it makes sense that you would want to celebrate them by showing them your appreciation and undivided adoration. The good news is that you don't always have to break the bank or spend bundles of money to make your loved one feel special and cared for. 
There are plenty of last-minute Valentine's Day gift ideas to lean on that won't cost you a dime. Sometimes, the best gifts in the world are priceless.  Don't worry about dipping into your savings account or requesting extra hours at work while coming up with thoughtful gift ideas to make your partner happy. Since it's truly the thought that counts, any thoughtful gift you get or do for your partner should be enough. Now, let's dive into the best free Valentine's Day gifts.
Offer a massage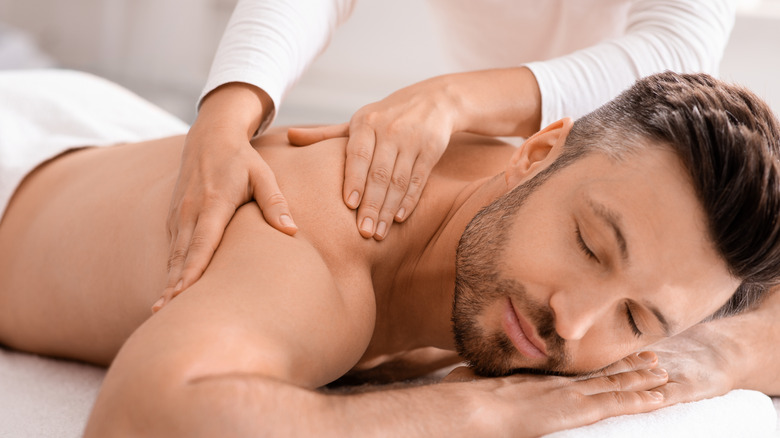 Prostock-studio/Shutterstock
There's something sensual and intimate about giving your partner a massage in the comfort of your own home. For some, it's easy to spend hundreds or thousands of dollars a year booking professional massages and signing up for memberships at fancy places like Massage Envy and Elements Massage. Instead of scheduling a costly massage appointment, you can always offer to give them a soothing massage with your own two hands. 
Make the experience even more pleasant for your loved one by ensuring that you have the right oils, lotions, and sweet-smelling products on deck. Dry massages aren't very pleasant, which means great products will improve this gift in a significant way. Set up the sofa or bed to remind your partner of a luxurious spa using propped-up pillows and soft sheets. Light a few candles and play some calming music in the background to present a very relaxing vibe. Once you're actually getting started on the massage, focus on areas of your partner's body where they feel the most tension. Do your best to listen to their instructions as they describe what feels good to them.
Dress up in lingerie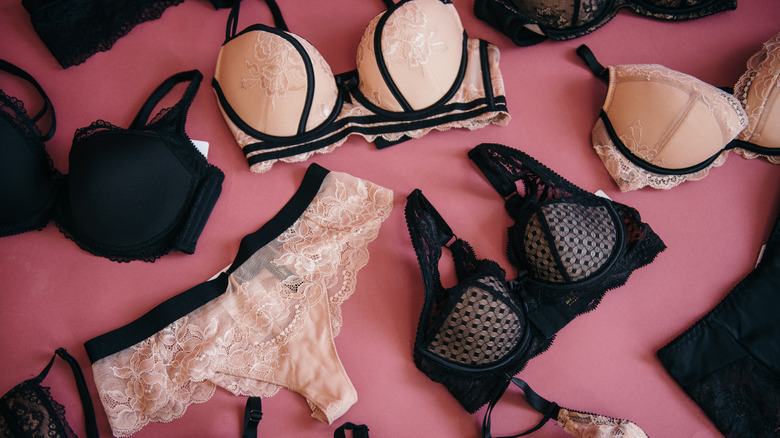 Vovchyn Taras/Getty Images
Even if lingerie isn't your thing in your everyday life, Valentine's Day is the perfect time to ditch your comfort zone for a little while. Wearing lingerie on Valentine's Day for your partner sets the tone for the entire evening (or the entire day if you do it in the morning). You can surprise your partner by greeting them in lingerie as soon as they get home, or you can send them flirtatious texts throughout the day letting them know what to expect. 
There are so many different types of lingerie to wear on Valentine's Day, including matching bra and underwear sets, thong undies, corsets, lace bralettes, g-strings, peekaboo panties, leather bustiers, pantyhose, and garters. You won't have to spend a dime on Valentine's Day if you already have a piece of lingerie or two hidden away in your closet. Valentine's day only comes around once a year, which means it's as good a time as any to dig out the sultry items you've tucked away. Your lingerie will look even more fierce if your makeup and hairstyle choices match the seductive and provocative energy of your lingerie.
Give your partner love coupons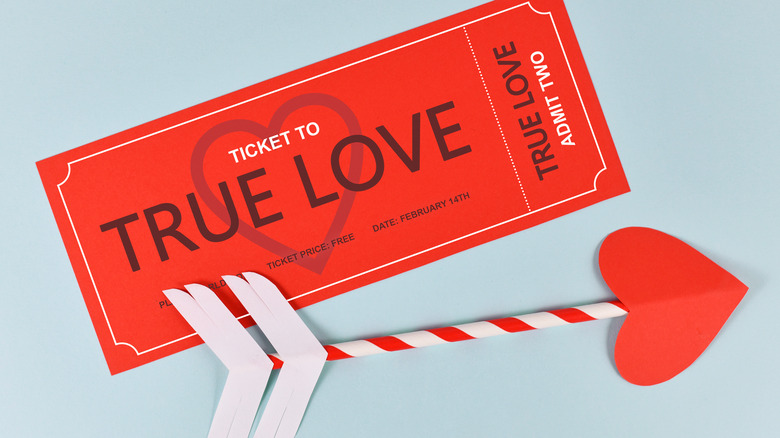 Firn/Shutterstock
Designing a set of love coupons for your unsuspecting partner is one of the sweetest things you can do. Fortunately, it's also a gift that doesn't cost you any money at all. When you give your partner handmade love coupons, they can "cash them in" whenever they want in exchange for whatever favor or task you've written down. Some examples of love coupon ideas include offering to do their chores for the day, letting them win an argument, letting them choose what movie to watch, and making them breakfast in bed. The favors can be intricate and over-the-top or sweet and simple.
Love coupons are supposed to be filled with favors that benefit your partner, even if you don't feel like you're being benefited at all. The selflessness of a gift like this is what makes it so special and thoughtful. All you'll need are a few pieces of colorful construction paper or notecards, markers or colored pencils, and some creative ideas you know your partner will adore.
Use ingredients you already have to cook dinner or dessert at home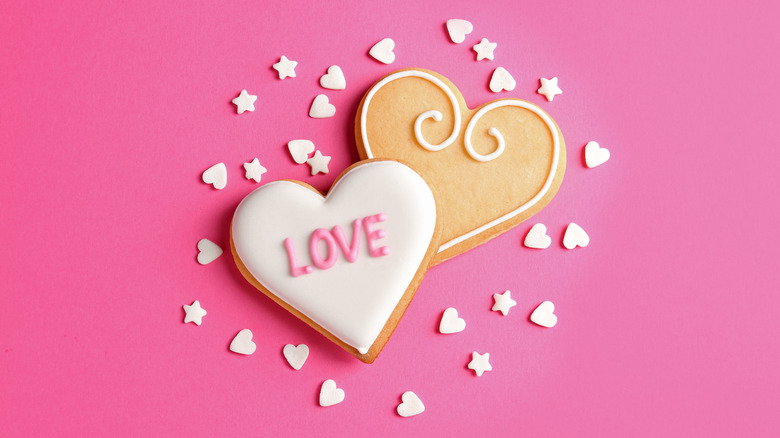 New Africa/Shutterstock
You don't have to spend any money at the grocery store if you're able to cook a delicious dinner or a dessert at home with ingredients you already have in your kitchen. One of the easiest sweet treats to make on Valentine's Day happens to be sugar cookies. Plenty of people already have everything they need at home to make delicious sugar cookies at the drop of a hat since the ingredients are considered basic kitchen staples. 
As long as you have flour, butter, sugar, and eggs available, you're already on the right track. If you also want to make frosting, having milk, powdered sugar, and food coloring (among a few other things) is a necessity. If you're missing an ingredient or two, you can search online for swaps and alternatives to honor what you already own. Sugar cookies that have been decorated to represent a holiday like Valentine's Day are usually decorated with red, white, and pink. You can have a lot of fun decorating a tasty dessert like sugar cookies for your partner if you choose to spell out their name or other cute messages on top of your cookies.
Offer to clean and vacuum their car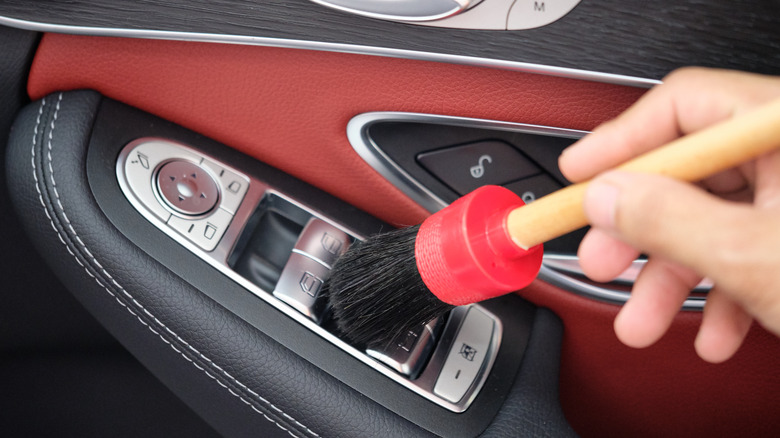 KULLAPONG PARCHERAT/Shutterstock
Some people really prioritize the cleanliness of their vehicles. If your partner is the type of person who genuinely appreciates having a clean and tidy car, offering to wash the outside of their car and vacuum the inside of it will have them feeling beyond loved. Spending money at a professional car wash won't be something they have to worry about for a while with your help.
This is a super thoughtful gift to offer your partner if you've noticed that their car could use a little TLC. If you've seen tons of dusty residue and buildup on the outside of their car, and maybe a little bit of clutter on the inside, they'll undoubtedly feel as if they're driving a brand new ride after you've shown it some love from top to bottom. This is a great gift to give your loved one if you don't mind doing a little bit of manual labor and potentially getting a little dirty.
Send some NSFW selfies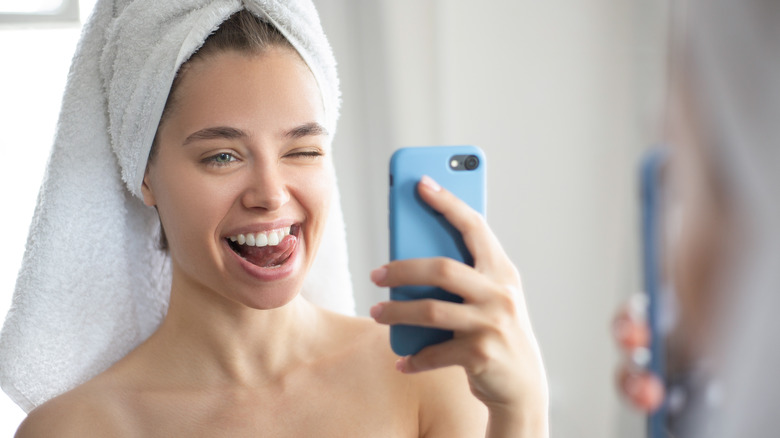 dmmel/Shutterstock
Sending NSFW selfies to your partner is a great Valentine's Day gift to consider if you're in a relationship with someone you completely trust. It can certainly spice up your relationship if it's started to feel stale, and it can definitely come in handy if you and your partner are long-distance dating. It may even help you enjoy yourself during intimate moments more.
When you snap pictures of yourself looking sexy and sultry, it can boost your confidence and make your partner feel desired, but it's also important to note that sending these types of pictures comes with a risk. If your relationship ends in the future, your partner will still have whatever photos you've sent them. Phone hacks are a very real threat as well. In fact, tons of celebrities, including Jennifer Lawrence and Vanessa Hudgens, have dealt with the leaks of their nude photos. Keep all these things in mind if this is a Valentine's Day gift you're excited to give.
Invite your partner on a romantic hiking trail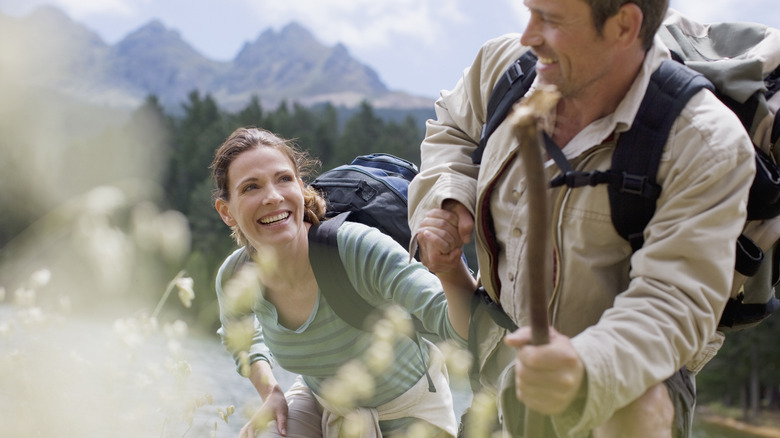 Sam Edwards/Getty Images
If you and your partner are outdoorsy people who enjoy taking long walks and going on hikes, inviting your partner to check out a romantic hiking trail as a Valentine's Day gift might be exactly what they're hoping for. This gift is ideal for partners who prefer experiences over tangible gifts. When you and your partner go on a lovely hike for Valentine's Day, it gives you a chance to talk to each other without any distractions. Hiking trails tend to be open and remote, which means there won't be many people around to get between you.
A hiking date also gives you both the chance to get in some exercise, showing your bodies a little extra love. If your partner already knows about the same handful of hiking trails that are near you in your local area, do a little bit of research to find a brand new and exciting trail they haven't explored just yet. This way, you two will be able to enjoy the trail for the first time together. Discovering the beauty and allure of a new trail for the first time will have you feeling like an adventurous team.
Invite your partner to admire scenic views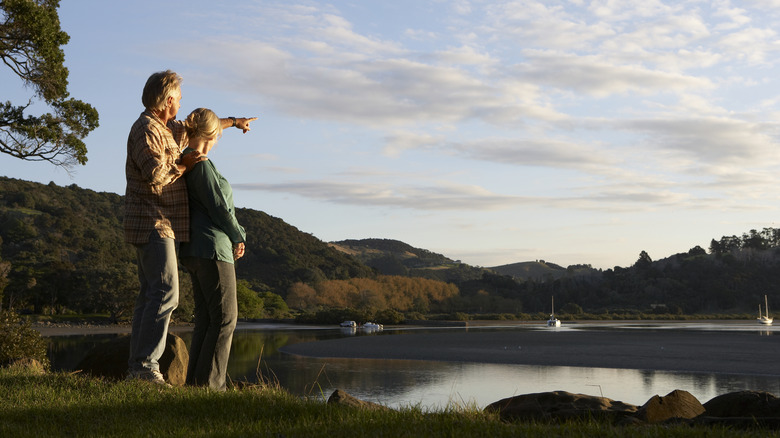 Paul Sutherland/Getty Images
Admiring scenic views with your partner on Valentine's Day might just be the activity that brings you closer together than ever. The scenic views you have access to are based on your location and where you live. If you live somewhere surrounded by tons of nature, locking down a romantic scenic view on Valentine's Day probably won't be very difficult. Think about where you'll be able to admire tall trees, waterfalls, grassy hills, flower fields, and more.
If you live in a city or suburban area, you might have to go out of your way a bit to find the perfect scenic view for Valentine's Day with your partner. Once you narrow down the most eye-opening and breathtaking options, consider taking your partner there for the sunset on Valentine's Day. This is a great idea for couples who enjoy photo opportunities wherever they go. While you're admiring scenic views together, you can always capture the memories by taking several pictures together in front of the gorgeous views.
Write your partner a poem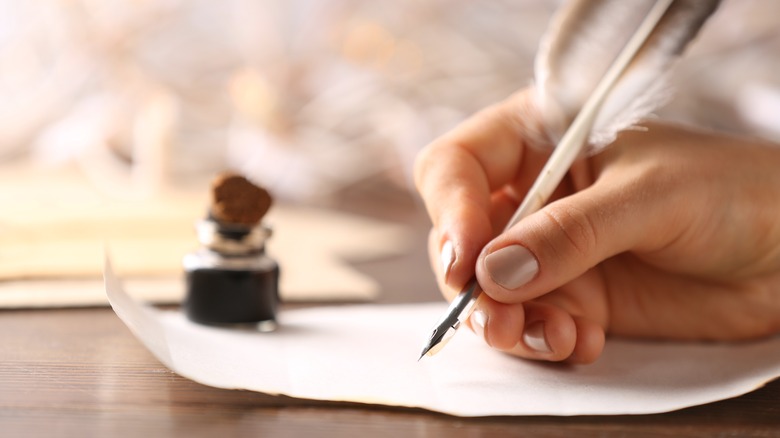 Pixel-Shot/Shutterstock
Do you consider yourself to be creative and crafty with your words? If so, writing a poem for your partner might be the best Valentine's Day gift to give them since it doesn't cost you any money. Spending time coming up with rhyming words that describe the love you have for your partner really says it all. Poetry requires patience, intelligence, and talent. These are things your partner will notice. Poetry is a beautiful thing since it gives you the chance to convey some of the most powerful messages ever. If coming up with rhyming words is too much of a struggle, it's good to know that some poems don't have to rhyme at all. 
The different types of poems you might consider writing for your partner include Haikus, sonnets, limericks, odes, and free verses. When it comes to writing free verse poetry, all you have to do is follow your heart and let the words that come to mind guide your hand on paper. There are two different directions you can go: You can keep things silly, playful, and humorous with lighthearted lines, or your poem can display how serious you are about the relationship if you approach it with sincerity.
Make your partner a playlist of lovey-dovey songs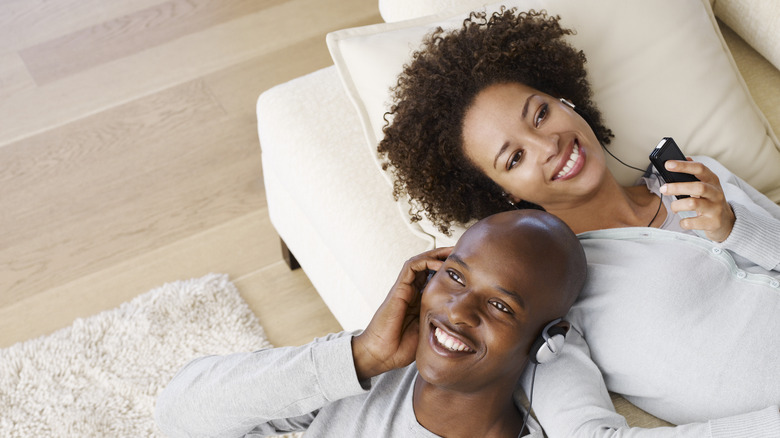 Ojo Images/Getty Images
Dating someone who absolutely adores music makes Valentine's Day gifting a lot easier. Creating a playlist filled with lovey-dovey songs for your partner isn't going to cost you any money at all. You can make a playlist for your partner on Apple Music, Spotify, or even YouTube. Once you've decided on the perfect theme for the playlist, it becomes simple enough to add songs that convey the message you're trying to share. You can keep things fresh, interesting, and fun by avoiding song additions from any artist more than once. 
This gives you the chance to add tons of different music from talented artists who fall into different genres and categories. Even if you know your partner is obsessed with Coldplay or Beyonce, following the one song per artist rule will ensure the creation of a truly entertaining playlist. It's your choice to decide how long you want the playlist to be, but playlists with 15 songs or fewer come across as more digestible and welcoming to listeners. You don't want to overwhelm your partner by sending them a playlist filled with too many songs, as it could feel like a chore. The main thing to keep in mind with a gift like this is that you want all of the songs to flawlessly reflect your love.
Set up a blanket fort movie night experience at home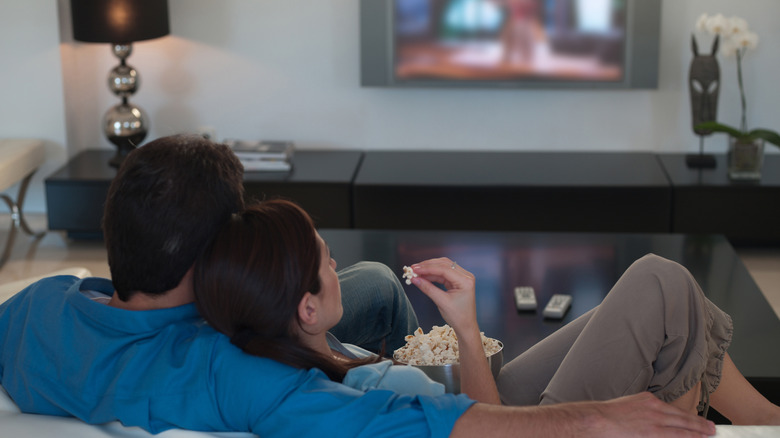 Chris Ryan/Getty Images
Having a movie night at home with your partner on Valentine's Day doesn't have to be thought of as boring or basic if you know how to turn this gift into a romantic and unforgettable experience. You can make a blanket fort in your living room or bedroom in order to create a magical and childlike vibe. Having enough blankets, sheets, and pillows is a must. Since this is your gift to your partner, you should probably let them decide which movie you two will watch together. 
Having subscriptions to platforms such as Netflix, Hulu, HBO Max, and Amazon Prime filled with movie choices is a necessity for a gift like this. You don't need those subscriptions if you have an old-school DVD player and several movies in DVD form to queue up, though. When it comes to having a movie night at home, it's important to follow their lead along the way. Some people prefer to remain completely silent while watching movies, while others don't mind having small conversations throughout.
Camp out under the stars together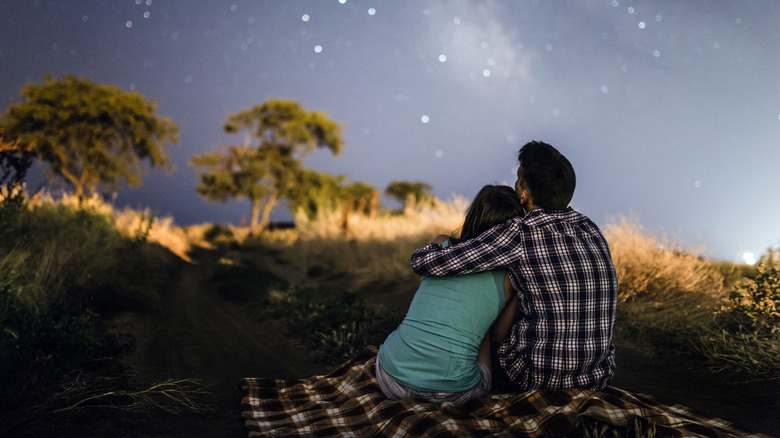 Tol_u4f/Getty Images
Stargazing through the glittering night sky is one of the most romantic things you can do with your partner. If you invite your partner to go camping under the stars as your Valentine's Day gift to them, there's no way they won't feel absolutely adored by you. You can keep it as simple as setting up camp in your own backyard if you live somewhere that doesn't have tons of air pollution or light pollution. Living somewhere with too many lights throws a wrench in this plan.
This would be an incredibly difficult gift to pull off while living in a place like New York City, Los Angeles, or Las Vegas. In fact, seeing stars in major cities like those is pretty impossible unless you drive far enough away from all the action. People living in more remote locations such as Utah, Montana, or Alaska are in better luck when it comes to planning a camping day under the stars for the love holiday. Simply pay attention to where you live before honing in on a plan like this one.
Deep clean their favorite pair of shoes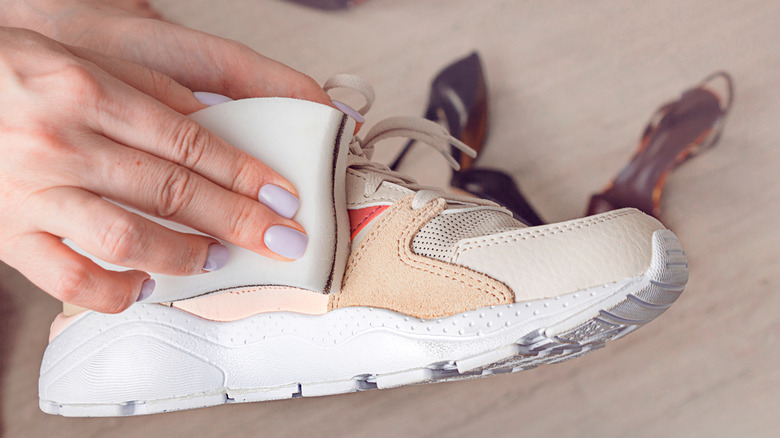 Nadezhda Akimova/Shutterstock
Having clean shoes is a really big deal to some people. If you know that you're in a relationship with someone who absolutely prioritizes the cleanliness of their shoes, offering to deep clean their favorite pair of shoes is a surefire way to win their heart. When you deep clean a pair of shoes, you start by using a stiff brush to knock any loose dirt off over a trashcan. Next, you'll want to use a flat-blade knife to dislodge any chewed-up gum, pebbles, or other small pieces of debris from the bottoms of the soles. Your next step will be removing the laces and running them through a washing machine and dryer the same way you'd wash regular clothing. 
After that, fully immerse the shoes in a deep sink or bucket filled with warm water and dishwashing liquid. You can leave the shoes soaking for about an hour before taking an old toothbrush to scrub all of the outer surfaces of the shoes. Using a combination of dishwashing liquid, baking soda, and warm water, you'll then clean out the insides of the shoes gently with your fingers. Soak the shoes in plain water, blot them off with a towel, and then allow them to air dry in sunlight until they're ready to be handed back to your partner.
Film a 'reasons why I love you' video for them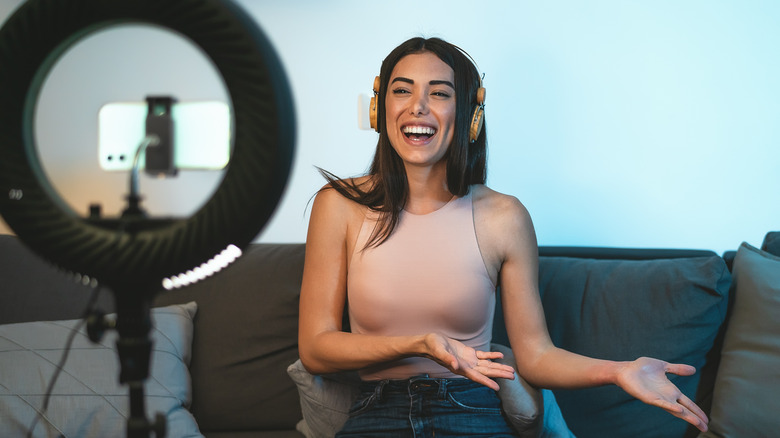 AlessandroBiascioli/Shutterstock
Regardless of how camera shy you might be, filming a video describing all the reasons why you love your partner is a very thoughtful Valentine's Day gift to give. What's even better is that this gift is completely free, as long as you already own a device to record content on. Take time to come up with a list of reasons why you genuinely love your partner. Mention how much you love their sense of humor, work ethic, hairstyle, and more. 
Once you're actually ready to make the video with your list written down, set yourself up in front of nice lighting to film high-quality content. You can find the best lighting if you sit in front of a window with natural sunlight pouring in. If you're in the mood to spruce yourself up for the video, make sure that your hair and makeup are on point before you start filming. Keep in mind that this is a video your partner will probably look back on repeatedly in the future.
Give them a handwritten letter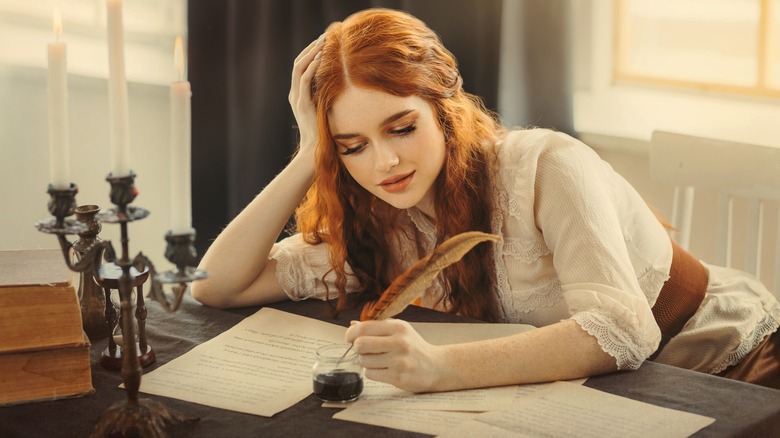 Ironika/Shutterstock
There's a lot less pressure that comes along with giving your significant other a handwritten letter compared to writing them an original poem or song. A handwritten letter doesn't have to follow any rhyme patterns since you're simply just pouring your heart out on the page. You can do this for your partner in whatever way you feel most comfortable. Your handwritten letter will be even more special if you choose to write it on colorful paper or thicker card stock. You'll want to write your letter in pen instead of pencil so the words can't be easily erased or smudged. 
You'll want to keep the letter as personal as possible by avoiding outward suggestions from movies, online searches, social media posts, and other people. Use your time writing a handwritten letter for your partner as a chance to tell them how you feel about them in the most unfiltered way. The last step you should take before handing off your handwritten letter is spritzing the page with some sweet-smelling perfume to remind your partner of your personal fragrance. As a final loving touch, adding a lipstick kiss pressed into one of the corners might suffice.
Create a video montage of your favorite memories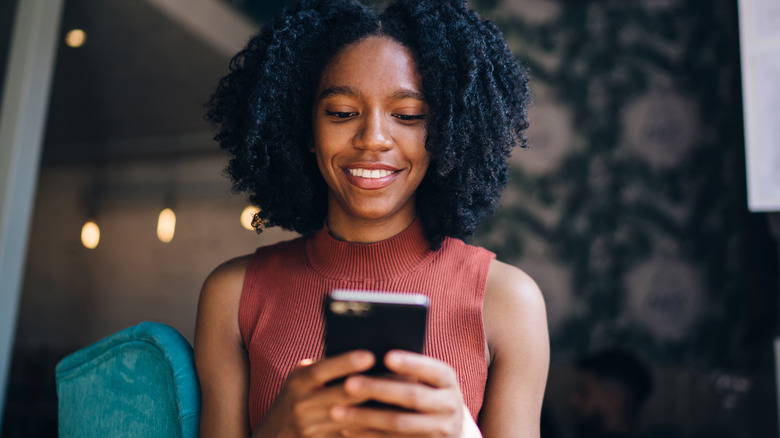 GaudiLab/Shutterstock
Putting together a video montage of your favorite memories with your partner is an incredibly thoughtful gift to give them on Valentine's Day. All you'll need to pull this off is video memories saved to your phone or laptop. Scroll through the history of video footage you have with your partner and set aside all of the cutest and sweetest moments. You can crop together the videos on any editing app that lets you put your clips together in the order you'd prefer. 
TikTok is a great social media platform to use as a video editing app since it lets you speed up or slow down clips, add text blocks, add music, alter the sounds of your voice, add moving GIFS and stickers, and more. There's a lot of fun that can be hard if you splice together a thoughtful video montage of your favorite memories with your partner for Valentine's Day. Creating a video like this gives your partner something to look back on down the line whenever they're feeling sentimental.
Enjoy a game of relationship trivia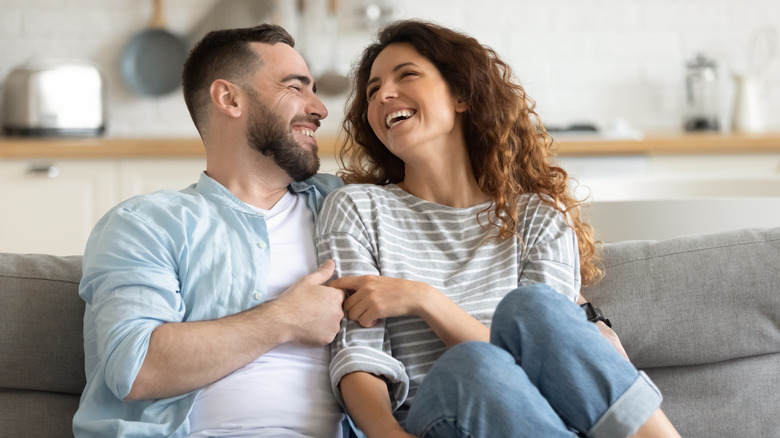 fizkes/Shutterstock
One of the more fun and enjoyable Valentine's Day gifts to offer to your partner is a game of relationship trivia. Relationship trivia gives you both the opportunity to learn about each other on a deeper level. For the most part, you and your partner will answer the questions to prove that you already know a lot about each other's interests, hobbies, and tastes. 
If you or your partner get any questions wrong, you can gently correct each other and let them know what the real answers are. You can turn this game into a fun challenge if you settle on a grand score and tally up your individual points along the way to see who reaches the grand score first. Whoever knows more about their partner will ultimately be the winner, but you'll still become more informed about things you didn't know about before as you go. 
The main things to keep in mind while playing relationship trivia are that you should both be honest, remain non-judgmental, and respect each other if someone doesn't want to answer something personal. You should also avoid assuming anything since some answers that come from your partner might thoroughly surprise you. Some potential questions might include their favorite childhood book, their favorite non-alcoholic drinks, and one thing they wish they could improve on in life.
Play a seductive game of truth or dare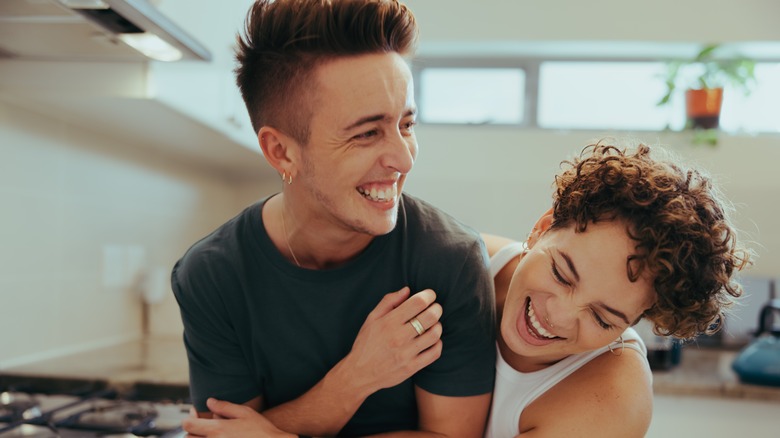 Jacob Lund/Shutterstock
It's easy to have fun with your partner if you play a seductive game of truth or dare with them on Valentine's Day. If this is the type of gift you want to offer to your partner on such a lovey-dovey holiday, you have to come prepared with some edgy, flirty, and romantic Truth or Dare questions and activities. Some of the questions you might consider asking your partner include why they broke up with the person they dated before you, the most random place they ever hooked up with someone, and the one thing, sexual or not, that they've always wanted to try.
You can ask them questions about when they knew you were "the one," who their first kiss was, or what they miss most about their ex-partner. When it comes to dares, this is where you and your significant other can really push the boundaries. You can dare your partner to sing a verse of a sexy song to you, remove a specific piece of clothing, or unbutton your top using their teeth.
Find a free concert, museum, or event in your local area to attend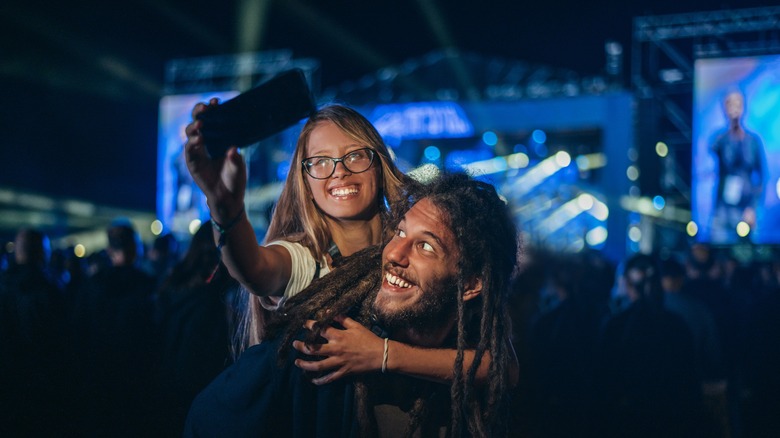 Zamrznuti tonovi/Shutterstock
Depending on where you live, there are probably tons of free events to attend on Valentine's Day. If you do a little bit of research, you'll stumble upon free concerts, museums, and other fun things to do that won't cost you a dime. We recommend checking out Meetup, a great site to explore that's filled with groups of people who have tons of different interests and hobbies. 
You and your partner can get social and join together with a group of people who love the same things you love on Valentine's Day. This is ideal because you can often meet new people together without having to spend any money. For example, there are Meetups to join for folks who love studying the Law of Attraction and Meetups for people who appreciate having deep conversations about the future of technology. Decide which free events to visit with your partner on Valentine's Day based on what they love to do in their free time.
Fill a jar with notes describing why you love them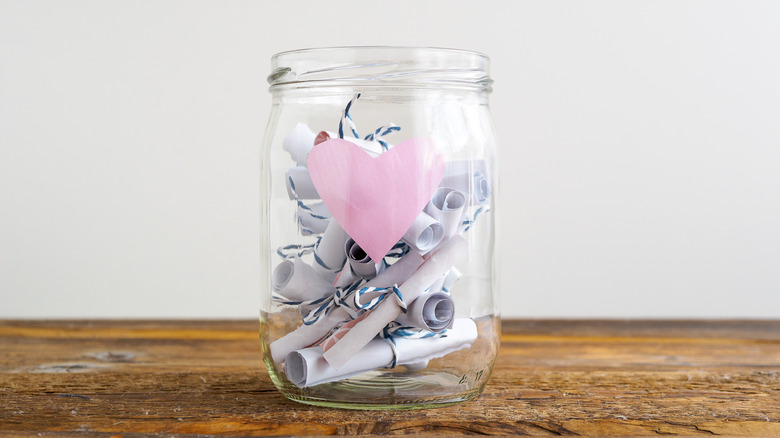 Sonja Rachbauer/Shutterstock
Filling a jar with tiny slips of paper that each describes the things you love about your partner is very similar to filming a video that describes all the things you love about them. The main difference here is that instead of having to spruce yourself up to get in front of a camera, you can simply express yourself on small pieces of paper for your partner to read at their leisure. This gift will take some patience on your part as you write down an abundance of lovey-dovey notes to make the jar look as full as possible.
A jar filled with reasons why you love your partner is a super thoughtful Valentine's Day gift due to the fact that your partner can dip their hand into the jar to pull out different reasons at any time they see fit. If they decide to read every single note in one sitting, they can do that. If they want to read one new note each morning as a way to start their day on a positive note, they can do that, too.