The Non-Negotiable Prep Steps To Take Before A Spray Tan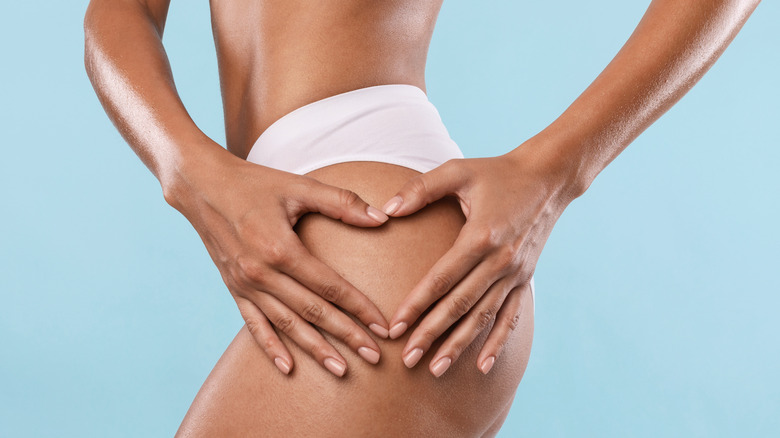 Prostock-studio/Getty Images
Getting a tan can take a gal's confidence from zero to 100. With just a few sprays of product, you're left with a glow that seems to contour your body, hide your insecurities, and complement every outfit. The only problem? When not applied properly or adequately prepared for, fake tan can result in disaster. If you don't make time for prep, then make room for streaking, patchiness, and premature fading.
Advertisement
The preparation required for a spray tan is similar to that of a self-tan, only there's a little more effort involved. A spray tan typically uses more product and stronger solutions than a DIY job uses at home. The result is often more professional, but this means that the stakes are raised, and if you don't prepare properly, there's more room for the aforementioned streaking and patchiness.
Getting ready for your spray tan should begin at least a week before your appointment, so a little thought and planning is required. But the steps themselves are easy and only require tools that you've probably already got at home. So let's get to it!
Find a decent salon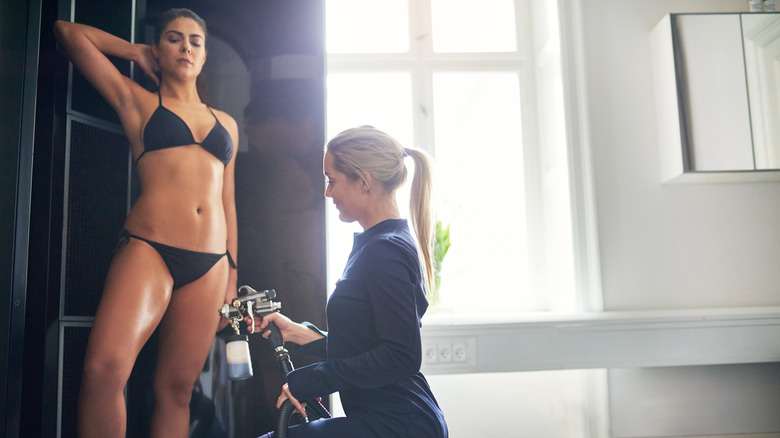 Ground Picture/Shutterstock
The first non-negotiable step in getting the perfect spray tan is finding the right person to perform this service for you. Not all spray tan salons were created equal, and going to the wrong place could leave you with an orange, streaky, tiger-like tan, no matter how well you prep.
Advertisement
Always do your research before booking somewhere new, and filter through some online reviews. The odd terrible review isn't necessarily a deal-breaker, as long as the majority of reviewers were happy with their experience. Also pay attention to how the salon responds to negative reviews online, as this will tell you what their customer service would be like in the event that you're not happy with your tan.
It can also help to ask friends for their recommendations on the best place to get a tan near you. If you are trying somewhere new that has limited reviews and no seal of approval from the people you know, it's best to book a trial tan some time before you actually need one. Never risk visiting an unknown salon for the first time the day before an important event.
Advertisement
Remove tan residue from your skin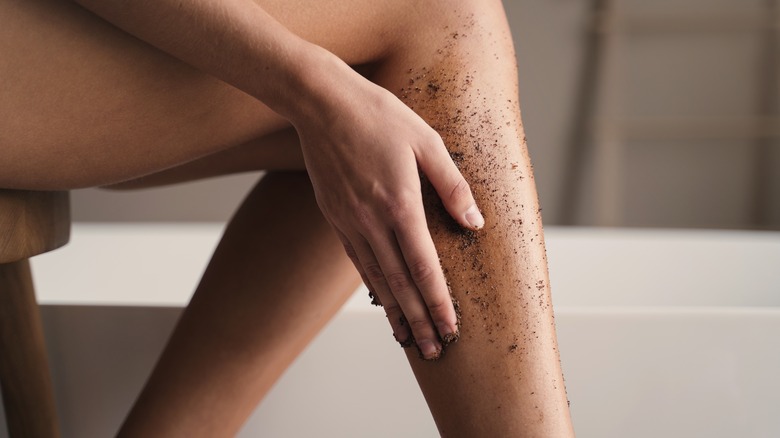 Damir Khabirov/Shutterstock
To ensure a flawless spray tan, you must remove all traces of old tan leftover on your body. Some tan formulas, whether they're from an old spray tan or from a self-tanning product, can stay on the skin for weeks. So it's important to scrub them off and make sure your skin has no residue.
Advertisement
Many companies that sell self-tanner also sell products to remove tans, and Cosmetify has come up with a very handy list of trusted tan erasers that actually work. However, a few sessions with your regular body scrub should be enough to do the trick, except in the case of especially hard-to-remove tans.
If you are having a hard time getting rid of your leftover tan, you could also opt for natural solutions to remove it. MasterClass recommends using olive or coconut oil with a loofah to gently rub away any color, along with a paste made from a few tablespoons of baking soda and a few drops of lemon juice.
Removing old tanner can take a toll on your skin, so make sure you do this well before your spay tan. Ideally, you want your skin to be tan-free at least four or five days before you get sprayed.
Advertisement
Moisturise dry parts in the days before your tan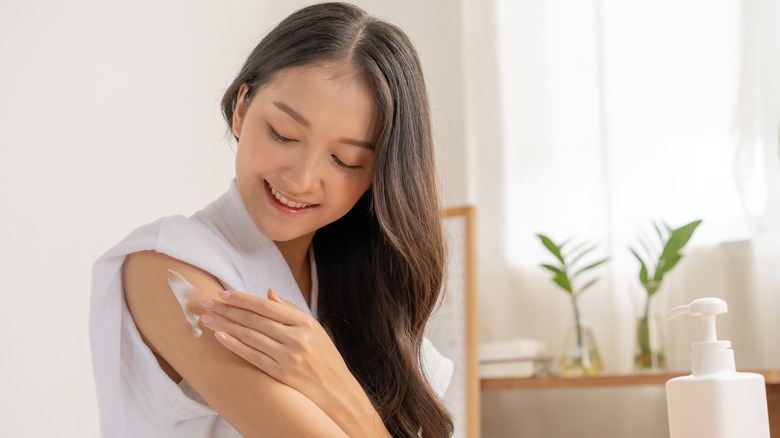 Kmpzzz/Shutterstock
When your skin is too dry or flaky, tan products can cling to areas in clumps, resulting in uneven color. The knees and elbows are notorious for having darker patches of tan due to dryness, but this can happen anywhere on the body where you're particularly dry. Some beauticians will apply a barrier cream to problem areas, or ask you to apply it to places where your body gets dry. But you can't count on this happening. It's better to tackle the dry areas head on.
Advertisement
The natural solution to dry skin is body moisturizer. However, you shouldn't arrive to your spray tan appointment with anything on your skin (more on that later). So you have to be organized and moisturize your skin sufficiently in the days leading up to your tan. Start applying regular moisturizer at least a week before, or even longer if you have dry or dehydrated skin. Pay special attention to your knees, elbows, and other body parts that you're concerned about.
At least 24 hours before your appointment, stop applying moisturizer. If you've been consistent with it in the lead up to your tan, your skin should be adequately hydrated.
Put a hold on your skincare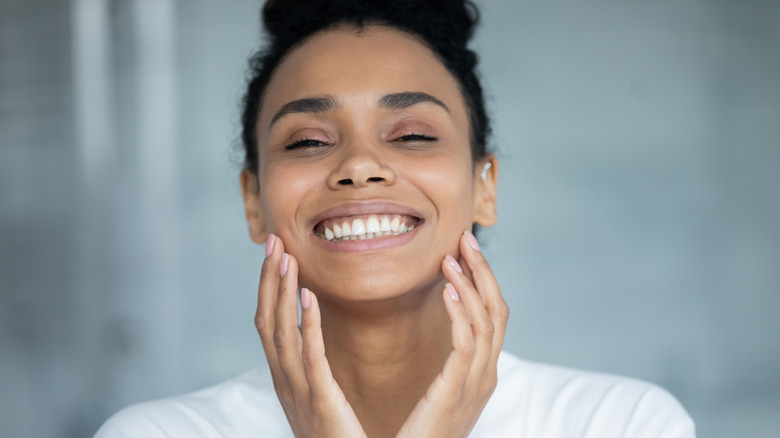 fizkes/Shutterstock
When it comes to your beauty routine, you may have to make a few adjustments in the lead up to your spray tan appointment. If you use products with retinoids or hydroxy acids, stop using these at least 24 hours before your appointment. As Good Housekeeping explains, these ingredients can promote cell turnover. While this is normally a good thing, it can actually lead to your tan fading prematurely.
Advertisement
Depending on the spray tan formula and your aftercare routine, a typical spray tan lasts anywhere from five to 10 days. When you're paying for a professional service and putting time and energy into adequate preparation, you definitely want to get the most out of your tan and avoid it fading too quickly!
Skincare products that don't have these powerful ingredients are generally okay up to 12 hours before your spray tan. If you are going to use them within that time frame, you'll need to wash them off before your appointment.
Organize your hair removal in advance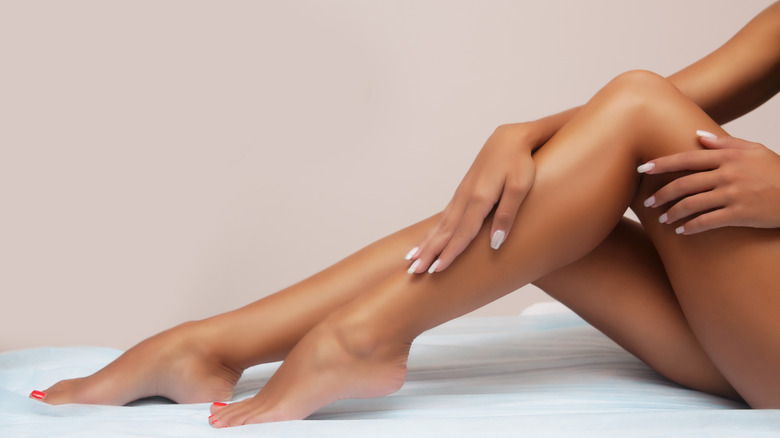 Alina Troeva/Shutterstock
If you choose to remove your body hair, you'll have to factor this in when planning for your spray tan. Obviously, you don't want to leave hair removal until after your tan, as both waxing and shaving will ruin your tan and skin must be tan-free for laser hair removal (via Urbana). At the same time, you don't want to shave or wax right before your appointment, as the combination of hair removal and spray tanning can irritate the skin. Additionally, tanning products don't adhere as effectively to skin that's been freshly shaven.
Advertisement
It's best to wax one to two days before your spray tan so your skin has plenty of time to recover, and shave around 24 hours before. If you have to shave earlier, do it no more than four hours before your appointment (via Be Bronze Studio). Make sure to have a cold shower after shaving so you can close the pores in your skin.
Exfoliate your skin in the lead up to your appointment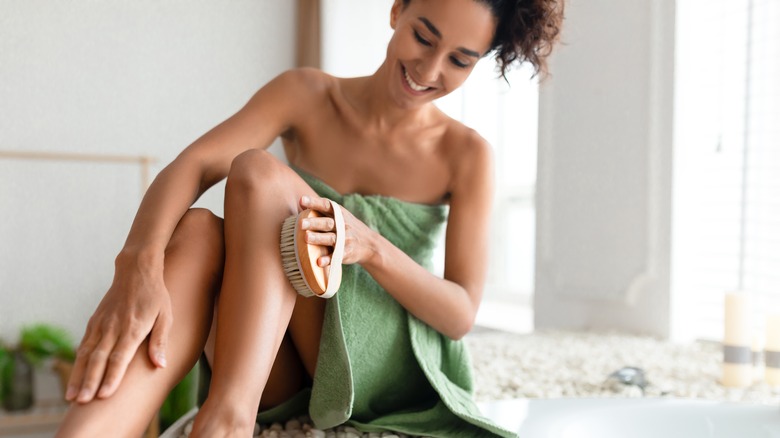 Prostock-studio/Shutterstock
Exfoliating is another important part of spray tan prep that will leave your skin soft and increase the chances of a streak-free finish. This is the removal of dead skin cells, which can cause an uneven tan if left in excess on your skin. It's especially vital to exfoliate areas that tend to suffer from dryness, such as the knees, ankles, elbows, and upper arms.
Advertisement
Like moisturizing, exfoliating should be done in the lead up to your appointment, rather than on the day that you go in. You shouldn't exfoliate directly before a tan, as St. Tropez skin finish expert Sophie Evans explained to PureWow that this can keep your tan from developing properly: "You want your skin to be at its most neutral pH level. If you just exfoliated, your skin's pH will be lower and your tan may not develop as deeply."
To exfoliate, simply rub a body scrub over your skin and gently rinse away with water. You could also use a loofah or exfoliating glove. Two to three times a week should be ample exfoliation if you're being consistent in the lead up to your appointment, but it won't hurt to add in a few more exfoliating sessions before your spray tan. Just avoid rubbing too hard so you don't irritate your skin, and stop exfoliating at least eight hours before your appointment.
Advertisement
Exercise before you go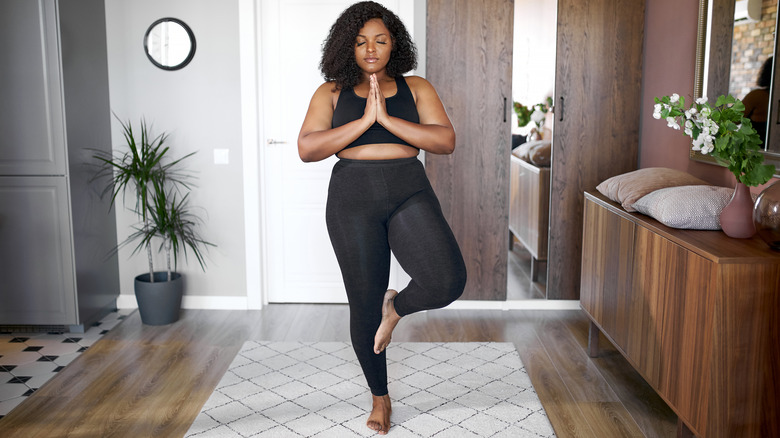 Roman Chazov/Shutterstock
The aftercare required to maintain a spray tan is just as important as the preparation involved. Until your tan dries (and even for some hours after), you won't be able to exercise like you may be used to. Anything that will cause you to sweat will lead to a streaky tan, so it's crucial to keep working out or swimming to a minimum. Therefore, you should fit in exercise before your appointment.
Advertisement
If you have an event on that you're getting a spray tan before, it's possible that you have an incredibly busy day filled with appointments and can't fit in your normal exercise at all. That's totally okay, as sometimes beauty and socializing get in the way of our regular routines. But if exercise is something that you feel you need in your day, either for the physical or mental benefits, it's worth rearranging your schedule to get it in before your appointment.
Make sure your skin is totally clean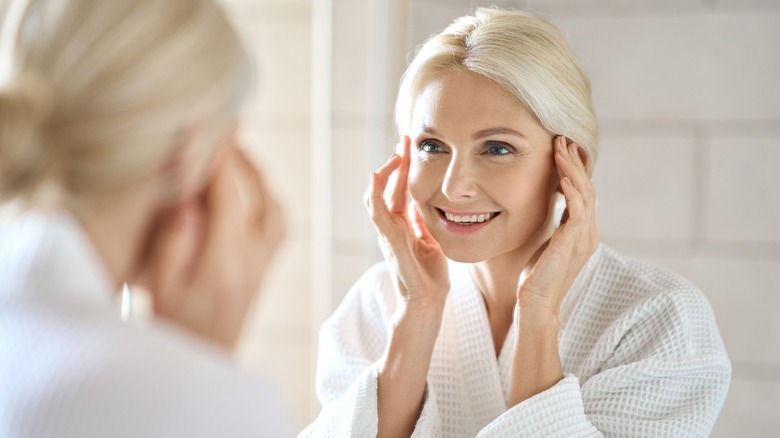 Ground Picture/Shutterstock
The most important thing to remember before a spray tan is that you should be completely clean when you walk into the room. Any oils, lotions, or SPF left on your skin can result in a uneven tan, so cleaning yourself is crucial. The beautician may give you barrier cream to put on, but that's at their discretion. To be safe, always assume that they don't want your skin tainted with anything.
Advertisement
This also means that you shouldn't be wearing any deodorant to your appointment, especially because the underarms can be a problematic place as far as patchiness goes. For obvious reasons, getting a spray tan can be tricky in summer, but it's important to avoid putting anything on your body.
Shower just before your appointment to be sure that there's nothing on your skin. And if you can stand it, opt for a cold shower to close your pores.
Plan a loose-fitting outfit for afterwards
o.przybysz/Shutterstock
When it comes to not ruining your perfect spray tan, it's important to wear the right kind of outfit. The minutes after your tan, when the product is still drying, are the most risky for causing streaking, so packing the right change of clothes is essential.
Advertisement
To avoid messing up your tan, you'll need loose-fitting, breathable clothes. They can't be too tight and rub on your tan, but they should also cover you adequately. If you're wearing shorts, for example, and you sit on a leather couch, your skin may stick to the leather, causing patchiness and streaking. So it's actually better to wear long pants and long sleeves that protect your tan from the environment, as long as they don't cling to your skin.
It goes without saying that you should choose clothes that you don't mind staining and are comfortable to stay in for at least 12 hours after your tan. When your tan is completely dry, you can lose the baggy clothes and revel in your sun-kissed glow. 
Advertisement