15 Body Products That Smell Like Summer To Carry You Through The Cooler Months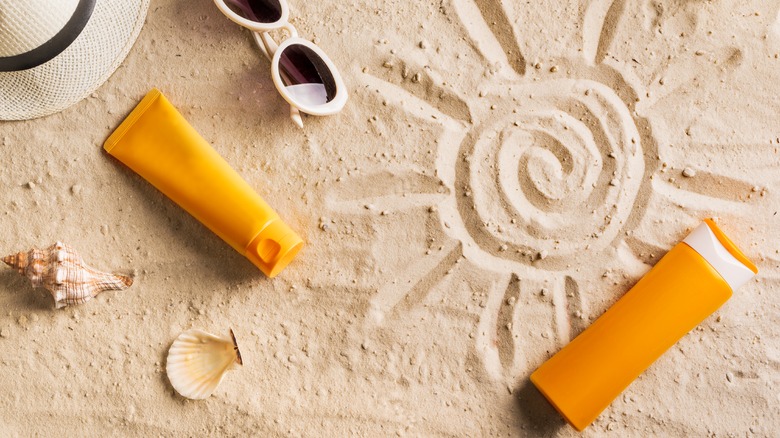 Oksana Mizina/Shutterstock
We may receive a commission on purchases made from links.
During dreadful winter months, you may struggle to find the motivation to get moving and stay productive. Wishing for the sun to stay out long enough to warm your frozen body may seem futile, but there is a way to bring doses of summer into your life as you wait for the real thing. Each morning or night you could be showering with a beachy body wash, scrubbing your legs with a tropical sugar scrub, and lathering your skin afterward with a paradise-scented body cream. That's right, don't wait until the middle of June to buy all your summertime scents. You can enjoy them just as well, if not more, by getting them during the colder seasons. 
It's normal to feel glum by how the weather looks and feels right now. As many as 10 million men and women in the U.S. struggle with Seasonal Affective Disorder during this time. Though a few body products won't cure the disorder, they could bring some relief from feelings of sadness and sluggishness.
If you're still using the same soap you got bored with back around the holidays, switch it up with some products that will transport you to the beach, pool, outdoor bar, summer farmers' market, or that perfect grassy spot you found for your last picnic before it got too cold. No matter what kind of summer scenery you are picturing right now, there is a body product out there that can pull you out of your freezing mood.
How we selected products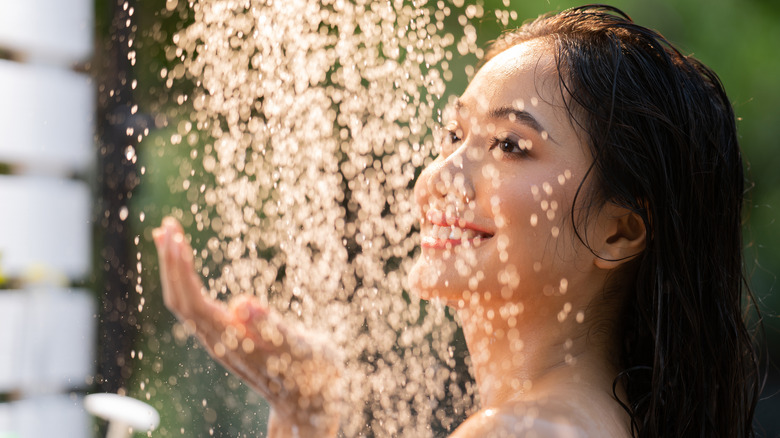 Torwaistudio/Shutterstock
Selecting the best body products with an uplifting summer scent required scanning the internet, including social media sites, brand websites, and in-the-know blogs, for the most-loved products with the sweet scents of coconut, mango, papaya, hibiscus, and banana, and the fresh scents of citrus, sea salt, and lime. There is no shortage of incredible perfumes, body washes, and lotions with summery packaging that claims to engulf you in the smell of paradise and transport you to a warm cabana on a tropical island with a piña colada in one hand and a margarita in the other. Sadly, only a select few metaphorically deliver on this promise.
With some vigilant detective work in the comment sections of brand posts and the reviews on many websites, we believe that we have found the most-favored body products that have a long-lasting heavenly smell. Many of them also have other benefits such as exfoliating, brightening, and hydrating the body, which is coincidentally three things that your dry winter skin needs. Take a look for yourself and relive your favorite summer memories with one or more of these acclaimed body products.
Best drugstore-priced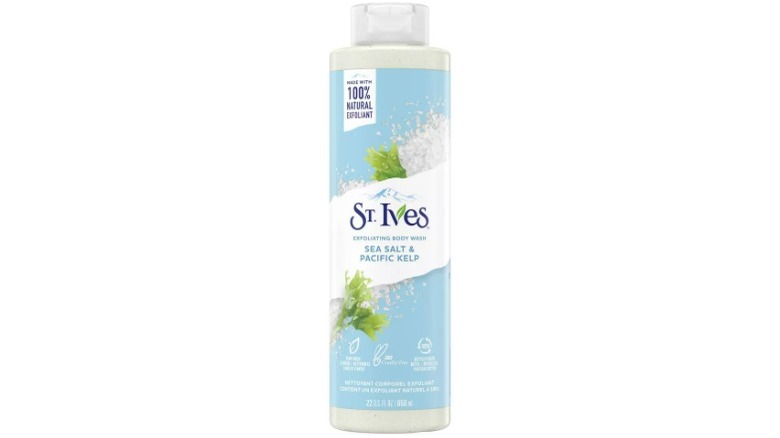 Target
The St. Ives Sea Salt & Pacific Kelp Exfoliating Body Wash is among the most cost-effective and useful products to help you get out of a winter funk while also pampering your skin with exactly what it needs. Made with 100% natural sea salt, Pacific kelp extracts, and walnut shell powder, the body wash cleans, exfoliates, and hydrates all at once with ingredients that don't harm our skin, animals, or the planet.
Purchase St. Ives Sea Salt & Pacific Kelp Plant-Based Exfoliating Body Wash at Target for approximately $4.
Best splurge
Summer experiences are different for everyone. Some prefer beaches and salty skin, others like to be poolside with a fruity drink, and a few enjoy sipping summer wine on their patios with their favorite people. No matter which you identify with, Bastide's Figue d'Ete Hand & Body Lotion will remind you of fond summertime memories with its intoxicating yet classic scent. Even with the hefty price tag, the fig-scented lotion is worth trying.
Purchase Bastide Figue d'Ete Hand & Body Lotion at Anthropologie for $45.
Best body spray
Sol de Janeiro steals the spotlight with their Cheirosa Tan Lines Fragrance Mist. Described as soft, sultry, and paradise-rich by Sol de Janeiro, their irresistible body spray harnesses the scents of black amber plum, blackcurrant, vanilla, and jasmine flowers. You can use the spray all over your hair and body just as you come out of the shower to liven up your mood and transport you a few months ahead to the peak of summer.
Purchase Sol de Janeiro Cheirosa Tan Lines Hair & Body Fragrance Mist at Sol de Janeiro for $38.
Best perfume
Armani Beauty's My Way Floral Eau de Parfum is a scent that you don't want to miss out on. The perfume boasts key notes of petitgrain, tuberose, and vanilla for a fresh and sweet smell that stays with you. As mentioned by a Sephora reviewer, "This is becoming a favorite summertime scent of mine. .. [It is] a very sophisticated scent with sweet notes of flowers. This mixed beautifully with my body chemistry and is now going to be a permanent addition to my collection."
Purchase Armani Beauty My Way Floral Eau de Parfum at Sephora for $120.
Best shower gel
Not much can beat the Bath & Body Works At The Beach Shower Gel when you are missing the sand and sun. With a hint of toasted coconut and some floral notes, this shower gel, which is formulated with vitamin E and aloe, will quickly boost your mood and hopefully help you forget how cold it is outside. According to a Bath and Body Works customer, "It smells just like the beach, but not too overpowering."
Purchase Bath & Body Works At The Beach Shower Gel at Bath & Body Works for approximately $14.
Best body scrub
The Tree Hut brand has been dominating body scrubs for some time now. Beauty influencers and loyal Tree Hut customers enjoy filling their bathrooms with dozens of jars to cycle daily. The Papaya Paradise Sugar Body Scrub is a favorite of many. The sweet and fruity scent of coconut, peach, melon, and papaya smells like a tropical paradise. Additionally, the product really works. Ulta Beauty reviews suggest that it's wonderfully exfoliating as it creates super soft skin and leaves a long-lasting scent.
Purchase Tree Hut Papaya Paradise Sugar Body Scrub at Ulta Beauty for approximately $11.
Best sunscreen
Yes, even in the winter, you should be wearing sunscreen. And Vacation's Classic Lotion SPF 30 is among your best options. This sunscreen is described as the world's best-smelling sunscreen, and that's not an exaggeration. Developed in conjunction with fragrance brand ARQUISTE Parfumeur, the scent combines notes of coconut, banana, pool water, pool toys, and lycra, to evoke all of summer's best memories.
Purchase Vacation Classic Lotion SPF 30 at Vacation for $18.
Best body lotion
A summer products list would not be complete without Sol de Janeiro's Bom Dia Bright Body Cream. This body lotion, which is formulated with vitamin C, is best described by this Sephora review, which states, "This particular scent I use in the spray, lotion, and body wash. The lotion is the best of them all though. My skin is perfect after using it and the scent lasts. It's a beautiful, creamy formula that works best on my lower legs and bum!"
Purchase Sol de Janeiro Bom Dia Bright Body Cream with Vitamin C at Sephora for $48.
Best body bar
Soap bars are in for 2023. Compared to body wash and shower gel, they're much more sustainable as they use less plastic and less water to produce. Ethique's Uplifting Sweet Orange & Vanilla Soap Bar is our top pick for its summery sweet citrus scent that reminds us of eating an orange creamsicle in the heat of July. If that's your jam, you can wash off the sticky popsicle juice with this lovely soap bar that is long-lasting and not drying according to Ethique's reviews.
Ethique Uplifting Sweet Orange & Vanilla Soap Bar at Ethique for $6.
Best body serum
Serums aren't just for your face, they can have a wonderful effect on your body as well. If you're looking to brighten and soften the skin on your legs, arms, stomach, or bum, the Hawaiian Beauty Water from Honua Hawaiian Skincare may be right for you. It has received consistently high reviews that praise the product for its combination of papaya enzymes, hibiscus, and Hawaiian sugar that come together to leave you with softer and more luminous skin.
Purchase Hawaiian Beauty Water at Honua Hawaiian Skincare for $24.
Best hand cream
The Sea Kissed Ahava Mineral Hand Cream is a long-time favorite for many hand cream users. Not only does it smell like the salty air at the beach mixed with some floral notes, but it uses some amazing ingredients like witch hazel and water from the Dead Sea. One Ulta Beauty reviewer says, "This hand cream is incredible. It's rich and moisturizing with the most heavenly scent! I will be continuing to purchase it as I use it nightly to keep my hands at their best!"
Purchase Ahava Mineral Hand Cream Sea Kissed at Ulta Beauty for $36.
Best hand soap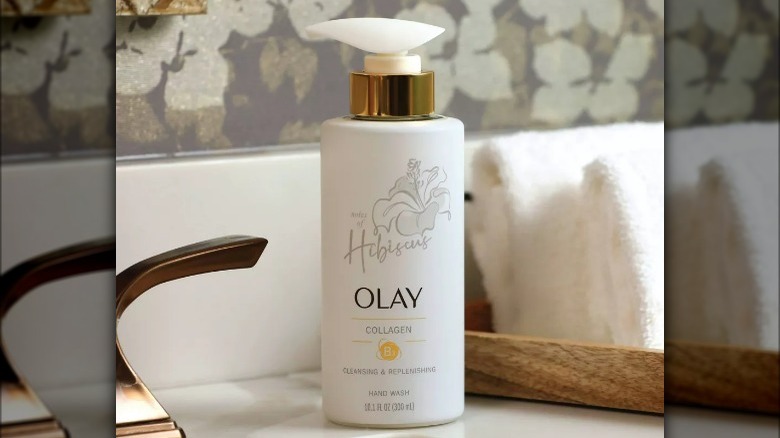 Target
Purchasing a summer-scented hand soap is one great way to remind yourself of beaches, picnics, and good times with friends during these dreary post-holiday months of winter. Among our favorite options is the Notes of Hibiscus Olay Cleansing & Replenishing Liquid Hand Soap. Because it contains collagen and vitamin B3, it moisturizes your hands, leaving them looking younger, and surrounds you with the calming and heavenly scent of hibiscus.
Purchase Notes of Hibiscus Olay Cleansing & Replenishing Liquid Hand Soap at Target for approximately $5.
Best cuticle oil
Many of us are too familiar with brittle nails, dry cuticles, and other signs of our manicures not lasting as long in the winter. Bliss Kiss Nail Oil Cuticle Pens can help. The lesser-known brand has gained some traction on social media recently, and its product has proved to soothe dehydrated cuticles and promote healthy nail growth. As a bonus, the pens come in a few different versions including a crisp scent that smells fruity and citrusy like summer, as indicated by a few Amazon reviews.
Purchase Bliss Kiss Nail Oil Cuticle Pens at Amazon for approximately $27.
Best shave oil
Tree Hut's Bare Coconut Lime Moisturizing Shave Oil has quickly become a holy grail for many. The scent is reminiscent of sipping a pool-side marg while you're slathered in tanning oil. A Target reviewer describes it best saying, "The coconut lime scent smells like summertime and is so refreshing. I love how close of a shave I get after using it and it takes care of all the extra dry skin! I have sensitive skin and it doesn't irritate at all."
Purchase Tree Hut Bare Coconut Lime Moisturizing Shave Oil at Target for approximately $12.
Best deodorant
Even making the simple switch to a sweet and tropical-scented deodorant can help you feel more summery. Native's Coconut & Vanilla Deodorant, which is free of aluminum, phthalates, and talc, will surprise you with its long-lasting scent that keeps you smelling fresh. According to one Native customer, you can't go wrong with this product, they said, "I love all the different scents that I purchased. ... My favorite is coconut and vanilla. These scents make you feel happy and who doesn't want to smell amazing?"
Purchase Native Deodorant Coconut & Vanilla at Native for $13.