Too Much Tension During Your At-Home Blowout Might Be Making It Fall Flat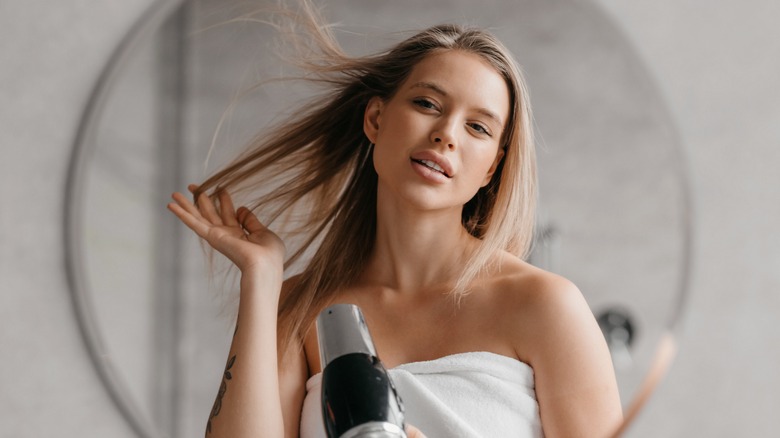 Prostock-studio/Shutterstock
When you aim to give yourself a salon-worthy blowout at home, you likely want to end up with hair that feels soft and looks healthy, shiny, and full. In order to get that kind of result, you can take certain steps and put specific tips to good use while also avoiding unfortunate hair-dulling mistakes.
Advertisement
For instance, you should focus on one area of your hair at a time before moving on to the next instead of attempting to do everything all at once. At the same time, you don't want to blast too much air directly at your hair for an extended period which is why you should make sure that you're constantly moving the hairdryer while also keeping it two or three inches away from your head. You can also add a product or two to your hair. To do this, again tackle smaller sections of your hair and pull one up before letting it fall as you apply your preferred product. Or, as hairstylist Jimmy Paul explained to Allure, "[S]pray your entire head with dry shampoo and scrunch; the result is hair with lift and a lovely seemingly no-product finish."
Advertisement
While this should leave you with gorgeously voluminous hair, there are a couple of other things that you should keep in mind if you don't want to end up with a mane that's less than luscious. In fact, if you make a few common mistakes, then your hair may end up falling flat.
You need some tension but many people use too much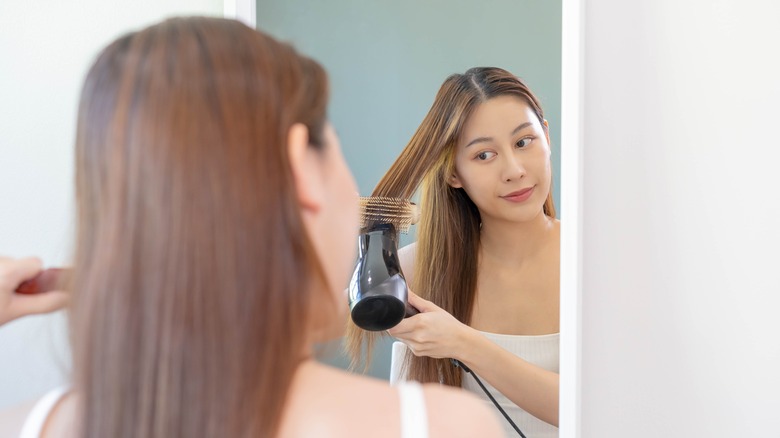 Kmpzzz/Shutterstock
Indulge us for a minute if you will and imagine yourself in the middle of performing a blowout in the comfort of your own home. You might see yourself combing through your hair with either a brush or your fingers to extend the strands with the aim of keeping them as straight and tight as possible while drying and styling. Although that's not necessarily the wrong thing to do, you might be taking it a bit too far which can sadly ruin your overall look. Hairdresser Wes Sharpton, who is the lead stylist and brand educator for Hairstory, told MindBodyGreen, "When blow drying, the most common mistake is too much tension."
Advertisement
"You need enough tension to get hair smooth. But most people use too much and end up pulling all the elasticity out of the hair, which makes it lifeless without any bounce," Sharpton explained. Instead, you'll want to use the same technique that you usually do, but when you extend each section of hair, be a little more gentle and don't pull too tightly or hard.
At the same time, there's another key mistake that you'll want to avoid so that you don't go to all of this work while giving yourself a blowout at home just to find yourself with dreadfully dull hair.
Too much heat will also leave your hair flat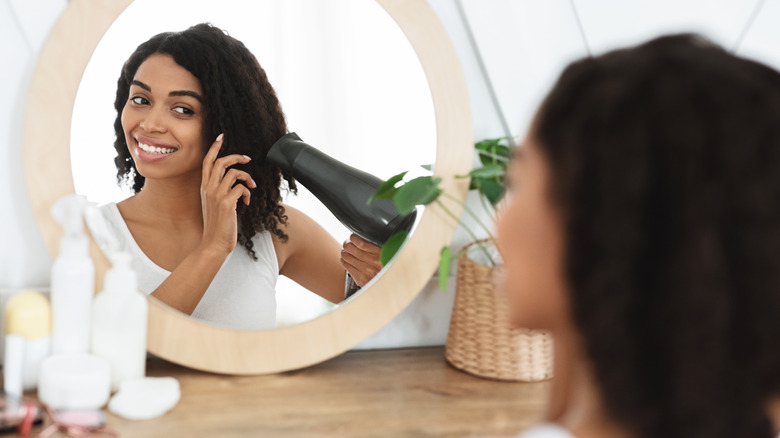 Prostock-studio/Shutterstock
When it's time to dry your hair and give it a good blowout, you might assume that you need to use a certain level of heat to get the job done properly. However, it turns out that if things get too hot, then you might end up with hair that's limp and lifeless. Hairstylist Adir Abergel filled Allure in on the reason, saying, "If you use high heat, you'll overstretch the hair, and you won't get any bounce out of it."
Advertisement
That's why you'll want to keep things on the lower side when it comes to the heat from your blowdryer. In fact, Abergel suggests opting for a setting that's in the medium range and on the cooler side. This apparently seals in the cuticles of your strands, gives your hair an enviable feel, and leaves it flowing easily.
Beyond that, Abergel has another recommendation for avoiding flat hair and achieving the kind of fabulously full style that you likely desire, saying, "If you have finer hair that needs more volume, use a traditional blow dryer, not ionic." Finally, in order to give your hair some additional body during your blowout, hairstylist Kristen Shaw told Allure, "The larger the round brush, the larger your waves will be and the more volume you can get." Large voluminous waves? Sounds good to us!
Advertisement