A New Lawsuit Claims Olaplex Can Cause Hair And Scalp Damage. Here's What We Know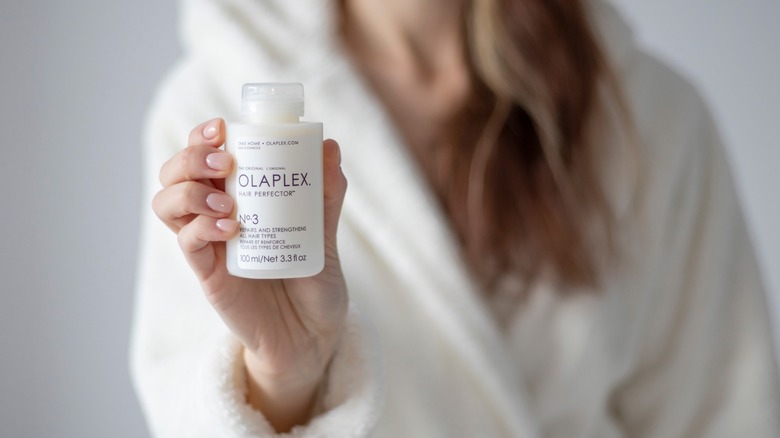 Zaruna/Shutterstock
You've probably heard of Olaplex, the bond-building haircare system that's captured the hearts of fans across the globe. In fact, it may even be in your beauty arsenal. After all, it's one of the top-selling haircare lines in the United States and the United Kingdom. Many healthy hair enthusiasts credit Olaplex with restoring length and luster to their dull, damaged tresses. According to Olaplex, its No. 3 Hair Perfector treatment is so popular that one bottle is sold "every 3.5 seconds." Plus, even Kim Kardashian herself is a huge Olaplex devotee. "I like to do a treatment called Olaplex. When your hair is really damaged, if you sleep in that, it really works. I notice a huge difference," Kardashian told a 2015 MasterClass audience in an Instagram post.
However, unsettling news rocked the beauty world last Thursday when a federal lawsuit was filed against the makers of Olaplex haircare. According to the suit's plaintiffs, the haircare giant's products not only failed to deliver results but actually caused significant damage to their hair. So what's the latest news on the lawsuit against Olaplex, and what does it mean for you?
The unfolding lawsuit against Olaplex Holdings Inc.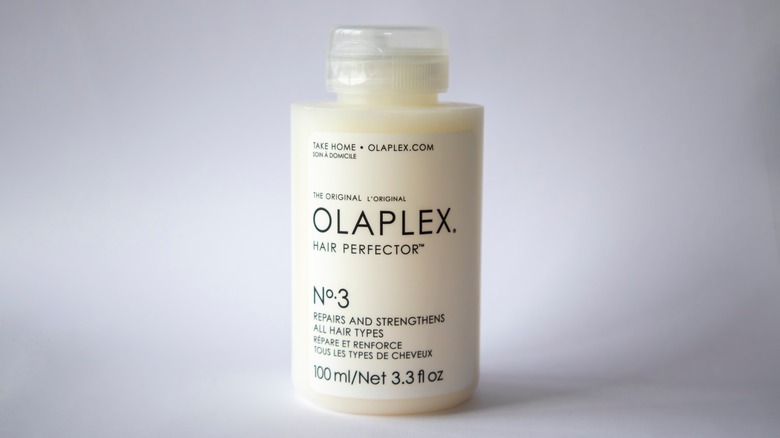 Zaruna/Shutterstock
On February 9, 28 women filed suit against the makers of Olaplex haircare products, Olaplex Holdings, and Cosway Co., Inc., in California's Central District federal court. The 61-page suit alleges that Olaplex hair products, from No. 0 to No. 9, had caused numerous side effects in the affected users, from scalp sores and bald patches to severely damaged hair. "Far from repairing and protecting hair from damage, the products have instead left plaintiffs' hair dry, brittle, frizzy, and dull. The hair has split and broken, causing it to look unkept," the lawsuit states. 
In response, Olaplex denied the claims. "[Olaplex] products do not cause hair loss or hair breakage. We have full confidence and believe in the safety and efficacy of our products, which are thoroughly tested in-house and by independent third-party laboratories," an Olaplex spokesperson said (via The Miami Herald).
The recent lawsuit against Olaplex isn't the first time the haircare company has faced controversy. As early as 2018, some Olaplex users observed breakage and hair loss from using the bond-building products. Although the brand refunded several customers, the damage had been done. "I'm not touching them again," former Olaplex user Becky Barnhouse told Insider at the time. One Facebook group, Olaplex Hair Loss/Hair Damage?, has over 6,000 members who claim they've experienced ongoing side effects from using Olaplex products. In 2022, the haircare line removed a questionable fragrance additive known as lilial after European regulators banned the ingredient following reproductive health concerns.
What Olaplex users should do next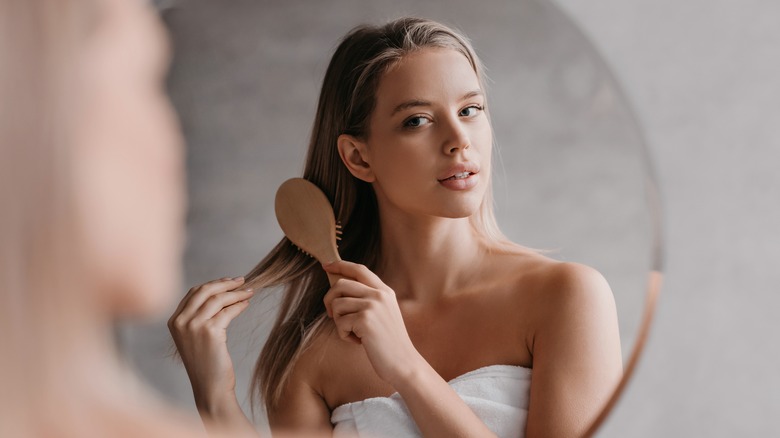 Prostock-studio/Shutterstock
Despite the troubling allegations outlined in the recent Olaplex lawsuit, experts say there's little cause for concern if you currently use Olaplex or similar bond-boosting products with no ill effects. Although hair care users sometimes attribute new signs of damage to product usage, the problem can be far more complex. "Hair damage and breakage could be caused by strong chemicals such as those professionally done — think bleaching and excessive styling and heating," Dr. Sheila Farhang told E! News. Chemically-treated hair can react differently to treatments or products with active ingredients, so it's essential to perform a patch test when starting a new routine. Furthermore, physiological factors, like stress, illness, and fluctuating hormones, can affect hair growth and breakage.
Still, if you're seeing signs of hair loss or scalp damage and you currently use Olaplex, it may be worth discussing with your dermatologist or hairdresser. You could be allergic to certain ingredients in Olaplex, or they could be interacting negatively with other items in your hair care routine. Although the side effects associated with Olaplex products are considered relatively rare, you should stop using the line immediately if you notice any adverse effects.