Cold-Weather Hot Girl Walks Can Be Just As Glamorous As Summer Ones With These Tips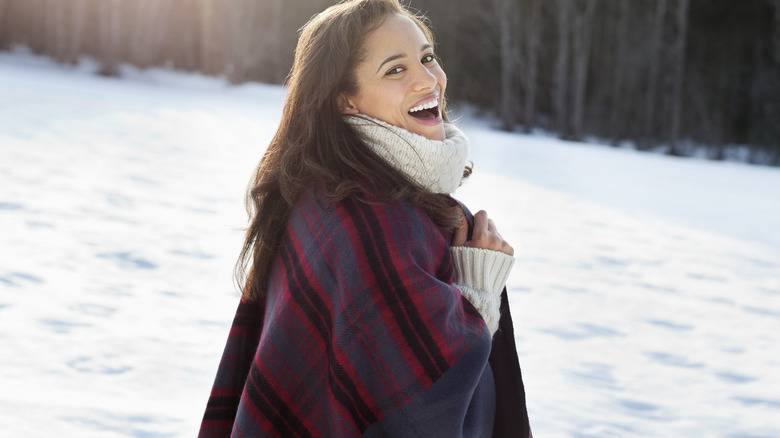 Sam Edwards/Getty Images
Anyone who has visited TikTok knows or has seen the term "hot girl walk" at one point. This phrase is all about embracing self-care and giving your body what it needs. Mia Lind, the creator of the hot girl walk, explains on TikTok that this trend is about taking yourself on a walk to improve your physical and mental health. According to Lind's explanation, your hot girl walk can be as long as you want, from several miles to the store around the corner. The crucial aspect of the trend is to go over three points. During your walk, you should focus on things you are grateful for, your goals, and how hot you are. This trend is about focusing on yourself, your self-esteem, and your self-confidence.
Because this trend peaked during the warmer months, it was easy to pick up steam. Nothing made it easier to focus on yourself than being outside during the warm weather. However, continuing this trend during the colder months can be more challenging, as bitterly cold wind and low temperatures aren't the most inviting environment for walking outside. But in a truly hot girl-walk mindset, there's no keeping us from a positive wellness trend. All you need to continue your hot girl walk in the winter is a few extra tips to make this new trend a year-round occurrence.
Winter workout fit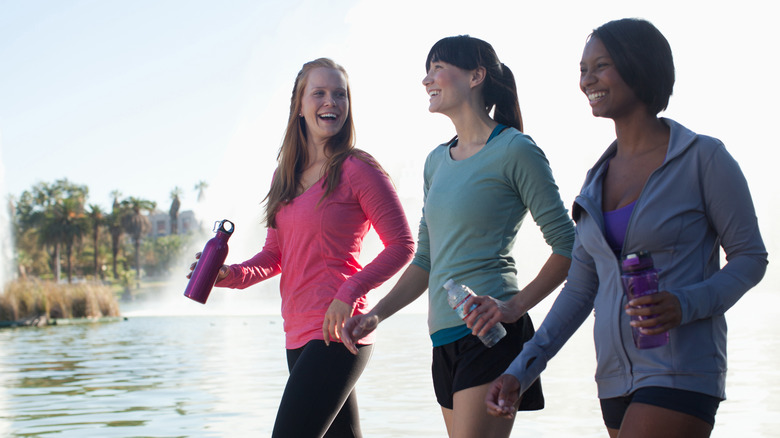 Sam Edwards/Getty Images
The first thing you need to change during the colder months is your activewear. While you can wear anything during your hot girl walks that makes you feel confident and comfortable, you need to keep warm. Stick with compressed leggings or tops for a thermal layer that will keep you warm during your walks. When picking out your activewear, ensure you have moisture-wicking clothes that will help with any sweat. Depending on how long of a walk you plan to take, ensure that you can still easily move around. For your top, go for a clothing piece that can cover more of your skin. Reach for long-sleeve tops and turtlenecks that can cover more of your skin without the need for extra layers.
Depending on the cold weather you'll face, you may want to add another layer to your hot girl winter walk outfit. Windbreakers or active jackets are the perfect outerwear piece if you want an extra warm layer. Furthermore, you should consider adding gloves or mittens to keep your hands warm while on your walk. Part of the hot girl walk routine is listening to podcasts or music that motivates you, so ensure you're using gloves that are optimized for touchscreens. Another key component to your walking outfit is comfortable footwear. Since all you need to do is walk, you can go as simple or detailed with your active footwear as you want.
Hot girl walk must-have accessories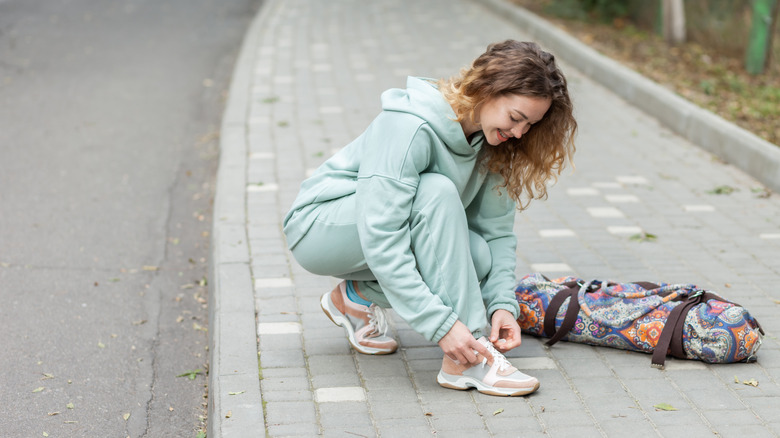 Vladimir Sukhachev/Shutterstock
Having a proper outfit is one thing but a hot girl walk requires other accessories to keep you motivated. Apart from warm clothing, you also want to ensure to keep your face warm to prevent any type of windburn, which takes the cold girl trend too far. The best accessories to have on hand during your hot girl walk are headbands or beanies. Covering up your face will help you keep warm and comfortable and let you focus on the three questions rather than how cold you are getting. Depending on the goals for your hot girl walks, you can also choose to add a weighted vest or ankle weights for a more challenging walk.
Other accessories you carry will help make your walk more bearable and fun. To get into the mindset of your favorite icon, you'll need to listen to your favorite music or podcast. For that reason, you need to carry wireless headphones or earbuds that you can easily remove for your own safety. A carrying pouch or belt bag can help make your walk easier as it removes the need to hand carry anything you need for your walk. There's nothing less motivating for hot girl walks than having to struggle to carry all of your things. Beverage holders can also ensure you keep hydrated on your walk without the need of holding a drink the entire time.
Self-care skincare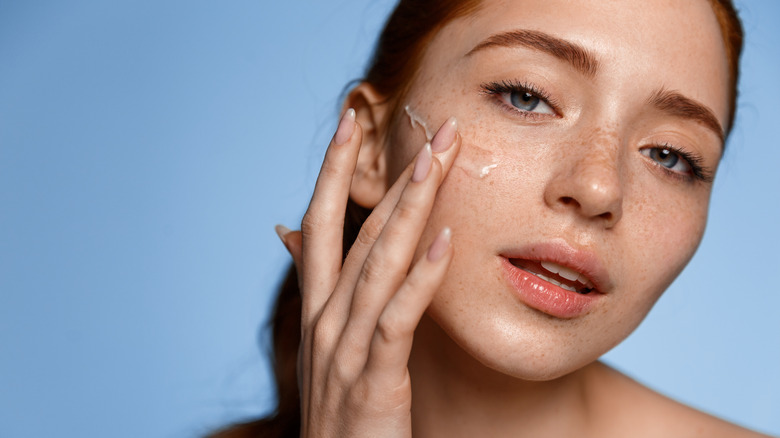 Lyubov Levitskaya/Shutterstock
The purpose of your hot girl walks is to help you feel better mentally and physically. While colder weather often means you won't see the sun directly, it doesn't mean the harmful rays isn't there. Centers for Disease Control and Prevention explains that UVB rays can you can get sun damage year-round, even if it's cloudy or windy outside. Although you can't see the sun, the clouds don't block all of the UV rays, making it possible to get sunburned if you're outside long enough. For that reason, ensure you have sunscreen during your walks. Since you need to reapply your sunscreen every two hours, be sure to have it on hand for reapplication.
Another skin concern during the winter is a dry skin barrier. During cold, dry weather, your skin barrier can become weakened and vulnerable to the elements. Maintaining your skin barrier keeps your skin moisturized and healthy during the winter. Since your hot girl walks are about self-care from the inside out, you want to take care of your skin for your own self-care. Always apply barrier cream or a hydrating moisturizer before your walks, to ensure that you keep your skin hydrated. If you sweat during your walks, follow up with a cleansing routine to wash away any dirt and sweat to fully stay clean and refreshed.
Hot girls stay safe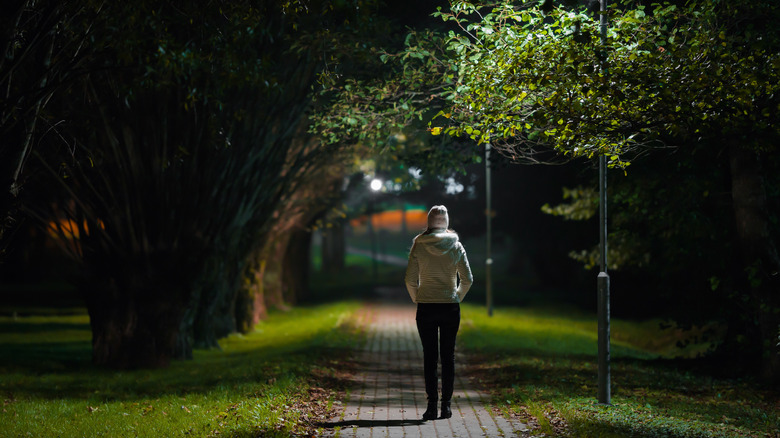 FotoDuets/Shutterstock
One of the most vital things to keep in mind during your hot girl walks is your safety. Regardless of the time of the year, safety always should be a focus before heading out on your walk. Going out for a walk during the winter months means having to deal with longer nights and darker skies. To keep safe during these gloomier months, always ensure you have a reflective piece of clothing or LED lights so vehicles can still see you even if it is dark outside. Keeping yourself visible to other walkers and vehicles will help make you noticeable to others.
Another tool you can have at your disposal to help with your safety is a personal safety alarm. These devices are less complex than other safety tools like pepper sprays. Personal safety alarms are devices that you can pull to let loose a loud siren noise. This will let others know that you're in distress and need help. Other devices, like your phone, are helpful because you can easily send your location to friends or family at all times. Several apps will let you contact the police with just the touch of a button. When going out on a hot girl walk, be aware of your surroundings and location; only thing you should have to worry about during your hot girl walks is how you're going to achieve your goals.