Spilling The Tea On 16 Celebrity Skincare Lines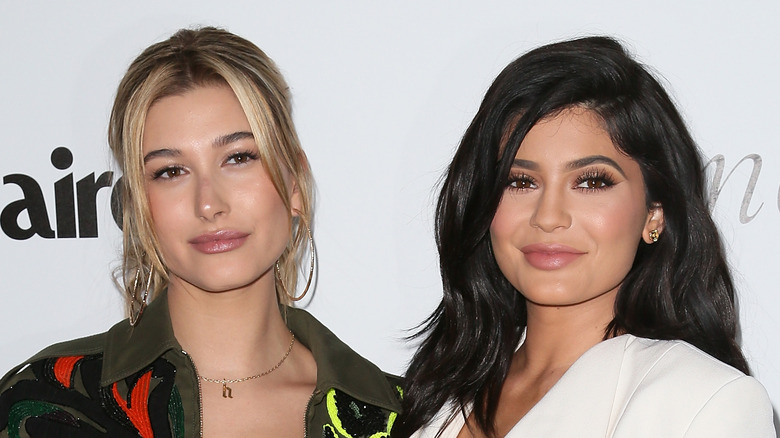 David Livingston/Getty Images
When you think of your favorite celebrities some of the things you admire about them probably revolve around their outward appearance and beauty. Celebrities always tend to have flawless skin, gorgeous hair, and a natural glow. They're constantly being filmed, photographed, and captured for the world to see so they want to look their best. Whether your favorite celebrities are well-known for epic movies and TV shows, unforgettably catchy songs on the radio, or their amazing fashion sense on social media, being able to have skin that looks just like their skin might be one of your goals. 
Celebrity skincare lines have been on the rise over the last few years with a multitude of wonderful products. These business-savvy stars understand that their fans want to achieve their level of allure and beauty. If you're looking for cleansers and moisturizers, you're bound to find a celebrity skincare line that offers those products. If you're looking for anti-aging serum and creams, you're in luck in that department as well. Here's the tea on some of the most noteworthy celebrity skincare lines that have come to be recently — including the biggest scandals they've faced so far.
Hailey Bieber's Rhode Skin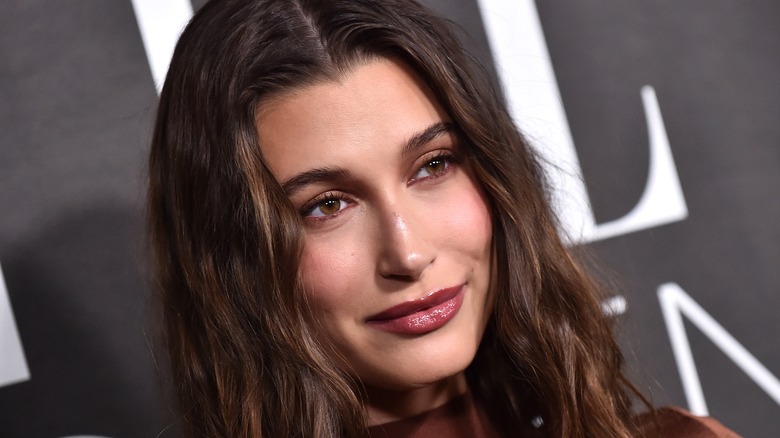 DFree/Shutterstock
Before Hailey Bieber became the wife of pop icon Justin Bieber, she was known as Hailey Baldwin. She spent time modeling on runways and posing for photo shoots while hanging out with some of the most elite individuals in the Hollywood industry. Over the years, Hailey has been widely recognized for her stunning good looks and smoldering gaze. Her decision to launch Rhode Skin came at the perfect time as a business move for the model. 
Hailey launched Rhode Skin in June 2022. She advertised the brand as being millennial-friendly with tons of products meant to appeal to women in their 20s and 30s. Since Hailey herself is 26, the consumers she's selling to can easily relate when it comes to approaching the end of one youthful chapter with each passing year. The only major tea that's been spilled regarding Rhode Skin so far is the fact that Hailey was sued for a trademark infringement a few days after launching. A fashion brand of the same name tried to take her down. 
They launched in 2014, which means they were definitely around longer. The judge in charge of the case ultimately ruled in Hailey's favor, though. The fact that she has such influence paired with massive star-power might be part of the reason why she was able to come out on top. "Rhode" also happens to be Hailey's official middle name, which means her rights to the name for her skincare brand are still totally solid. Some of the popular items you can purchase from Rhode Skin include peptide glazing fluid, barrier restore cream, and peptide lip treatment.
Kylie Jenner's Kylie Skin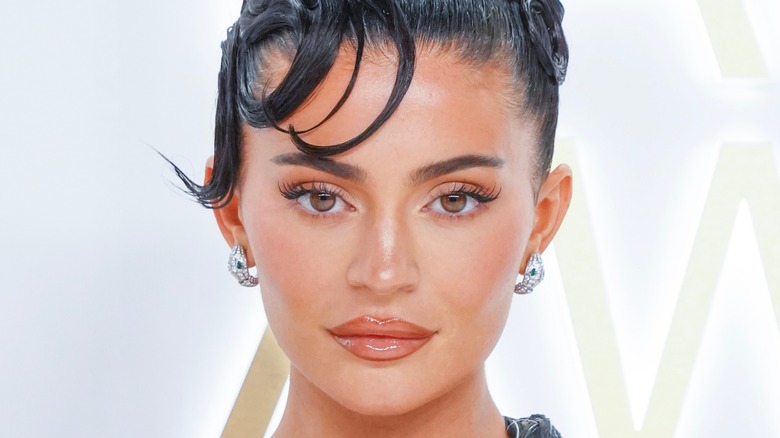 lev radin/Shutterstock
From growing up on her family's hit reality TV show "Keeping Up With the Kardashians," to becoming one of the most followed young women on Instagram, Kylie Jenner has certainly made a name for herself in the entertainment industry. She launched Kylie Cosmetics first, followed by Kylie Skin a few years later. While Kylie Cosmetics focuses solely on different cosmetics and makeup items, Kylie Skin is all about true skincare and skin health. Kylie Cosmetics has been around since 2014, with Kylie Skin being added on in 2019.
Spilling the tea on Kylie Skin begins with the release of her damaging walnut scrub. Beauty gurus have collectively canceled a separate brand called Saint Ive's due to the fact that the harsh particles in their apricot scrub lead to premature wrinkles, unexpected acne, and torn up facial skin. When Kylie let everyone know she was selling walnut scrub on her Kylie Skin site, there was tons of backlash from her fans. The tiny walnut pieces in her facial scrub have been dubbed dangerous and detrimental if you care about protecting your skin from harm. 
Despite all of the negative responses Kylie received about her walnut face scrub, the product is still for sale at her official Kylie Skin website for $22. The bio for the product claims that it exfoliates and renews your skin by gently removing any dead skin cells. The same way Kylie refused to release an apology statement about her failed Kylie Swim bikinis, she hasn't said a single word about the walnut scrub her brand continues selling. 
Rihanna's Fenty Skin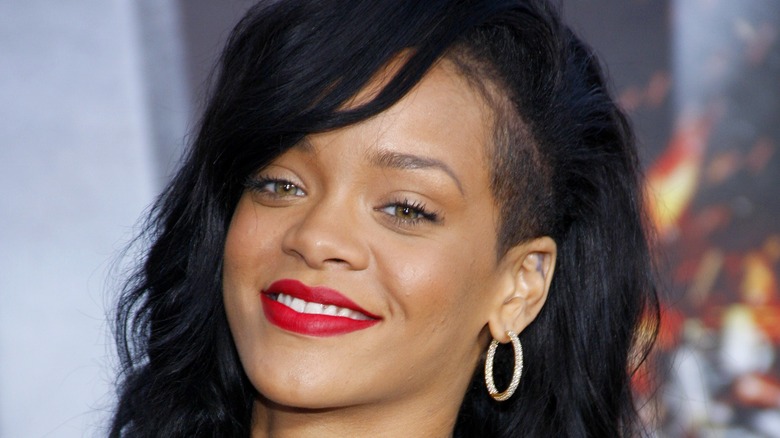 Tinseltown/Shutterstock
Rihanna popped up in the music industry in 2005 with her debut single "Pon de Replay." The release of that song was a life-changing moment in pop culture history. Years later, Rihanna decided she wanted to focus on money-making businesses instead of getting back into the studio. Her next album, "Anti," dropped in 2016. She headlined the 2023 Super Bowl halftime show, but the only new songs she released have been singles for "Black Panther: Wakanda Forever" without a full album of additional tracks to match. 
The time Rihanna has spent focused on her businesses instead of her music career has served her well, though. After all, she's now part of the billionaire club. Fenty Skin is her skincare line filled with products her loyal customers can purchase. In terms of any hot tea to be spilled about Fenty Skin, the one major scandal the brand has faced so far is that it's been accused of using an ingredient called Phenoxyethanol in some of the products. According to 1 Source, Phenoxyethanol isn't considered earth-conscious, it's been known to cause allergic reactions, and it's also caused other potential health issues including eye irritation. 
As of now, it appears that the Fenty Skin products with this ingredient are still on the market. Since the ingredient can cause damage to your organs after long-term use, plenty of Rihanna's fans are hopeful that she'll change the formula recipes sometime soon. Some of her best-selling products include face moisturizer, cleanser, toner, face masks, face treatments, lip care, eye cream, and sun care. You can also find moisturizer, cleanser, and gentle scrubs that are designed specifically to be used on your body.
Kim Kardashian's SKKN By Kim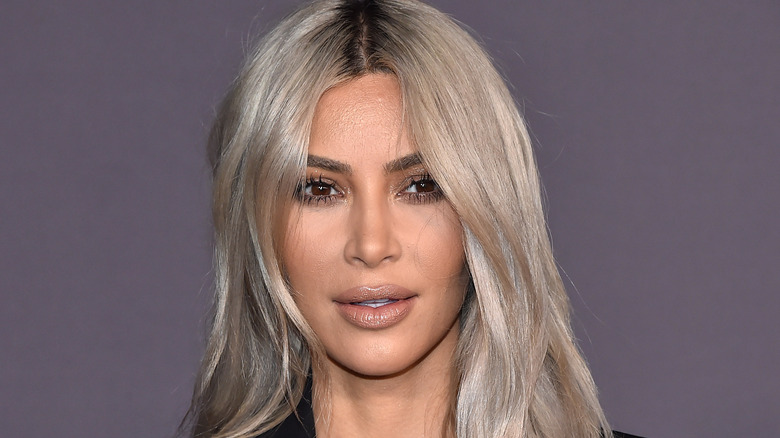 DFree/Shutterstock
Kim Kardashian is no stranger to scandal after her long-standing career in the limelight. One thing Kim does best is making sure that her many businesses are thriving. There's a reason the reality TV star turned business mogul is a billionaire. SKKN by Kim has been around since June 2022, following in the footsteps of KKW Beauty. KKW Beauty is a line filled with makeup and cosmetics, while SKKN focuses on helping you maintain a fresh and clear complexion. 
The tea that's been spilled about SKKN is that Kim was accused of copying Lori Harvey's skincare line, which happens to have a very similar name. SKN by Lori Harvey has been around since October 2021. A lot of fans on social media were annoyed at the lack of originality Kim brought to the table when coming up with a name for her skincare brand. The main difference is that Kim added an extra K, but both brands end in each celebrity's name.
To make matters worse, Kim also ended up facing a lawsuit against a Brooklyn-based cosmetics company who've owned the rights to SKKN+ since 2018. In the end, the case was totally dismissed leaving Kim victorious. Some of the popular items you can purchase from the SKKN By Kim line include cleanser, toner, hyaluronic acid serum, vitamin C serum, and eye cream. You'll also find face cream, oil drops, and night oil for sale. In addition to the skincare products, refills of each product and vanity bags to keep everything in one place are also available. Kim's products are sold in neutral shades that give a very mature and calming vibe.
Jennifer Lopez's JLo Beauty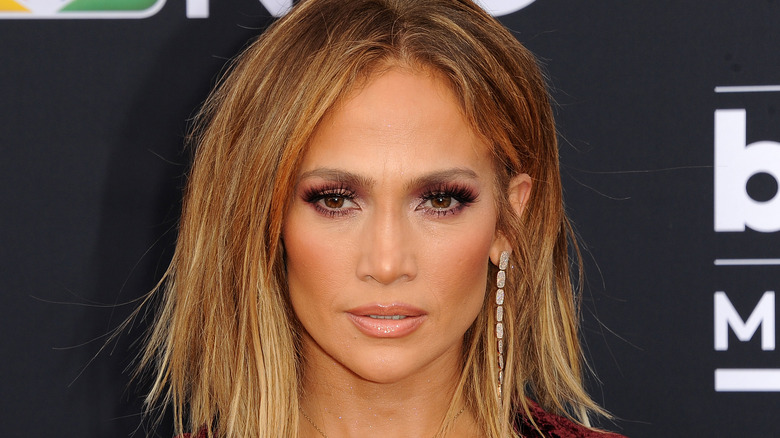 Tinseltown/Shutterstock
The career of Jennifer Lopez has been impressive to keep up with over the years. From music to movies, Jennifer has proven to be one of the most remarkable celebrities to make a name for herself in the Hollywood industry. When she launched a skincare line, it was a sensible decision since she's so widely recognized for having a youthful appearance and gorgeous glow over the age of 50. 
The tea that was spilled about her skincare line, JLo Beauty, revolves around an Instagram troll who made claims that JLo's youthfulness is merely a sign of consistent Botox injections instead of JLo Beauty actual skincare products. An Instagram user commented on a now-deleted post saying, "But can I just mention that [your] brows and forehead doesn't move at all when you talk or try to express ... you definitely have Botox. And tons of it. And it's all good. Just saying." JLo replied in the classiest way ever writing, "LOL that's just my face! ... For the 500 millionth time ... I have never done Botox or any injectables or surgery! Just sayin." 
The "Selena" actress continued with her clapback saying, "Get you some JLO BEAUTY and feel beautiful in your own skin! Try spending your time being more positive, kind and uplifting of others and don't spend your time trying to bring others down. That will keep you youthful and beautiful too!!" JLo stood up for herself while also promoting her skincare line in one fell swoop. Some of the products you can purchase from her line include gel cream, cleanser, hydrating cream, glow serum, and AHA + BHA resurfacer.
Gwyneth Paltrow's Goop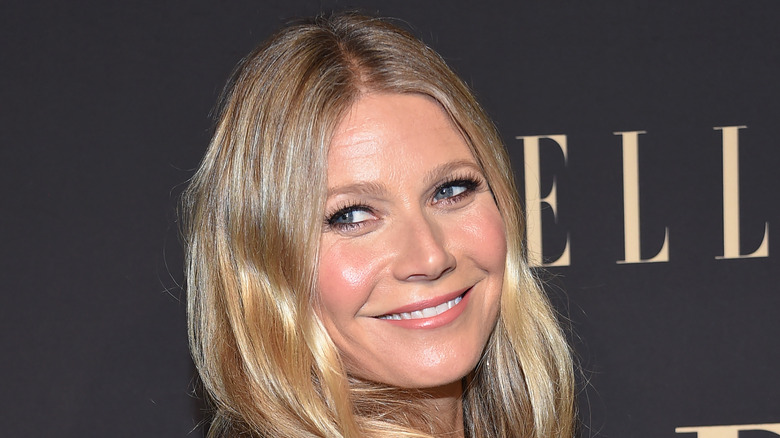 DFree/Shutterstock
Gwyneth Paltrow's career has been something to admire since she started appearing in movies during the late 80s. When she launched a lifestyle brand called Goop, the concept started plenty of conversations. The official website for her products focuses on beauty, fashion, wellness, and more. Goop's certainly faced some controversial moments since its launch in 2008.  
The most notable moment of tea spillage came to the surface in April 2022. More than 140 of her employees quit their jobs starting in 2019 for various reasons including difficult leadership, burnout, and low pay. A little more tea was spilled right before that in March 2022, when Goop's former chief contact officer, Elise Loehnen, vented about the company's cleanse culture in a public video on her Instagram. She talked about the way doing cleanses with other employees at the company made her feel like she was punishing and chastising herself. When you do a cleanse, you essentially clear everything in your system by limiting the foods and liquids you consume for a rigid period of time. 
After parting ways with Goop, she vowed to stop cleansing in all forms and to stop weighing herself entirely. It's unclear whether or not Gwyneth has made any changes with her company's culture in terms of paying her employees higher salaries, taking action to help them avoid burnout, or putting the whole cleanse thing to an end. What we do know is that some of the top skincare products you can purchase from her line include the de-puffing eye masks, restore balm, exfoliating sleep masks, renewal cleanser, and firming vegan collagen prep serums.
Jessica Alba's Honest Beauty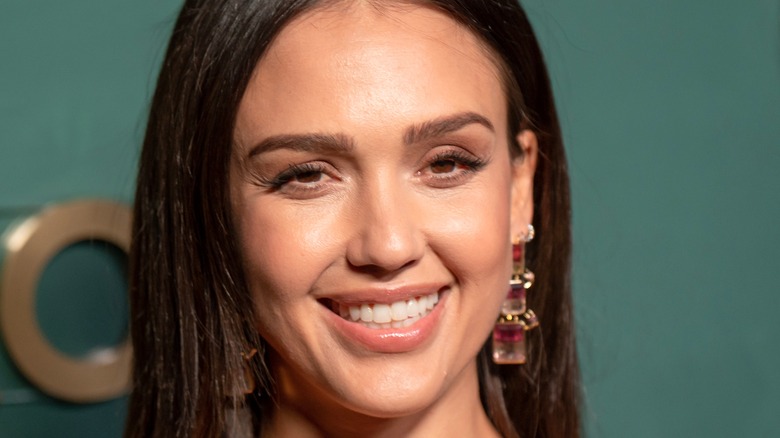 lev radin/Shutterstock
Some of the biggest roles you probably recognize Jessica Alba from include "Fantastic Four," "Honey," "Into the Blue," and "Good Luck Chuck." Her career as an actress says a lot about how talented she is in front of cameras. It turns out that Jessica is also brilliant when it comes to making smart business moves off-screen. She launched Honest beauty in 2012 as a clean and conscious lifestyle brand for people interested in purchasing skincare, cosmetics, household products, and more. 
In 2016, Honest Beauty dealt with a major scandal and plenty of tea was undoubtedly spilled. The Organic Consumers Association sued Honest Beauty for using SLS in one of the products. Honest Beauty was also sued for advertising a separate product as organic even though it contained 11 synthetic substances. Honest Beauty didn't take the lawsuits lying down by pointing out their certified USDA Organic status, and FDA approval publicly.
To this date, Honest Beauty hasn't admitted to any wrongdoing. Still, the brand was negatively impacted by the bad press — at least for a little while. In 2023, Honest Beauty is alive and thriving with tons of products of available on the official website. You'll find loads of cleansers, moisturizers, serums, masks, mists, eye creams, acne clearing items, and different tools you might need for your skincare routine. You can shop for products based on the benefits they'll bring your skin including every day essentials, hydration, sensitivity, acne clearing, and daily defense.
Miranda Kerr's Kora Organics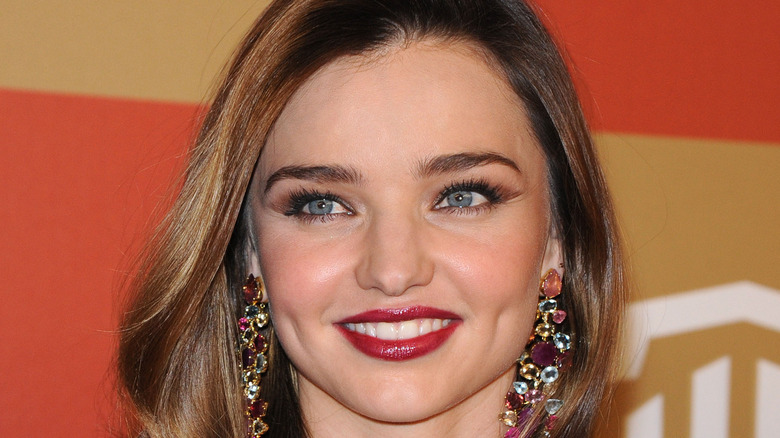 DFree/Shutterstock
Professional modeling has been the name of the game for Australian beauty Miranda Kerr since the late 90s. She used to make headlines for her marriage with Orlando bloom, but she has since re-married Evan Spiegel. He's the man in charge of Snapchat, an app that produces tons of face altering filters for social media users to try every day. Some of the beauty products for Miranda's skincare line exist to help your skin look fabulous and flawless without needing any of those filters. 
Miranda launched Kora Organics in 2009 as one of the trailblazing and pioneering brands for the "clean beauty" movement. The tea spilled in 2019 (by an animal rights activist) for Miranda after Kora Organics was slammed for using goats milk. Graphic footage of goats experiencing animal cruelty came to the surface, leaving many people feeling very upset, uncomfortable, and sad. According to Pedestrian, Kora Organics released a statement in response that said, "Kora Organics would never condone this appalling treatment of animals. We have no knowledge of our suppliers ever engaging in this behavior. Nevertheless, our only product that contained goat milk is a soap and it has been discontinued." 
As of now, Miranda's company is strictly cruelty-free and nearly entirely vegan. The only reason it's not fully vegan is that two of the products have beeswax in their ingredient lists. Miranda made sure that her company didn't continue doing anything harmful or damaging to innocent animals as soon as she was informed of the reality. Some of her top-notch products include turmeric glow moisturizer, glow face oil, algae lightweight moisturizer, and mushroom gentle cleansing oil.
Alicia Keys's Keys Soulcare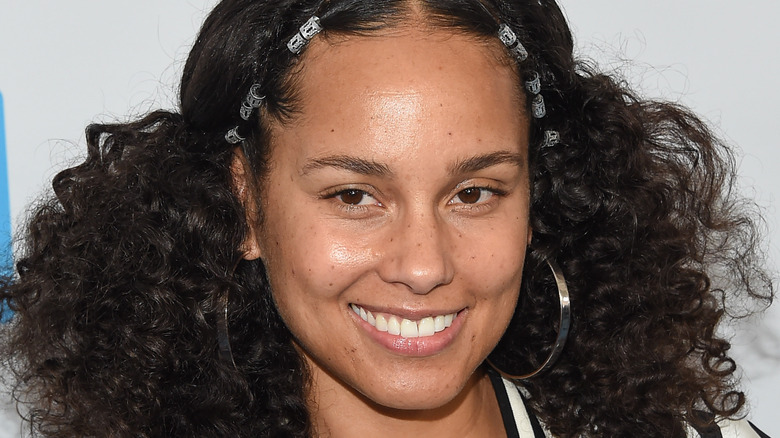 DFree/Shutterstock
Alicia Keys is known for having one of the most powerful singing voices. Some of her most memorable songs include "Girl on Fire," "No One," "Fallin'," and "If I Ain't Got You." One of the most impressive things about Alicia is her gorgeous song lyrics somehow flawlessly match her beautiful outward appearance. Her decision to launch a skincare line makes a lot of sense since she spent years of her life attending red carpet events and Hollywood parties without wearing any makeup at all. She showed up looking fabulous while she was completely fresh faced for years! 
If anyone can attest to having perfectly glowing skin without using anything to cover up their imperfections, it's Alicia. She launched Keys Soulcare, which is filled with products that help people feel beautiful. Some of the noteworthy items to consider include golden cleanser with manuka honey, skin transformation cream with bakuchiol, comforting balm with camellia seed oil, and reviving aura mist with rose of jericho. There isn't any spilled tea to cover in regards to Keys Soulcare. The company hasn't faced major scandals other than a few negative reviews from beauty influencers on social media here and there.
Brad Pitt's Le Domaine Skincare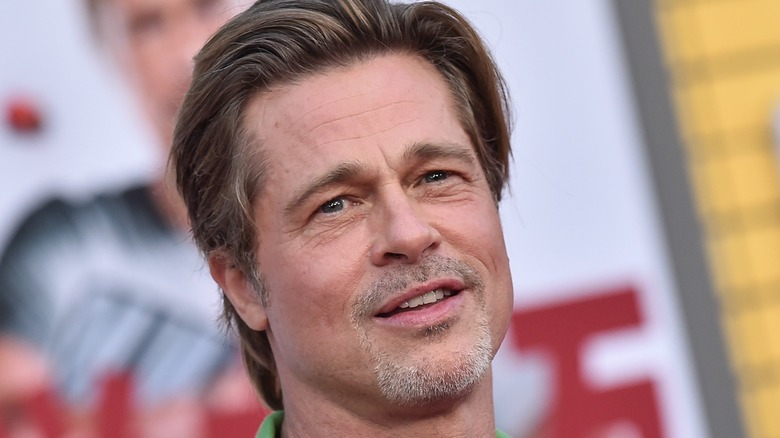 DFree/Shutterstock
Brad Pitt wasn't going to let women totally dominate the skincare realm forever. He launched a skincare brand called Le Domaine Skincare in 2022, as a genderless line geared toward anyone who cares about improving their skin's overall health. Unfortunately for Brad, he faced backlash pretty quickly following the initial launch. A group of beauty founders linked up to pen an open letter to Brad laying out all of the problems they have with his brand. 
Lionne, Carra, Highr, Ohana, and Elth (the beauty founders) all had quite a bit to say. In an Instagram post via High's Nobiety, they wrote, "Let us preface this letter by saying we love you. Over the past few years, it seems that every celebrity feels like they can waltz into the industry that we have worked in our whole careers and gain the awareness overnight that we are so fighting for..." The letter continued explaining that celebrities don't necessarily have any real experience in the skincare industry. 
They talked about how famous people will inevitably receive sales and recognition due to their celebrity status, making the market an unfair place to be if you don't have any clout. A separate drop of spilled tea happened when the official website for Le Domaine Skincare accidentally published "no conservatives such as parabens..." instead of "no preservatives such as parabens..." The website has since been edited and revised. Brad hasn't responded to the open letter from those passionate beauty founders with his skincare line still up and running. Some of the products you'll be able to find there include fluid cream, cleansing emulsion, and anti-aging serum.
Scarlett Johansson's The Outset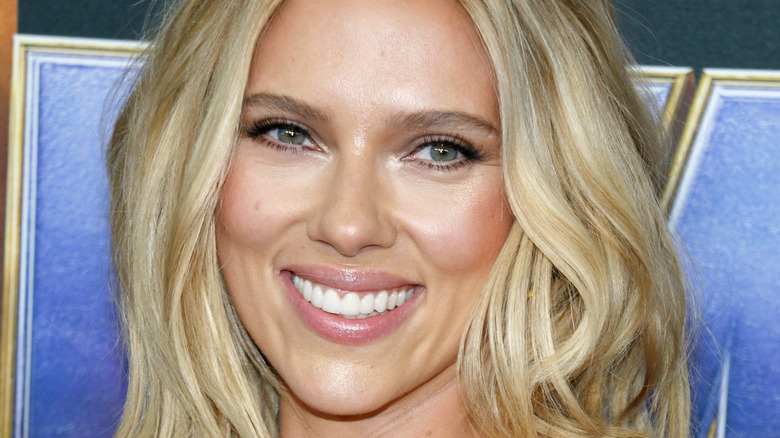 Tinseltown/Shutterstock
Scarlett Johansson is certainly one of the most impressive actresses after proving herself in movies like "Black Widow," "Ghost in the Shell" and "Under the Skin." In all of her movies, her beauty shines through. Since her stunning appearance directly relates to her success in front of Hollywood cameras, her skincare line couldn't have come sooner. She launched The Outset in March 2022, with both an official website and Instagram account. 
Interestingly enough, Scarlett didn't make the company happen by herself. She linked up with a woman named Kate Foster in order to make it all happen. Ever since The Outset's official launch, there hasn't been any tea spillage aside from reports that debates sparked about the over-saturation of celebrity beauty brands and skincare lines after The Outset went public. Despite any negative judgments or pessimistic conversations, The Outset is still up and running successfully. 
In fact, the Instagram page has more than a quarter million followers alone. Customers who are interested in buying products from Scarlett's line can shop for them at Sephora and Goop by Gwyneth Paltrow. Some of the amazing items you can purchase from The Outset brand include moisture boosting oil, prep serum, exfoliating caffeine micro polish, gentle micellar antioxidant cleanser, and nourishing Squalane daily moisturizer.
Winnie Harlow's Cay Skin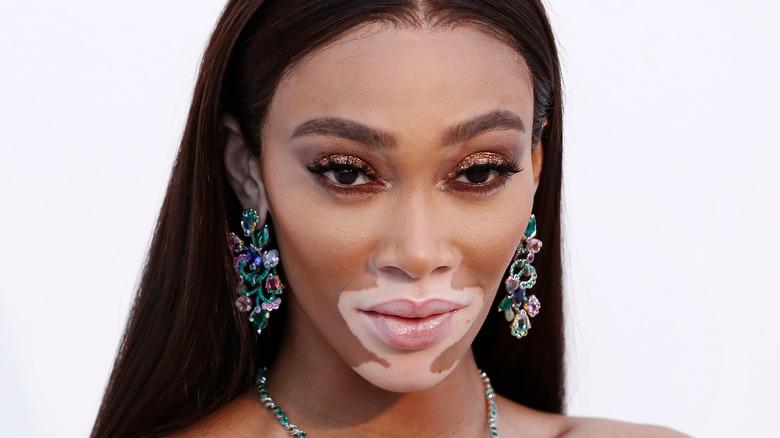 Andrea Raffin/Shutterstock
Winnie Harlow changed the game for models everywhere after splashing onto the scene in the most unapologetic manner. The Canadian beauty proved that having a skin condition like vitiligo wasn't enough to hold her back or slow her down. She gained massive notoriety in 2014, when she joined the cast of "America's Next Top Model" for its dramatic 21st cycle. Now, she's more focused than ever on her skincare line. 
The good news about Winnie's products is that there hasn't been any negative spilled tea to report on since its launch in 2022. These days, Winnie's supporters can purchase skincare items including glow face lotion SPF 45, lip balm SPF 30, and deep water lip masks. The purpose of her products is to keep your skin safe from the natural damages too much sunshine can cause. 
Since Winnie has Caribbean roots and spends tons of her free time on Caribbean beaches, she knows the importance of making sure her skin stays safe from too many harsh UV rays. Thanks to her skincare line (and other lines that place an emphasis on SPF), anyone who spends time outdoors can benefit.  
Travis Barker's Barker Wellness Skincare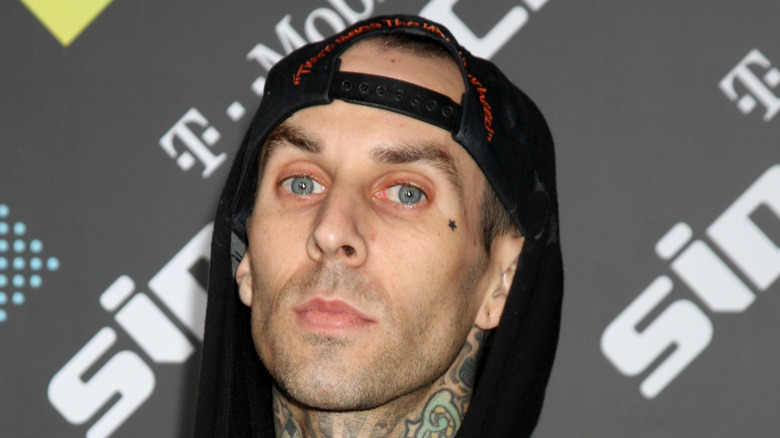 Kathy Hutchins/Shutterstock
Just like Brad Pitt, Travis Barker entered the skincare game with Barker Wellness Skincare in 2022. Travis is widely recognized for his talent as a drummer in the popular rock band Blink-182. He's also collaborated with tons of famous Hip Hop artists over the years, cementing him in stone as one of the most versatile musicians alive today. Now that he is focusing on something like skincare instead of music, it has a lot of people talking. 
There hasn't been much spilled tea about Barker Wellness Skincare since it launched, aside from the fact that several fans have accused Travis of setting the prices too high and going through the process of "Kardashianization" following his marriage to Kourtney Kardashian. Social media users, believe that Travis's interests and personality have changed a lot since tying the knot with the oldest sister from the super famous Kardashian clan. As of now, the most expensive skincare product from Travis's line is the renewal balm that starts at $100. The eye serum goes for $90 while the two-in-one cleanser in mask goes for $60. Some of the other more affordable items from Travis's line include body butter and body oil.
Kate Moss's Cosmoss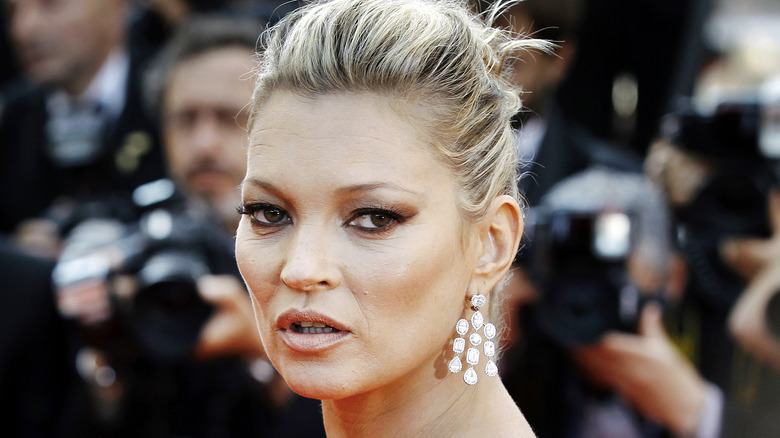 Andrea Raffin/Shutterstock
Kate Moss has dominated as a model for several decades starting in the late 80s. The British bombshell rose to fame during the heroin chic era, but her icon status remains to this day despite significantly changing trends. One thing Kate will always be recognized for is her beauty. For this reason, the fact that she chose to launch a skincare line in 2022 perfectly fits her brand. She settled on the name Cosmoss.
The messiest drop of spilled tea regarding Kate's skincare line is that she dealt with a bitter legal battle over the name she chose. A pharmaceutical company of the same name tried to battle Kate for rights to the name since they have been in business for more than 50 years. Aside from drama surrounding the name of her brand, customers have also voiced their opinions about the fact that Kate drastically and abruptly changed her vibe from being hedonistic to pursuing a lifestyle of health and wellness. 
In the early 2000s, she was given the nickname "Cocaine Kate" after photos of her snorting illegal substances spread like wildfire. At the time, she even lost out on a massive contract with fashion brand H&M. Kate made the serious decision to check into rehab at that time as well. Despite any addiction struggles the model has dealt with, her skin has always continued to look flawless. Some of the skincare items she offers include face cream, face cleanser, and golden nectar face oil.
Ciara's OAM Skin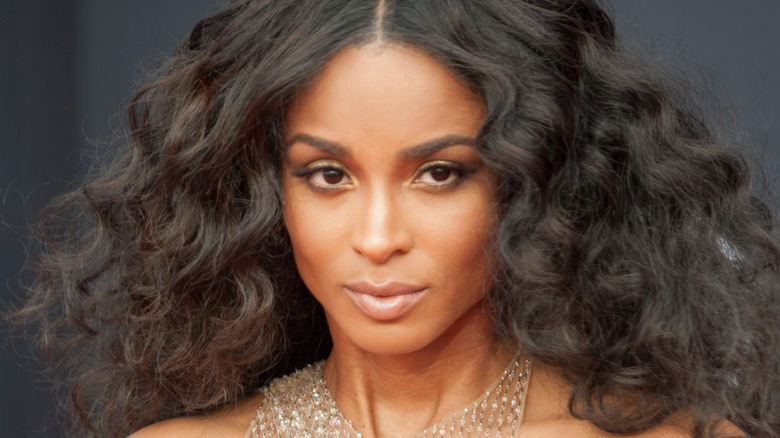 Jamie Lamor Thompson/Shutterstock
Ciara branched out from the Hip Hop music industry to the skincare industry when she launched OAM Skin. Not only does she have amazing dance moves and vocal abilities, she also has quite a bit of intelligence when it comes to business ownership. Ciara launched her skincare brand in September 2022 to give her fans the chance to look as radiant as she does. Unfortunately, tea was spilled in August 2022 before her official launch even happened. 
Fans on Twitter weren't excited or hyped about Ciara's skincare brand before it was listed for sale. Some people dubbed her business as random and boring. One person tweeted, "Ciara doing skincare is crazy when she could really start a dance academy or dance reality type show, helping music groups and performers. What happened to things making sense." 
At the end of the day, a lot of Ciara's fans were hoping she would launch a business that matched up with her fitness passions, such as virtual dance classes or trendy exercise clothing. Ciara didn't pay much attention to the criticism she received at the time of her launch and OAM by Ciara is still thriving. She sells items such as vitamin C revitalizer, radiance moisturizer, brightening serum, and brightening pads.
Dr. Pimple Popper's SLMD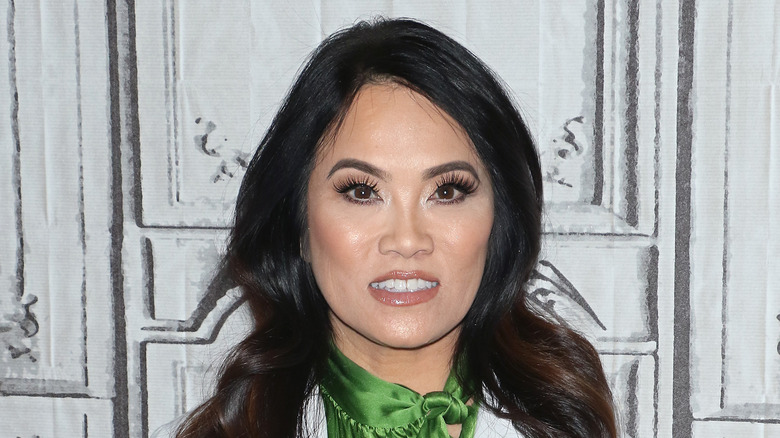 Jim Spellman/Getty Images
Thanks to many eye-opening social media videos that have gone completely viral online, Dr. Pimple Popper has become somewhat of a household name. Her real name is Dr. Sandra Lee, but you probably recognize her by her alter ego at this point in her career. YouTube, TikTok, and Instagram have been game changers for the skin expert who has millions of followers and subscribers across-the-board. 
She even landed her own reality TV show on TLC, which pulls in tons of viewers every time a new episode airs. It premiered in 2018 and has gone on for eight successful seasons so far. When Dr. Pimple Popper launched a skincare line called SLMD, it had people dealing with various skin issues feeling instantly excited. There isn't any negative tea spillage to report about SMLD since her product line is filled with healthy ingredients that benefit customers. 
Some of the main ingredients she uses include retinol, hyaluronic acid, salicylic acid, glycolic acid, benzoyl peroxide, and hydroquinone. Since Dr. Pimple Popper is a real dermatologist who knows the ins and outs of healthy skincare, she's one of the most trustworthy and reliable people to purchase skincare products from. She earns a successful living digging pimples out of peoples pores, so she definitely knows what it takes to prevent those pimples from popping up in the first place.