Why Avoiding A First Date Trip To The Movies Is Best (& What To Do Instead)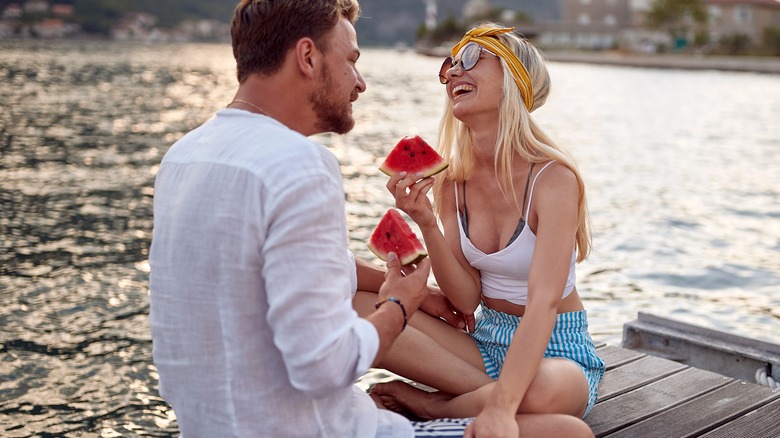 Lucky Business/Shutterstock
Since time immemorial, the old popcorn-and-a-movie maneuver has been quintessential date night material. It's easy, it's inexpensive, and it can appeal to almost anyone. So why do relationship experts now recommend avoiding this time-honored tradition on a first date?
"I'd stay away from experiences where you don't interact much at all," licensed marriage and family therapist Rachel Thomasian tells The Zoe Report. "You're doing the same thing at the same time but there's no interaction there at all. You probably won't leave knowing much about the other person." In other words, passive, conversation-stifling excursions don't give you much chance to break the ice with a new romantic partner. And in today's dating world, which moves so quickly, missing the chance to leave a good first impression could spell death for any budding relationship.
So what's a modern singleton to do? If you want to safely and smoothly navigate a first date, it's time to think outside the box. Rather than rely on the predictable and uninspiring standard of a trip to the movies, here are the best first-date ideas to start your flirtation off on the right foot.
Visit a museum or gallery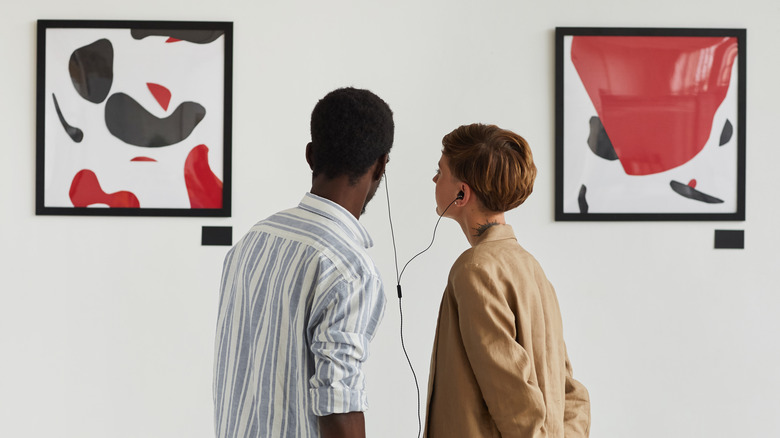 Seventyfour/Getty Images
If you want a venue perfect for deep conversation on the first date, you can't go wrong by choosing a museum or art gallery. Not only are they quiet enough to enjoy chatting with your love interest, but they come built-in with plenty of topics to kickstart your small talk as you wander through the exhibits. In between getting to know each other, you can converse about that cool dinosaur skeleton, debate whether that piece of art is actually any good, reminisce about childhood field trips, and more.
Museums and galleries are also very flexible, allowing you to take the date at your own pace. If it's going well, you can meander slowly. But if the date is full of red flags, feel free to breeze through the displays and say your farewells sooner rather than later.
And remember, there could be many different museum options to explore in your area. If art isn't your thing, look around — you may find museums that celebrate science, nature, history, music, social justice, and any number of other intriguing themes.
Enjoy an amusement park or carnival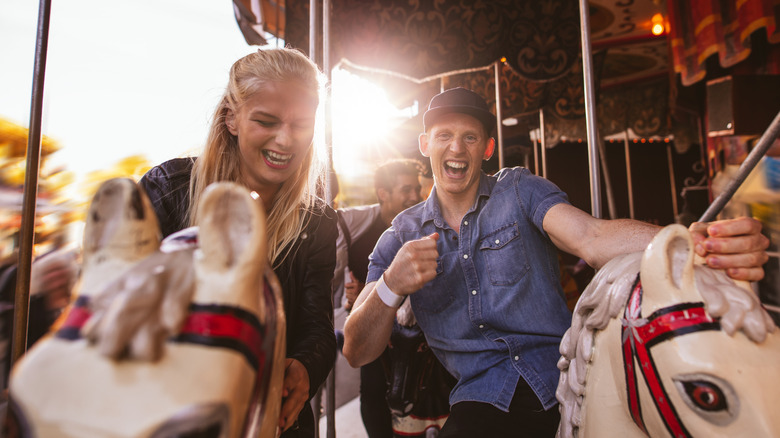 Jacoblund/Getty Images
If you're looking for first-date ideas that are a little more lighthearted, why not take your crush to an amusement park or carnival? They provide a surefire backdrop for vibes that are easy, breezy, and upbeat. Parks and carnivals also boast a variety of different activities to share. You can go on rides, play games together, split some snacks, and maybe even get a few photos made. There's something for everyone, so you can set the date up for success with a widely appealing ambiance of fun.
Plus, the rides and rollercoasters at an amusement park may offer an extra perk, as they get your adrenaline pumping. Research has shown that this adrenaline rush can equate to heightened arousal, and as a 2003 study in the Archives of Sexual Behavior noted, "residual arousal from riding a rollercoaster intensified participants' later experience of attraction." So if you want to give your first-date chemistry a boost, carnival rides may provide a quick shortcut.
Go on an adventure date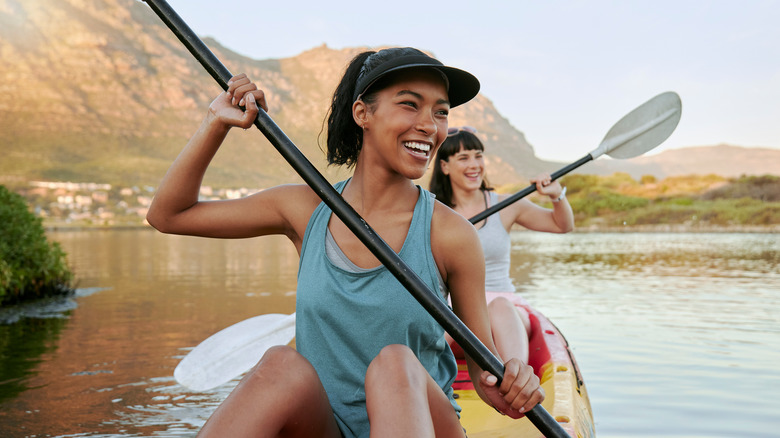 Peopleimages/Getty Images
If you're looking for a low-pressure daytime date, consider enjoying some time together in the great outdoors. Depending on where you live, check out nearby opportunities to go hiking, do some fishing, go kayaking on a lake, or rent some jet skis at the beach. Spending time in nature can help put both of you in a good mood while providing an atmosphere that's a little more casual than your typical dinner date.
Engaging in some outdoor adventures together is also a great way to discover potential commonalities by seamlessly introducing some of your hobbies, interests, and values. Quickly find out whether you both prefer an active lifestyle, what kind of activities speak to you, and whether your zests for life are complementary.
Rainy day? No problem. Even if the weather around your first date isn't great for a day out in nature, you can also try out exciting indoor activities like rock climbing, paintball, or even go-karting.
Try an arts and crafts class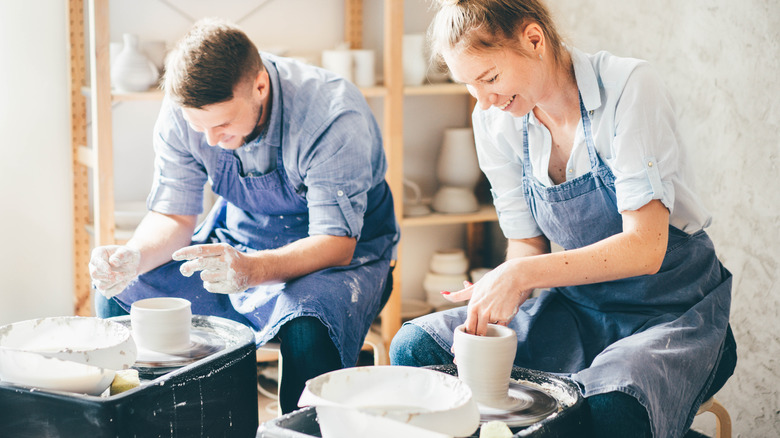 Maria Korneeva/Getty Images
First dates can be awkward, and you may be worried about managing your dating anxiety. But participating in an interactive experience can help mask any lulls in conversation and give you something to focus on outside of your nervousness. For instance, try taking your date to some kind of arts and crafts event where you can stay busy but still enjoy plenty of time to chat.
Compared to visiting someone's home or sharing an intimate meal, art events provide a public, low-pressure location to make your first impressions. And there are options appropriate for any and all skill levels. You could try your hands at beginner crafts like BYOB painting classes or decorating pottery, or go for something a little more challenging at studios for wood burning or glass blowing.
Bonus factor: If this relationship ends up being a significant one, meeting at an art class means that you both have a handmade souvenir to commemorate your first date.
Attend a seasonal event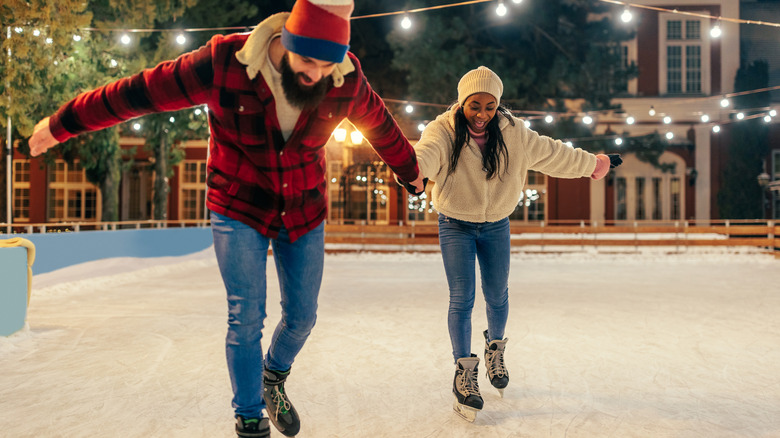 Bernardbodo/Getty Images
Looking for something truly memorable? Don't forget to explore limited-time experiences that may be available nearby. More so than visiting a restaurant or coffee shop that's available year-round, special events have the benefit of novelty — which is always a good thing on a first date. For example, are there any cool festivals or block parties coming up? Your area may have annual events that would make a great low-stress dating opportunity.
You can also get season-specific with date ideas that resonate with the time of year. If it's spring or summer, you might check out warm-weather events like outdoor concerts, botanical gardens, or fireworks shows. In the fall, embrace the season with a corn maze, pumpkin patch, or haunted house. And winter provides some gorgeous date locales with pop-up events like holiday markets, light displays, and ice skating rinks. Choosing this kind of outing shows that you like to think creatively, leaves a memorable impression, and gives you something to talk about during the date.
Tackle an escape room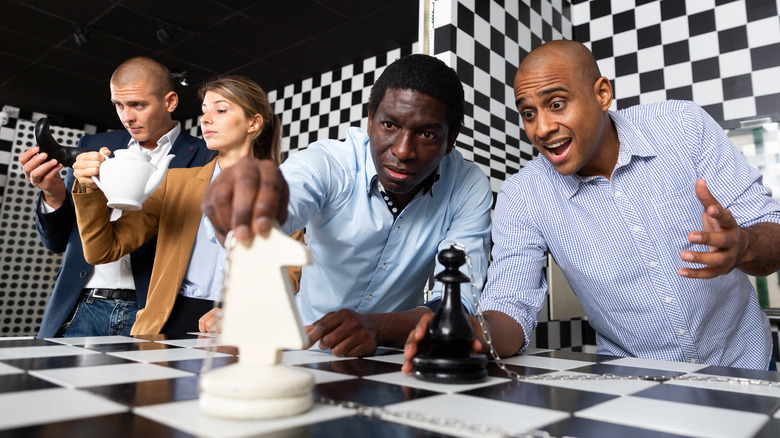 Jackf/Getty Images
For a more cerebral way to test out your compatibility, escape rooms are a unique way to take the measure of a new dating partner. Completed as a duo, these puzzles illustrate your ability to tackle problem-solving and teamwork, which provides great insight into your dynamic together. 
You can also choose to participate with a larger group and see how your date interacts with strangers in a collaborative setting. Why is that important? Because social interaction is a key indicator of someone's character. Observing a partner in an unfamiliar social situation can be a fast way to draw out signs of their best or worst behavior, which is information you probably want ASAP.
The one potential drawback of having your first date in an escape room is that you're committed to staying for a certain period of time. But if the date doesn't go well, you can take the idea of escaping literally and immediately bid your suitor farewell when the doors finally open.