Fruity DIY Skin Treatments That Will Make You Look And Smell Good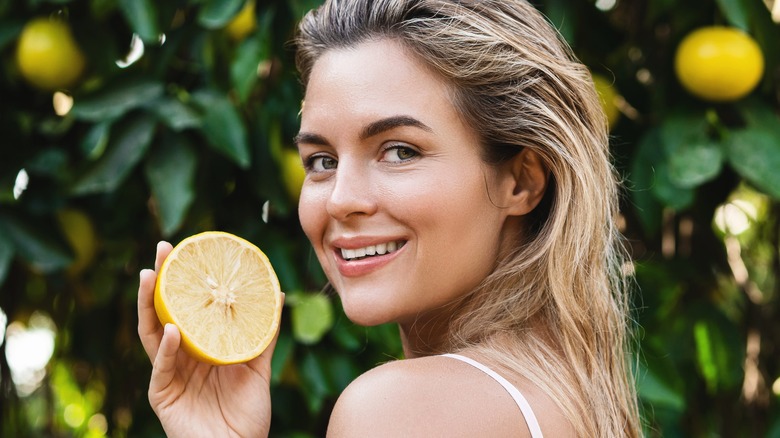 BLACKDAY/Shutterstock
Chances are that at some point in your life, you've heard a medical or cosmetic professional recommend incorporating more fruit into your diet, and for good reason! Fresh fruits are packed with essential nutrients, vitamins, enzymes, and dietary fibers that promote overall well-being and make for a healthy, balanced diet. However, studies, such as one published in the Journal of Dermatological Treatment are becoming increasingly mindful of the multitude of skin benefits that can result from using fresh fruit in topical skincare routines.
From UV radiation to cell-damaging free radicals, our skin experiences more than its fair share of stressors on a daily basis. But the solution to your toughest skincare problems may actually be lurking in the produce aisle. Many, if not all, fruits offer a variety of benefits that can be targeted to address your top concerns. And more than that, it's incredibly easy to DIY every single treatment. Here are just a few fruity at-home skincare treatments that will make you look (and smell) amazing.
Use berries to reverse the clock on your skin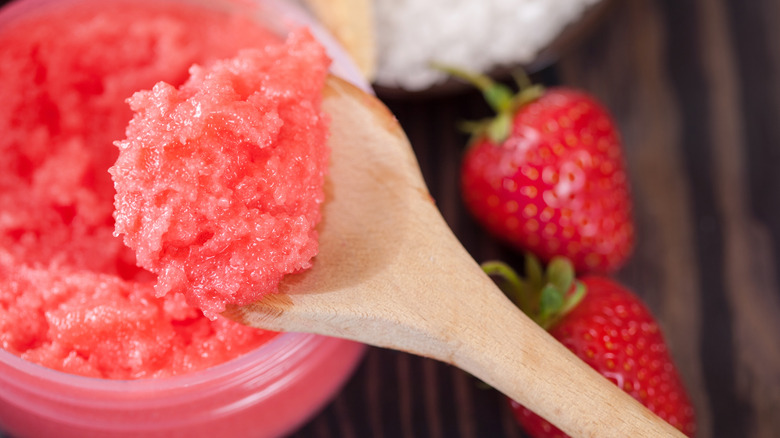 Murika/Getty Images
Packed with antioxidants, berries (including common produce aisle finds like strawberries, blueberries, blackberries, and raspberries) are all great at combating and even preventing the effects of aging on the skin. Blueberries are particularly high in the compound anthocyanin, which a 2009 study by researchers at South Korea's Hallym University found can increase the skin's collagen production and protect against collagen breakdown when applied directly to the skin (via research published in Molecular Nutrition & Food Research). And, as if you needed any more reasons to embrace these tiny superfruits, berries also boast strong anti-inflammatory properties, making them perfect for repairing skin damage caused by daily stress and other environmental factors.
For the simplest way of reaping the benefits, take a handful of your berries of choice and either mash or puree them in a small bowl, blender, or food processor. While you can simply apply the resulting puree to your skin for up to 30 minutes, consider mixing in a variety of berries or other ingredients to get the most out of your DIY spa day. Honey, with its antiseptic and hydrating properties, is a great all-around add-in to any natural face mask that will also aid in thickening your mixture and helping it to cling to your skin until you're ready to rinse it off. Other easy and highly-beneficial add-ins include rosehip or grapeseed oil, turmeric, and Greek yogurt.
Go bananas for healthy skin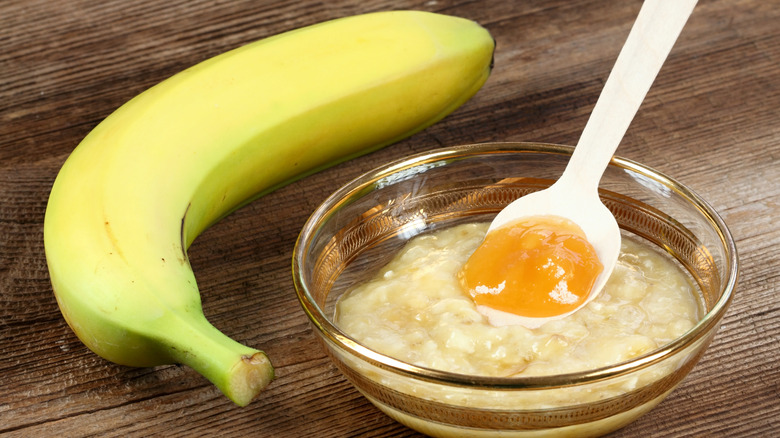 Svehlik/Getty Images
Bananas are a great at-home remedy for any number of skin problems, particularly dry or pigmented skin. The famously yellow fruit is incredibly hydrating thanks to its high water content, and also packs a skin-healthy punch with high doses of vitamins C and E, as well as magnesium and potassium. According to the Pondicherry Journal of Nursing, you can even apply the disused peel of a banana to the skin to banish unwanted pigmentation and acne marks.
For an easy DIY face pack, mash half of a ripe, peeled banana until it forms a smooth paste. If your main concern is dry skin, try mixing in a teaspoon of honey to give the mask an extra hydration boost. Apply it to your face and allow it to sit for 20 minutes before rinsing it off with warm water. Chances are you'll notice an immediate difference in the feel and tone of your skin.
Thanks to their thicker consistency, bananas make for an excellent base for any number of at-home skin treatments, so don't be afraid to get creative! Popular add-ins include milk, orange juice, and rose water; milk will act as a mild exfoliator thanks to lactic acid, while orange juice and rose water will have a brightening effect on your skin's appearance.
Boost elasticity with grapes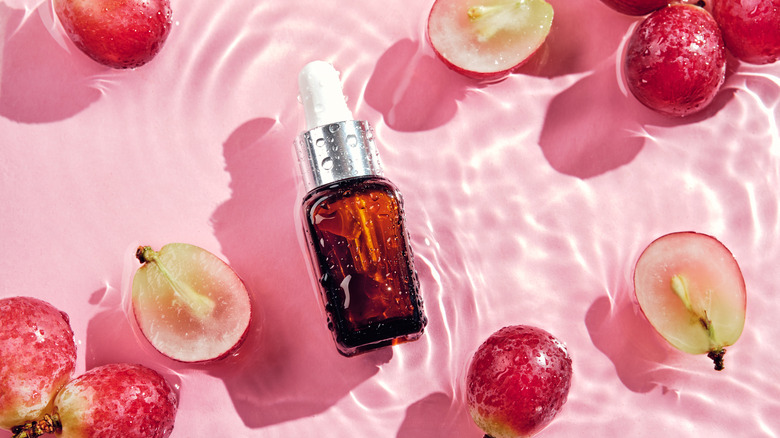 colnihko/Shutterstock
Containing high amounts of both potassium and antioxidants, grapes (including black, red, and white varieties) are small anti-aging miracles thanks to their ability to support collagen production in the skin. Collagen keeps the skin looking young and taut, thereby reducing the formation and appearance of wrinkles. Black and red grapes in particular boast high amounts of the antioxidant resveratrol, which, according to a study published in the Archives of Biochemistry and Biophysics, protects against many skin diseases and disorders, including cancer. The same antioxidant has even been shown to prevent sunburn for some people!
For a basic mask, start by mashing or pureeing a good handful of grapes into a pulp. Because of the high amount of liquid in grapes, it's recommended to add a thickening agent like honey or yogurt, which, of course, will also lend your skin its own benefits, such as hydration and mild exfoliation. Leave the mask on for 20 minutes before rinsing off with warm water. Alternatively, you can also DIY a great at-home toner out of grapes and apple cider vinegar. Simply place your grapes in a bowl or blender together with the vinegar and blend into juice. If you prefer a slightly thicker consistency, you can add a bit of cornstarch. Leave the mixture on your face for 10 minutes, however, remember to rinse it off afterward to prevent the acidity of the vinegar from irritating, instead of brightening, your skin.
Embrace the healthy fats of avocados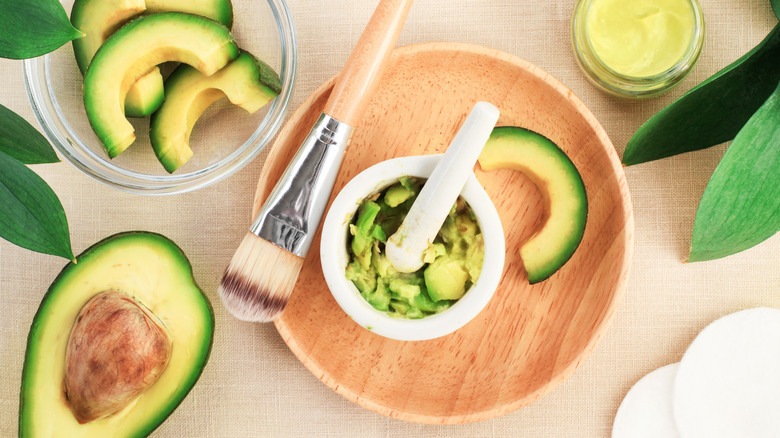 Anna Ok/Shutterstock
They're not just for toast and guac! Another superfruit, avocados are packed to the brim with healthy skin-essential fats, vitamins, and minerals that can prove beneficial to any and all skin types. The fruit's oils — an excellent source of biotin and other B vitamins — have been shown to penetrate the skin's natural moisture barrier more effectively than other popular plant oils, and according to a study by the Israel-based Granot Center and published in Archives of Dermatological Research, even boast impressive anti-inflammatory and UV-protection properties that could help to prevent or treat sunburn. The oils found in avocados also have antimicrobial properties that can prove effective in fighting acne, while the fruit's monounsaturated fats promote elasticity. In other words, this is a seriously skin-healthy fruit.
But there are more ways to take advantage of the benefits than simply indulging in your favorite avocado-based recipe. For a basic face mask, start with half of a peeled and pitted avocado. You can mash the fruit using a fork or spoon, or even use a blender to achieve an even smoother paste, adding some extra avocado oil if the consistency is too thick for your liking. Tempting as it may be to immediately spoon a little on your favorite toasty bread, apply the paste to your face for 10 to 15 minutes before rinsing off with warm water. For those with oilier skin types, it may be advisable to use a gentle cleanser to help remove the extra oils and prevent them from causing, instead of protecting against, a breakout. Some popular add-ins for avocado masks include honey (extra points for manuka honey), lemon juice, and oats.
Treat your skin to some chocolate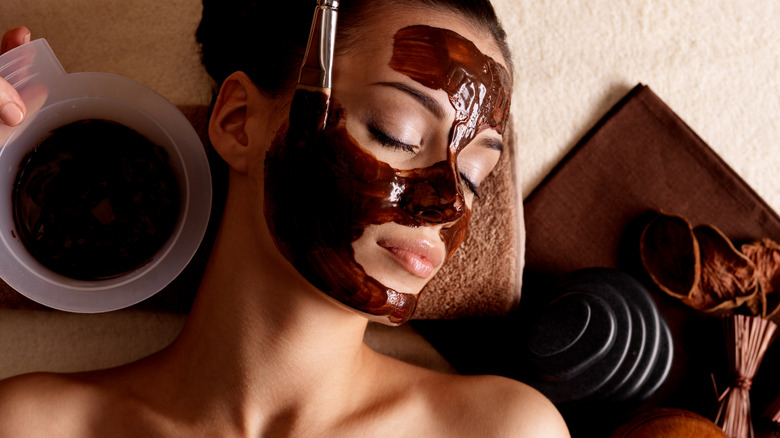 Valuavitaly/Getty Images
If you aren't already familiar with the multitude of health benefits that come with cacao consumption, you're truly missing out on something both special and delicious. According to research published in Antioxidants & Redox Signaling, cocoa (and its most famous derivative, chocolate) has long been used for its purported healing properties, which include improved immune response, reduced risk of diabetes, and improved cognitive function. As it turns out, there are even more benefits to be had when applying cocoa topically. And furthermore, the cacao bean is technically classified as a fruit!
Cocoa is rich in antioxidants known as flavonoids, which can help to repair UV-damaged skin and protect against other environmental toxins. It has also been shown to improve blood flow to the skin, battling dullness to produce a natural glow. DIY treatments can be as simple as melting down a dark chocolate bar (the higher the cacao content the better) and adding mild exfoliants like milk and sugar. This can be applied to the skin for 10 to 20 minutes, provided you can resist the temptation to simply drink it, before rinsing off with warm water. A similarly skin-nutritious treatment can be made by mixing cocoa powder with cinnamon and honey, both of which help to fight hyperpigmentation and acne-causing bacteria.
Fight acne with pineapple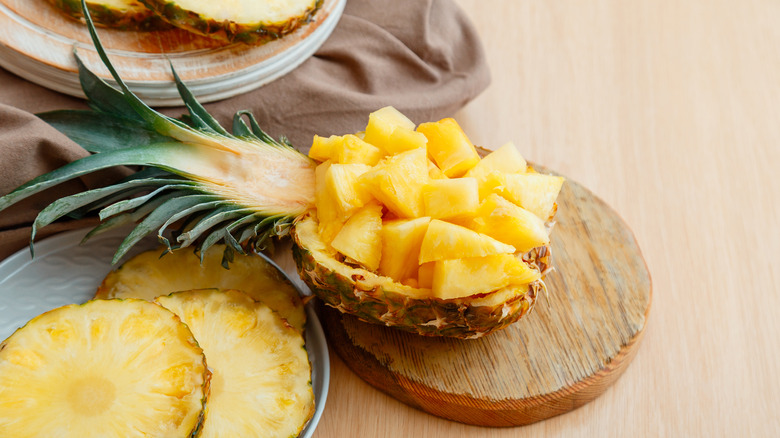 beton studio/Shutterstock
This quintessentially tropical fruit isn't just for piña coladas; pineapples are full of powerful antioxidants and a healthy dose of vitamin C. But perhaps the most skin-beneficial characteristic of this popular fruit is a collection of natural enzymes known as bromelain. Bromelain has long been added to skincare formulations for its ability to exfoliate while at the same time calming inflammation and fighting acne and uneven skin tone.
To start, chop up a pineapple and toss it into a blender with some coconut milk, which will moisturize and help to soothe the redness and swelling often associated with acne. Apply the mixture to your face and neck for a soothing, tropical mask that smells like a trip to the beach, and rinse off 20 minutes later using warm water. As always, you can shake things up by adding other highly beneficial ingredients such as green tea or turmeric, both of which will add an extra anti-acne boost, or even fresh ginger or gram flour, a popular brightening agent.
Of course, there are many ways to benefit from the topical use of pineapple and the enzyme bromelain besides face masks. Bromelain has notable wound-healing properties, making it a great option for at-home spot treatment. Simply mix pineapple juice with a little turmeric and apply it to any unwanted blemishes to reduce your skin's stress response.
Use papaya to banish dullness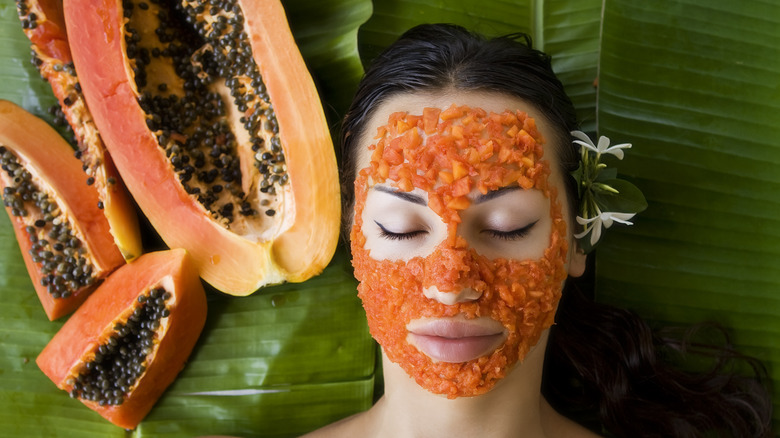 Kalcutta/Shutterstock
Another tropical skincare blessing, papayas are loaded with beneficial vitamins and antioxidants that are proven to reduce the appearance of wrinkles and control acne. But the fruit's real power lies in its ability to banish dullness, thanks to the natural enzyme papain. Papain is a natural exfoliator, helping to slough off the outer layer of skin to reveal brighter, glowing skin underneath. Add to that the fruit's naturally antibacterial, antifungal, and antiviral properties (not to mention its extensive haircare uses) and there really is no reason not to incorporate it into your daily or weekly beauty routine.
To start benefiting from this tropical wonder, chop up part of a papaya and toss it into a blender with some honey and turmeric. While you can certainly apply the blended fruit directly to your skin with no add-ins, turmeric and honey will lend an extra anti-acne boost, with turmeric, in particular, aiding the papaya in brightening skin tone. However, if you're running short on time or simply don't want to break out the blender, you can still benefit by rubbing sliced papaya directly on the skin.
Calm irritable skin with tomatoes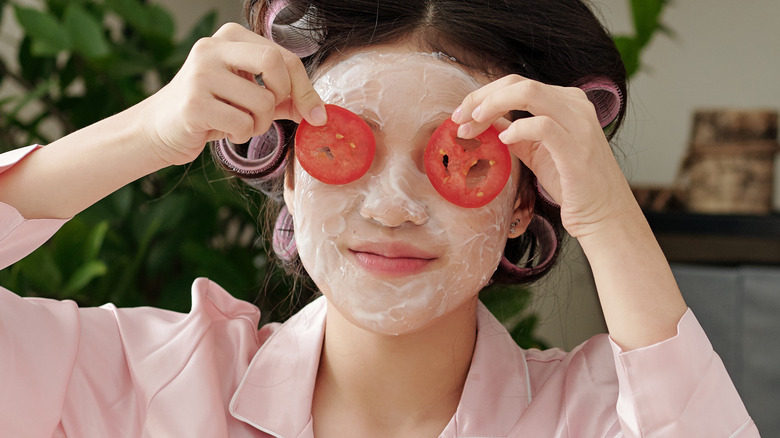 Dragon Images/Shutterstock
In case you haven't heard yet, tomatoes are, in fact, a fruit, not a vegetable. Furthermore, they are one of the most skin-healthy fruits out there. Packed with antioxidants to combat the effects of aging, along with high amounts of both vitamins C and E, their biggest advantage comes in their ability to soothe inflammation. Tomatoes contain the compounds lycopene and beta carotene, both of which have been found to control and even prevent the damaging effects of free radicals and oxidative stress on the skin, according to research published in Mediators of Inflammation.
To reap the benefits and give your irritable skin a much-needed break, start with a simple mask of crushed tomato pulp mixed with a few drops of antibacterial tea tree oil, which can also help to treat and prevent acne. Apply the mixture to your face for 10 to 15 minutes before rinsing off with warm water. If you're in the mood to really treat your skin, try mixing tomato pulp with other anti-inflammatory ingredients such as oats, cucumber water, or classic aloe vera and allow it to sit on your face and neck for a little longer, about 20 to 30 minutes.
Polish your summer skin with watermelon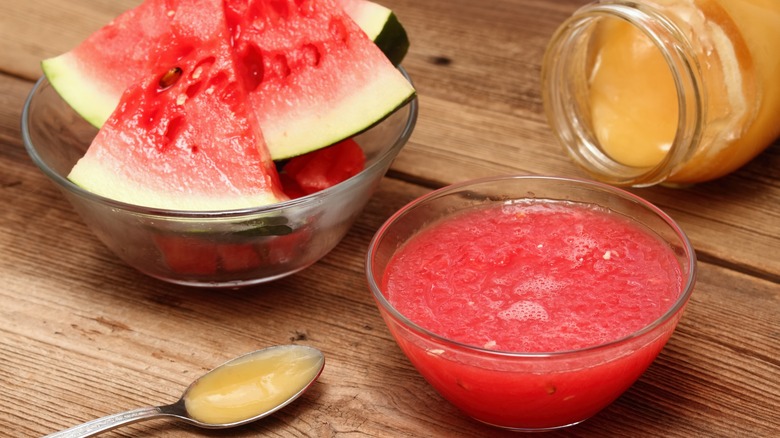 Svehlik/Getty Images
Nothing says summer quite like watermelon. The juicy red-and-green fruit is great in salads, cocktails, and by itself as a snack, and, as it turns out, it also has more than just a few uses in a healthy skincare routine. As its name suggests, watermelon is extremely hydrating. It also boasts loads of vitamins A, B, and C, all of which are beneficial in promoting collagen production and fighting hyperpigmentation. To top things off, the grainy particles of the fruit's flesh offer gentle, non-irritating exfoliation properties.
For a basic mask, mash a few chunks of watermelon in a bowl together with some honey and Greek yogurt, both of which will lend your mask a nourishment boost and help the mixture to cling to your skin. Apply the mask for 15 to 20 minutes, allowing it to dry before rinsing it off with warm water to reveal a newly revitalized complexion underneath. If you want to get creative and find even more uses for this quintessential summer fruit, break out your blender and mix in some witch hazel for a refreshing DIY toner that can double as an effective anti-blemish treatment.
Explore the many skin benefits of apples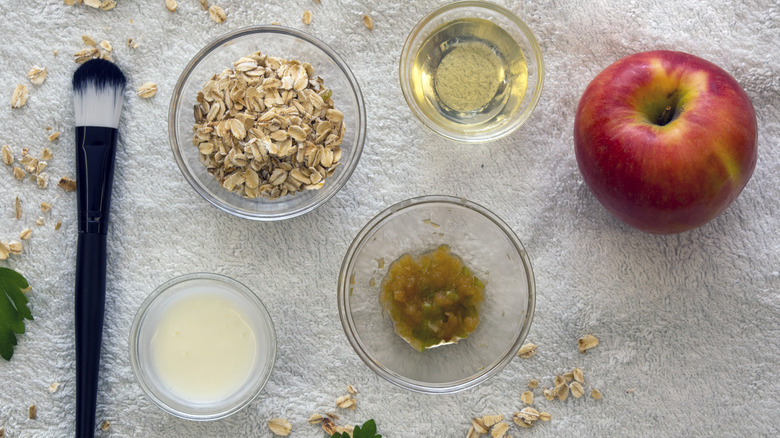 Kitzzeh/Getty Images
Apples aren't just handy for keeping the doctor at bay. This common find in your local produce aisle is also extremely useful for an array of skincare concerns. Each fruit is full of vitamins, antioxidants, enzymes, phenolic acids, and flavonoids that all work together to keep skin looking smooth, bright, and healthy. Dark spots, dry and dull complexion, and fine lines associated with aging are just a few of the common skin issues that apples can help to address.
There are practically no limits to the amount of easy-to-execute skin treatments involving these tasty little miracles. For the downright simplest way to benefit, just apply freshly cut apple slices to the face, leaving them on for a minimum of 15 or 20 minutes, or until they begin to feel dry to the touch. The vitamin E found in the fresh juice will give your skin an instant hydration boost. For a basic mask, mash about half an apple together with yogurt and honey and apply it to the skin for 20 minutes before rinsing off. If exfoliation is your aim, you can even involve apple cider vinegar in your mask, though be careful to limit the amount of time this is left on your skin, as it does carry a risk of irritation if left on much longer than 30 minutes for normal skin (or 10 minutes for those with sensitive skin).
Go tropical with mangoes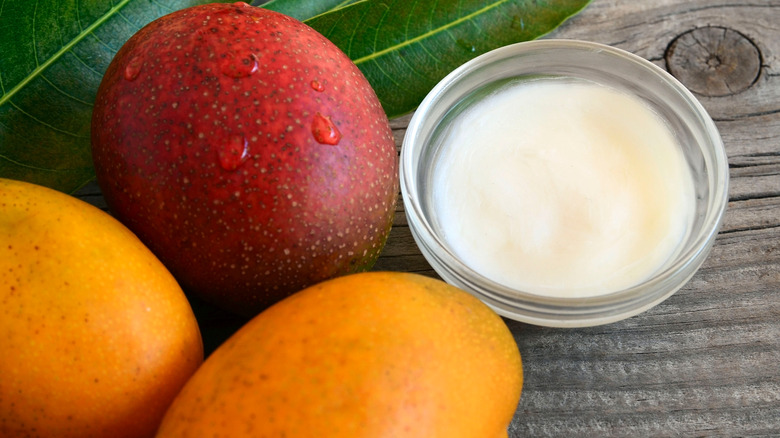 svf74/Shutterstock
When you think of the tropics, certain things just naturally come to mind: palm trees, relaxing beaches, mai tais ... and mangoes! These juicy tropical jewels are a prime source of vitamin C, which supports collagen production, as well as antioxidants to fight the effects of aging on the skin. Add to that mangoes' plentiful hydration properties, and you have a perfect (not to mention delicious) addition to your daily skincare routine.
For the simplest way to benefit from everything this fruit has to offer, simply mash or blend the flesh of a ripe mango and apply the puree to your skin for 15 minutes before removing it with warm water or a damp washcloth. Of course, you can always treat your skin to a more luxurious at-home spa experience by adding more nourishing ingredients, such as hydrating honey, or gently exfoliating dairy products, such as milk or Greek yogurt. If you're looking to take advantage of mangoes' anti-aging properties, try mixing in a tablespoon of rice flour or oatmeal.
Use cucumber to soothe and hydrate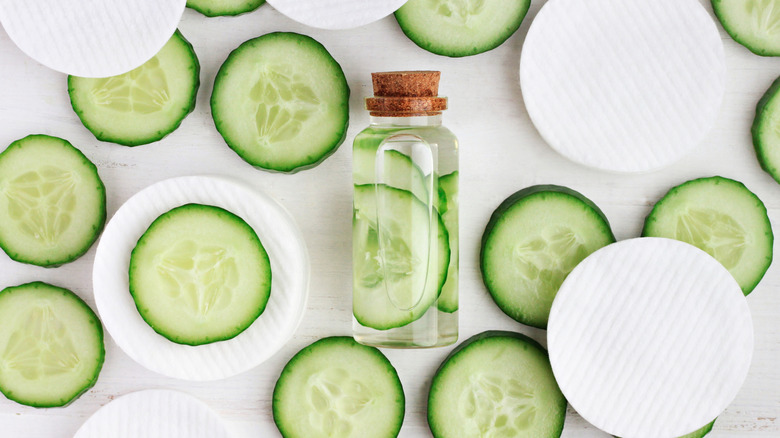 Anna-ok/Getty Images
The use of cucumber in skincare is hardly news. Per the dermatological resource AccessDermatologyDxRX, cucumbers have been cultivated for food and used in skincare for thousands of years. Furthermore, you might be surprised to learn that they are actually classified as a fruit. While the cucumber's main claim to skincare fame is its incredible hydration properties, they also boast powerful anti-inflammatory qualities and can even be used to fight acne.
Thanks to its rich history in cosmetics, the methods for using and benefiting from cucumbers in your skincare routine are practically endless. For a basic, and luxuriously soothing, mask toss one peeled and sliced cucumber into a blender with some plain Greek yogurt. Blend until the mixture forms a smooth paste and apply to the skin for 15 minutes before rinsing it off. Beyond masks, you can even DIY a refreshing face cleanser by blending peeled cucumber and aloe vera gel until watery. Use the cleanser to remove makeup and open pores.
Brighten your day (and your skin) with citrus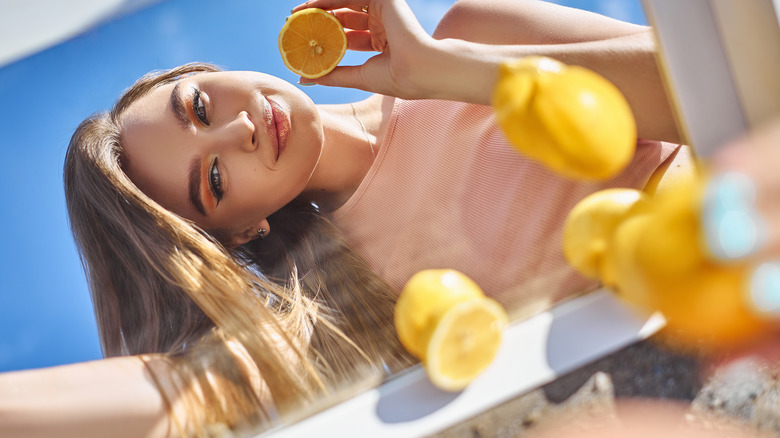 IvaFoto/Shutterstock
Yet another natural skincare staple, citrus fruits — like navel oranges, lemons, limes, and particularly grapefruit — offer a multitude of benefits, not least their unparalleled brightening properties thanks to their remarkably high vitamin C content. Packed with antioxidants, citrus fruits are also notable for containing ascorbic acid, which can reduce sebum production in the skin and thereby prevent acne breakouts.
Grapefruit, in particular, possesses a surprisingly diverse number of skincare benefits, from preventing the damaging effects of the cell-aging process to preventing or even banishing cellulite. Grapefruit (or any citrus) pulp and juice can be used to make all kinds of at-home treatments, including cleansers, masks, toners, peels, and even serums if you're feeling creative. For a simple scrub that you'll undoubtedly use on the regular, mix the juice of a single grapefruit together with sugar and coconut oil (yes, it smells as heavenly as it sounds) and keep it on hand to reap the benefits for weeks to come. You might be surprised by the effects of grapefruit on your skin!