Nail Polish Cocktailing Is The Ultimate Key To Personalized Manicures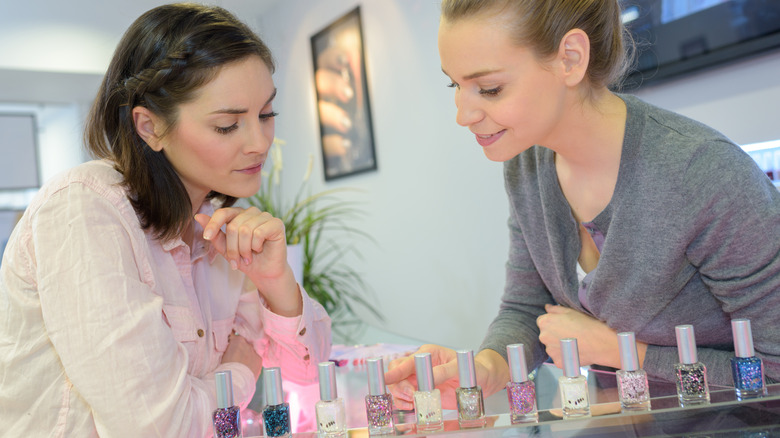 ALPA PROD/Shutterstock
It's well known that having a good manicure is an underestimated way of upgrading any outfit. You can have the boldest nails or a subtle color and change the entire vibe of your look. While a good manicure is only a swipe away, you need to have the right color to elevate your ensemble. Unfortunately, for those of us who struggle between two colors, deciding what nail polish color can be the hardest part. Typically when picking out your color, you are presented with a multitude of options. If you have the exact nail design and color in mind, this is no problem at all. However, what do you do when none of the options are giving you the right feeling?
Picking out your nail polish should be as personal as picking out your outfit in the morning. After all, not every color will go best against your skin tone, nor will every color be your favorite. If you happen to find that you can't find that perfect shade, you may need to try nail polish cocktailing. While nail polish cocktailing hasn't always been a common technique, many celebrity nail artists explain that this is the secret behind your favorite celebrities getting that picture-perfect manicure on the red carpet.
What is nail polish cocktailing?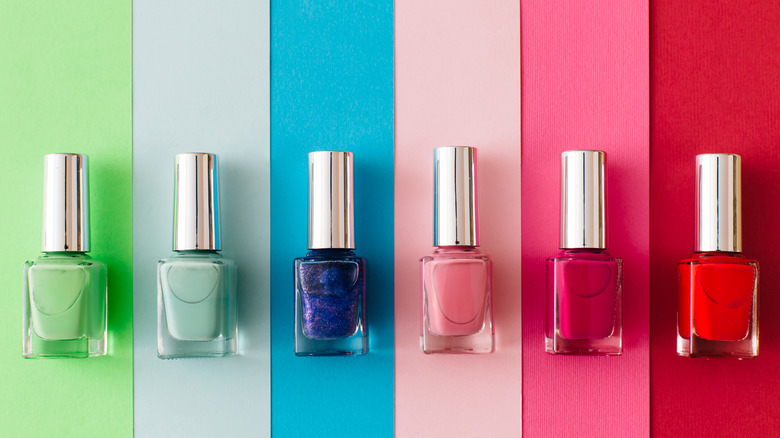 Ivanova Tanja/Shutterstock
For those looking for a custom manicure without paying extra money, nail polish cocktailing is the perfect solution. Nail polish cocktailing is simply mixing and layering different nail polish shades to create your custom shade, according to Zola Ganzorigt, a celebrity nail artist, via Refinery29. This technique is an easy way to create more nail designs with fewer products and create a personal shade unique to you. "It's really fun to mix colors and create a new shade. This technique is especially helpful when it comes to finding a neutral shade that compliments a skin tone. I tend to mix colors a lot when working with my clients because everyone is different, and one shade doesn't work for all," Ganzorigt tells Refinery29. Plus, a blend of nail polish colors can be a fun way to experiment with new colors without committing to buying an entirely new nail bottle.
It seems like every season there are exciting new nail trends to try out, meaning you'll need to constantly be willing to head to the nail salon. Luckily, mixing nail polishes can help create these looks without having to always head to the salon.
How to create your own nail polish shades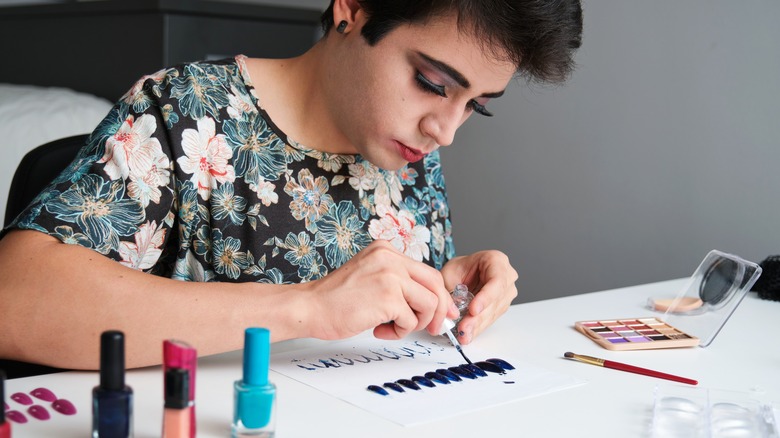 Ladanifer/Shutterstock
Before creating your custom nail look, ensure you correctly mix your nail polishes to avoid any unwanted mess. To mix nail polish shades, start by picking out nail polishes of similar texture and consistency (via Makeup Muddle). This will help them blend better. Be sure to apply a base coat on clean nails for a look that will last a long time. On a disposable surface, such as a paper plate or piece of paper, drop a small amount of each nail polish in separate areas. Then, with a toothpick or clean nail polish brush, mix them until you get your desired color. After, apply a thin layer of the custom color onto your nail and keep adding until you get your desired coverage. Finish with a top coat and let your nails dry.
Mixing nail polish colors will take some time and experimenting to find the perfect shade. Keep in mind, using white or black nail polishes will help you lighten or darken a nail color until you get the perfect hue. Experts recommend using the same brand when mixing gel nail polish as different brands may have different consistency or curing times. Therefore, sticking with the same brand is the easiest way to ensure you get an even consistency and focus on creating a new color.