Nailing Proper Proportions Is Key When Styling Tights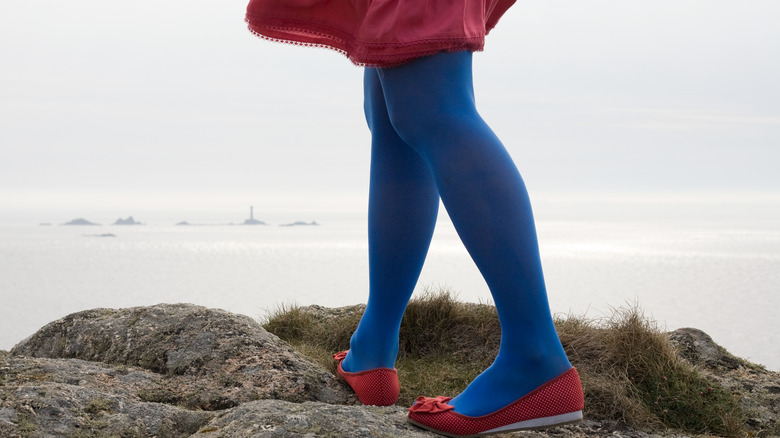 Image_source_/Getty Images
When you think of comfort-dressing staples in colder months, tights are high on the list. These garments are designed to cover the body from the waist to the toes with a snug fit, and they can range from being completely opaque to completely sheer. They come in varying colors and textures and can have plain or interesting designs like fishnet stockings or printed styles.
Their versatility and ease of styling make them an essential fashion item for most people. Tights provide warmth and protection from the elements and can be used as stylish accessories that have the potential to tie an entire look together. Tights also elongate your legs, help with holding the wobbly bits in place around your belly, buttocks, and thighs, and, if they are sheer, can offer a sexy glimpse of skin while keeping you warm.
Despite the near-universal usage of this garment, however, tights can be difficult to style if one gets the proportions wrong. So, if you also rely on your tights to get you through these transitional months from cold to warm weather, here's the lowdown on how best to style them.
The rule of thumb when determining proportions
Visoook/Getty Images
Styling your outfits according to the proportions of your body type is the secret to putting a great outfit together. Just take it from stylist and "Project Runway" mentor Tim Gunn, who told Marie Claire, "Your clothes should be aligned with your natural shape... With regards to proportion, look at yourself as cut in thirds from your shoulders to your toes. You want either one-third on top and two-thirds on bottom (as in a shirt and pants) or two-thirds on top and one-third on bottom (as in a dress). Never divide yourself in half!" 
Tights must also follow this rule. The rule of thumb to keep in mind when styling tights is to show at least a part of your leg. So, instead of layering tights under your midi skirt or calf-length dress, style them with a short skirt or dress and pair them with knee-high boots to show just a bit of skin.
The opacity of the tights should also be determined by the rest of your outfit. If you are pairing them with a sleeveless dress, make sure they are slightly sheer so that your legs don't overpower your bare arms. Alternatively, if you are styling tights with a chunky knit sweater, wear thick opaque tights rather than sheer ones to give the outfit a balanced look.
How to style tights for every occasion
Victoria Chudinova/Shutterstock
A common mistake people make is wearing tights exclusively with casual outfits. Tights can be a great addition to special occasion outfits, too. Semi-sheer tights paired with your favorite dress and pointy-toe pumps instantly glam up an outfit for an evening out. For a cozy date, pair your tights with a warm woolen dress with slouchy or fur boots.
There are other benefits of wearing tights too. Matching the color of your tights with your shoes gives the illusion of a single color and elongates your legs. People with chunkier thighs and calves can wear opaque tights for a slimming effect on the legs. Tights with smaller prints also have a similar slimming effect. Wearing tights in a neutral color and polished texture with a matte finish makes one look put together for professional dressing.
Some other things one should keep in mind to make the most of an outfit paired with tights is to avoid wearing light-colored shoes with dark tights, so legs don't look too short. You should also be mindful of buying the correct size for yourself because loose tights are unflattering and small tights are uncomfortable and may tear easily. Lastly, be sure to match the color of your tights to your outfit, as clashing colors can throw the proportions off and make an outfit look unbalanced.