The Best Shoes To Wear With Long Denim Skirts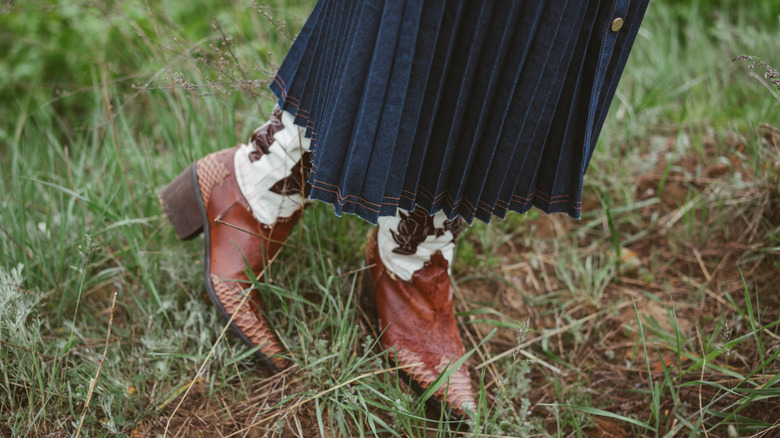 Tanya Plotnikova/Shutterstock
Move over mini skirts — long denim skirts are taking over this year. While denim never goes out of style, designers have been featuring ankle-grazing jean skirts all over their runways. Denim maxi skirts have made a comeback since their popularity in the early 2000s, but designers have taken a more modern twist to them. These days, many feature pleats, leg-baring slits in the center, or different colors and patterns.
Advertisement
A long denim skirt is the perfect staple to have in your closet, as it's extremely versatile and can be paired with just about anything. It can be dressed up or down, and there are a variety of shoes you can mix and match with your outfit. When wearing such a long silhouette, it's easy for your footwear to get lost in the shuffle. However, we've come up with great pairings that will complement your denim maxi, whether you want to be office chic or stylish on the streets.
Knee-high boots are perfect for chilly weather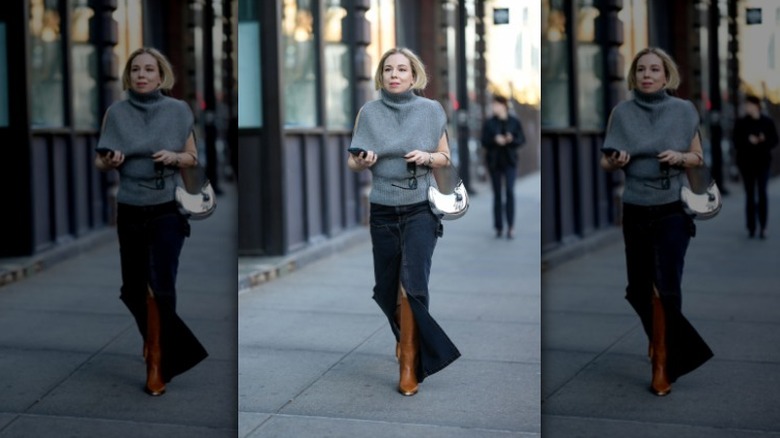 Edward Berthelot/Getty Images
If there's still a hint of chill in the air, slip on some knee-high boots to go with your long denim skirt. A maxi with a slit down the middle will give you just the right amount of peekaboo to show off your stylish shoes. Choose boots with a bit of a heel to give you some height and offset the long length of your skirt.
Advertisement
Ankle booties elevate a long denim skirt
Almost everyone has a pair of ankle booties in their closet so why not step into them to wear with your skirt? Ankle boots are one of the chicest ways to elevate denim and can make your skirt office-appropriate while still looking trendy. While black is the most versatile color to have, nude or beige booties will also pair nicely with a denim maxi.
Advertisement
Chunky white sneakers are comfy yet stylish
If you're feeling nostalgic about Y2K, slip on some chunky white sneakers to go with your long denim skirt and dance to some NSYNC. Platform sneakers are a plus if you're on the petite side and will give you the height to carry off this look. Keep the trend up to date with a stonewashed skirt that has a frayed hem, and you'll be looking 2023 instead of 2003.
Advertisement
Go west with cowboy boots
The western look is fun no matter where you live. You don't have to be in Nashville to pair cowboy boots with your denim maxi. Keep the pattern and color of your skirt plain to let your boots take the lead on this outfit. Additionally, make sure the denim skirt has a slit so you can show off your real or vegan leather.
Advertisement
Keep it casual with clogs
Just like the denim maxi skirt, clogs and mules are making a major comeback in 2023. If you want a super casual yet trendy look, slip on some clogs to go with your long jean skirt. With clogs, you can play with the length of your skirt and opt to go for a midi instead of one that hits below your ankles. If you choose to go long, pick clogs that have a bit of a heel.
Advertisement
Combat boots rock with long denim skirts
If you don't own a pair of combat boots, run to the store and get some stat. They're trendy and comfortable, while also adding some edge to your outfit. Combat boots pair nicely with long denim skirts, especially if they're a bit distressed. While Doc Martens have been beloved for decades, these days, there are a variety of different styles. From rugged to sleek and chic, you can't go wrong with combat boots.
Advertisement
Get fancy with heels
The best thing about denim is that it can be dressed up or down. If you're feeling fancy, pair your long denim skirt with heels. Add a pop of color with bright pink slides or keep it classic with a pair of black slingbacks. If you're feeling summery, you can go for a blocked wedge or espadrille sandal. Whichever you choose, your long denim skirt will take you from brunch to fancy rooftop cocktails.
Advertisement