Spray-On Skincare Is A Huge Trend But It Has A Larger Weak Spot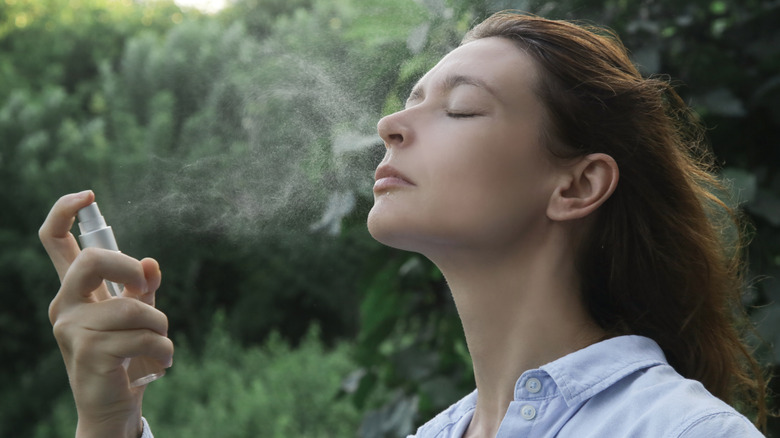 triocean/Shutterstock
Whether you've picked up on it from social media or by browsing store shelves, you've probably noticed that spray-on skincare is showing up everywhere. From spray-on toners to spritzer sunscreens, just about every skincare product you can imagine is now available in a mist form. Even Selena Gomez is a big fan of the formulas, evidenced by a recent TikTok depicting the star's Rare Beauty Always An Optimist 4-In-1 Mist in her morning skincare routine. "I love to keep my skin hydrated, so I always keep [Always an Optimist] on me. It's so versatile!" Gomez said on her Rare Beauty website. The singer and beauty mogul's 4-in-1 Mist is a fine example of spray-on hydration, containing moisturizing ingredients like squalane, sodium hyaluronate, and panthenol.
Advertisement
Any beauty lover can attest that there are few skincare products more convenient or refreshing than vapor-based favorites, from Mario Badescu's Aloe, Herbs, and Rosewater facial spray to Caudalie's Beauty Elixir. What's more, there may be substantial benefits to using spray-on skincare over their jarred counterparts. "[Facial mists] are very relaxing, they can help other products penetrate better, and some companies claim that micronizing skincare into mists with ultrasonic technology allows products to be more effective," esthetician Cassandra Bankson tells Aedit. Still, some skincare experts remain skeptical about the growing number of spray-on formulas and companies' claims. Is spray-on skincare truly the way forward, or should we stick to our old standbys?
Advertisement
When spray-on skincare may not be enough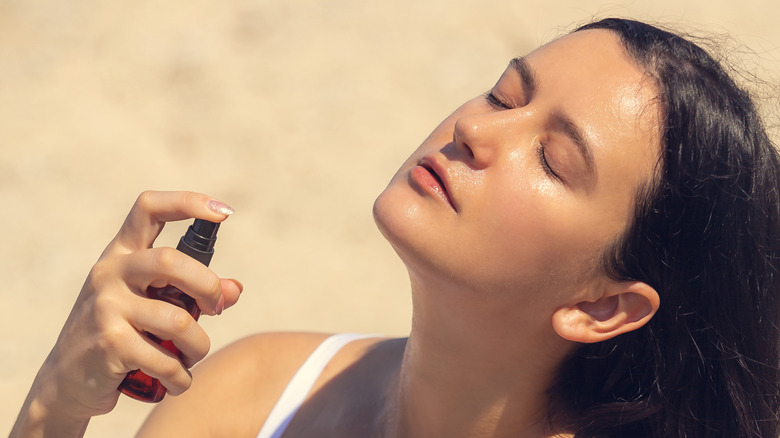 Space_Cat/Shutterstock
Despite the veritable influx of spray-on skin treatments, you may want to hold off before filling your skincare shelf with misting products. Although face mists are great for adding a boost of hydration in a pinch, they aren't a replacement for traditional moisturizing products or serums. "What we are seeing now is an evolution of those mists, moving from simple jobs to more complex jobs, whether that's antipollution or anti-aging," beauty industry expert Brandon Ford told The New York Times. Many spray-on skincare products include lightweight forms of antioxidant ingredients like vitamin C or niacinamide, which are thought to protect the skin from environmental stressors.
Advertisement
While more research is needed to verify the claims attributed to face mists, there's one area where they shine. According to a 2019 study published in Skin Research and Technology, the fine water particles in many spray-on mists can improve skin barrier function by increasing hydration levels. However, many skincare professionals stress that you should use mists as a supplement in your routine, rather than a foundational component. In fact, using face mists without additional moisturizer may do more harm than good. "When you mist your skin with a water-based product and don't apply moisturizer on top, it will draw moisture out of your skin and quite literally vanish into the air," celebrity esthetician Reneé Rouleau told Byrdie. This is especially true of spray-on skincare containing popular ingredients like hyaluronic acid, a compound known to absorb environmental moisture.
Advertisement
How to use spray-on skincare correctly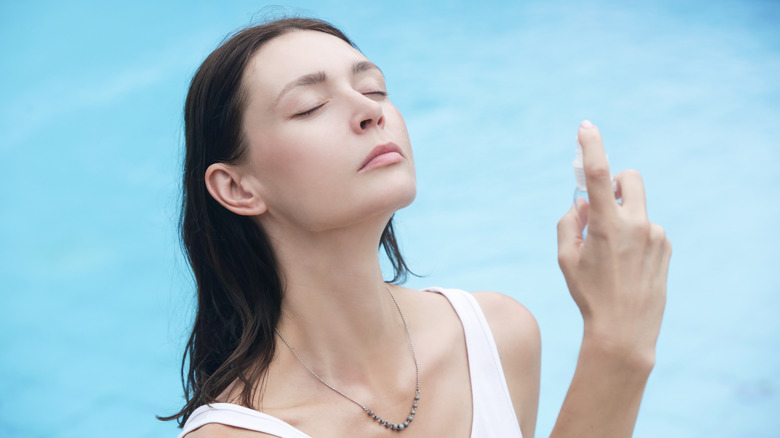 triocean/Shutterstock
In order to achieve the best results from your spray-on skincare products, it's crucial to use them correctly. Whether you're spritzing on sunscreen or your favorite hydrating mist, most spray-on products are designed to be used alongside other products. Furthermore, some dermatologists believe you should take extra precautions when using spray-on sun protection. "I know some of the products say that they're just 'spray-and-go,' but that's not what I recommend. I recommend that you spray and then you make sure that you rub it in so that you're not missing any spots," dermatology professor Dr. Rajani Katta told Verify. This can be difficult when using mist-based sunscreens atop makeup — in this case, it may be best to swap the foundation for an easy-touchup product like BB cream. Of course, spray-on or not, products containing SPF should be reapplied at least every 2 hours.
Advertisement
When it comes to moisturizing, sprayable skincare products can serve as excellent tools to support a multi-step skincare routine. They're versatile enough to be used throughout the day, and some can even double as a makeup setting spray. Still, if you're looking to protect your skin barrier, you'll want to use the moisture sandwich method — apply spray-on skincare before and after your standard moisturizer to seal in hydration. With proper use, skin-moisturizing sprays are the perfect way to prep and refresh your complexion whether you're at home or on the go.