Bombas: Where's The Brand Now? All The Details On Its Post-Shark Tank Success
A pair of socks — most of us don't think much about this item of clothing. However, for nearly 600,000 people experiencing homelessness in the U.S. today (via National Alliance to End Homelessness), socks can be perceived as a luxury, but they shouldn't have to be. Clothing donations are essential for those living in shelters, and when David Heath and Randy Goldberg learned that socks were the number one requested item there, they wanted to make a difference (per Worth). The two created Bombas, a clothing company that truly gives back. Their mission: for every pair of socks they sell, they donate a pair to someone in need. Who doesn't love comfy socks that can also make a difference in the world? 
But these aren't just your standard socks. In their Shark Tank pitch, Heath and Goldberg explained how it took them two years to engineer the most comfortable sock in the business, as shown on YouTube. Bombas officially launched online in 2013, and just nine months later, they had reached over $400k in sales. They decided to go on Shark Tank in 2014 to take their business to the next level. Even after a persuasive pitch, the sharks just couldn't get on board — all except Daymond John, who made them a deal of $200k for a 17.5% stake. It was a close call, but all it took was one "yes" to change everything. Since their appearance on Shark Tank, Bombas has made a tremendous impact that goes beyond selling socks.
Success after Shark Tank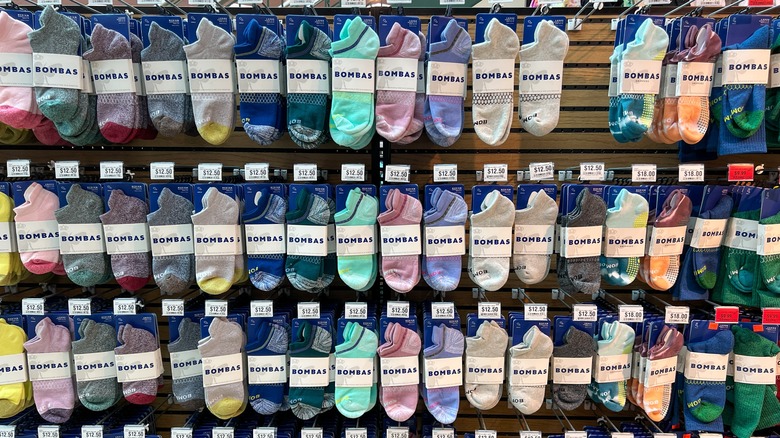 Joni Hanebutt/Shutterstock
It's safe to say the other sharks are probably wishing they went in on the Bombas deal, as the company has been one of Daymond John's most successful investments (per Money Made). After all, just two months after their Shark Tank episode aired, Bombas did $1.2 million in sales and sold out of their inventory, as per CNBC Make It. Six years post Shark Tank, that number skyrocketed to over $225 million. Bombas is standing taller than ever nearly ten years later, serving millions of people around the U.S. When the brand first launched, Heath and Goldberg had a goal of donating 1 million socks in ten years, explains their Impact Report via Bee Better. They hit that goal only three years later. Since their launch in 2013, the company has donated over 75 million clothing items to those who need them most. 
In 2019, David and Randy realized that there was also a need for other clothing in shelters, and decided to expand from just socks to underwear and t-shirts as well. Bombas has put a lot of love and care into their apparel, making clothes with durable, high-quality material and an antimicrobial treatment to ensure freshness between washes. The company partners with thousands of organizations that work to meet the needs of those currently or at risk of experiencing homelessness across the U.S. These organizations include overnight shelters, transitional living facilities, rehabilitation centers, and Title 1 schools. 
Going above and beyond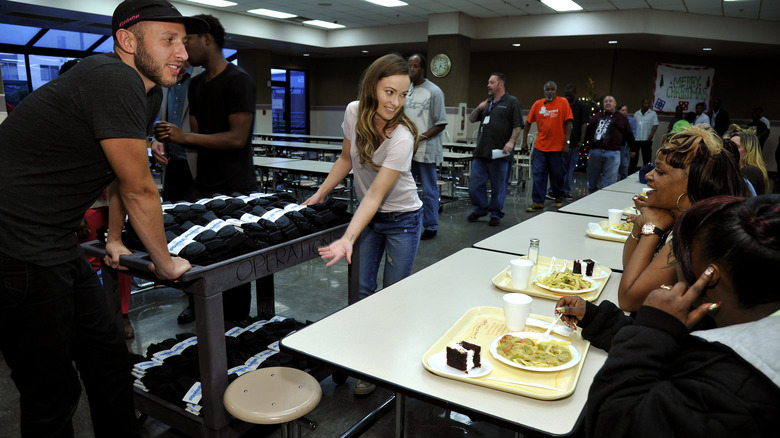 John Sciulli/Getty Images
Bombas is a brand that truly goes the extra mile for the community. As seen on their Impact Report, Bombas hosted an event called 60K Day in New York City, where, at that time in 2017, more than 60,000 people were experiencing homelessness. They decided to gather volunteers from 60 different companies, pair them with 60 giving partners, and give them each 1,000 pairs of socks in an effort to donate 60,000 socks across the city — all in one evening. While giving to those in need, this event brought together hundreds of individuals from companies and ignited an important conversation about homelessness. 
Over the years, Bombas has become much more than a sock company; it is a community dedicated to the service of others. When they aren't selling and donating clothes, Bombas employees are donating their time and effort to help in ways big and small. From cooking and serving meals, wrapping holiday gifts for families, and even throwing birthday celebrations for kids in shelters, they are really doing it all. We can all learn a lot from Bombas, and there are ways to help those affected by homelessness. If you'd like to get involved in the Bombas mission, check out their Giving Directory via Bombas to find a way to help near you.