Eyeliner Stamp: The Easiest Way To Embrace Graphic Liner Without Steady Hands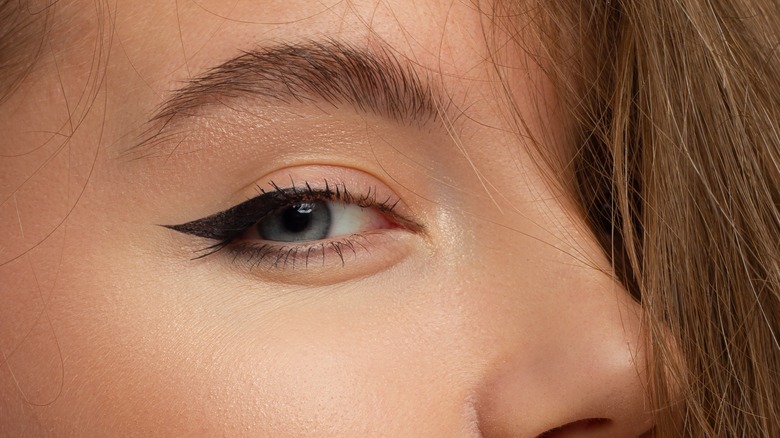 Shtennikova Evgenia/Shutterstock
Depending on your style of makeup, odds are you have tried to create the perfect winged eyeliner. Recently, all sorts of winged eyeliners have become some of the most popular beauty trends for your eyes. Because of the immense creativity that eyeliners can give you, it's safe to assume that eyeliners have become a necessity in most people's beauty drawers. However, just because it is a common makeup trend doesn't mean it's easy to achieve. Eyeliner is a tricky beauty product, as not everyone has the same ability to create their eyeliner looks. Despite there being various tutorials and tips for getting the perfect eyeliner application, it doesn't always come naturally for everyone.
Thankfully for those of us who don't have the natural ability to create complex eyeliner looks, beauty companies have released a helpful tool. Eyeliner stamps are the newest trick to step up your eyeliner looks without having to struggle to get straight and smooth lines. Even if you are an eyeliner pro, these stamps are perfect to create your typical eyeliner looks in less time. With more creative eyeliner designs becoming a norm in the beauty industry, it's safe to say that eyeliner stamps are going to be a must-have for everyone.
What's an eyeliner stamp and what does it do?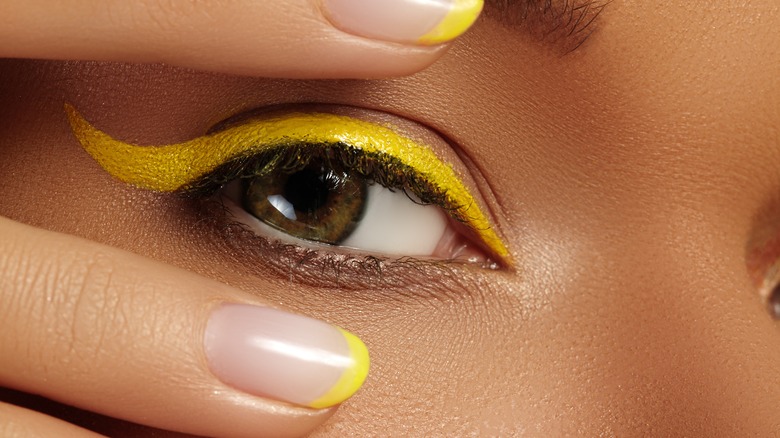 marinafrost/Shutterstock
Those looking for the best way to get a seamless eyeliner application may need a little extra help to create the ultimate look. As L'Oréal Paris explains, an eyeliner stamp consists of two parts: a stamp and a liquid eyeliner. The stamp has a pre-shaped, winged tip, which is usually made of a soft sponge material. The liquid eyeliner is housed in the other end of the tool and is used to fill in the gaps and connect the winged tip to the rest of the eyeliner. Depending on the brand, you may find that some companies have options when it comes to the shape of your eyeliner design. These various stamps give you the flexibility to decide which type of eyeliner you want to wear that day.
To use an eyeliner stamp, you simply dip the winged tip into the liquid eyeliner and then press it onto the outer corner of your eye, creating a perfect winged shape. You then use the liquid eyeliner to fill in the gaps and connect the winged tip to the rest of your eyeliner. A stamp can save time and effort, especially for those who struggle to create a winged eyeliner look freehand; however, it may take some practice to get the hang of using the tool and achieving the desired look.
Tips for the perfect eyeliner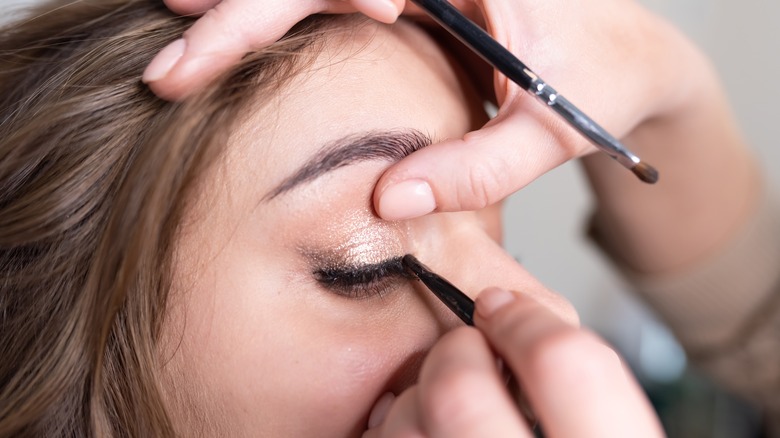 Artsiom P/Shutterstock
Even with the help of an eyeliner stamp, it can be challenging to get the ideal eyeliner look. One important thing to consider when applying eyeliner is the type of product you use. Liquid eyeliner can give you a sharp, precise line, while a pencil or gel eyeliner may be easier to smudge and blend for a softer look. Additionally, make sure you have the right brush or applicator for the type of product you are using, as this can affect the end result.
One of the most important factors to consider when wanting to do an eyeliner look is knowing your eye shape. The shape of your eyes will determine which eyeliner look will look best on you and highlight your eyes. Those with hooded eyes may need to focus on creating a thicker line on the upper lash line, while those with round eyes may benefit from a thinner, more angled line to create an elongated shape. 
It's also important to have a steady hand and good lighting. Using a magnifying mirror can help you see the fine details and ensure your lines are even. Additionally, try resting your elbow on a flat surface to help prevent shaky lines. If you make a mistake or your lines are uneven, don't worry! You can use a cotton swab dipped in makeup remover to clean up any mistakes, and you can always go over the line again to make it thicker or more precise.