The Sustainable Question You Should Ask Yourself Before Buying Fashion Pieces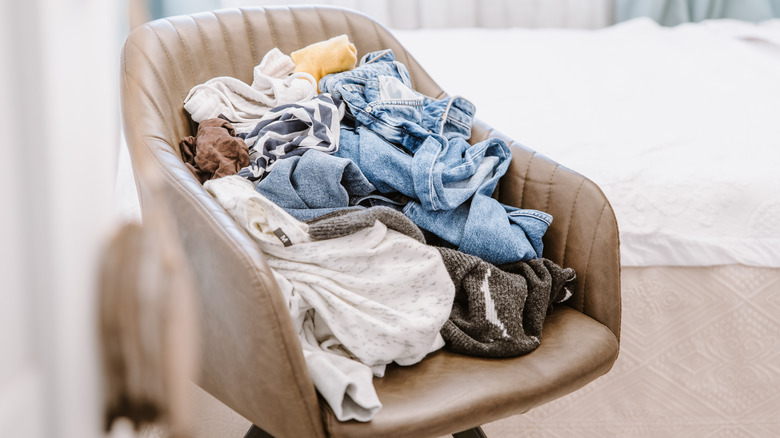 Damian Lugowski/Shutterstock
In our current economy, with Forbes predicting a 70% chance of a recession in 2023, it's definitely tempting to spend less money on clothes. Sure you'd love to be able to buy an haute couture Chanel dress during Paris Fashion Week, like the Oscar-nominated film "Mrs. Harris Goes to Paris," but with minimal wage increases set against the rising cost of living, it's no surprise we often find ourselves gravitating toward cheap clothes. Retailers like H&M and Forever 21 are just a few known for their fast fashion, in that the clothes are priced cheaply but keep up with today's styles and trends. In 2022, H&M alone garnered $713 million in profits, so they are clearly doing well. 
We've all experienced the fast fashion curse: you buy a fun top from Forever 21 and wear it a few times. Suddenly, the elastic snaps, some threading comes loose, and the entire shirt loses its shape after a few washes. Sure, you could take it to a tailor or seamstress to fix it, but that cost might outweigh the cost of just buying a new shirt. So you throw it in the bin and buy a new one.  Fashion rubbish adds up in landfills, and will take centuries to clean up. Here's what we should be asking ourselves before shopping, and how we can change our fashion habits to fight the climate crisis. 
Ask yourself if you're buying short-term or long-term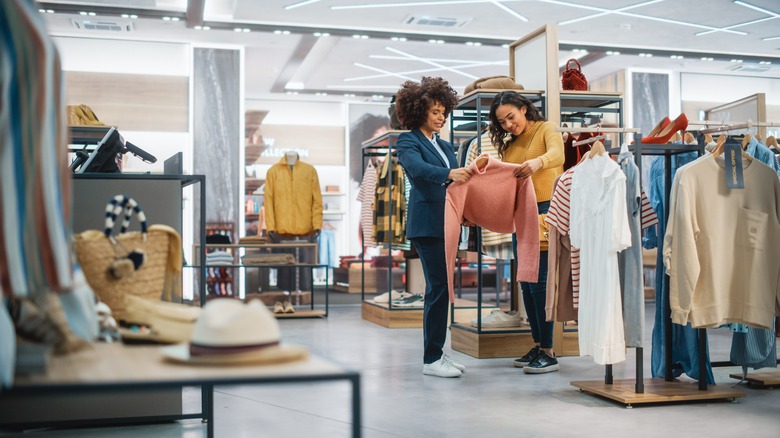 Gorodenkoff/Shutterstock
Before you head off to Zara or shop online and add-to-cart, you should care about the impact the fast fashion industry has on the climate crisis. Apart from the huge amounts of water used, and the overabundance of one-use clothing in landfills, the industry is also known for its labor violations, which include employing people in developing countries in unsafe work conditions, exploiting them, and paying them meager wages. So if you're going to buy, ask yourself if this is just a whim, or if you plan to wear the item for years to come. Is it an investment, or just a trend you'll try once? Will it add value, color, options, and style to pieces already in your wardrobe? Is it something you can't wear on more than one occasion? And can you care for it long-term? If not, forego the dry-clean-only items!
Eco-fashion influencer Kate Caric told The Cut, "If you really like that trend, and you're gonna wear it in two years, that's great," and fashion entrepreneur Erin Beatty agrees, telling the outlet, "It's really about, What are those pieces that will define your look over and over?"
All of these questions, and more, should be considered seriously. Fashion buyer Amanda Lee McCarty tells the outlet that, if you do, "You will be surprised how that exercise will cut a lot of really shoddy, unsustainable clothing out of your life immediately."
There are alternatives to throwing your clothes out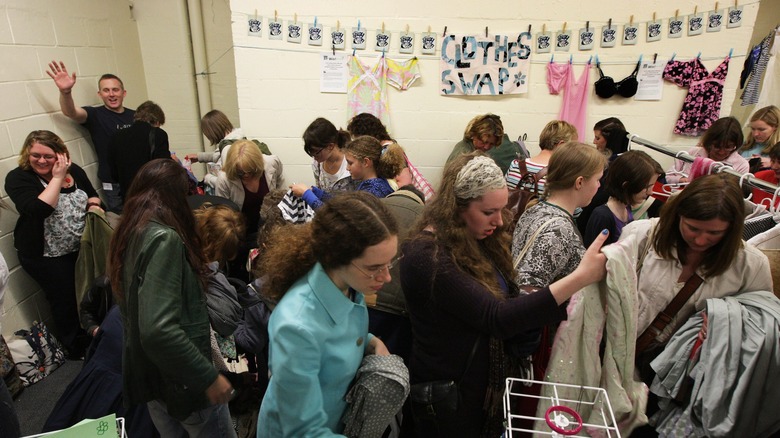 Oli Scarff/Getty Images
So what's a gal to do when she wants to switch up her wardrobe on a budget? Well, there are tons of options. First and foremost, when the threading or elastics on your garments come loose or snap, you'd be better off fixing it yourself than tossing it. It's amazing what a quick threading of the needle will do to keep your fast fashion looking fresh and out of the landfill.
If you never learned how to sew, we're sure you've learned how to trade! Clothing swaps are a great way to get rid of your old clothes, find some gently-loved new-to-you items, support the community, and save money. Facebook groups in your area, community bulletins, and church basements often hold clothing swaps, and what's more, any items not claimed by the end of the swap are often donated to women's and children's shelters. 
Finally, why buy clothes when you can rent them? Vox reported that shops like Ann Taylor, Express, Macy's, J.C. Penney, and Urban Outfitters have launched their own rental schemes, and Rent the Runway has been evaluated at $1 billion, so the demand for eco-friendly alternatives is definitely there. Yes, fashion choices can indeed help in saving the planet, as long as you're forward-thinking.