Hair Removal Creams: What's Their Purpose, And Should You Use One?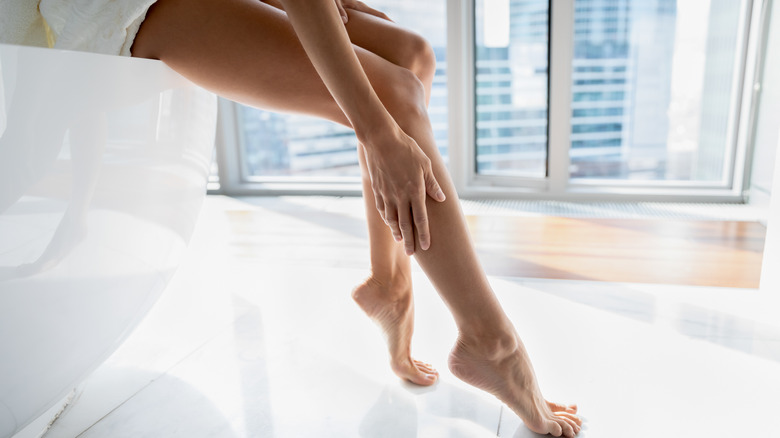 fizkes/Shutterstock
Whether it's on your face or your legs, having hair that you don't want can be a cause for annoyance. Although you could book your next appointment for wax or threading, they aren't always the most comfortable situations to be in. Both waxing and threading methods are known for being painful and irritating your skin. If your skin is sensitive, waxing can be challenging to maneuver. Besides these two hair removal methods, there is always the option of laser hair removal. While this might be less painful, it can be a costly treatment to have. With every hair removal method having its set of pros and cons, it can be challenging to find the perfect one for you. But if you're looking for something affordable and pain-free, another possible solution would be hair removal cream.
Advertisement
Hair removal creams have gotten much dismay due to plenty of myths surrounding hair removal. While some methods might fend off hair for a longer time than others, there's no doubt that hair removal cream is the least painful option of them all. Despite their history, many still don't know how these products work and who should use them. Although methods like waxing have become the most popular methods recently, there's a reason why hair removal cream has lasted for the number of years it has.
What's the deal with hair removal creams?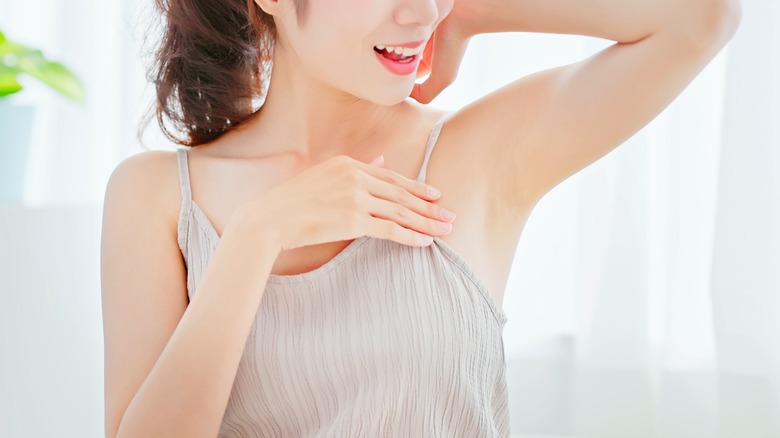 aslysun/Shutterstock
Anyone who doesn't want to go through the pain of waxing, sugaring, laser therapy, or threading has to know what a hair removal cream is. The main purpose of these creams is to act as an alternative to these other techniques to remove any unwanted hair. Hair removal cream contains chemical agents that break down the proteins in the hair shafts, weakening them so that they can be easily wiped away. The cream is usually applied to the skin with a spatula or nozzle, left on for a specified period of time, and then wiped or rinsed off with water. The time needed for the cream to take effect depends on the thickness and texture of the hair being removed. Typically, it takes between 5 and 10 minutes for the cream to dissolve the hair, although some products require longer application times.
Advertisement
One advantage of hair removal cream is that it can be used on various parts of the body, including legs, arms, underarms, and the bikini area. It is also a more convenient method of hair removal than traditional methods, as it does not require any special equipment or training. Hair removal creams are typically sold at any beauty supply store or where beauty products are sold — making them more accessible than other hair removal methods.
Are hair removal creams right for you?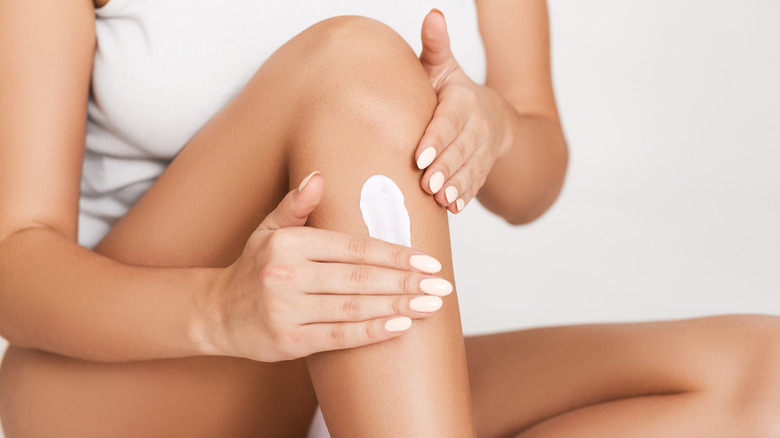 Prostock-studio/Getty Images
While it seems like hair removal creams are the miracle product you've needed to avoid those waxing trips, this product may be better for some groups of people over others. Individuals with sensitive skin or allergies should be cautious when using hair removal creams. The chemicals in these creams can cause skin irritation or allergic reactions, leading to redness, itching, or even burning sensations. Any concern can be solved with a simple patch test that can let you know if you have an allergy or sensitivity to hair removal cream. 
Advertisement
Unless you are sensitive or allergic to these products, hair removal creams can be a quick and easy way of removing those pesky hairs. Unlike waxing or shaving, hair removal creams dissolve the hair at the skin's surface, leaving the skin smooth and hair-free without any pulling or tugging. They can be used on various parts of the body, including the legs, arms, underarms, and bikini area, which waxing simply can't get to comfortably. Additionally, they do not require any special equipment or training, making them an affordable and accessible option for many people. Despite many myths, Veet explains that hair removal creams have no effect on your hair regrowth speed or thickness, making it a safe and practical product to use.
Advertisement