Cargo Pants, But We're Making Them Fashion In 2023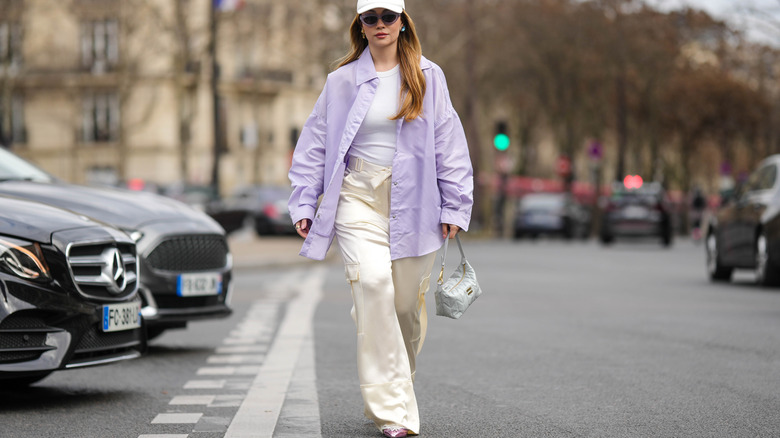 Edward Berthelot/Getty Images
We all know that skinny jeans are having a challenging moment right now. Between wide-leg jeans and straight jeans, there's no need for constricting jeans anymore. While new seasons always bring in new fashion trends, the latest pant styles on track for 2023 are not welcome news for skinny jeans fans. Instead of getting skinnier, our pants are getting looser. Cargo pants are the latest trend you'll be wearing all year long. While cargo pants are more known for their practicality when going out on hikes, they're now the most fashionable item on the runway. Designer after designer picked up on the cargo pants trend and explored the various ways to style these fun bottoms.
Although many believe that cargo pants are strictly for those into edgier street-style outfits, they are perfect for nearly any occasion or style. Like previous trends, cargo pants are part of this new wave of fashion pieces that are both stylish and comfortable. Instead of suffering with tight pants and no pockets, cargo pants let you have the best of both worlds. Dress them up or dress them down, cargo pants are here to stay for a long time, so it's best to find the perfect way to style them.
The classic cargo pants look
One of the easiest ways to style your cargo pants is by going with a classic safari-inspired look. Stick to neutrals and lightweight fabrics for a stylish adventurous look. Tap into your inner Indiana Jones by pairing neutral-colored cargo pants with simple pieces that automatically match. You don't need to do anything extra when wearing cargo pants besides feel comfortable and chic. Finish your look with whatever footwear matches your occasion, whether it's sneakers or heels, for a cohesive ensemble that will keep you comfortable all day.
Dressed down
Cargo pants are perfect for almost any situation, event, or style. However, one of the reasons why cargo pants are as popular as they currently are is because they are the ideal piece for a casual day. Instead of having to wear tight denim jeans all day, cargo pants are still casual for busy days but remain comfortable and flexible. Dress your cargo pants down with a graphic tee or a crop top for something that will last you all of your errands. Finish your outfit off with shoes that provide some extra comfort on your feet.
Dressed up
As easy as it is to dress down cargo pants, it's equally as easy to dress them up. While they aren't known for being elegant or sophisticated, cargo pants can make any outfit more dressed up. Start with grabbing your cargo pants in solid colors such as black or white, which are easier to style. Pair them with dressier tops or blouses, like a button-down, for a chic and simple look. Finish your outfit with any pair of heels for even more elegance. Add subtle accessories and jewelry to continue building an elegant look.
Mix and match styles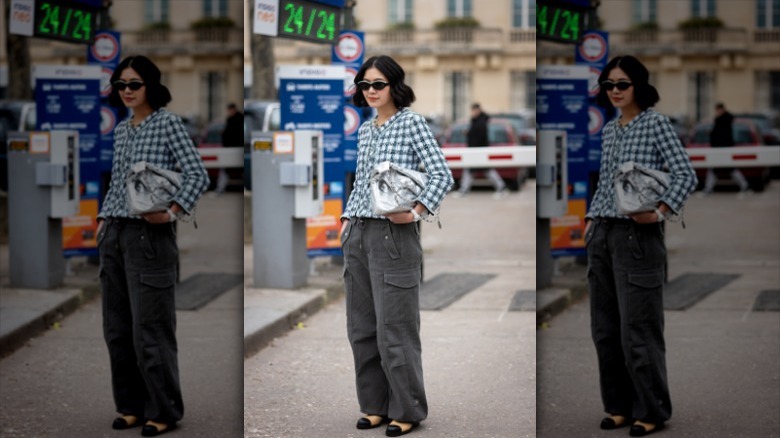 Claudio Lavenia/Getty Images
There is no rule that states you can't mix and match styles in fashion. While some will look more cohesive, the flexibility of certain fashion pieces means you can wear them with almost anything. One example is cargo pants. Despite their casual nature, you can always wear them with tops or outerwear that don't seem to match at first. Pair your cargo pants with a formal jacket in a luxurious fabric like tweed for the ultimate mashup. Combining various styles is one way to keep your wardrobe looking fresh and modern.
Play with colors
Like other clothing pieces that end up becoming trends, cargo pants have seen an explosion of popularity lately. This increased love for cargo means you can find these pieces in almost any shade imaginable. Instead of staying in neutral color palettes, you can also opt for a colorful pair of cargo pants. These fun shades are one way you can ensure that you can rightfully express your personality without sacrificing fashion. If you aren't afraid of color, step into a pair of brightly colored cargo pants for an extra statement.
The power of prints
Prints are always a fun way to transform any outfit. A pair of printed cargo pants are perfect to jump onto the trend but in a modern way. Printed cargo pants are perfect if you are looking to add another touch of fun and style to your outfit. If you're looking to style a pair of printed cargo, keep the rest of your look minimal to help emphasize the print.
Chic monochrome looks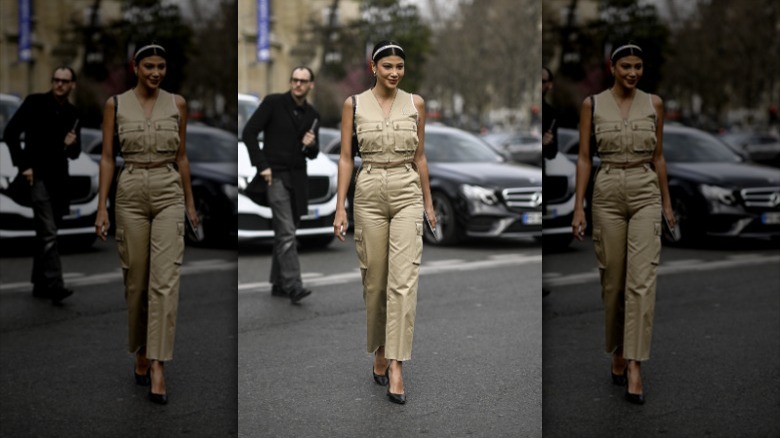 Daniel Zuchnik/Getty Images
You can never go wrong with a monochrome outfit. This is one of the easiest ways to style a challenging piece. Monochrome outfits will always help make your pieces look much more elegant and sophisticated when they're all in one color tone. There's no need to mix and match colors when sticking one color throughout your ensemble will create a cohesive and gorgeous outfit.