Is Hair Gloss Better For Your Strands Than Dye?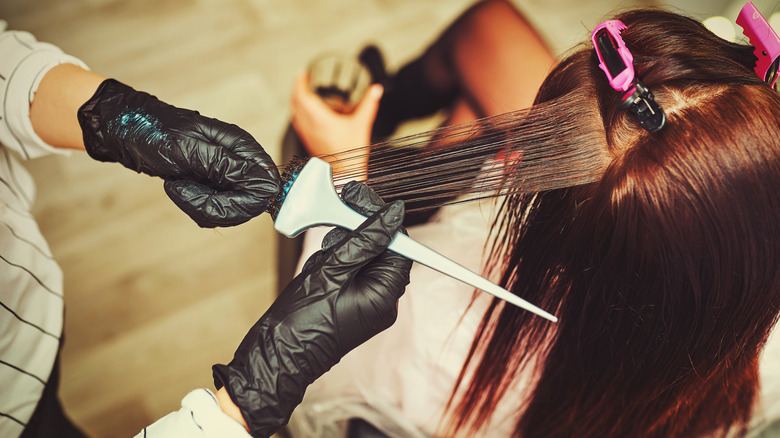 6okean/Getty Images
While changing your hair and refreshing the color can be a lot of fun, damaged hair from harsh chemicals and dyes is most definitely not. Though dyeing your hair with permanent color can indeed give beautiful, lasting results, not doing it correctly or doing it too frequently can lead to dry, brittle, chemically damaged hair.
Advertisement
Luckily, you don't have to sacrifice the health of your hair for rich, beautiful color. If you want to brighten up your hair or even out the tone without the damage of traditional hair dye, you may want to consider a hair gloss during your next trip to the salon. While both hair dye and hair gloss can give your locks a much-needed color refresh, there are major differences between the two. And though gloss can be a great alternative to dye, it can't do everything that a dye can. Understanding the difference between dye and gloss can help you choose which one is the best option for achieving your hair goals.
What is hair gloss?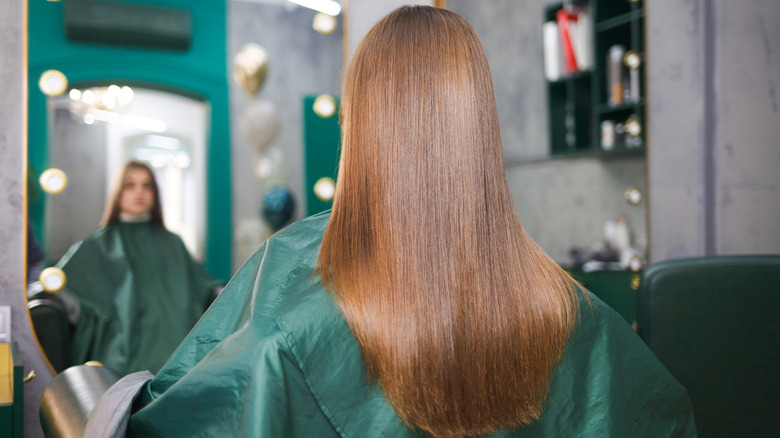 Andrii Borodai/Getty Images
Simply put, a hair gloss is a non-permanent variation of dye that also works to enhance your hair's natural shine, unlike traditional direct dye, which can leave your hair looking dull and damaged. Instead of penetrating your strands like a hair dye, a gloss simply sits on top to deposit color without over-processing or over-drying. According to celebrity hairstylist Kevin Kelly, in addition to evening out your tone, a hair gloss can also improve your hair's texture by smoothing it and eliminating frizz and flyaways, acting similarly to a hair oil (per Women's Health).
Advertisement
It's also possible to reap the benefits of a hair gloss treatment, even if you don't want to change the color. "A gloss can be clear or colored, depending on your desired result," says hairstylist Brad Mondo (via Elle). Tinted hair gloss will deposit color and alter the tone of your hair, while a clear gloss will add shine and softness without altering the color.
While dye can be used to achieve drastic color changes, you can ask your stylist at your next appointment to try a gloss if you want a subtle color treatment that is much gentler on your hair. While a gloss treatment can't take you from one end of the color spectrum to the other, hairstylist Devin Toth says they can be used to "adjust the warmth or coolness of blonde hair," "blend grays away," and "add tremendous depth to dull brown hair." 
Advertisement
Dye stains while gloss enhances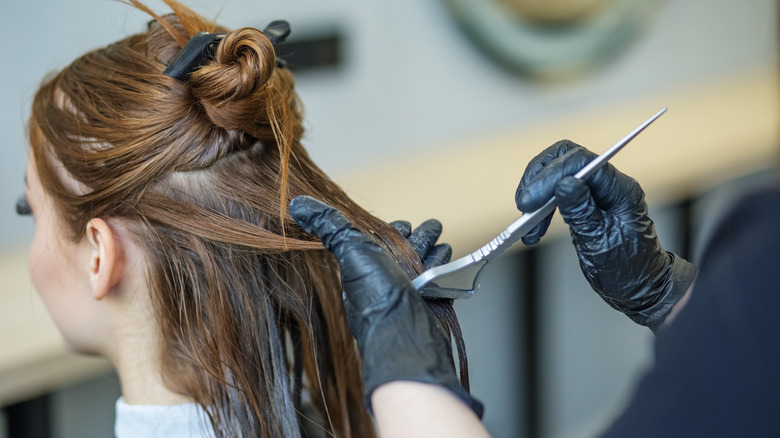 Olha Romaniuk/Getty Images
In addition to giving your mane a glossy, shiny appearance, hair gloss can improve the health of your hair — unlike harsh, permanent dyes. "A gloss is very acidic and closes the hair and the cuticle real tight. The result is a very smooth surface texture that will reflect a lot more light and have a much softer feel to it," says hairstylist Paul Cucinello (via HuffPost). On the other hand, traditional dye opens up the cuticle while depositing color through the use of ammonia, which can easily damage your strands. Studies show that ammonia in permanent hair dyes can not only damage your hair's physical structure but can cause chemical damage as well by altering the keratin protein.
Advertisement
Plus, if you end up changing your mind about the tone of the gloss and decide to go for a color that can only be achieved by dye, having a previous gloss treatment won't prevent you from doing so, as gloss doesn't change the chemical structure of your hair. While you normally have to wait a while between dye jobs to give your hair time to recover, using a hair gloss leaves you free to refresh your color as often as you want.
Gloss is a lower commitment alternative to dye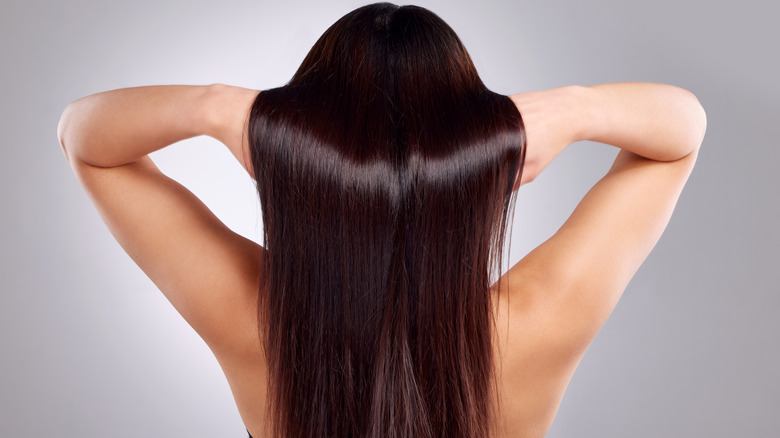 Peopleimages/Getty Images
If you are someone who changes your mind about your hair color often or likes to update it every season, you might want to skip the permanent dye and opt for a hair gloss instead. According to Paul Cucinello, hair gloss gradually fades within six weeks, making it far less of a commitment than traditional hair dye. Because dye stains your hair and penetrates the cuticle, it can be far more difficult to change your mind once you commit to a specific color. Permanent dye does not easily wash or fade, and your strands can be stained for a long time, making gloss the more popular option for someone trying out a color for the first time or who doesn't want to commit to a single color long-term.
Advertisement
Additionally, if you love salon-quality color but don't love the cost and commitment required to maintain it, hair gloss naturally blends into your root regrowth, so it won't be as noticeable if you skip a visit to the salon. "When using a gloss, you will not have a strong line of demarcation, so your regrowth can come through much softer," says hair colorist Richy Kandasamy (via Byrdie). Should you decide you don't want to keep up with the gloss treatments, you can simply stop making appointments at the salon, whereas regular dye jobs aren't so easy to abruptly stop — especially if the color varies drastically from your natural color.
What hair gloss can't do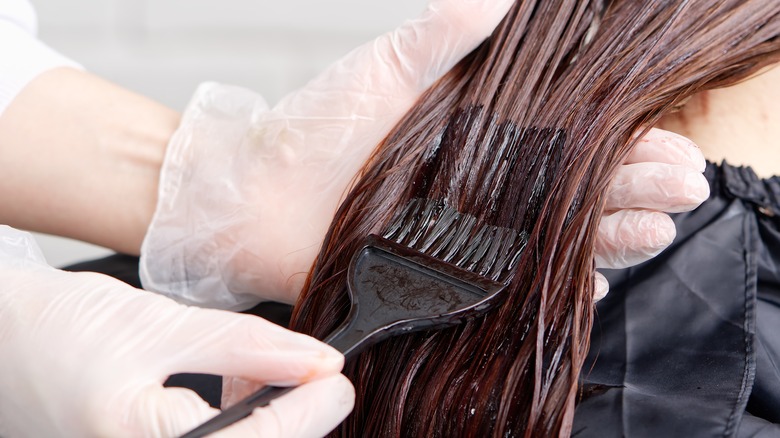 InFocus.ee/Shutterstock
With as many benefits as hair gloss has, it does have its limitations. Because hair gloss does not contain ammonia, it can't lift your hair's existing tone, meaning it won't do much good in your journey to becoming a blonde if you are a natural brunette. While a gloss can help enhance and deepen your natural hair color, if you want to go lighter for the summer, you'll have to use a dye that can bleach your hair.
Advertisement
Though a hair gloss can't help you achieve lighter hair, getting a clear gloss treatment on top of pre-lightened hair can help restore some of the softness, shine, and hydration that ammonia strips away. It can also add healthy-looking shine to naturally blonde hair. Additionally, if you already have blonde hair, you can use a tinted hair gloss to tone it or cancel out any brassiness or undertones you don't want. While hair gloss isn't always a direct replacement for hair dye, if the results you are looking for are relatively subtle or if you simply want to enhance or brighten up your existing shade, a treatment can provide you with rich, damage-free color while keeping your tresses smooth and shiny.
Advertisement