15 Best Shampoo Bars For Every Hair Color, Type, And Texture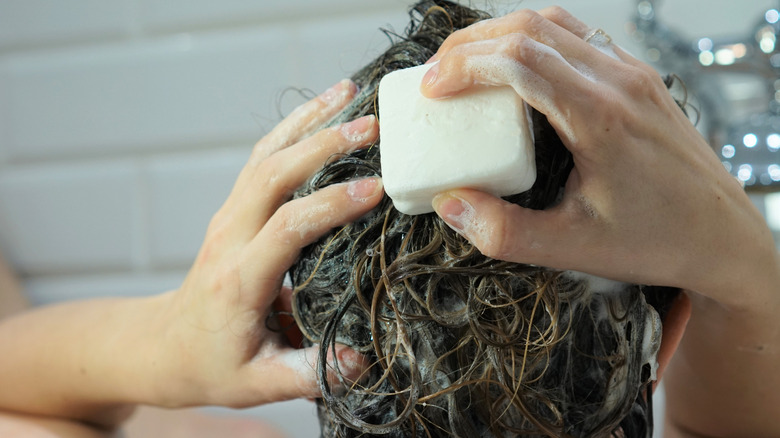 Anna Rogalska/Shutterstock
We may receive a commission on purchases made from links.
We're calling it, shampoo bars must be the next big thing. Sure, they've been around for a while now. But wouldn't it be amazing to see a huge overhaul from using disposable plastic shampoo bottles that end up in our oceans and landfills to using shampoo bars completely made and packaged without plastic? 
Shampoo bars have so many other advantages, too. For one, nearly all of them are made with natural ingredients your hair will love. These formulas are typically vegan and free of harsh detergents, sulfates, and parabens. They are often gentle on your hair and scalp and are extremely effective at ridding your hair of dirt, product buildup, and excess oil. As a bonus, they are much easier to travel with, so you don't have to worry about a TSA agent throwing them out or a bottle spilling into your luggage.
When you're ready to switch to a shampoo bar that is right for your hair, you'll need to mull over its ingredients, target customers, shelf-life, and benefits. Doing so can aid you in finding the option that will work best with your hair type and lifestyle. Most shampoo bars are not "one size fits all." Lots of them use pure and simple ingredients that deal with specific issues and concerns, such as oily, dry, blond, or thinning strands. You'll need to pay attention to these details as you sift through our favorite options.
How we selected products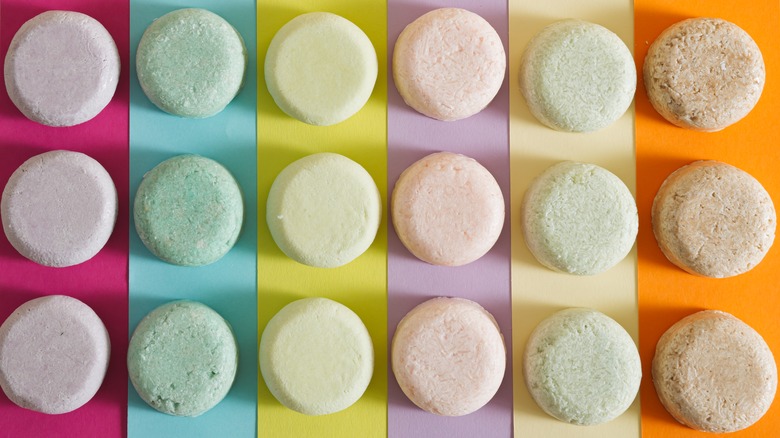 maramorosz/Shutterstock
Some of the most common things you'll hear about shampoo bars are that they are good for the environment and your health. Of course, this type of branding makes the bars very attractive to nature lovers and health-minded individuals, but shampoo bars are for everyone. There is a bar out there for every person with hair on their head, no matter their gender, hair color, sensitivities, and curl pattern or lack thereof. Naturally, not all shampoo bars are created equal. Some are made without you in mind only to make a quick buck. This is why we paid such close attention to what customers of each brand were saying about these traditional shampoo alternatives.
For this list of shampoo bars, we carefully narrowed our list of considerations using the reviews left beneath each product and the recommendations from our most-trusted influencers online. Naturally, we couldn't leave out statements from the brands themselves along with their research on harmful and beneficial ingredients to help us make these decisions. After crossing out all the good contenders that couldn't live up to the best in every category, we're left with what we think are the 15 best shampoo bars money can buy. Ideally, at least one of these bars will reward you with stronger, healthier, and softer hair that you can feel good about.
Best shampoo bar overall
Parrotfish's Argan Shampoo Bar wins the spot for best shampoo bar due to its ability to hydrate and heal several hair types. The concentrated shampoo prevents frizz and breakage in addition to boosting shine. This shampoo bar is formulated with coconut oil, cocoa butter, and argan oil, which easily moisturize the driest of tresses. It's also infused with a paraben and phthalate-free fragrance blend that is reminiscent of bamboo, pine, and peppercorn. Even better, it's made without palm oil, which is a significant player in deforestation.
Purchase the Parrotfish Argan Shampoo Bar at Parrotfish for $15.
Best affordable shampoo bar
Love Beauty and Planet's 2-in-1 Shampoo and Conditioner bar is a steal. For about $5, the heart-shaped multitasking bar makes it easy to get your hair clean without the large plastic bottles you're used to. Target reviews indicate that the product is great for traveling because the design is space-saving and it's TSA-friendly if you are regularly in the sky. Best for thin hair that could use some volume, the shampooing and conditioning bar leaves hair refreshed and shiny.
Purchase the Love Beauty and Planet 2-in-1 Shampoo and Conditioner bar at Target for approximately $5.
Best shampoo bar for fine hair
J.R. Liggett's All-Natural Shampoo Bar is a favorite of many for its natural plant-based ingredients that are gentle on your tresses and good for the environment. One Amazon customer explains how it changed their hair saying, "I've been using this exclusively for the past 5 months ... My fine hair appears fuller and is healthier. Even my hairdresser noticed the difference without me even mentioning that I was using this shampoo. Highly recommend for fine hair."
Purchase J.R. Liggett's All-Natural Shampoo Bar at Amazon for approximately $12.
Best shampoo bar for thick hair
Made with Longsheng rice, Viori's Shampoo Bars are loved for their ability to restore and strengthen without any harsh chemicals or wasteful plastic bottles. This bar is packed with vitamins praised in this Amazon review stating, "I have very thick hair and as a child it was wavy ... When I came across this shampoo ... [I] didn't hold out much hope that it would make any difference. However, with the first shampoo, my hair was noticeably softer, and the wave had returned!"
Purchase Viori's Native Essence Shampoo Bar at Amazon for approximately $17.
Best shampoo bar for thinning hair
There are a variety of commonly-used hair care ingredients that promise growth. Many of them, such as rosemary oil and vitamin B3, can create amazing results. However, if you are still struggling with thinning hair, the ingredients found in Seek Bamboo's Organic Seaweed Shampoo Bar could help. Hair growth and regeneration can be stimulated by seaweed, which is rich in Omega-3s. Often, it leads to more voluminous hair and a healthier scalp that boasts less shedding and more growth.
Purchase Seek Bamboo Organic Seaweed Shampoo Bar at Seek Bamboo for approximately $13.
Best shampoo bar for textured hair
Curly-haired people are raving about Ethique's Professor Curl Solid Shampoo Bar. One review on Ethique reads, "I have ringlets and waves and severely damaged hair. Both hair dye, heat damage, and having a baby ... has had an assortment of impacts on my hair. This is the first time since falling pregnant that my hair has felt nice and soft." Finding a shampoo bar that doesn't strip moisture from curly hair is hard. This one seems to outshine the rest.
Purchase Ethique's Professor Curl Curl-Defining Solid Shampoo Bar at Ethique for $15.
Best shampoo bar for blond hair
To many peoples' surprise, there are a few great purple toning shampoo bars on the market today. However, none receive as many great reviews as the Kitsch Purple Toning Solid Shampoo. Without parabens, phthalates, silicones, sulfates, and artificial fragrances, this biotin-enriched shampoo creates stronger and healthier hair after a single wash. It tones brassiness with ease, but what people really love about it is the silky texture it gives your locks.
Purchase Kitsch Purple Toning Solid Shampoo at Kitsch for $14.
Best shampoo bar for brunettes
Of course, you've heard about purple shampoo for blonds, but what about a shampoo that makes your dark hair stand out? Wildflower Beauty by Jessica has created a Brunette Shampoo Bar that is said to "enhance brown tones and bring out the rich chestnut brown hues of the hair over time." Formulated with only natural ingredients, the shampoo bar contains the oils of coconut, olive, avocado, apricot, and castor, brewed coffee, and clove and lavender essential oils.
Purchase Wildflower Beauty by Jessica's Brunette Shampoo Bar at Wildflower Beauty by Jessica for $12.
Best shampoo bar for dry hair
When it comes to shampoo bars, it isn't difficult to find one suitable for dry hair. Many of these bars, including the superior Kitsch Castor Oil Nourishing Shampoo Bar, feature seriously moisturizing oils to strengthen and soften hairs as they clean. Kitsch's version of this product is suitable for all hair types including color-treated tresses. Not only do they provide this win, but they are also women-owned, cruelty-free, and environmentally friendly, saving more plastic from ending up in our oceans and landfills.
Purchase Kitsch Castor Oil Nourishing Shampoo Bar at Amazon for approximately $14.
Best shampoo bar for oily hair
Peach not Plastic is known for its sustainably made lotion bars, bar soaps, shampoo, and conditioner bars. Their Purifying Shampoo Bar is among their most popular items due to its ability to fight excess oil production and get rid of product buildup from using gels, dry shampoos, and hairspray. One Amazon reviewer said, "It's curved to lay against your scalp better, and that really helps with getting lathered up. I love how this makes my hair look & feel."
Purchase the Peach not Plastic Purifying Shampoo Bar at Amazon for approximately $14.
Best shampoo bar for color-treated hair
The Nole Rosemary for Balance Shampoo Bar has a not-so-secret ingredient: batana oil. The oil, which is rich in hair-healthy antioxidants and amino acids, is meant to heal your scalp for stronger and moisturized locks. Sadly, our bleached-blond friends will have to sit this one out if you want to maintain the brightness of your strands. This bar, which is safe for color-treated redheads, brunettes, and raven-haired people, is suitable for all hair types and also combats dandruff.
Purchase Nole Rosemary for Balance Shampoo Bar at Nole for approximately $16.
Best shampoo bar for damaged strands
Damaged hair, from using heat, color, or other treatments, can benefit from the Ethique Sorbet Restoring Solid Shampoo Bar. Praised for its ability to restore shine, strength, and moisture, one Ethique customer said, "My hair had never felt cleaner or softer! My hair is professionally colored and has one odd oily patch. This bar did the trick!"
Purchase Ethique's Sorbet Restoring Solid Shampoo Bar at Ethique for $15.
Best shampoo bar for dandruff
Dandruff is a difficult issue to deal with. Not only can it ruin your hairdo, but it also makes your scalp painfully itchy. There are countless dandruff shampoos out there, however, not all of them will work the way you want them to. Vunella Natural's Tea Tree Shampoo Bar is considered to be one of the good ones. The shampoo bar is formulated with cocoa and shea butter to hydrate the scalp and tea tree oil and coco sulfate to prevent dandruff.
Purchase Vunella Naturals Tea Tree Shampoo Bar at Vunella Naturals for approximately $13.
Best shampoo bar for sensitive scalps
EcoRoots is well-known for its sustainable, vegan, and cruelty-free products that really work. Their Moroccan Oil Zero Waste Shampoo Bar isn't any different. People who can't use heavily fragranced shampoos with harsh chemicals are especially loving this shampoo bar. An EcoRoots review says, " I have extremely sensitive skin (eczema flares) and [EcoRoots] has been the only brand to be gentle enough for my scalp while still removing build up and oil. I can not say enough good things."
Purchase EcoRoots Moroccan Oil Zero Waste Shampoo Bar at EcoRoots for approximately $13.