Skinny Jeans Are Returning, But The Trend Has Been Remixed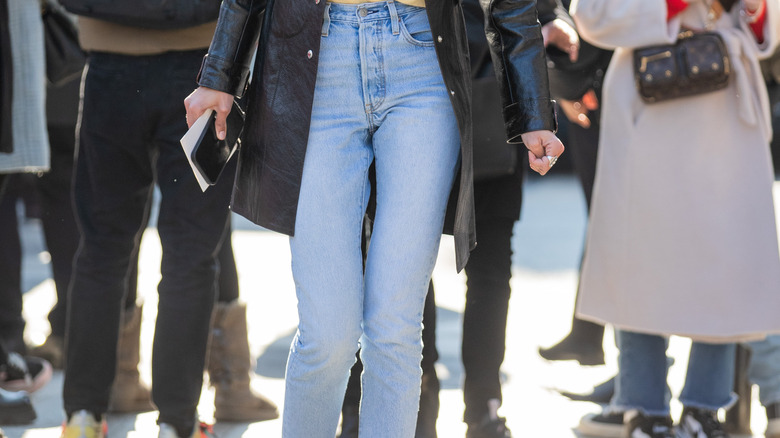 Christian Vierig/Getty Images
After Gen Z declared skinny jeans dead, most of us likely didn't expect to see their reemergence this soon. However, we can't say that the skintight, silhouette-hugging jean truly is back, but something more like the skinny jean's cousin has recently been seen donned by trendsetting celebrities. This reiteration of the skinny jean is a tad looser and less reminiscent of the stretchy, jegging days. Similar to a high-waisted, slim-fit jean with a bit more structure than the skinny, this hot trend is garnering some excitement from TikTok users who find the look super cute and flattering.
And cold climate fashion lovers get ready to rejoice. If a skinnier jean really is back in style, that also means no more failed attempts at pairing baggy, wide-leg jeans with winter footwear, which inevitably get soaked around the ankles from rain and snow. This narrower jean fits beautifully in tall boots. Here are some remixes of the skinny jean trend in 2023.
A comfier fit
If you cringe slightly when recalling hopping your way into a pair of skinny jeans in the 2010s, then you'll be relieved to find the 2023 skinny jean is much roomier. Still slim and slender, the current trend has a more casual, effortless vibe than the ultra-tight jean that reigned supreme for years.
High-waisted and highly desirable
Another defining feature that separates this look from its parent style is the high waist. While some of the skinny jeans of the 2010s may have hit at mid-hip, the waist-cinching look of the reemergence is flattering. The perfect go-to for relaxed, laidback outfits this spring and beyond.
Pairs well with heels
The open ankles of the current skinny jeans are super versatile when it comes to shoes. Heels are perfect with this look — as are boots and sneakers. If shifting into the mom jeans and dad jeans fad was just too difficult for you —  ahem, elder millennials — then you'll be thankful for this skinny-ish style.
The ultimate in casual elegance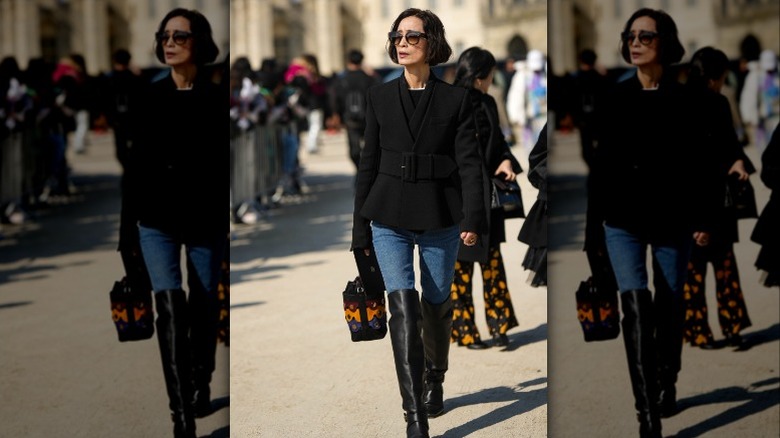 Edward Berthelot/Getty Images
There's something appealing to the eye about this style, which falls somewhere in between straight and skinny, and we are just totally here for it. The updated trend is simple and chic, yet super workable when it comes to emanating your inner elegance. From light to dark fades, the vibe is all about versatility.
You can take this remix in any direction
The evolved skinny jean can easily be dressed up or down for work, lunch dates, mom life, or a night out. Again, versatility is what we love. There's something about the high waist and structure that makes these skinny jeans a bit more sophisticated than the skin-tight version we all associate the term with. It may take time for some of us to get used to donning skinny jeans again, but chances are it won't take much.