An Expert Stylist's Intriguing Take On Why Skinny Jeans Will Soon Be Back In Style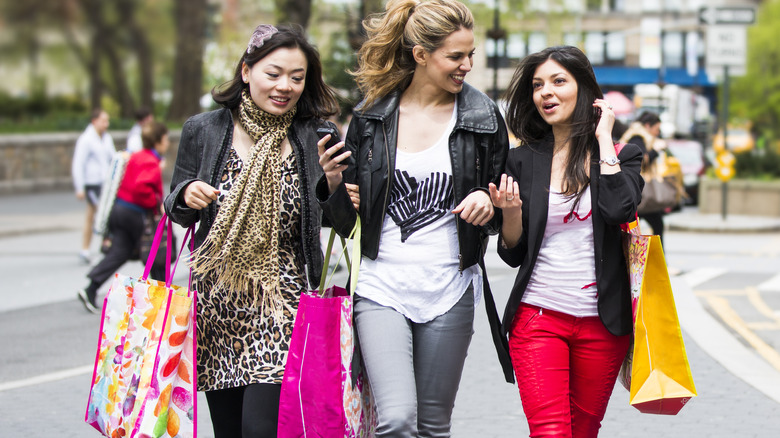 Diane39/Getty Images
Skinny jeans have risen and fallen in and out of favor with the fashion-forward crowd more than your average wardrobe staple. From 1960s mod girls to 1980s punks to 2000s emos and, finally, the 2010s everygirl, this cut just won't give up. Since the days that followed the peak of the COVID-19 pandemic, however, skinnies have seen a major decline in popularity. Between the good-natured but relentless mocking from creators like @Michelle_et_elles on TikTok and the average American's horror at the thought of returning to restrictive denim after lounging in isolation, the change was fairly predictable.
Advertisement
The question now is whether or not skinny jeans will return to their once-iconic place in fashion history, so we took to the stars to find out. Glam asked personal stylist Rachel Varney of Styled by Rachel for her expert opinion on the matter. If you're a die-hard fan of the super skinny denim cuts of the past, don't rejoice quite yet. You might need some time to adjust to this fashion forecast. 
Skinny jeans, evolved
When it comes to the question of whether or not skinny jeans will be making a comeback, the answer is a little more complicated than you might expect. Rachel Varney tells us that "they are making a comeback, although not necessarily in the skin-tight, leg-restricting way you might be picturing. This year you'll be seeing more styles that bridge the gap between skin-tight skinny jeans and straight-leg jeans."
Advertisement
Traditionally, a cut between the skinny and straight leg is considered to be tapered. This cut was popular in the late '80s and early '90s and was made famous by the ever-popular term "mom jeans," which have seen a huge resurgence over the past several years. Now that low-waisted styles are threatening to come back into the mainstream and there's a market for a wider range of tapered widths, a whole new range of denim combinations just might emerge. 
How to style the new skinny jean
If you're wondering what might be the best ways to style wider-legged skinny jeans than you're used to rocking, Rachel Varney has you covered. She recommends wearing tapered jeans "tucked into high boots." She continues, "From there, you can style with your favorite sweater and a trench coat for a chic and effortless look." Once you're a little more comfortable, she suggests you try pairing them with your favorite heels or sneakers. "You can't go wrong," she advises. "This skinny/straight leg jean is flattering and versatile. I see this trend sticking around for a while."
Advertisement
If you're interested in staying on-trend, have fun experimenting with this new take on a modern classic. If you truly love your super jeans, keep wearing them! The style that looks best on you, of course, will always be the one that makes you feel the most comfortable and confident in your own skin. So, will you be trying out the new skinny jean look? It might be here to stay!