Our Guide To Achieving The Subtle Golden-Hour Highlights Trend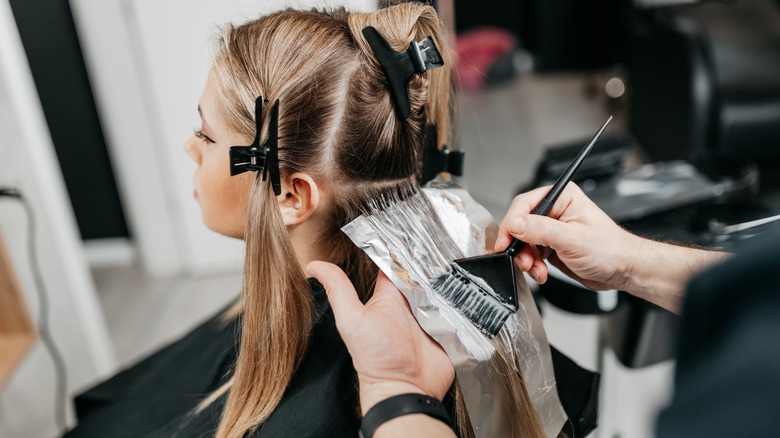 hedgehog94/Shutterstock
Getting highlights integrated into your hair color is one of the best ways you can lighten up your hair in a flash. With hair highlights trending in almost every color, length, and shape, it's hard to argue against getting some during your next salon appointment. Some of the recent hair trends range from subtle highlights to adding bold colors like red highlights. The purpose of any of these trends is to create something fresh and new, while still giving you something you'll love seasons from now. One of the latest hair color trends to hit red carpets and salons alike is all about another one of your favorite moments. 
Advertisement
In photography, golden hour refers to the time immediately after sunrise and just before sunset, when the light is filled with magical golden tones. While golden hour is famous for being a beautiful moment to create amazing photographic moments, it's now your new source of inspiration for your hair. Instead of waiting for sunrise or sunset, carry around a golden hour in your strands every day.
Golden-hour-inspired highlights are more than just a passing hair trend that you'll regret in seasons to come. No matter what base color you choose, adding these rich shades of orange and gold is a spectacular way to add warmth to your hair. To grab this style, you will need to ask for warm highlights in various shades that make it seem as if the sunset is always hitting you. These highlights can range from a golden color to a rich light brown to add some variety throughout the hair.
Advertisement
Add a series of highlights
Getting golden-hour hair is all about adding a variety of color tones to your highlights. When you think about the golden hour, it's all about how the light hits various spots and can change the tones in unique ways. Translate this same concept to your hair by adding an ombré effect to your highlights where you can add darker and lighter highlights towards the bottom to create this dynamic hair color.
Advertisement
Face-framing highlights
There's no easier way to create a hairstyle with movement and volume than getting face-framing highlights. Adding golden-hour-inspired highlights to your strands starting from those closest to your face and expanding outwards lets you pick up almost every tone under the sun. Giving your hair this face-framing highlight technique will mimic that same experience as looking into the distance during golden hour, with the brightest part being the sun.
Advertisement
Various golden-hour shades
Just because you don't have golden or blonde hair doesn't mean you can't join in on this hair trend. As golden hour can transform the color of almost anything, you can add these warm touches even if your hair is on the darker side. Add light and dark brunette highlights to your hair to give your tresses some of this variety of light throughout. You want to ensure to stay on the warmer side to give your hair an extra warm glow without having to do anything to your base hair color.
Advertisement
Bright golden-hour hair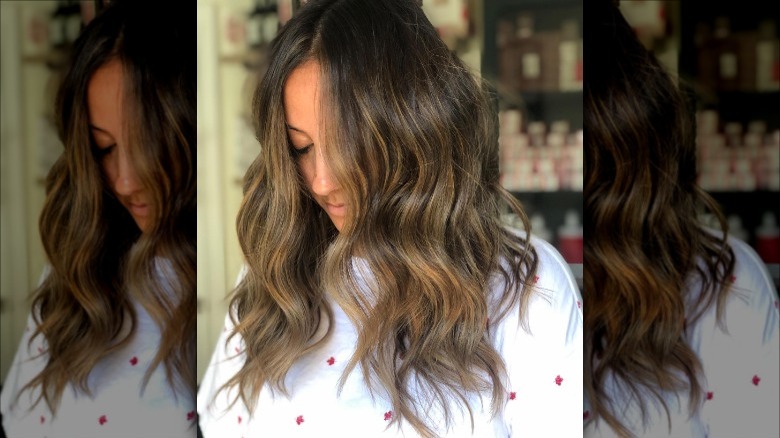 Instagram
Just as golden hour during sunrise brings an optimism of light to your day, your hair can also transform into something that is bright. Whenever you implement highlights to your hair, you can subtly change the impression of your hair. Even if your base color doesn't change, a few additions of this light golden hair can bring out your inner glow.
Advertisement
A moody, warm golden hour
Even though having sun-shining hair is beautiful, there's also beauty in that darker, warm golden-hour sunset. Right as the golden hour is about to end, we are rewarded with a rich and dark moody golden glow. Bring this same richness into your hair by getting a brunette base hair color with a few golden highlights. Bringing the overall shade of your hair down will emphasize these lighter highlights and give you every speck of light.
Advertisement