Our Best Advice For Fixing Frequent Mascara Smudging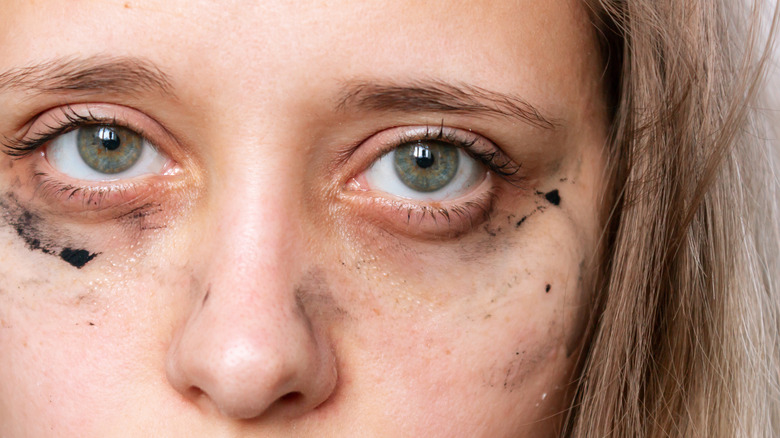 Marina Demeshko/Getty Images
Every makeup lover will agree that applying mascara is a foolproof way to liven up your face. Even if you skip all other products and wear only mascara, it will seem like you put in the effort. Unfortunately, mascara can be tricky to use as it tends to smudge quite easily and spread around the eye area. If your mascara flakes or smudges on your face, its application may seem daunting and frustrating. But it doesn't need to be.
No matter what type of lashes, facial structure, eye shape, or skin type you have, smudging mascara is a problem that affects everyone at some point. Even those naturally blessed in this department may experience this issue when new skincare products are incorporated into their routine or they change how they apply products to the eye area. While there are several reasons why mascara tends to smudge, the one you should be most mindful of is the moisture on your eyelids. This could be caused by oily skin, sweat, tears, creamy products, or simply due to the reaction of your skincare essentials mixing with your makeup.
The best way to prevent your mascara from smudging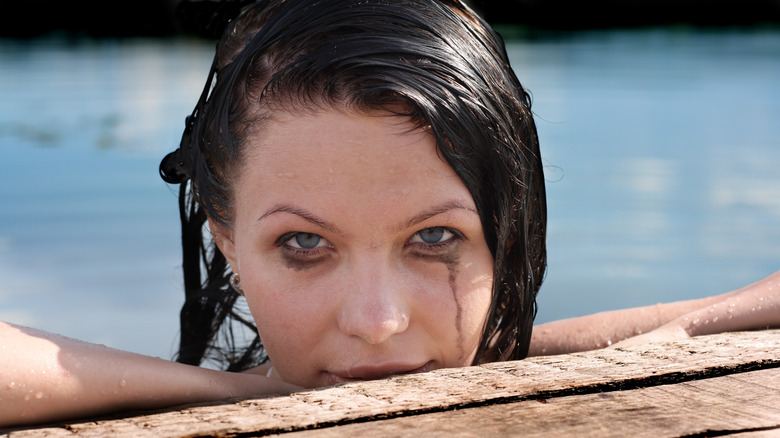 Tsidvintsev/Getty Images
Many are surprised to learn that the skin on their eyelids can be oily even if the skin on their face isn't. This oil will most likely affect your eye makeup by breaking up the bonds that hold it in place. Nikki Wolff, the global creative director of artistry for KVD Beauty, tells Real Simple, "The oil in our skin, or creamy products applied around the eyes, can make the pigment of the mascara transfer onto skin even after the mascara is dry." The same principle applies to sweat and heat, which can cause mascara to run even if your skin isn't oily.
A simple way to ensure that your eyelids stay relatively dry is to blot away the moisture with a face wipe or blotting sheet after you cleanse and moisturize your face and before you apply makeup. In a conversation with Marie Claire, celebrity makeup artist Janice Daoud recommends, "Using translucent powder is perfect for setting under your eyes, which will help avoid mascara transfer." This is perhaps also why TikTok wants you to add setting powder to your mascara.
Other useful tips to prevent running mascara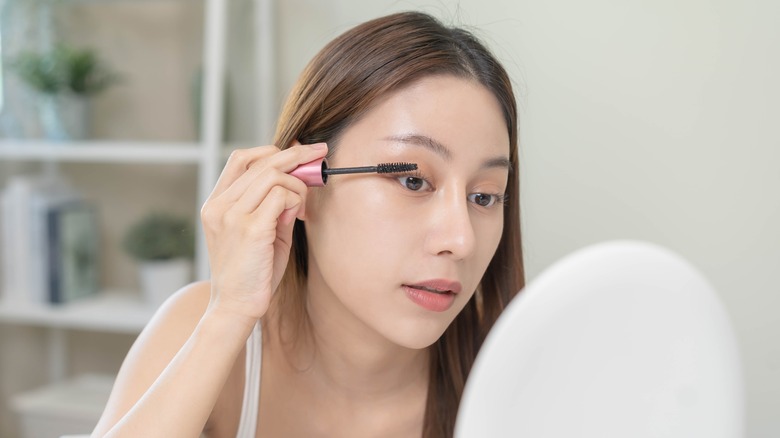 Kmpzzz/Shutterstock
Another way to achieve a matte and blank canvas on your eyes is by applying an eye primer as a base. However, be mindful of using a designated eye primer because some foundations and concealers may be too creamy to achieve the desired effect.
Waterproof mascara is your best friend as it locks in moisture when used on its own or applied as a second layer on top of your favorite mascara formula. If removing waterproof mascara is a nightmare for you, you can use tubing mascara instead. This innovative product forms little tubes around each lash that can easily be washed away instead of harshly scrubbing the eyelids while removing your makeup.
If you have tried all these measures and still haven't been able to stop your mascara from smudging, opt for preventive steps for beautiful, voluminous, and long lashes without relying on mascara. For instance, a semi-permanent lash lift will beautify the lashes for an extended period. However, if you find this procedure too expensive or cumbersome to maintain in the long run, you can always rely on false lashes as an easy alternative. Strip lashes are the easiest way to sport your dream lashes without flaking.