'Stamp' Your Way To Fuller-Looking Lashes With Just Your Mascara Wand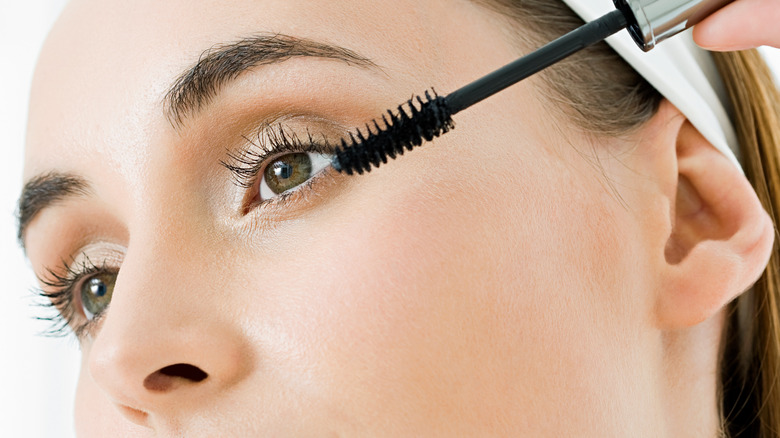 Image Source/Getty Images
Every beauty enthusiast on the planet should be thankful for mascara, as it's crucial for most makeup looks. While other products, such as eyeshadow and lipstick, help create dramatic looks and can make your features pop, these items arguably aren't necessary for more natural beauty. Still, we can all agree that mascara is essential because no eye makeup look is complete without it. Even if you rock sleek liner and beautiful eyeshadow designs, or you're one of the few people with naturally ultra-long and voluminous lashes, it usually seems like something's missing without at least one coat of mascara.
Furthermore, when you wear mascara, you don't need much other makeup if you're going for a natural look. There's something effortlessly beautiful about using only some BB cream or powder, lip balm, and mascara for smooth skin and lips with long lashes for an everyday look. On the other hand, it's always fun to go ultra-glamorous with a lot of mascara, along with other makeup. Some people even use mascaras specifically on their bottom lashes for more drama. Anyone who enjoys experimenting with mascara should explore the "stamp" strategy.
Use a 'stamping' motion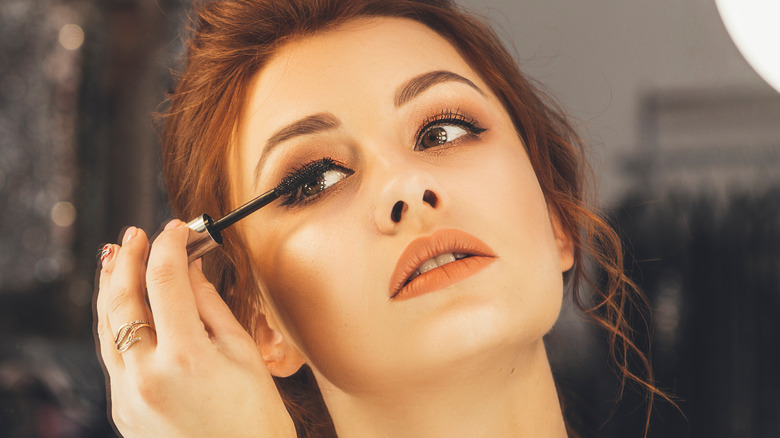 Anna Demianenko/Shutterstock
There are many ways to apply mascara, and there isn't necessarily one right or wrong technique. You just have to use the method that works best for you. Some people like to just swipe the wand up their lashes. Others like to wiggle it across their eyelashes. Some apply it more diagonally. And now, we have the "stamp" method. TikToker @victorialyn shared a video where she explains how to do this technique. "I like to stamp the base of my lashes," she says. She horizontally holds the wand and pats — or "stamps" — it against the base part of her eyelashes, making that low area look more pronounced. She then adds more mascara to the upper sections of her lashes, suggesting that viewers use waterproof products. Her lashes look very voluminous!
Anyone who wants fuller-looking eyelashes should try this technique at least once and see if it works for them — but first, you'll need reliable mascara. One of the best waterproof mascaras for extra volume is the L'Oréal Paris Makeup Voluminous Original Volume Building Mascara, available on Amazon for less than $10 at the time of writing. With "voluminous" in the name, this Amazon's Choice product has 4.3 out of five stars with more than 15,000 ratings, making it a good item to start stamping lashes with.
There are other eye makeup 'stamp' techniques, too
Oddly enough, that voluminous mascara hack isn't the only stamp strategy we found on TikTok. For instance, @sugarpillmakeup posted a video on TikTok, sharing a very different mascara stamping idea. The person in the video stamps the mascara on her eyeshadow-covered eyelid instead of eyelashes for a bold, punkish, intentionally messy look, adding false lashes for more drama. The results are edgy, fun, and unique. While this method probably sounds outlandish at first, many viewers were impressed, commenting compliments, including "slayyy," "CUTEEE," and "So cool."
In addition to mascara stamping, "eyeliner stamps" exist now, too. These are actual stamp-inspired eyeliner products. For instance, @ipsy posted a video of someone using one of these stamp-inspired products to apply a wing design to the edge of her eyelid and using eyeliner to draw the rest of the look. Therefore, stamping is becoming a popular technique for eye makeup, such as mascara and eyeliner. Which variation of the technique are you going to try first?