The Hair Tool That Could Revolutionize Your Sleek Bun (& It's Already In Your Shower)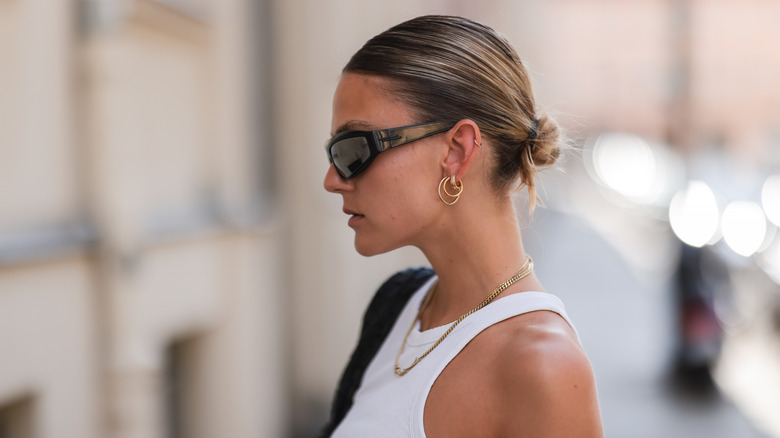 Jeremy Moeller/Getty Images
Sleek looks are a timeless classic when it comes to hairstyles. When wearing it in a bun, It has the power to be both understated and chic at the same time. The versatility of this hairstyle allows you to wear it on a date, to work, or even to the mall. With the rise of it on social media, many wonder what you need to nail a sleek ponytail or bun.
Surprisingly, it's not as complicated as you might think. There are plenty of tutorials that show how to get the "model-off-duty" look regardless of your hair length or hair type. However, people still seem to encounter issues getting the look, often struggling to get the hair as sleek as they want it. However, there is a product to get your hair to lay as flat as you want it, and you might not have to go to the store to get it.
Grab your hair mask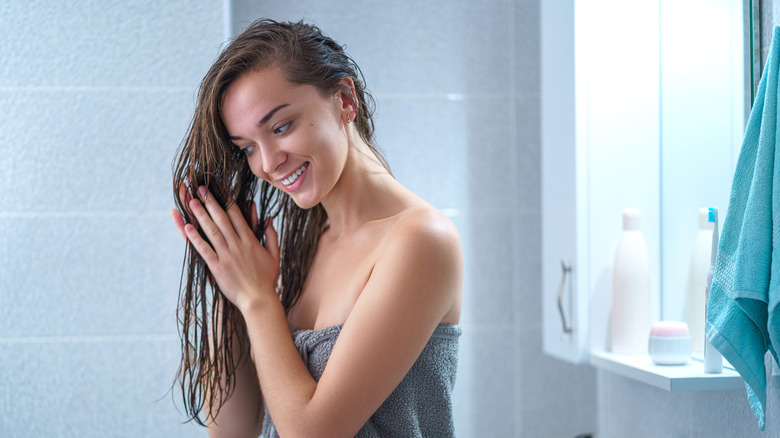 goffkein.pro/Shutterstock
Whether you want to embrace balletcore with a sleek ballerina bun, or just want to pull your hair back into a slick ponytail, it is a lot easier than you think. Jen Atkin, founder of the haircare brand Ouai recommended to Vogue that you use a hair mask or conditioner to get the sleek back hair you desire. All you need to do is take a small amount of conditioner and apply it to the hair right after you get out of the shower.
After you apply the conditioner, instead of going for your normal styling tool, opt for a barber's brush instead. Atkin's realized during her runway days that barber's brushes (the kind for beards) actually work amazingly for buns as well. "It's great because it can help get hair super flat. I just go for it and do it when hair is wet instead of wasting time drying it and so on. If you have frizzy hair, I would suggest mixing our Matte Pomade with an oil and applying that to your hair," she told the publication.
Avoid damage to your hair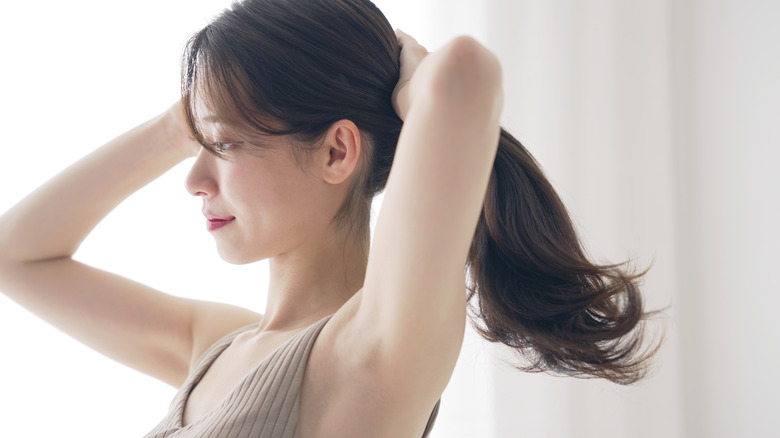 metamorworks/Shutterstock
When slicking back your hair, it's natural to try to get it as tight as you can, to get your hair to lay as flat as possible. However, this can cause serious issues to the hair. Authentic Beauty Concept ambassador Justin Toves-Vincillone explained to Coveteur that pulling the hair to maximum tightness can cause serious stress to your hairline, where our hair tends to be weaker.
Toves-Vincillone continues to explain that the hair band that we use makes a huge difference in the health of our hair. When pulling your hair back, it is best to avoid rubber bands as they tend to cause breakage and long-term damage. It is best to wear hair ties that are soft and stretchy, and that can be tied multiple times without an intense grip. This way you can tie and untie the hair without worrying about any tangles or breakage.