The Best Lipstick Tip To Give Flat Lips A More Voluminous Look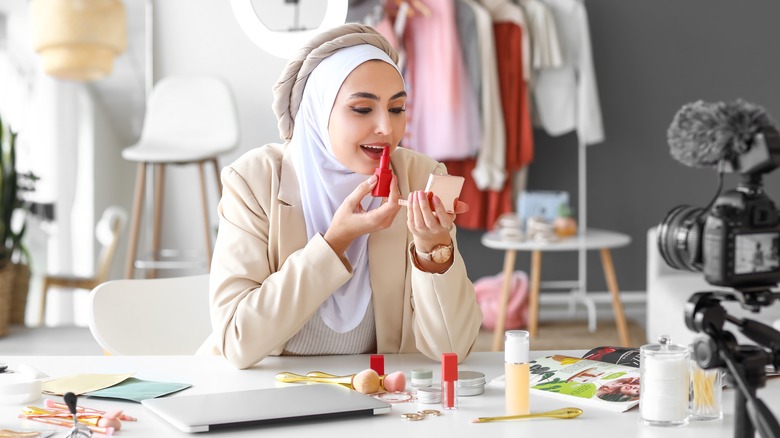 Pixel-Shot/Shutterstock
Are you looking to add more volume to your lips? Even if they are flat, you can follow tips and tricks to make them appear extra plump. However, first, you should understand why you may notice that your lips are losing volume. When people age, their body stops producing as much collagen as they did when they were young. This causes many areas of the body to lose elasticity, making skin sag while lips become thinner and flatter.
Advertisement
Plumping lip gloss is a popular product meant to create volume, but anyone that's used it knows the tingling sensation it causes. It works by irritating the skin with ingredients like spearmint so blood rushes to the surface, inflating the lips. That's why many DIYs suggest covering your lips with a thick layer of toothpaste. However, not everyone wants to go through this somewhat painful process for effects that will only last about an hour. Luckily, you can get the same voluminous look with lip liner, some highlighter, and an eye pencil.
Choose the right lip liner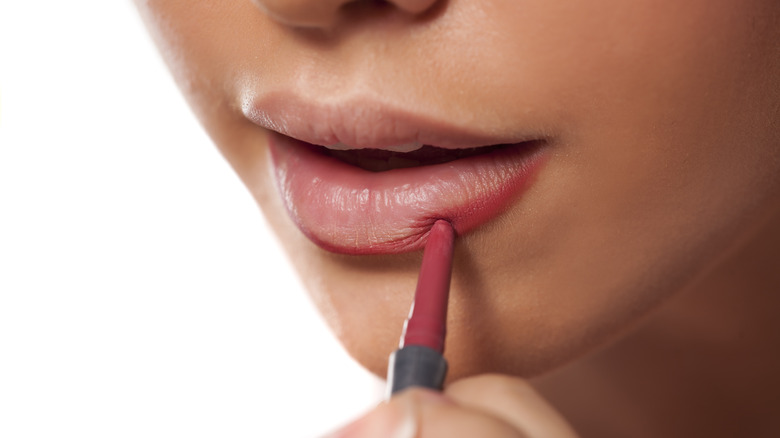 Vladimirfloyd/Getty Images
Choosing the right lip liner color can make a big difference when your lips lack volume. To add more dimension, you want to use a liner that's a little darker than your complexion. Two to three shades deeper is all you'll need; any more, and you won't get the same effect. Once you have the right color, you can slightly overline your lips. Start by creating height by applying the product outside the lines of your cupid's bow. Then take your liner over the curve of your lower lip, ensuring you follow the border of your lips on the sides of your mouth.
Advertisement
Blend the liner towards the center of your mouth with your fingertips or a brush. This will give you a more natural look. Then apply the lipstick of your choice to the empty areas, blending it outwards. Add a reflective product like lipgloss to make them look even more voluminous.
Add highlights and shadows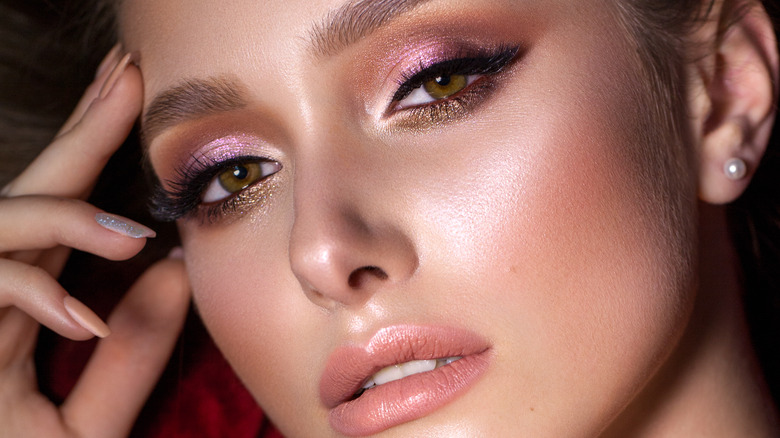 Tata Mamai/Shutterstock
You could stop with the lip liner or add a few more products when doing a full face of makeup. After you've lined and blended around the border of your lips, take a white eye pencil and add it to the high points of your mouth. Doing this accentuates the fullness that you do have, so it appears larger. 
Advertisement
When your lips are complete, you can add some finishing touches to your look. Place highlighter above your cupid's bow and slightly below the line of your top lip. Then blend it so these high points shine. Adding shadow to the low areas around your lips is the final step. Take a contour or brown eye pencil and apply the smallest amount of product on your chin, below your bottom lip. After it's blended out, you should only notice shadow. If it looks like there's a dark stain on your face, you used too much.